Brioche is a French yeast bun or bread. This is the best Brioche recipe with soft, eggy, buttery, flaky rolls and crispy crumbs that you can't stop eating!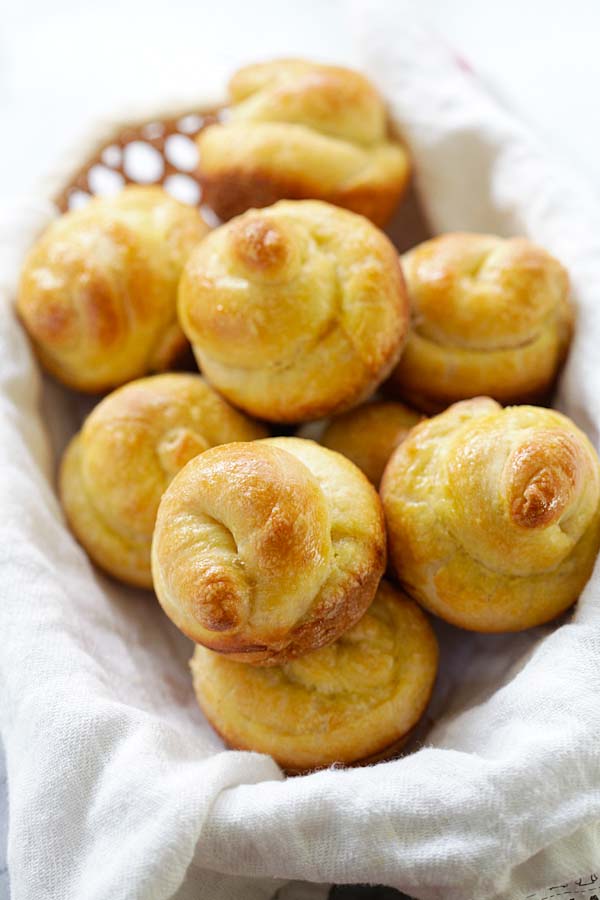 What Is Brioche?
I love French brioche bun which is eggy, buttery, puffy, with a soft yet crispy crumb. I had the best brioche when I visited Paris but I haven't been able to find anything similar in the US.
Most brioche bread just taste like normal bread, unlike the ones I had in France. As a result, I have to learn how to make brioche.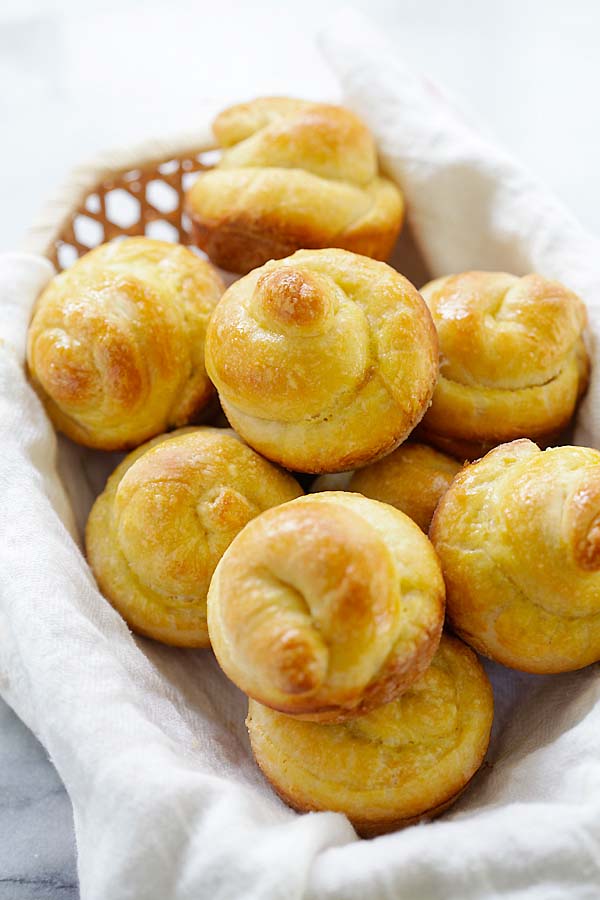 I searched for an easy, homemade and authentic brioche recipe and tried the recipe on Fine Cooking. The end results are these golden Brioche rolls that are soft on the inside and flaky on the outside. The taste is amazing and mildly sweet.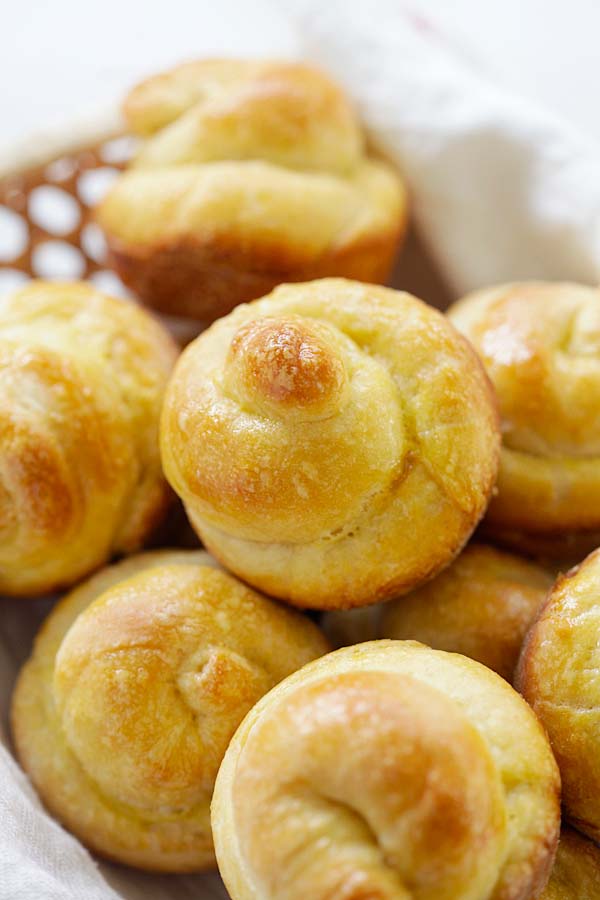 Other Recipes You Might Like
Ingredients for French Brioche Bread
This easy recipe calls for the following ingredients:
All-purpose flour
Sugar
Active dry yeast
Eggs
Milk
Butter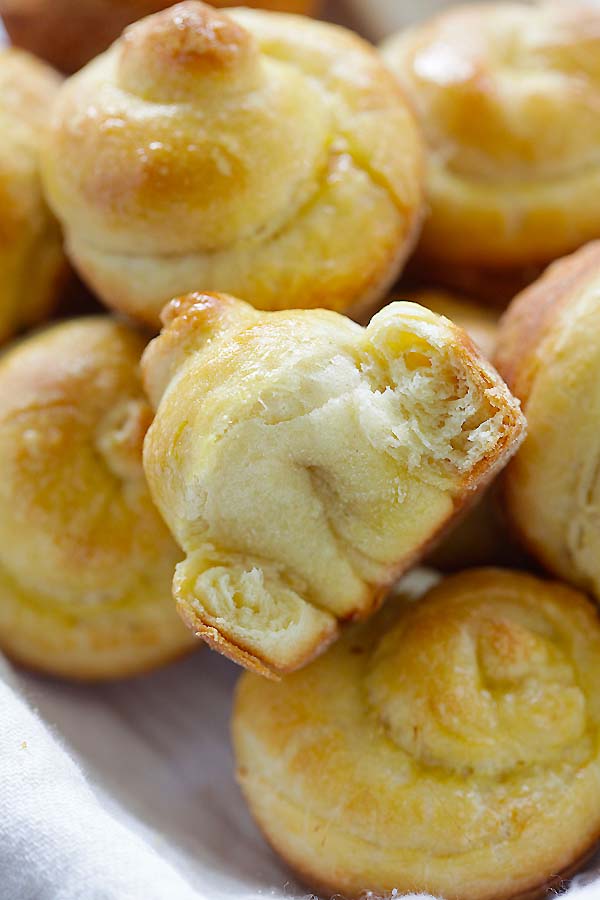 How Many Calories per Serving?
Each bun or roll is only 128 calories.
What Dishes to Serve with This Recipe?
This meal is best served with some butter, fruit jam or preserves. For a wholesome meal and easy weeknight dinner, I recommend the following recipes.

5 Secrets to 20 Min Dinners
Get tricks for quick & easy meals!
Yield: 12 brioche
Easy Brioche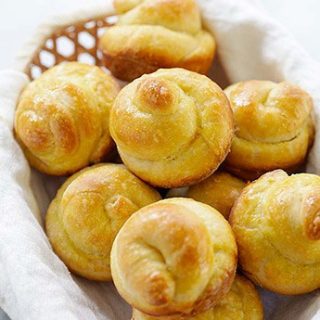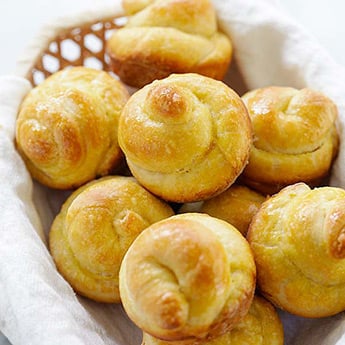 Brioche is a French yeast bun or bread. This is the best Brioche recipe ever with soft, eggy, buttery, flaky rolls and crispy crumbs that you can't stop eating!
Total Time
1 hour
33 minutes
Ingredients
2 cups all-purpose flour
2 1/2 tablespoons sugar + 1/2 teaspoon sugar
2 1/4 teaspoons active dry yeast, Red Star brand prefereed
1 teaspoon table salt, plus a pinch for the egg wash
2 large eggs, room temperature
1/4 cup whole milk, room temperature
1/2 cup (4 oz./115 g) unsalted butter, cut into 16 pieces, softened
1 large egg, for egg wash
Instructions
In a stand mixer fitted with the paddle attachment, mix the flour, sugar, yeast, and salt on low speed until well combined. Add the eggs and the milk and mix on low speed. When the dough starts to clump together, remove the paddle attachment and attach the dough hook. Mix on medium speed for 2 minutes until it is firm and elastic, about 2 minutes more.
With the mixer on medium-low speed, add the butter, a few pieces at a time. Once all of the butter has been added, increase the mixer speed to medium and mix for 4 minutes. Scrape the dough hook and the sides and bottom of the bowl. Mix again until the dough is smooth, soft, and shiny, about 4 minutes more.
Transfer the dough to a lightly floured surface. Knead it by hand a few times and then form it into a ball. Cover loosely with plastic and let the dough rise in a warm spot until doubled in size, about 1 hour.
Repeat step 3 and let the dough rise again. Cover tightly with plastic. (At this point, you may refrigerate the dough overnight for the best results.) Or let it sit out until doubled in size, about 1 hour. The warmer the room, the faster the brioche will rise, so keep an eye on it.
Pre-heat the oven to 375°F (190°C) and butter a regular muffin pan. (If the dough was refrigerated, let it warm to room temperature, about 2 hours.) Turn the dough out, smooth top down, onto a clean work surface. Divide the dough into 12 equal pieces. Cover the dough to prevent it from drying out. Roll each piece of dough into a tight ball, and then into a rod and moving it in a circular motion to form the shape above.
In a small bowl, make the egg wash by beating the remaining egg and a pinch of salt. Lightly brush the top of the brioches. Bake until golden-brown, or about 18 minutes. Let cool before turning them out. Serve warm.
Nutrition Information
Serving Size
12 brioche
Amount Per Serving
Calories

128
Total Fat

9g
Saturated Fat

5g
Cholesterol

61mg
Sodium

214mg
Carbohydrates

17g
Fiber

1g
Sugar

0g
Protein

4g