Easy, sweet and aromatic homemade banana jam with overripe bananas, sugar, ground cinnamon and fresh lime. This easy banana jam recipe is great on morning toasts and more!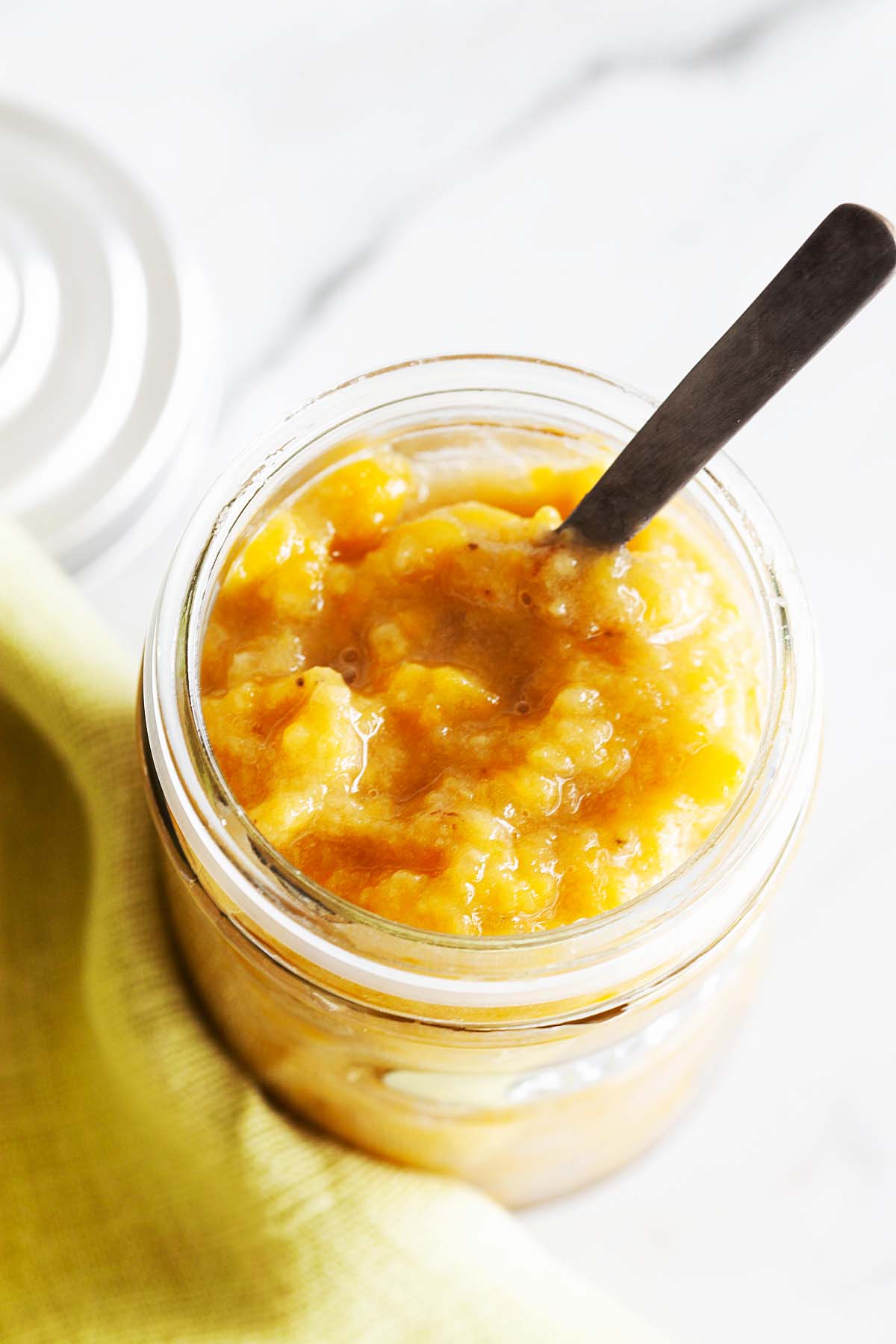 Banana Jam Recipe
I recently discovered Banana Jam and I was pleasantly blown away by how good it is!
I have never thought of using overripe bananas to make jam until now as jams are commonly made with berries, such as strawberry jam.
I have made all kinds of banana bread, soft and fluffy banana cake, banana pancakes, fried bananas, banana crumb muffins, etc.
Today I am going to share an easy and delicious banana jam recipe with you. I adapted the recipe from Food52, but with my own spin.
The end result is absolutely delicious and it's great on morning toasts!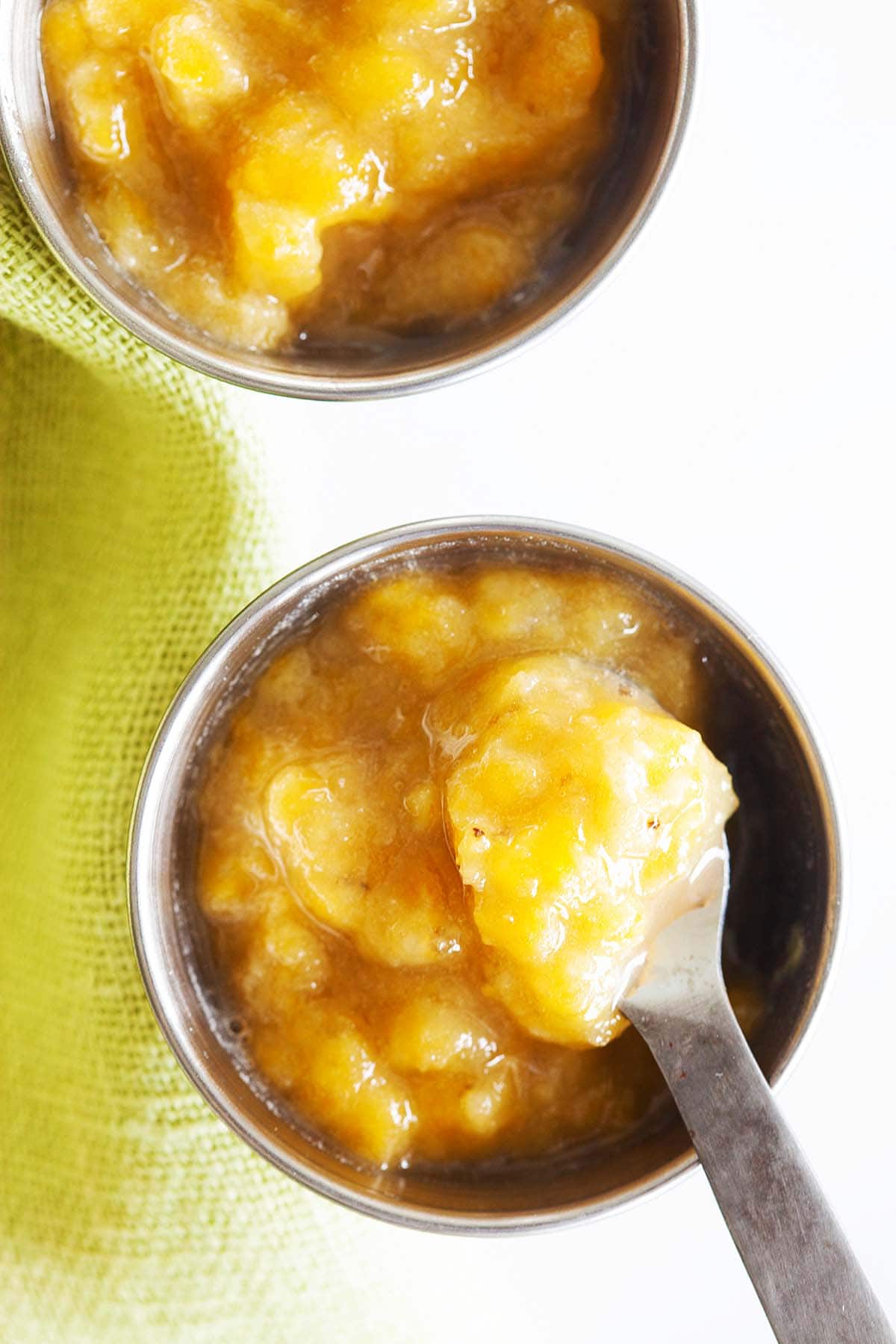 Other Banana Recipes You Might Like
Recipe Ingredients
This simple recipe calls for the following ingredients:
Overripe bananas
Sugar
Brown sugar
Fresh limes
Salt
Ground cinnamon
Rum, optional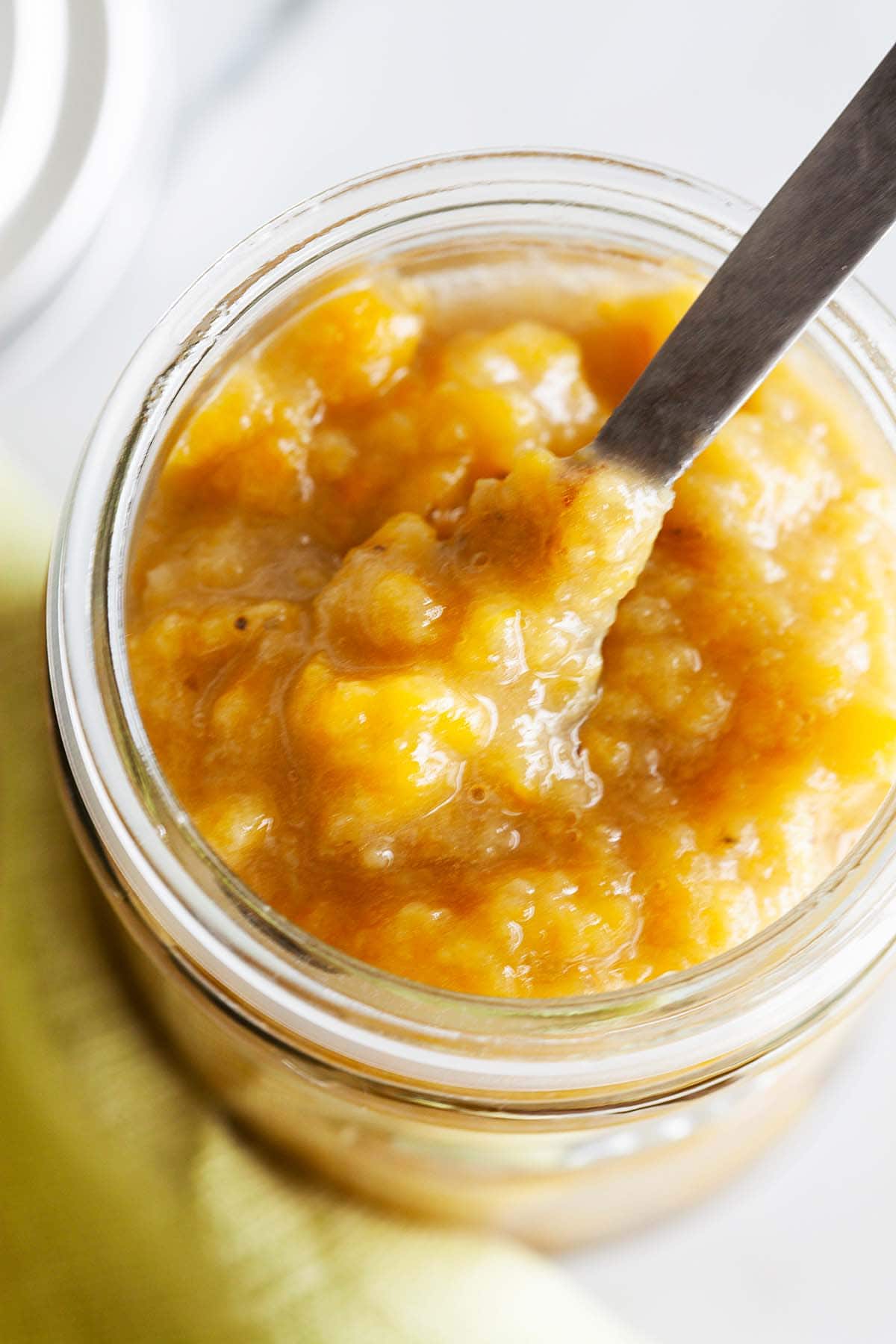 How to Make Banana Jam?
Just like most fruity jams, banana jam is very easy to make and calls for only a few simple steps.
First, mash the overripe bananas with a fork or a masher until they become chunky.
To make the jam, cook the mashed bananas over medium-low heat until the mixture becomes soft and a bit watery.
Add sugar, brown sugar, fresh lime juice, salt and some ground cinnamon. When the banana jam thickens, it's ready!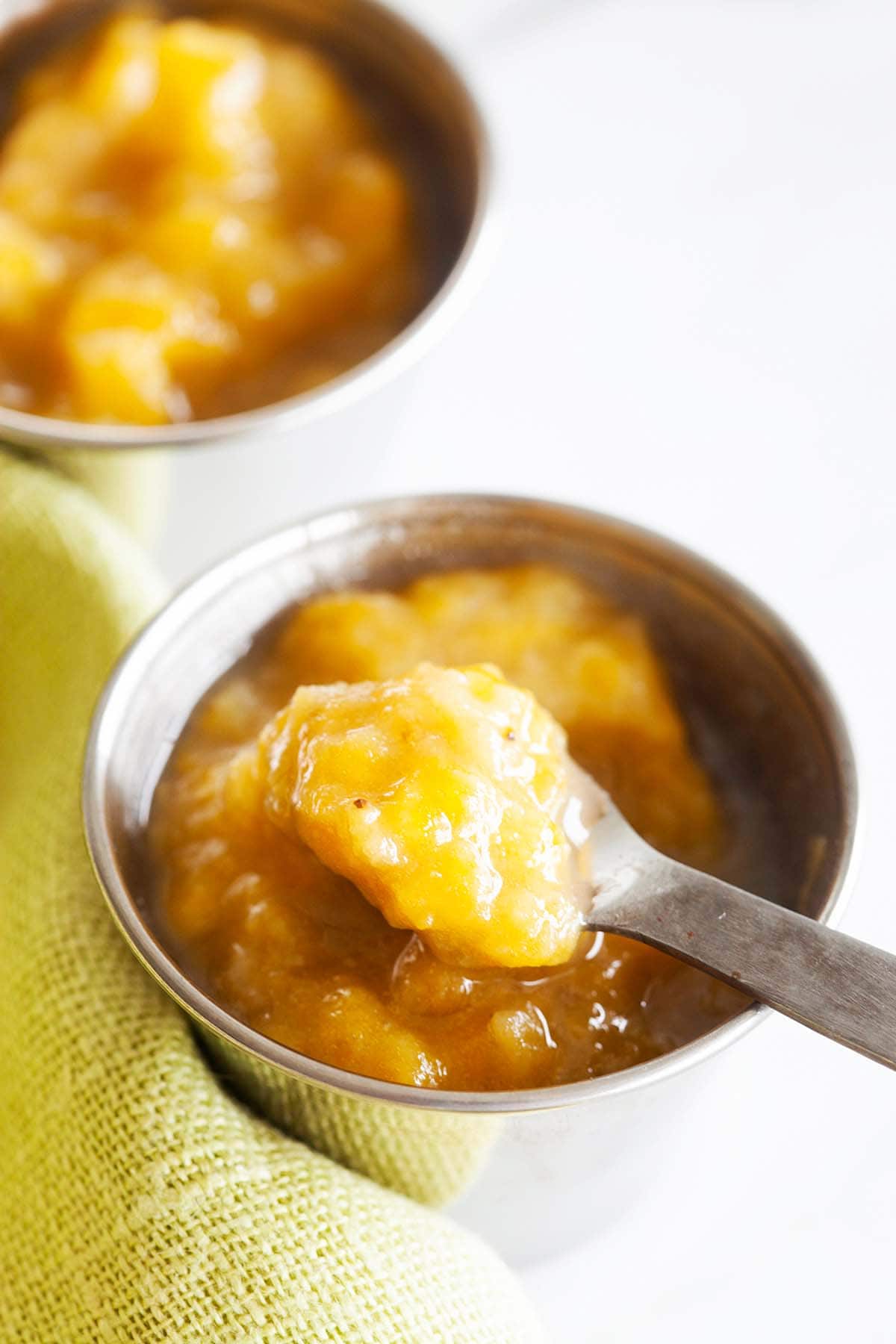 What Goes Well with Banana Jam?
This sweet and aromatic banana preserves go well with the following:
Toasts
As a topping on banana bread, banana cake, banana nut muffins, pancakes or waffles
As a spread on warm English scones or muffins
As a filling for French crepe
The culinary possibilities are endless!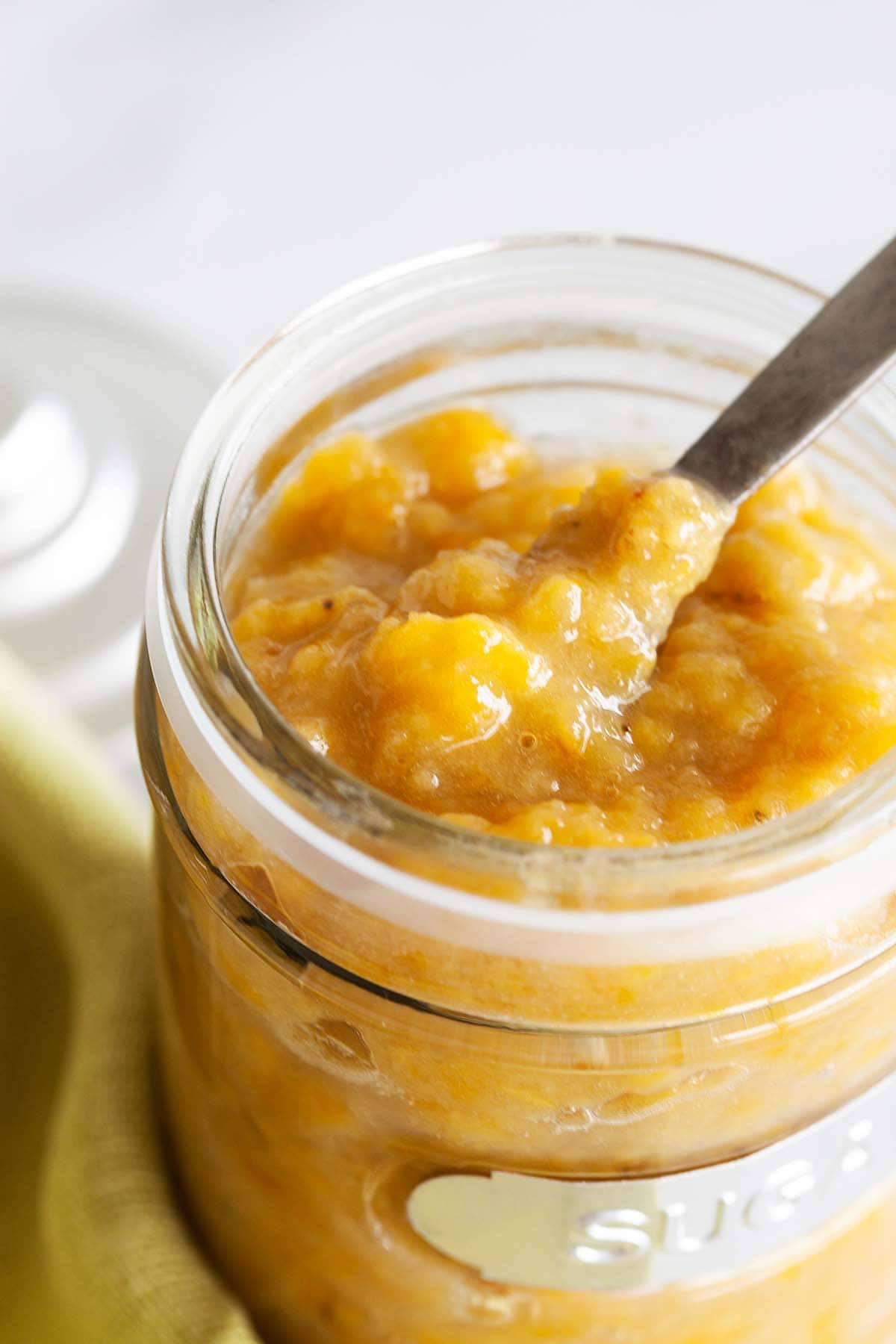 Frequently Asked Questions
How Long Can I Keep Banana Preserve?
This jam preserve keeps well in the refrigerator for up to 2 weeks, without any preservatives.
Just store the jam in an air tight container.
What Kind of Bananas Can I Use?
You can use regular bananas such as Dole bananas. If you are outside of the United States, you can use smaller bananas.
You can use all kinds of bananas for this recipe. If your bananas have seeds, discard the seeds before cooking.
Make sure you use overripe bananas and not green bananas. Overripe bananas yield the best results for this recipe.
How Many Calories Per Serving?
This recipe is 408 calories per cup. You only need a small quantity of the jam as a spread or topping.
What Dishes To Serve with this Recipe?
Serve this jam with scones, muffins, pancakes or toasts. For a healthy and wholesome breakfast, I recommend the following recipes.
5 Secrets to 20 Min Dinners
Get tricks for quick & easy meals!
Ingredients
1 1/2 lbs. (700 g) peeled overripe bananas
1 1/4 cups granulated sugar
2 tablespoons brown sugar
3 tablespoons fresh lime juice
2 tablespoons water
1/2 teaspoon salt
3 dashes ground cinnamon
1 tablespoon rum, optional
Instructions
Mash the bananas with the back of a fork or using a smasher. The bananas should have tiny chunks.
Transfer the mashed bananas to a pot. Simmer over low heat. Add the sugar, brown sugar, lime juice, water and salt. Stir to combine well.
Continue to simmer—stirring occasionally—for about 10-15 minutes, until the banana jam becomes slightly thickened. Stir in the ground cinnamon and rum, if using.
Remove from heat, let cool completely before transferring the jam to an air-tight container.
You may keep the banana jam in the refrigerator for up to 2 weeks.
Nutrition Information
Yield
3 cups
Serving Size
1
Amount Per Serving
Calories

408
Total Fat

0g
Saturated Fat

0g
Trans Fat

0g
Unsaturated Fat

0g
Cholesterol

0mg
Sodium

357mg
Carbohydrates

106g
Fiber

2g
Sugar

98g
Protein

1g