Scones - these delicious homemade scones are the perfect amount of crumbly and moist. Afternoon tea has never tasted so good and been so easy!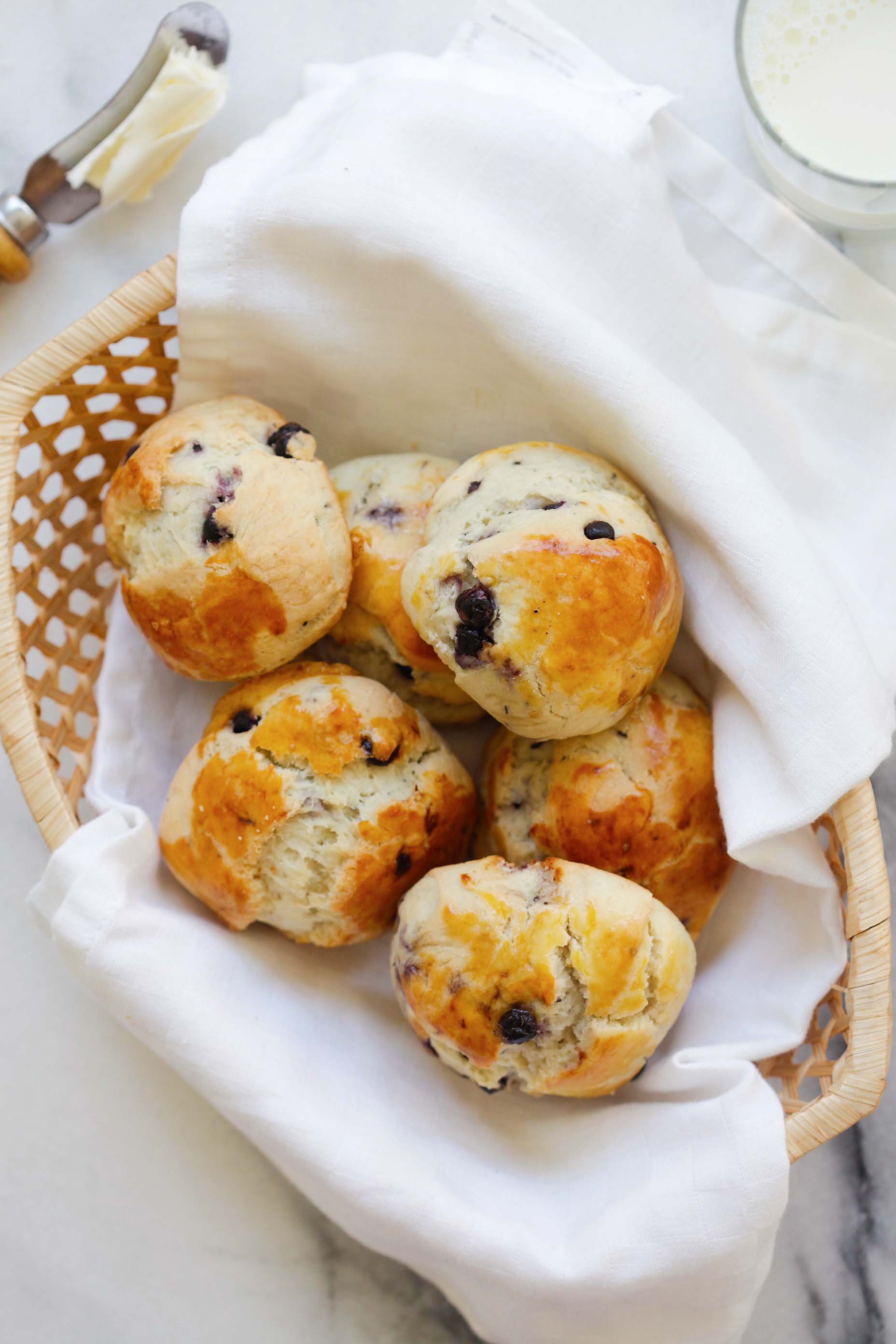 Delicious Scones
There is just something about warm, crumbly, classic English scones served with clotted cream or jam, with my favorite cup of tea or coffee.
However, it's not easy to find good scones where I am, so whenever I have a sudden cravings of scones, I love baking my own scones!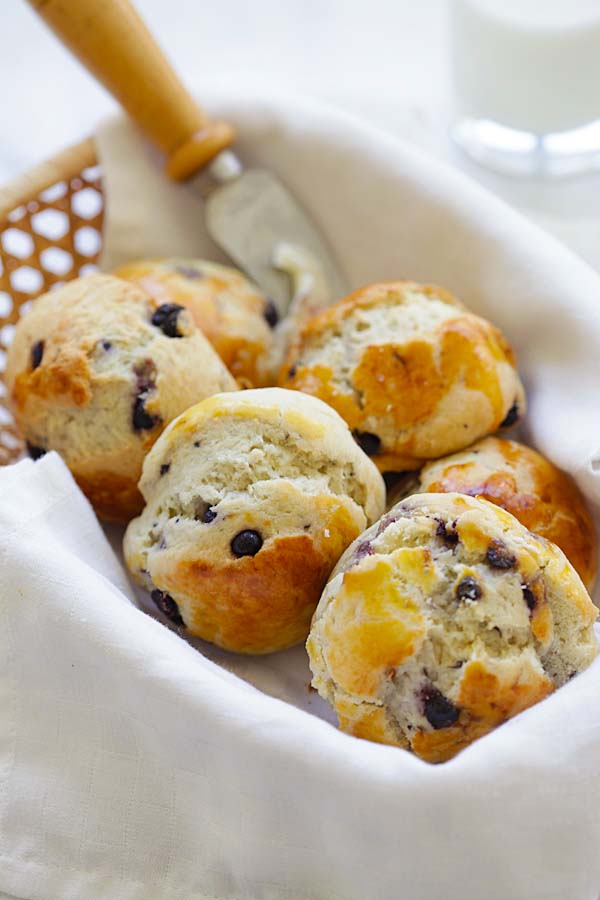 Ingredients for Scone Recipe
Unsalted butter
Self-rising flour
Baking powder
Eggs
Milk
Blueberries or raisins
Condensed milk
Oil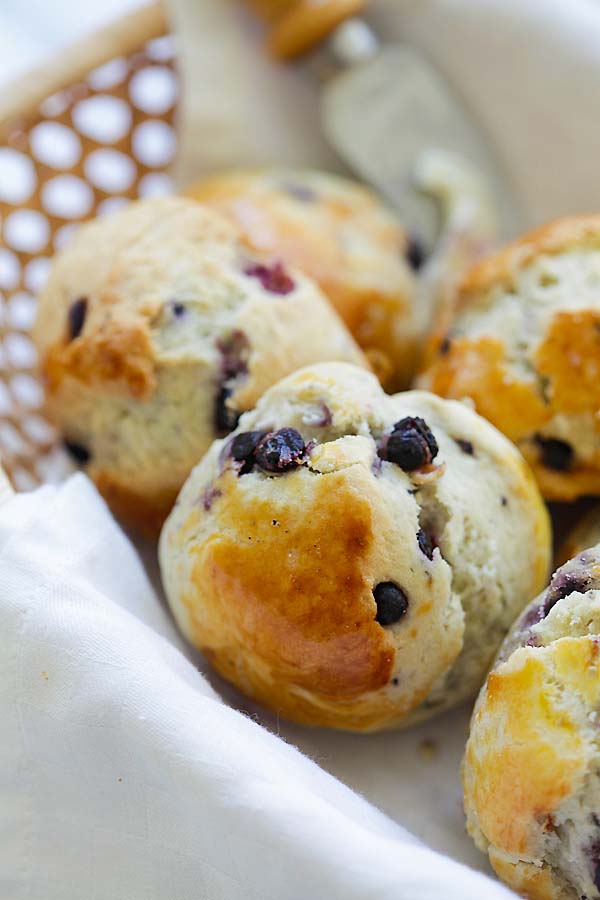 Cook's Tips
Following the directions, the scones become crumbly, and the dough is taller than usual
Be sure to enjoy hot off the oven for best taste!
If you don't have clotted cream or jam, they are also delicious with butter.
For the egg wash, I added condensed milk for extra taste.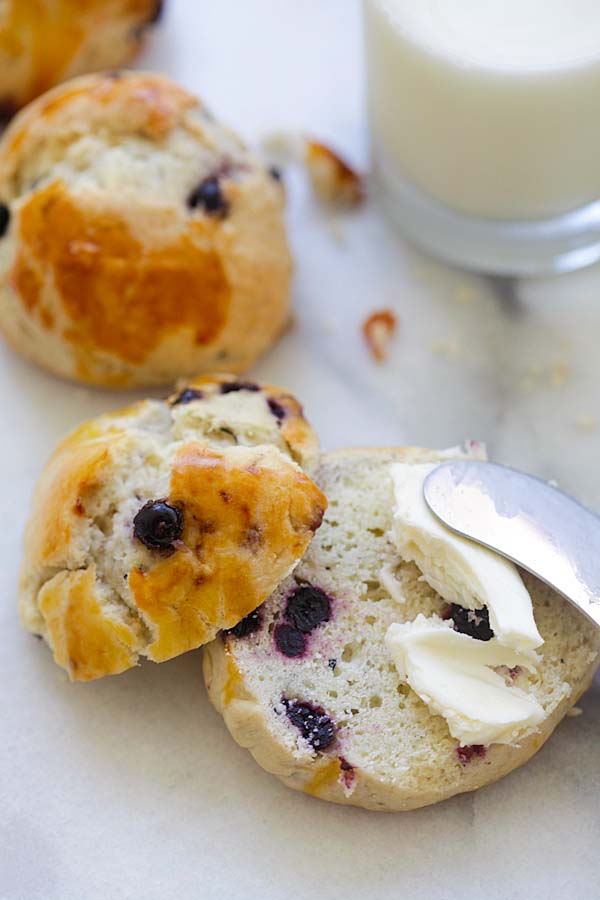 Frequently Asked Questions
Do Scones Have Eggs?
Yes, my recipe contains eggs. This gives them a richer taste.
Why Do My Scones Not Rise?
If you're having trouble with them, make sure that you are using fresh baking powder. Additionally, be sure not to knead the dough too much, and add just the right amount of flour.
Can You Refrigerate Scone Dough Overnight?
Yes, feel free to make the dough the night before, refrigerating it, and baking it in the morning!
How Many Calories?
This recipe has 273 calories per serving.
What Dishes to Serve with This Recipe?
This dish is best served with cream, jam, or butter. For a wholesome tea party, I recommend the following recipes.
5 Secrets to 20 Min Dinners
Get tricks for quick & easy meals!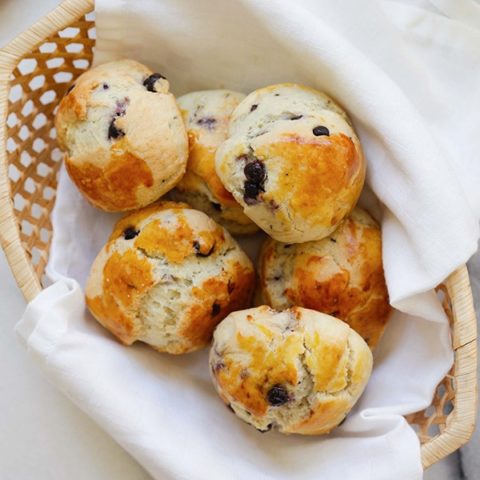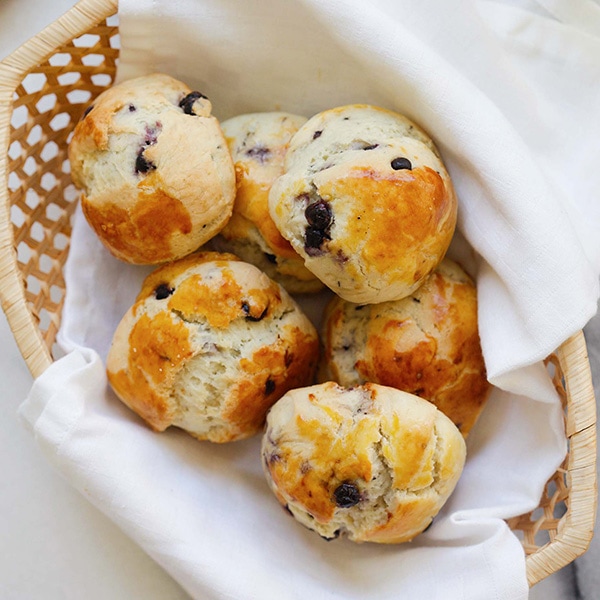 Crumbliest Scones – crumbly and delicious homemade scones recipe by Jamie Oliver. Afternoon tea has never tasted so good!
Ingredients
6 oz. (170 g) cold unsalted butter
1 lb. (0.4 kg) self-raising flour, plus a little extra for dusting (Heaping 3 1/2 cups)
2 teaspoons baking powder
2 teaspoons sugar
1 pinch salt
2 large eggs
4 tablespoons milk
6 oz. (170 g) small fresh blueberries or dried raisins
Egg Wash:
2 egg yolks
1/4 teaspoon sweetened condensed milk
1/4 teaspoon oil
Instructions
Preheat the oven to 400°F (207°C). Mix the Egg Wash ingredients together, set aside.
Put your butter, flour, baking powder, sugar and a pinch of salt into a mixing bowl and use your thumbs and forefingers to break up the butter and rub it into the flour so you get little cornflake–sized pieces. Make a well in the middle of the dough, add the eggs and milk, and stir it up with a spatula. Add the blueberries to the mixture. Add a tiny splash of milk if needed, until you have a soft, dry dough. Move it around as little as possible to get it looking like a scruffy mass – at this point, you're done. Sprinkle over some flour, cover the bowl and pop it into the fridge for 15 minutes.
Roll the dough out on a lightly floured surface until it's about 1-inch thick. With a 2 1/2-inch round cutter, cut out circles from the dough and place them upside down on a baking sheet – they will rise better that way. Re-roll any off cuts to use up the dough. Brush the top of each scone with the the Egg Wash twice and bake in the oven for 15-18 minutes, or until risen and golden. At that point, take them out of the oven and leave them to cool down a little. Serve with clotted cream (preferred), fruit jam, lemon curd, or butter.
Nutrition Information
Serving Size
12 doughs
Amount Per Serving
Calories

273
Total Fat

14g
Saturated Fat

8g
Cholesterol

91mg
Sodium

20mg
Carbohydrates

31g
Fiber

1g
Sugar

3g
Protein

6g