Angku Kuih (Red Tortoise Cake) - Small dark orange oval nyonya delicacy which is made with glutinous rice flour wrapped with green bean filling.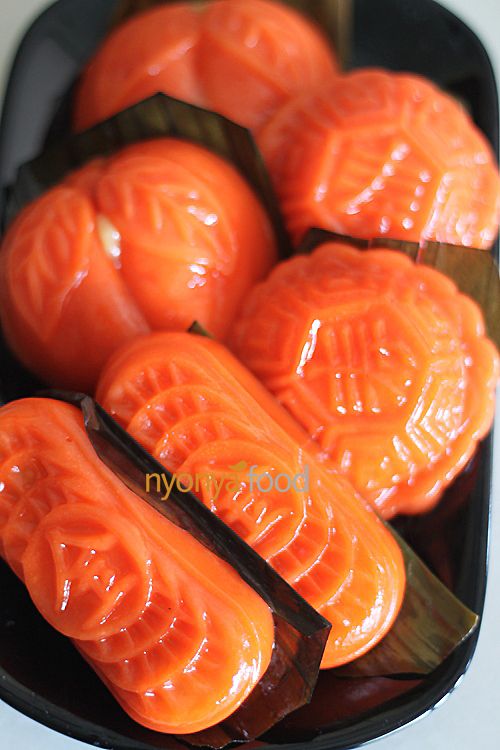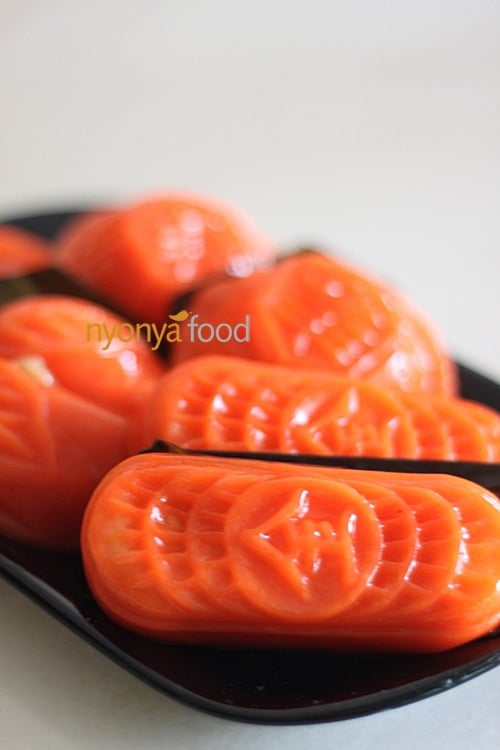 Over the Thansgiving holidays, Siew Loon (the long-time contributor of Nyonya Food) came to visit me in Southern California. It was fun and we had a great time chatting about Nyonya food and heritage, not mentioning eating out and shopping to our heart's content.
Please check out Siew Loon's recipe for Angku, or literally red tortoise cake, which is an iconic Nyonya Kuih, especially in Penang.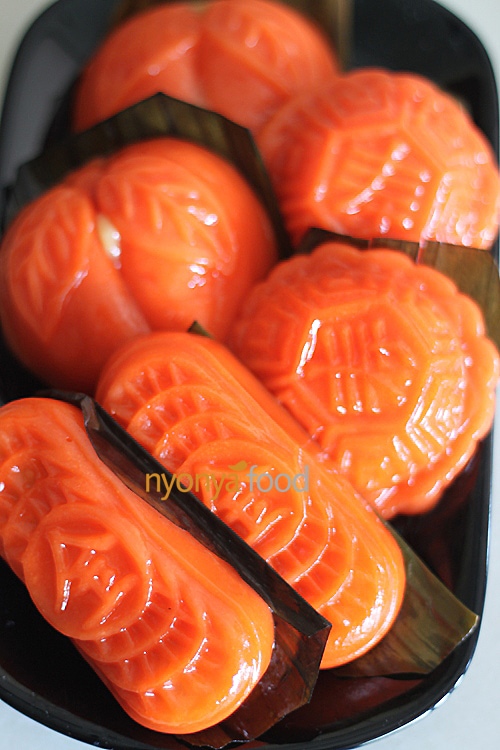 Happy New Year to all the wondeful readers. The craving for good Nyonya Kuih has prompted me to make some Angku and Kuih Kochi over the New Year holidays.
It turned out so well that I thought I should share it with our Nyonya Food readers and maybe you can try making it for the coming Lunar New Year as Angku is widely used in Chinese prayers.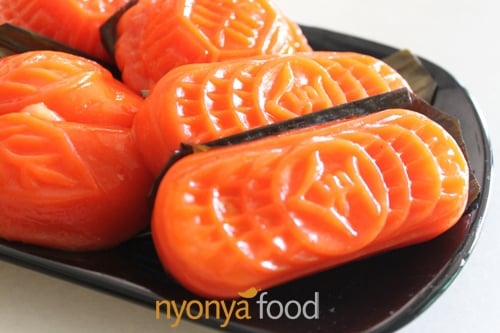 Angku is a small dark orange oval nyonya delicacy which is made with glutinous rice flour wrapped with green bean filling. Angku has a high ritual value and it is commonly used for Chinese prayers and served during baby full moon parties.
Angku has a sticky sweet texture but it is really nice if you eat it with a cup of Chinese tea. It's even better overnight as you can pan-fry the leftover until the skin of the angku becomes golden brown.
How Many Calories per Serving?
This recipe is only 402 calories per serving.
What to Serve with This Recipe?
There are many types of kuih in Malaysia. If you wish to try making kuih at home, I recommend the following recipes.
5 Secrets to 20 Min Dinners
Get tricks for quick & easy meals!
Yield: 4 people
Angku Kuih (Red Tortoise Cake)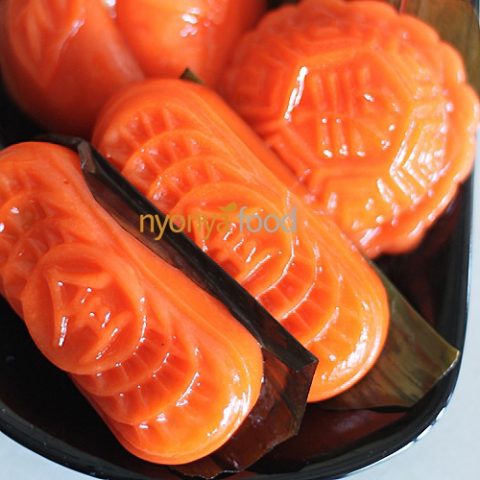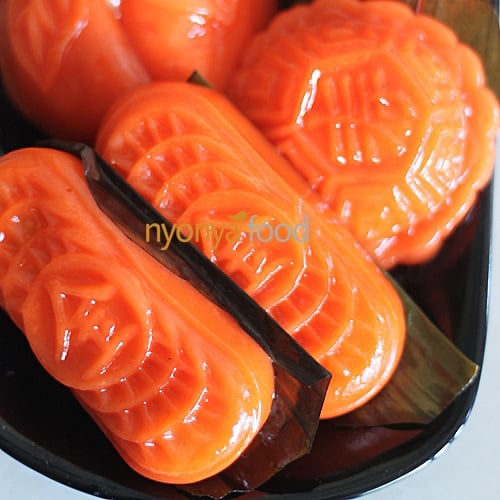 Angku Kuih (Red Tortoise Cake) Recipe | Easy Asian Recipes
Total Time
1 hour
10 minutes
Ingredients
Green Bean Filling
300 g (10 oz.) split green bean, washed and soaked for 6 hours
200 g (7 oz.) fine sugar
4 tablespoons oil
Angku skin
1/8 teaspoon Wilton orange coloring
200 g (7 oz.) wheat starch, Tung Mein Fun
150 g (5 oz.) water
500 g (17 oz.) boiling water
4 tablespoons sugar
500 g (17 oz.) glutinous rice flour
100 g (3.5 oz.) mashed orange color sweet potato
250 g (8 oz.) water
120 g (4 oz.) cooking oil
To Make Angku
1 banana leaf, cut into rectangle to fit the angku mould
3 tablespoons oil
Instructions
Green Bean Filling
Steam green bean over boiling water for 30-40 minutes till soft.
Blend or mashed green bean till become a paste.
In a wok, combine green bean paste, sugar and oil. Stir on low medium heat till thick and do not stick to your hands.
Cool it and shaped into 30 balls of about 20 g. (The size of filling will depend on the size of your mould).
Angku skin
Mix coloring, wheat starch and water. Stir till blended.
Add in boiling water and mix till smooth and become translucent.
Add in sugar, glutinous rice flour, sweet potatoes and water gradually. Knead till combined.
Slowly add in oil and keep on kneading till smooth and do not stick onto your hands.
To Make Angku
Lightly grease the cut banana leaves with oil.
Divide skin dough into 30 pieces. Flatten each dough into 1/4 inch thick and wrap the filling inside. Roll into a ball.
Lightly dust the Angku mould with glutinous rice flour. Press the dough ball into the mould and lightly knock it out.
Place Angku on the banana leaf.
Steam over boiling water for 10 minutes.
Brush the surface of the cooked Angku with oil to give it a glossy look.
Nutrition Information
Yield
4
Serving Size
4 people
Amount Per Serving
Calories

402
Total Fat

56g
Saturated Fat

4g
Unsaturated Fat

0g
Sodium

31mg
Carbohydrates

216g
Fiber

7g
Sugar

65g
Protein

9g