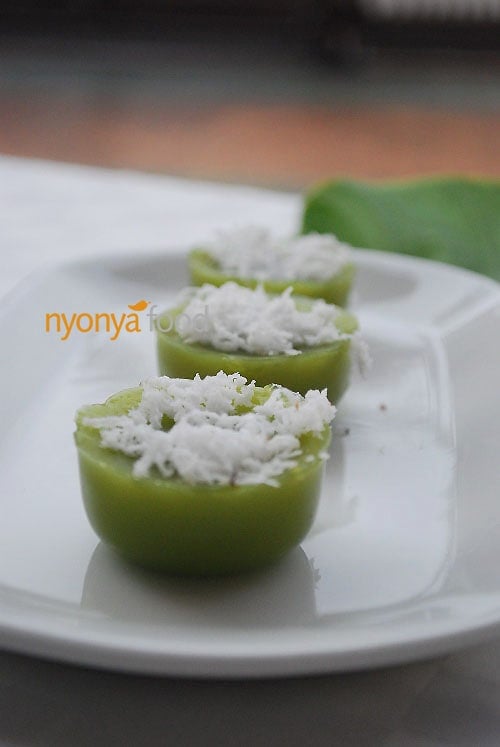 I would like to introduce you to a new intern/contributor, my fellow Penangite Ho Siew Loon. Siew Loon is introduced through a mutual friend and is passionate about preserving and sharing the beautiful Nyonya cuisine; she is also a fantastic Nyonya kuih maker and an experienced baker (she makes a mean layer cake!)—an area I am not particularly strong at. Please welcome Siew Loon to Nyonya Food and kindly leave her your warm comments! Thanks.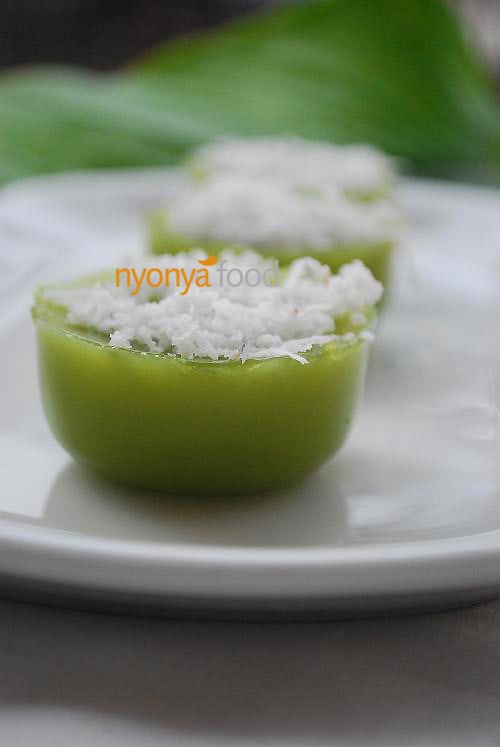 Thank you Rasa Malaysia for giving me the opportunity to be a guest writer on this wonderful blog.
Growing up in Penang where there is a strong Nyonya presence till today, nyonya kuih is a sweet delicacy that would always have a special place in my heart. It comes in different shapes, textures and colors. One of my favorite is the kuih kosui…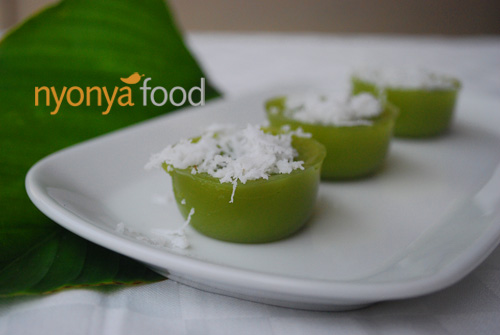 Kuih kosui is a saucer shaped rice cake flavored with pandan (screwpine leaves) juice. A lot of pandan is used to bring out the aroma of this kuih. A good kuih kosui is rich in pandan aroma and have a springy and soft texture. It is best eaten with freshly grated coconut.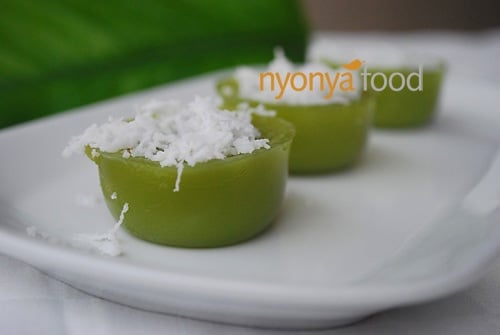 How Many Calories Per Serving?
This recipe is only 336 calories per serving.
5 Secrets to 20 Min Dinners
Get tricks for quick & easy meals!
Yield: 3 people
Kuih Kosui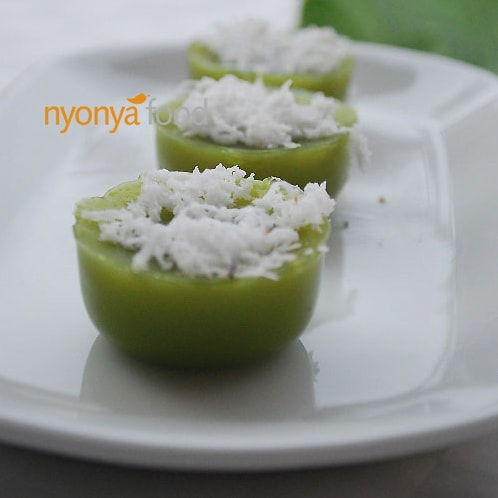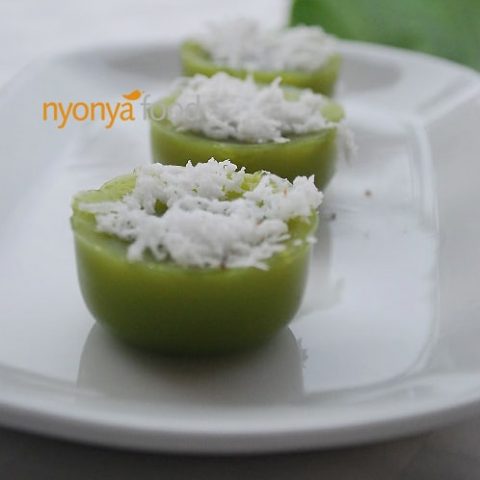 Ingredients
Syrup
Pandan juice
12-15 pandan leaves
21 oz water
1 tablespoon alkaline water, lye water
Batter
6 oz rice flour
2 oz tapioca flour
Instructions
To make the syrup, melt the sugar in water over low fire until sugar dissolves . Set aside to cool.
Cut pandan leaves into small peices. Combine pandan leaves and water in an electric blender. Blend for 1-2 minutes. Strain the pandan juice through a fine sieve. Add alkaline water into pandan juice. Set aside.
In another bowl, add rice flour and tapioca flour. Slowly pour in the pandan juice mixture while stirring it consistently till well blended. Add in syrup.
Cook flour mixture on low fire till slightly thickened. Remove from fire and pour into little teacups.Steam on high fire for 15 minutes. Take the kuih out immediately.
Leave to cool for at least 6 hrs before removing the kuih from the little teacups.
Serve with fresh grated coconut.
Nutrition Information
Yield
3
Serving Size
3 people
Amount Per Serving
Calories

336
Total Fat

1g
Saturated Fat

1g
Unsaturated Fat

0g
Sodium

19mg
Carbohydrates

156g
Fiber

1g
Sugar

94g
Protein

3g