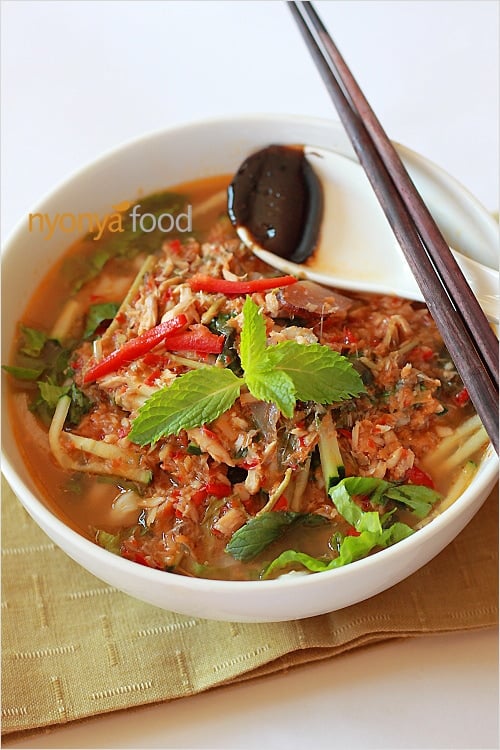 Assam laksa, also spelled as Asam laksa, the piquant, pungent, sour, and fiery hot noodle dish with fresh vegetables bathed in a fish broth is a Penang Nyonya creation. Known simply as Laksa in Penang, it's found almost everywhere in Penang–kopitiam (coffee shops), roadside stalls, mobile push carts, and hawker centers.
With perfect balance of tartness and spicy flavor, Assam laksa is uniquely Malaysian as there is nothing quite like it in the Southeast Asia region.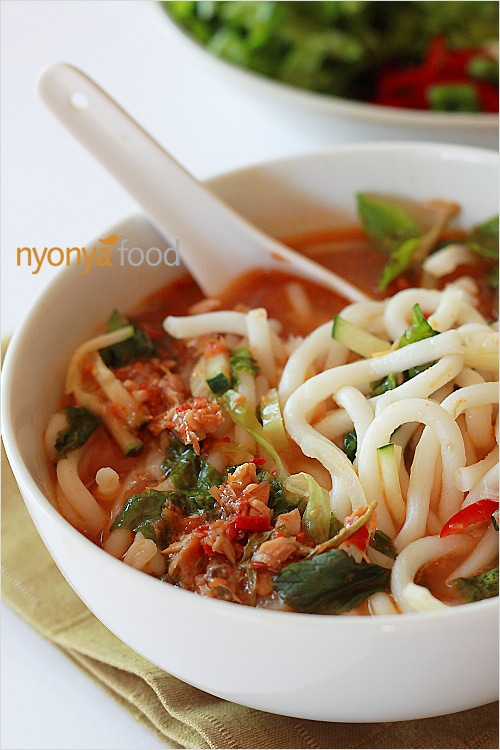 Assam laksa, arguably the staple street hawker food in Penang also puts Penang on the culinary map. Mention the words "Assam Laksa" to any Malaysians or foreigners who had tasted it would probably set their mouth watering. Assam laksa is one of the most–if not the most–successful, explosively delicious, addictive, and appetizing Nyonya concoctions…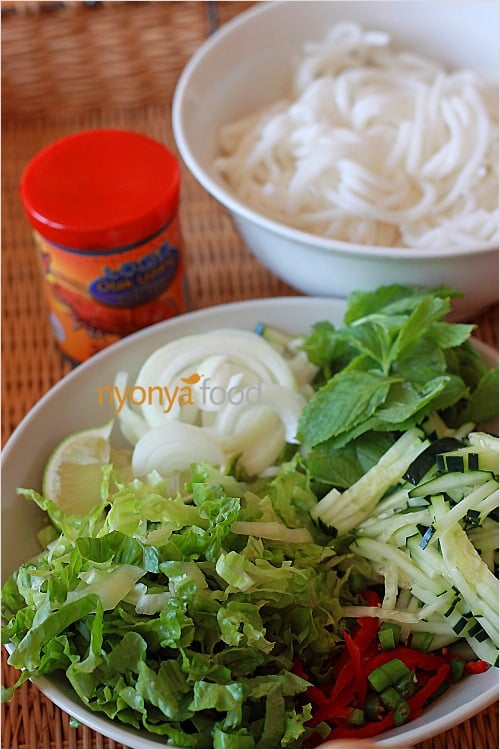 Assam laksa is a much celebrated dish in my family due to my late grandmother. Grandma was a religious Buddhist. Raised by her Thai-Chinese mother (my great grandmother), grandma spoke Thai and Thai influences were evident in her religious rituals and day-to-day life.
Grandma was devoted to Wat Chayamangkalaram, Thai reclining Buddha temple in Penang. Every month, grandma, father, mother, aunt and I would go to Wat Chayamangkalaram for prayers. Inside the wat (temple), there is a shrine for a Buddha by the name of "Laksa Ang Kong" or laksa Buddha. Don't ask me why but tale has it that Laksa Buddha loved laksa, and hence the only offering for Him is laksa.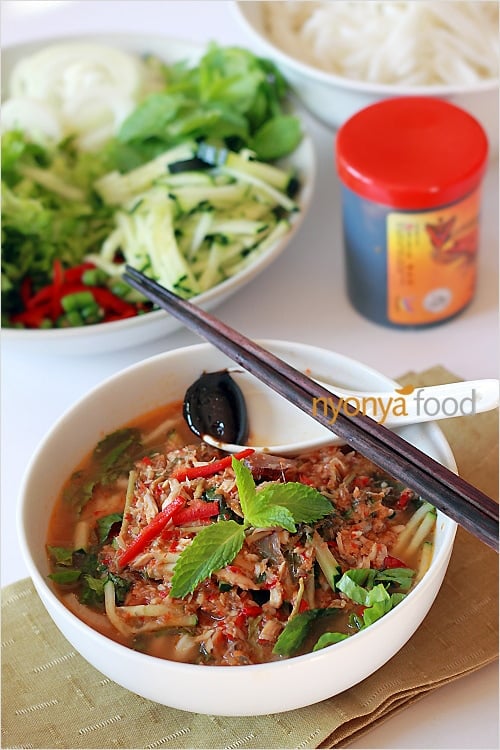 Every month on the morning of prayer, grandma, mother, and aunt would wake up very early to prepare a big pot of assam laksa, and I would help them in the kitchen cutting vegetables, picking fish meat off the bones, and prepare the spice paste. This ritual had rewarded me with the techniques and skills to make a mean pot of laksa, a gift that I will forever treasure.
This is my family's recipe for assam laksa. It is delicious and holds a very dear place in my heart. It brings back memories when my family spent quality and precious times together, savoring and celebrating our religion and great home-cooked foods, a nostalgia that will continue to linger in my mind.
5 Secrets to 20 Min Dinners
Get tricks for quick & easy meals!
Yield: 4 people
Nyonya Noodles with Fish Broth (Assam Laksa)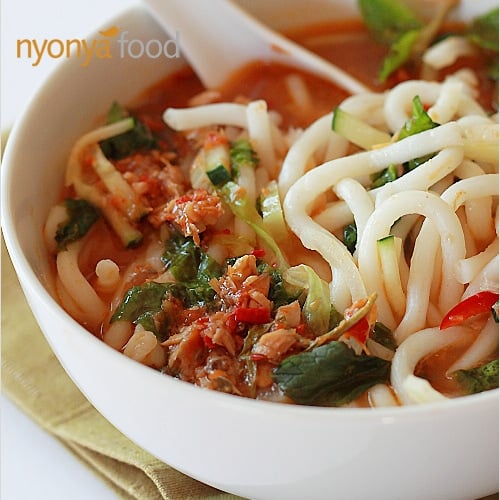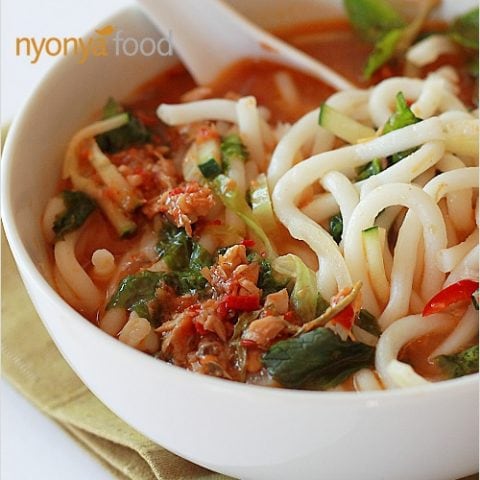 Assam laksa, also spelled as Asam laksa, the piquant, pungent, sour, and fiery hot noodle dish with fresh vegetables bathed in a fish broth is a Penang Nyonya creation. Known simply as Laksa in Penang, it's found almost everywhere in Penang.
Ingredients
1.5 lb. (0.6 kg) mackerel fish
8 cups water
5 pieces asam keping, peeled tamarind
laksa noodles
Spice Paste:
15 dried red chilies
5 fresh red chilies
8 small shallots
1 inch (2cm) galangal
2 tablespoons belacan, shrimp paste
1 stalk lemongrass
Tamarind Juice:
tamarind, about golf ball size
1/2 cup water, repeat 3-4 times
Seasonings:
1 teaspoon salt or to taste
2 tablespoons sugar or to taste
Garnishing:
1 cucumber, julienned
1 bunch mint leaves, use only the leaves
1 bunch polygonum leaves/Vietnamese mint leaves/ daun kesom/daun laksa
1 bungan kantan/torch ginger flower, cut into small pieces
1 red onion, sliced thinly
1 lettuce, thinly cut
1 red chili/3-4 bird's eye chilies, cut into small slices
1 small pineapple, cut into short strips
Condiment:
Instructions
Clean the fish, remove scales and guts. In a pot, bring 8 cups of water to boil. Add in the fish and boil for about 10 minutes. Transfer the cooked fish out into a bowl and let cool. Strain the fish stock, then add in the peeled tamarind, and the polygonum leaves and continue to boil in low heat.
Wet your hands constantly with a bowl of water, pick the flesh out of all the fish and discard the bones. Break the fish meat into tiny pieces and put the fish back into the stock, cover the lid, and lower the heat.
Using a mini food processor, grind the spice paste until fine. Heat up a wok and saute the spice paste with cooking oil for about 6-8 minutes or until it smells aromatic and spicy. Transfer the spice paste into the boiling stock.
Extract the tamarind juice and add it into the stock. Strain the tamarind juice and keep the seed. Repeat it 3-4 times with 1/2 cup of water each time to make sure you extract all the essence from the tamarind. Continue to taste your Assam Laksa stock to make sure it's sour and to your liking. For seasoning, add salt and sugar to taste.
In a serving bowl, add in the laksa noodles and garnish all vegetables on top. Pour the fish broth into the bowl and serve immediately with a spoonful of Heh Ko/prawn paste.
Notes
Cook's Notes:
If you can't find fresh laksa noodles, you can use dried noodles. I like Mount Elephant brand "Guilin Rice Vermicelli" (象山牌桂林濑粉) found at Asian/Vietnamese stores. (In Vietnamese, it's called Bun Bo Hue Guilin.) It's very smooth and exactly like the laksa noodles back home, but slightly thinner.
For a good alternative, try LaiFen Rice Stick/中山濑粉 from Guangdong, China. Lai Fen is available fresh in many Asian stores.
Bunga kantan, torch ginger flower is unfortunately not available in the US.
Nutrition Information
Yield
4
Serving Size
4 people
Amount Per Serving
Calories

565
Total Fat

21g
Saturated Fat

5g
Unsaturated Fat

0g
Cholesterol

202mg
Sodium

1124mg
Carbohydrates

60g
Fiber

8g
Sugar

41g
Protein

61g