Penang Hokkien Mee is a popular prawn noodle soup found in Penang, Malaysia. Sold by hawkers and street vendors, this noodle soup is popular throughout the day.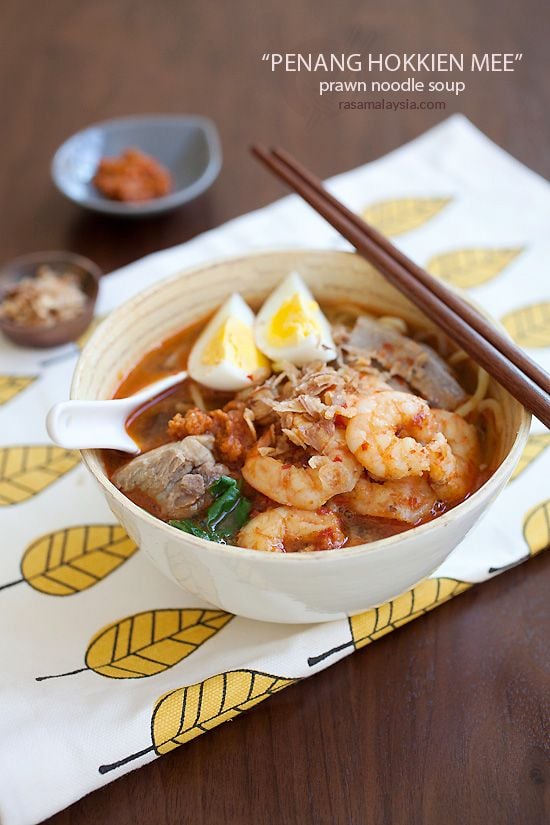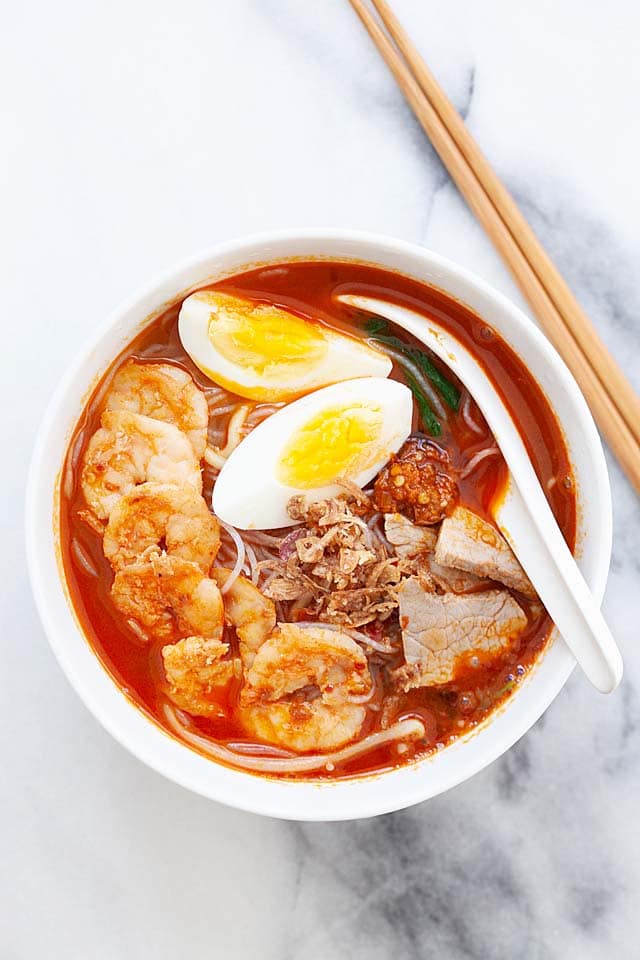 Penang Hokkien Mee (prawn Noodle Soup) / 福建虾面
This divine bowl of Penang Hokkien Mee took me months of hard work and patience. I mean months, not days, and certainly not hours.
To concoct a pot of pure shrimpy stock that is signature to this Penang hawker food dish, one has to have heaps of shrimp heads.
Yes, I am talking about a Ziploc bag (a BIG one!) full of shrimp heads. While I eat shrimp all the time, it's a completely different matter when it comes to saving up their heads.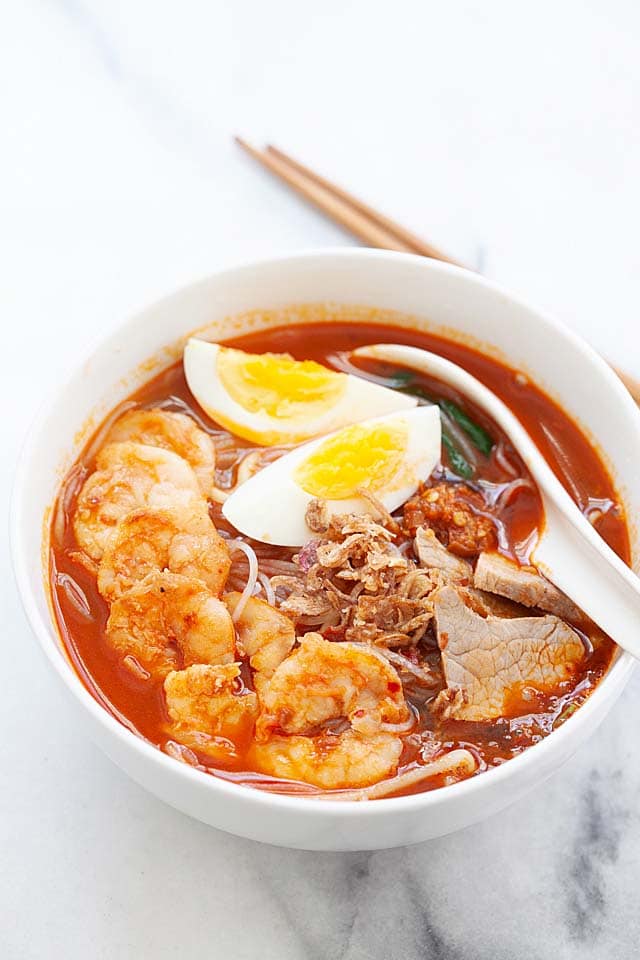 It's impossible to get good Hokkien Mee here in the US, so for the past few months, I bought only head-on shrimps. I saved up their heads patiently so I could make this at home.
This past weekend, the Ziploc bag was finally so full that I could no longer zip it up. I quickly rushed out to the nearest Asian supermarket and got myself all the other ingredients: shrimp, pork ribs, bean sprouts, noodles, etc.
The end result was a pot full of real prawny stock that was as close as what you get from hawkers and street vendors in Penang. It was really satisfying slurping up the soup and had unlimited topping of pork ribs that fell off the bones!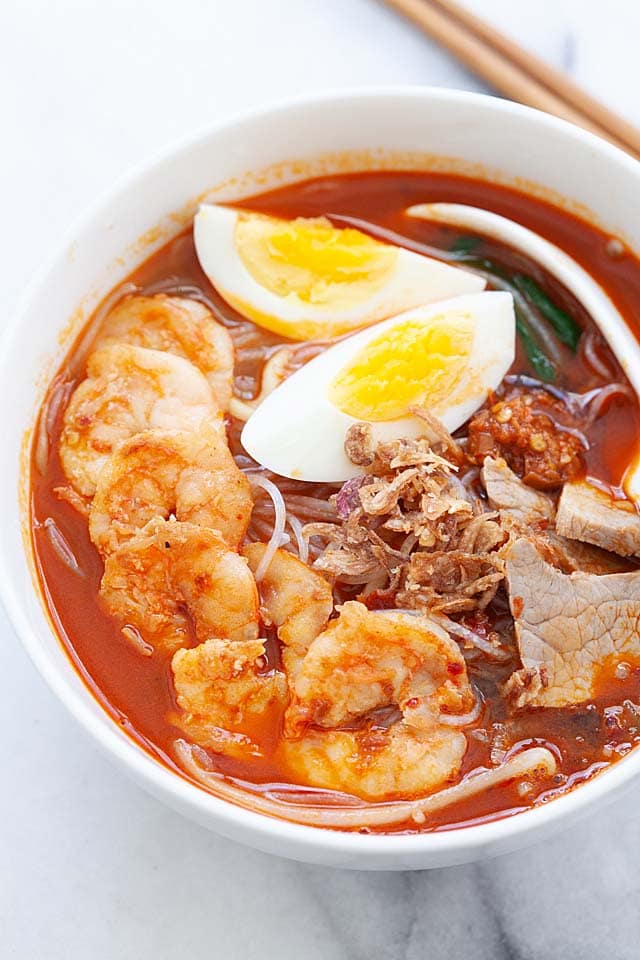 Other Recipes You Might Like
While Hokkien Mee is a famous Penang hawker food, it originated from the Fujian province in China, and hence the name "Hokkien" (which means Fujian in its dialect) and "Mee" (meaning noodle).
When I was in Xiamen in early 2006, I did validate this fact. I found Hokkien Mee (福建虾面) in coffee shops there.
While the taste was almost the same, the one I had in Xiamen paled in comparison. The Hokkien Prawn Mee in Malaysia is so much better, with rich flavors, better ingredients, and toppings.
Penang Hokkien Mee is the only hawker food that I seriously can't do without. You should really try my recipe!
P.S.: Outside of Penang, Malaysia, Penang Hokkien Mee is called Har Meen (Cantonese dialect for Prawn Mee), Heh Mee (Hokkien dialect) or Mee Yoke. There is also KL Hokkien Mee, which is a a noodle dish in dark soy sauce. KL is the abbreviation for Kuala Lumpur, the capital city of Malaysia.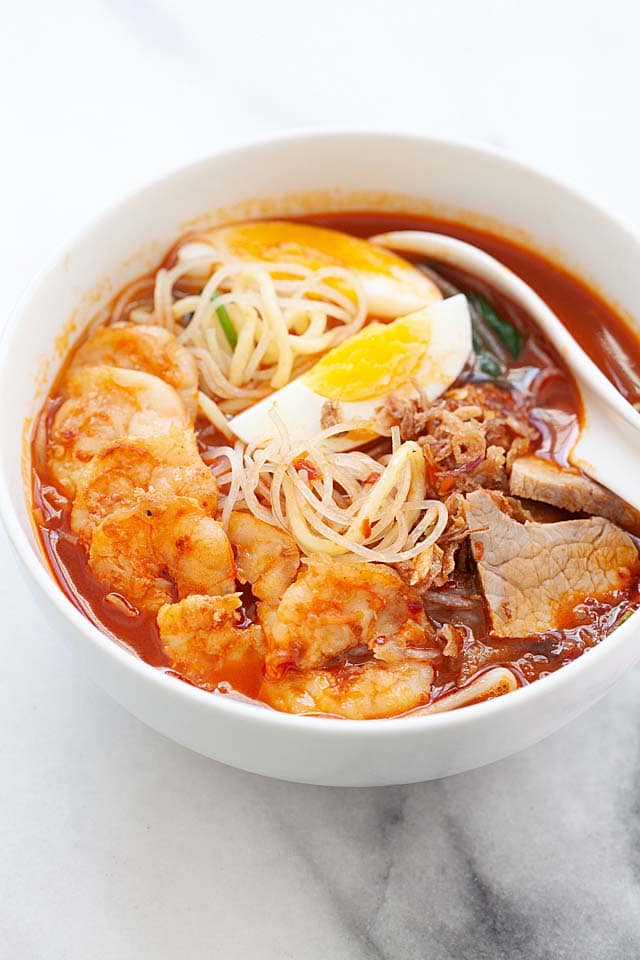 How Many Calories per Serving?
This recipe is only 405 calories per serving.
What Dishes to Serve with This Recipe?
For a wholesome meal and easy weeknight dinner, I recommend the following recipes.
For more great recipes like this, sign up for our newsletter. We'll send daily recipes you'll love!
Join
Sign up for our newsletter!
Penang Hokkien Mee
Penang Hokkien Mee is a popular prawn noodle soup found in Penang, Malaysia. Sold by hawkers and street vendors, this noodle soup is popular throughout the day.
Ingredients
Stock:
1

bag

shrimp heads and shells

((Ziploc Easy Zipper Bag))

15

cups

water

(reduced to about 12-13 cups of water after hours of boiling and simmering)

2-3

pieces

rock sugar

(about the size of a small ping pong ball each, or to taste)

1.5

lbs.

pork ribs, cut into pieces

salt to taste
Chili Paste:
30

dried chilies

(seeded and soaked to soften)

10

shallots

(peeled)

5

cloves

garlic

(peeled)

2

tablespoons

water

6

tablespoons

cooking oil

1

pound

yellow noodles, scalded

1

pack

rice vermicelli

(scalded)

kangkong or water convolvulus

(scalded)

bean sprouts

(scalded)
Toppings:
1/2

pound

lean pork meat, boiled and sliced thinly

1/2

pound

shrimp, shelled and deveined

6

hard-boiled eggs

(shelled and quartered)

fried shallot crisps

(store-bought)
Instructions
Blend the chili paste ingredients with a mini food processor until finely ground and well blended. Heat up the wok and add cooking oil. Stir fry the chili paste for 5 minutes. Dish up and set aside.

On the same wok unwashed, add in a little oil and cook the shrimp topping. Add in a little chili paste, sugar, and salt. Pan-fried the shrimp until they are slightly burned. Dish out, let cool, and sliced them into halves.

Add 15 cups of water into a pot and bring it to bowl. Add in all the shrimp heads and shell and simmer on low heat for about 2 hours or longer until the stock becomes cloudy and tastes really prawny.

Strain the stock through a sieve and transfer the stock into another pot. Discard the shrimp heads and shells. Scoop up and discard the orange "foam" forming at the top of the stock.

Bring the stock to boil again and add in half of the chili paste. You can add more chili paste if you like it spicier.

Add in the pork ribs and continue to boil in low heat for another 1-1.5 hour until the pork ribs are thoroughly cooked.

Add rock sugar and salt to taste.

To serve, place a portion of yellow noodles, rice vermicelli, water convolvulus and bean sprouts in a bowl. Ladle hot stock over. If desired, add a few pieces of pork ribs. Top with sliced pork meat, sliced shrimp, egg quarters, and sprinkle with shallot crisps.

Serve immediately with more chili paste to taste.
Notes
Traditionally, the shrimp heads and shells are stir-fried with oil until aromatic before adding them into the boiling water. You can do this extra step if you like.
The hawkers in Penang also blended the shrimp heads and shells after they are briefly boiled to extract all the flavors from the shell. I tried this step before and found that the step is not necessary if you have plenty of shrimp heads and shells.
Nutrition

Nutrition Facts

Penang Hokkien Mee

Amount Per Serving (8 people)

Calories 405

Calories from Fat 216

% Daily Value*

Fat 24g37%

Cholesterol 83mg28%

Sodium 264mg11%

Carbohydrates 29g10%

Protein 14g28%

* Percent Daily Values are based on a 2000 calorie diet.

Notice: Nutrition is auto-calculated, using Spoonacular, for your convenience. Where relevant, we recommend using your own nutrition calculations.