Malay Prawn Noodle (Mee Udang) - A plate of yellow noodles topped with huge fresh prawns in sourish tomato gravy. It is indeed appealing and easy at home.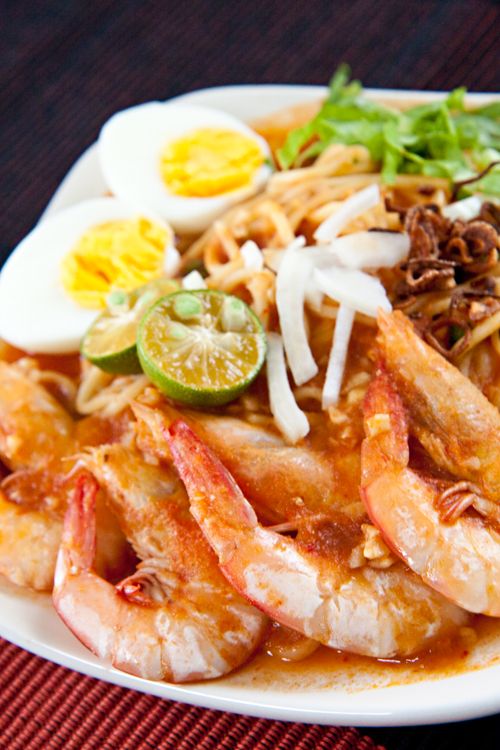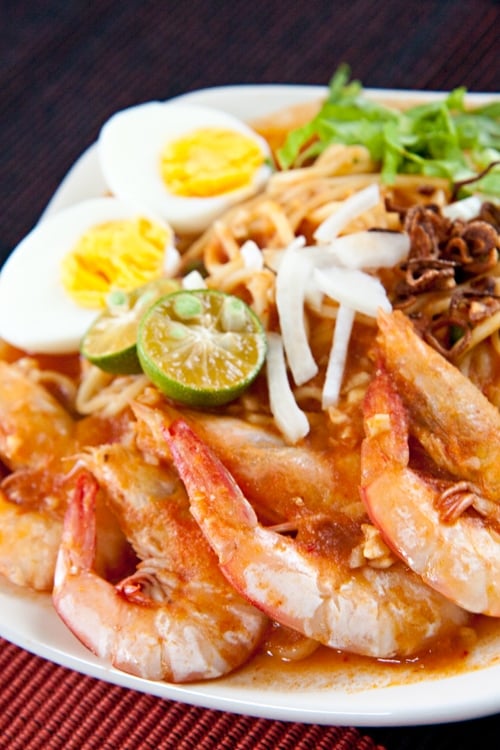 Eating Pleasure is one of the Malaysian food blogs I have been following silently for a long time. I drool over the delicious foods posted on Eating Pleasure—delicious home-made dishes, eating out, and simply gorgeous and mouthwatering food photography.
Authored by Little Inbox, a wedding photograher, Eating Pleasure whets my virtual appetite, especially when I miss the foods from home.
The guest post today is mee udang or Malay prawn noodle, commonly served by Malay hawkers at their "warung" (small cafe) by the coast in Penang, using the freshest catch from the sea. (Mee Udang is vastly different from Penang Hokkien Mee, or Chinese prawn noodles.) Please give your warmest welcome to Eating Pleasure!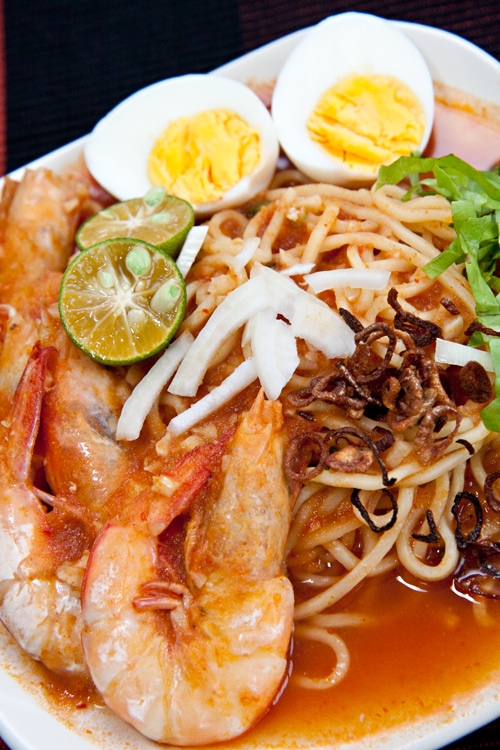 It was a surprise to me when Rasa Malaysia emailed me for a guest post invitation. I'm so happy to be given such an opportunity. It's such an honour for me to write on a Malaysian's famous food blog—Rasa Malaysia.
Both of us brainstormed about what Penang food should I introduce here. So, here is it – Mee Udang. Mee Udang or Malay Prawn Noodle is very famous in Penang. One can easily find it at Malay hawker stalls near seaside, where the prawns are fresh from the sea…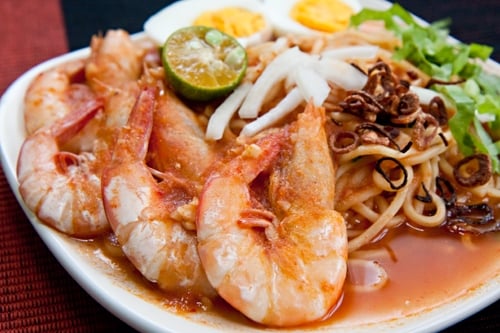 My place is just walking distance to the seaside. I can get fresh sea prawns directly from fisherman at a very low cost. That gives me the privilege to share my home cooked Mee Udang here.
A plate of yellow noodle top with huge fresh prawns in sourish tomato gravy, it is indeed appealing.
How Many Calories per Serving?
This recipe is only 437 calories per serving.
What Dishes to Serve with This Recipe?
For a wholesome meal and easy weeknight dinner, I recommend the following recipes.
5 Secrets to 20 Min Dinners
Get tricks for quick & easy meals!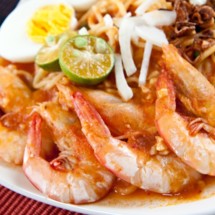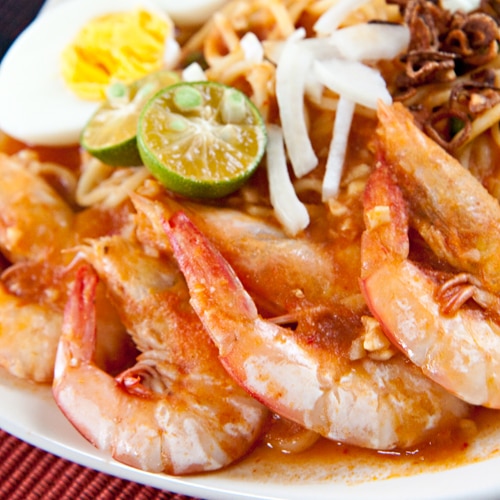 Malay Prawn Noodle (Mee Udang)
Mee Udang (Malay Prawn Noodle) recipe - A plate of yellow noodles topped with huge fresh prawns in sourish tomato gravy. It is indeed appealing.
Ingredients
250

g

yellow noodle

600

g

big-sized sea prawns

I got 8 big prawns

5

tablespoons

tomato sauce

200

g

tomatoes, diced

400

ml

water

4

cloves

garlic

peeled and chopped

6

shallots

peeled and sliced

cooking oil

2

tablespoons

sugar

1 ½

tablespoons

chili paste

light soy sauce to taste
Garnishing:
3

leaves

lettuce

thinly sliced

2

eggs

hard-boiled, peeled and halved

2

calamansi lime

halved

1

stalk spring onion

chopped

1/4

onion

thinly sliced

fried crispy shallot
Click Here for Conversion Tool
Directions
Blend the diced tomatoes with 400 ml (13 oz.) of water. Set aside.

Blanch the yellow noodle and set aside.

Heat enough oil in a wok, deep fried sliced shallot till golden brown, set aside.

Leave about 2 tbsp of oil in the wok, saute garlic till fragrant. Add prawns and stir fry with 1 tbsp of light soy sauce for 1 minute.

Pour in the tomato puree. Add tomato sauce and chili paste. Bring the gravy to simmer under medium heat. Add sugar and light soy sauce to taste.

Add in the yellow noodle to the simmering gravy. Mix well.

Serve up and garnish with onion, spring onion, egg, lettuce, calamansi lime and fried shallot.
Nutrition Facts
Malay Prawn Noodle (Mee Udang)
Amount Per Serving (2 people)
Calories 437
Calories from Fat 261
% Daily Value*
Fat 29g45%
Cholesterol 942mg314%
Sodium 5166mg225%
Carbohydrates 124g41%
Protein 85g170%
* Percent Daily Values are based on a 2000 calorie diet.