Belacan Fried Chicken - crispy and juicy Malaysian fried chicken marinated with cilantro and Asian seasonings. So delicious!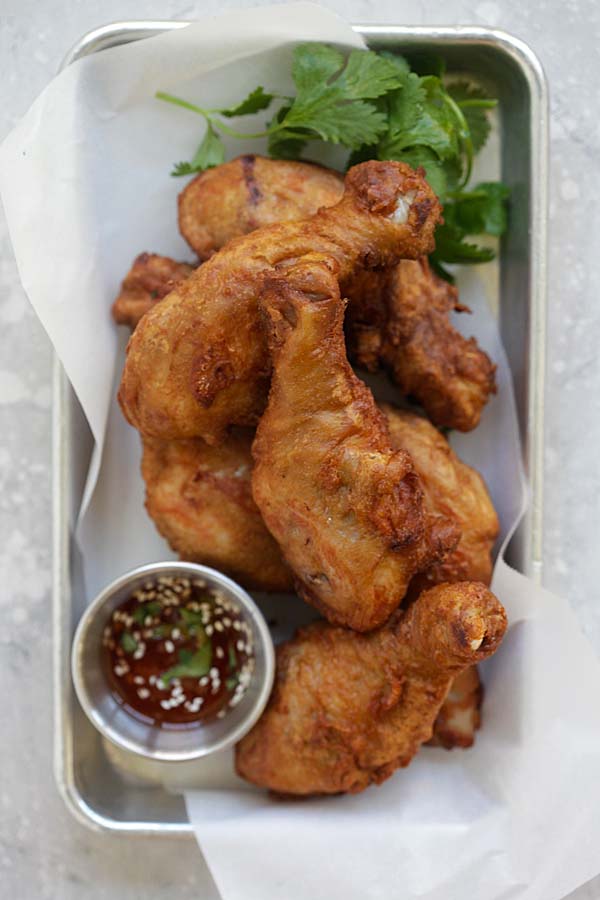 Malaysia has some of the best foods that the world has to offer and I am not even biased.
If you have traveled to Malaysia, you would know what I mean.
Foodies all become an instant fan with our food.
Lucky for little G, I take him back to Malaysia every summer and he agrees that Malaysian food is absolutely delicious.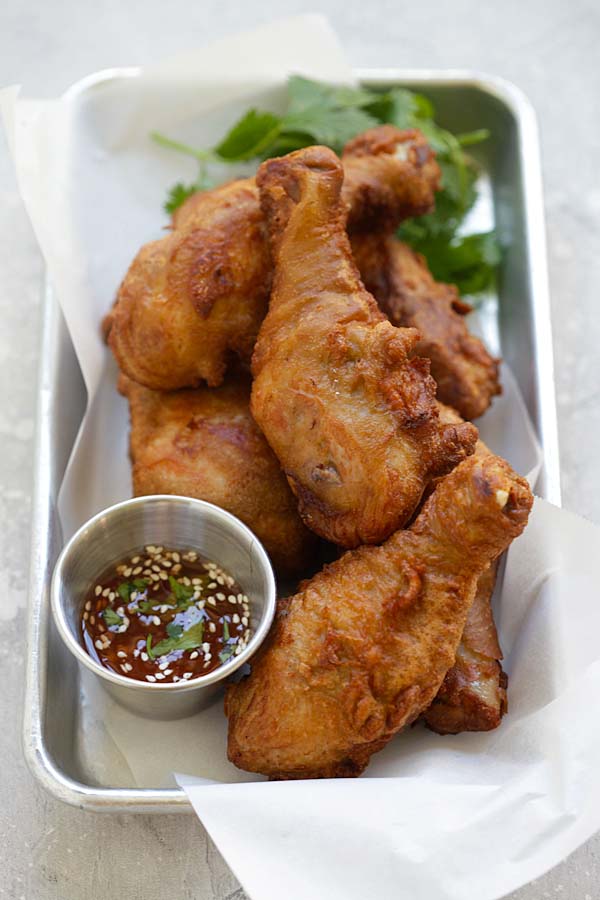 Other Recipes You Might Like
This Malaysian Belacan Fried Chicken is his favorite dish.
His eyes lit up when I told him that I was making him fried chicken for dinner.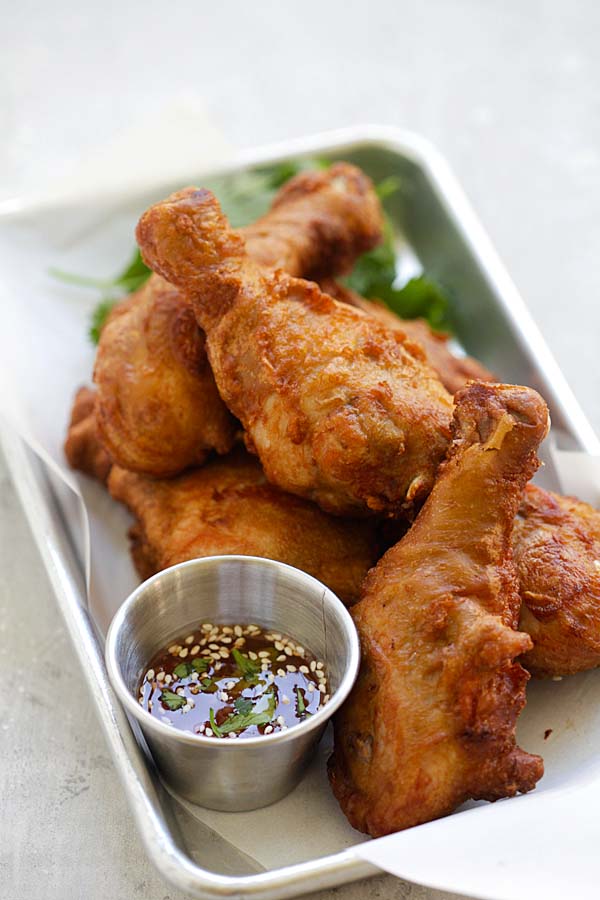 Belacan is shrimp paste, which is a key ingredient in Malaysian recipes.
Much like fish sauce to Thai and Vietnamese cuisines, belacan is pungent but it adds amazing flavors and taste structure to our food.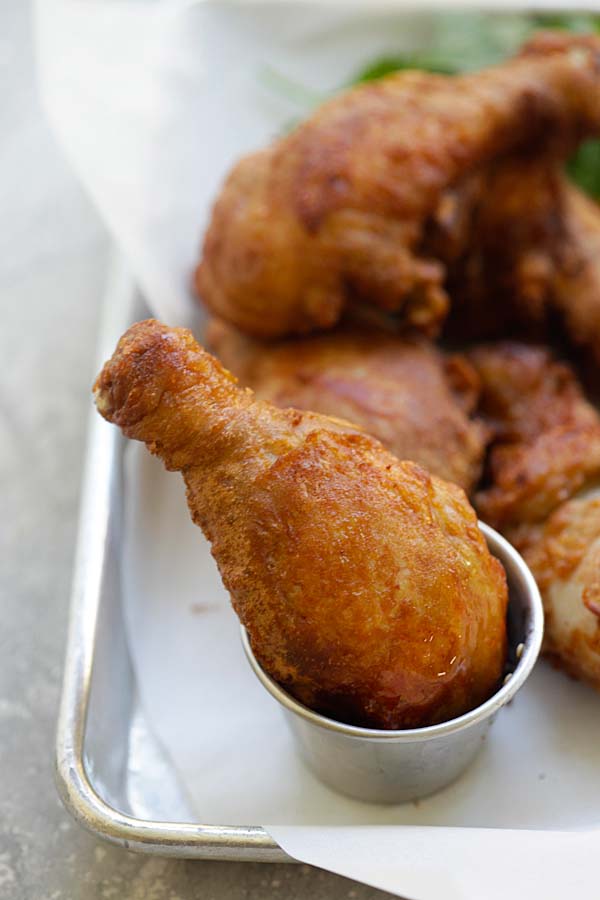 For this recipe, you want to use shrimp sauce in a bottle, and not in a block.
This Malaysian Belacan Fried Chicken is extremely delicious, much like Thai Fried Chicken.
It calls for only a handful of ingredients.
Give me a choice, I would always go for Asian fried chicken. Enjoy!
How Many Calories per Serving?
This recipe is only 312 calories per serving.
What Dishes to Serve with This Recipe?
For a wholesome meal and easy weeknight dinner, I recommend the following recipes.
5 Secrets to 20 Min Dinners
Get tricks for quick & easy meals!
Yield: 3 people
Malaysian Belacan Fried Chicken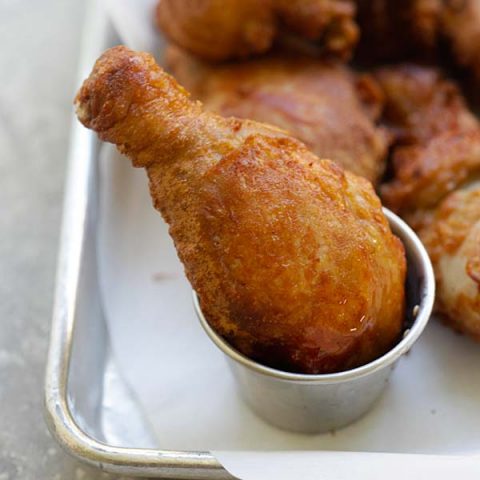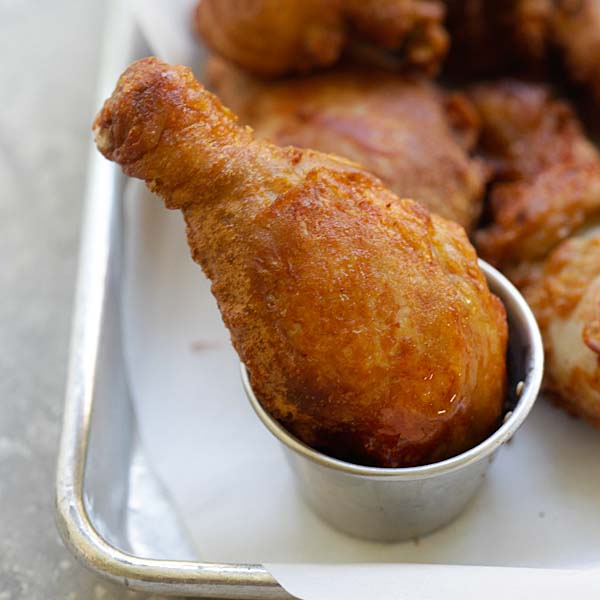 Belacan Fried Chicken - crispy and juicy Malaysian fried chicken marinated with cilantro and Asian seasonings. So delicious!

Prep Time 10 minutes

Cook Time 20 minutes

Total Time 30 minutes
Ingredients
6 small (20 oz./600 g) chicken drumsticks
1 tablespoon cilantro stems juice
1 tablespoon shrimp sauce
1/2 tablespoon sugar
1 egg white
1/2 tablespoon sesame oil
1 tablespoon corn starch
3 tablespoons all-purpose flour
Instructions
Rinse the chicken with water and pat dry with paper towels. Set aside. Prepare the cilantro juice by cutting off the bottom 2-inch part of cilantro (the stems). Using a mortar and pestle, pound the stems and extract the juice from the stems using your hand.
In a big bowl, whisk the shrimp sauce, sugar, egg white, sesame oil, cilantro juice, corn starch and flour together until smooth. Add the chicken, coat well and marinate for at least 4-6 hours.
When ready, heat up a pot of cooking oil or use a deep fryer. Drop the chicken gently into the oil and deep fry the chicken until crispy and golden brown (the inside should cook thoroughly but remains juicy). Transfer the fried chicken out on a plate lined with paper towels to soak up the excess oil.
Serve the fried chicken immediately with chili sauce.
Nutrition Information
Yield
3
Serving Size
3 people
Amount Per Serving Calories 312Total Fat 16gSaturated Fat 4gUnsaturated Fat 0gCholesterol 139mgSodium 174mgCarbohydrates 10gFiber 1gSugar 2gProtein 29g