Ayam Masak Merah - Although it shares basic similar spices to Chicken Curry. It is different, both in texture and the flavours in the sauce.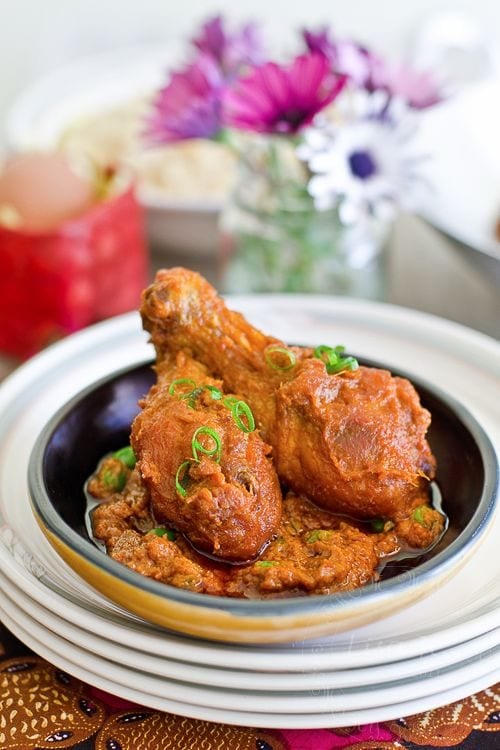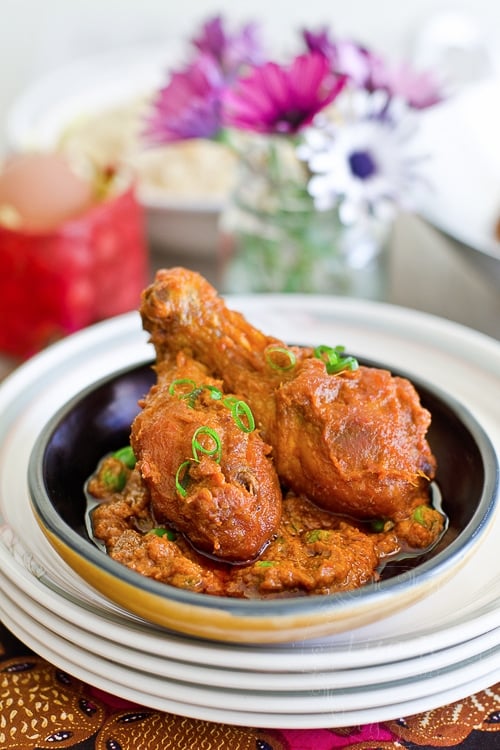 Tomorrow is Hari Raya or Eid, the biggest Muslim holiday that marks the end of Ramadan, or the Islamic holy month of fasting.
As a Malaysian, we celebrate all festivities (regardless of our race and ethnicity) with food, food, and more food, and that's why I invited one of my favorite Malaysian food bloggers Lisa at My Lemony Kitchen to share a classic Malaysian recipe with us: Ayam Masak Merah or Chicken in Creamy Spicy Tomato Sauce.
My Lemony Kitchen is an excellent food blog with lots of delicious recipes: Malaysia, Asian, western, baking, you name it and you'll have it.
For my Muslim readers, I wish you all "Selamat Hari Raya" or Happy Eid.
I am honoured to receive an invite from Bee of Rasa Malaysia, to guest post on her beautiful blog. Thank you, Bee…
I was ecstatic but at the same time…was feeling nervous…what shall I cook?
How shall I present my post?
Everyone in the food blogging community knows Bee and her beautiful blog—Rasa Malaysia.
Lucky me, Bee had made it easier by suggesting Ayam Masak Merah or chicken cooked in rich creamy spicy tomato sauce.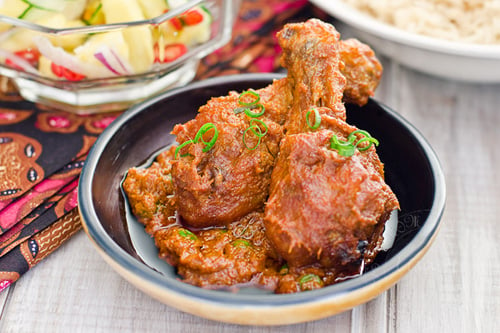 Other Recipes You Might Like
Mentioned Ayam Masak Merah to a Kedahan (Kedah is a state in the far North of Malaysia), would immediately evoke memories of "traditional Malay weddings" and Hari Raya or Eid Celebration.
Yes…Ayam Masak Merah is not an everyday affair in a typical household in Kedah.
It is a unique dish to be enjoyed on special occasions… served with Nasi Minyak or Savoury Rice, fresh salad of cucumber, pineapple, cut-up chillies and red onions.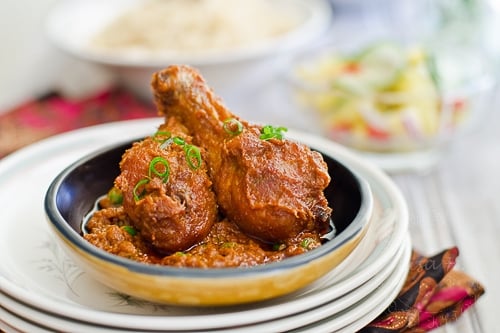 Ayam Masak Merah has unique flavours, the taste is beautiful and unforgettable although it shares some basic similar spices (cinnamon, cloves, star anise and chillies) to Chicken Curry. It is distinctively different, be it in the texture of the chicken or the tantalizing flavours in the sauce.
The chicken pieces are rubbed in with turmeric and salt and are deep fried till golden in colour.
Deep frying seals the juice as well as it gives the chicken pieces, a firmer texture to every bite.
The pieces are then added to the simmering sauce.
This gives the chicken, its rich flavour, with its subtle heat from the chillies, sweet and sour-ish taste from the tomato soup combine with creaminess from coconut milk.
Moslems in Malaysia and around the world will be celebrating Hari Raya Aidil Fitri or Eid Mubarak tomorrow, perhaps Ayam Masak Merah could be one of the dish that you might want to cook and join in the Celebration.
How Many Calories per Serving?
This recipe is only 131 calories per serving.
What Dishes to Serve with This Recipe?
For a wholesome meal and easy weeknight dinner, I recommend the following recipes.
For more great recipes like this, sign up for our newsletter. We'll send daily recipes you'll love!
Join
Sign up for our newsletter!
Ayam Masak Merah (Chicken in Spicy Tomato Sauce)
Ayam Masak Merah Recipe - This dish has unique flavours, although it shares some basic similar spices to Chicken Curry. It is distinctively different, be it in the texture of the chicken or the tantalizing flavours in the sauce.
Ingredients
2

kg

chicken (2 chickens if possible)

(cut into 8 pieces/chicken)

20

dried chillies

(soaked)

2

red onion

5

cloves

garlic

40

g

ginger

25

g

galangal, lengkuas

2-3

star anise

4

cloves

3

inch

cinnamon

3

cardamom

1

can

tomato soup

1

can

coconut milk

salt to taste

vegetable oil for deep frying plus ¼ cup extra

1

cup

peas

(optional)
Instructions
Preparing Chicken. Rub chicken with turmeric and salt. Set aside for 30 minutes. Heat up the oil in a wok and deep fry the chicken pieces until golden in colour. Set aside.

Roughly chopped red onion, ginger, galangal and lemongrass, then transfer to a blender or food processors. Add in chillies and garlic. Process into a paste.

Heat up the wok with ½ cup of oil. Sauté the spices : Cinnamon, star anise, cloves and cardamom until fragrant. Then add in the blended paste. Bring the heat up until the paste bubble then lower the heat. Simmer till the paste is thoroughly cooked, fragrant and the oil separates from the paste (pecah minyak).

Add in canned tomato soup, coconut milk and chicken pieces. Bring up the heat for a quick boil, then lower to a simmer and cook until the sauce thickened. Add peas and season with salt to taste. Garnish with some spring onion before serving.
Nutrition

Nutrition Facts

Ayam Masak Merah (Chicken in Spicy Tomato Sauce)

Amount Per Serving (10 people)

Calories 131

Calories from Fat 81

% Daily Value*

Fat 9g14%

Sodium 120mg5%

Carbohydrates 13g4%

Protein 3g6%

* Percent Daily Values are based on a 2000 calorie diet.

Notice: Nutrition is auto-calculated, using Spoonacular, for your convenience. Where relevant, we recommend using your own nutrition calculations.