Chicken Rice - Dish found in Malaysia and Singapore, called Hainanese chicken rice. Easy and delicious chicken rice recipe.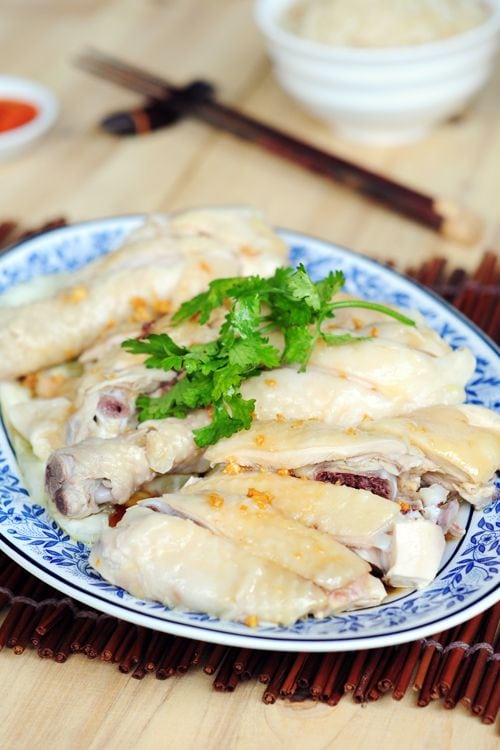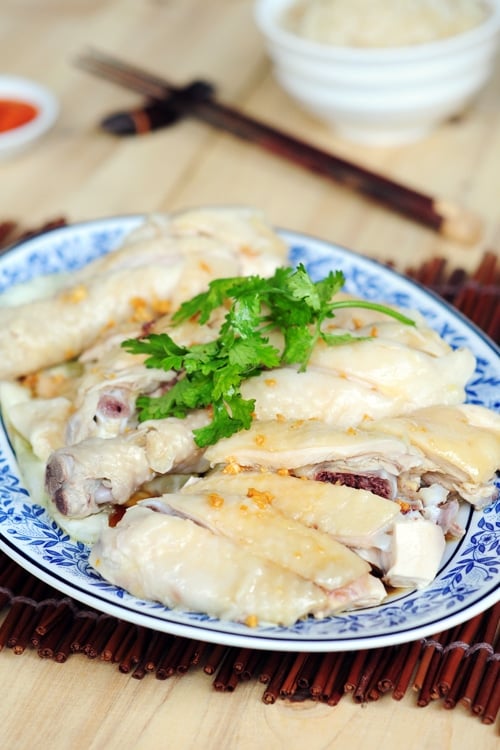 You know that someone is a serious and great cook when she tirelessly perfects her recipes even though it means that the family has to eat the same dish over and over again, Sherie of Maameemoomoo is just that with her Hainanese chicken rice recipe, a popular dish in Malaysia and Singapore.
Maameemoomoo food blog is one of the finalists of Singapore Blog Award; it beckons with mouthwatering recipes and gorgeous photography, one that is sure to stir up your appetite.
Please welcome Maameemoomoo to Rasa Malaysia with her perfect Hainanese chicken rice recipe. Enjoy!
Truth be told, I got to know about Rasa Malaysia quite sometime ago back in 2006 from one of my favourite food blogs then. All these years, I've been silently supporting Bee without her knowing but now, errrmmm… not so silently anymore aye? :)
When Bee invited me to do a guest post for her last month, I was elated but at the same time, a little worried…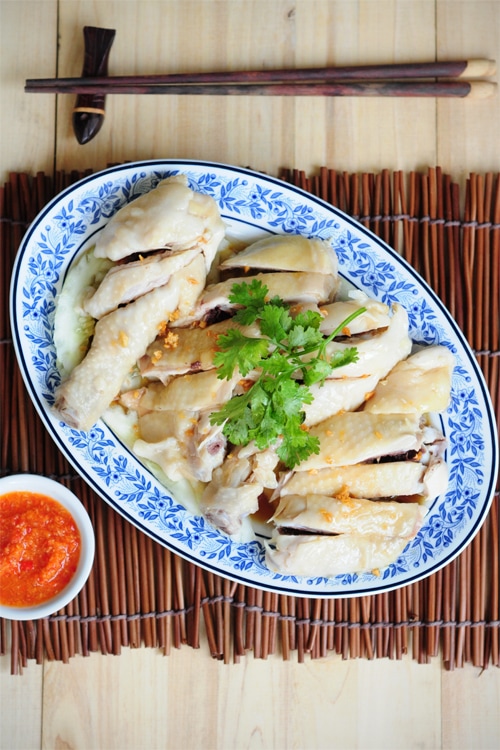 Why?
Just take a look at the Bee's recipe index. I doubt that there is any Malaysian/ Singaporean dish that has not been featured on Rasa Malaysia already.
Fortunately, 1 out of 2 suggestions suggested got Bee thrilled and she was quick to agree to it because she hasn't featured this particular dish, yet.
Hainanese chicken rice is a dish of Chinese origin most commonly associated with Hainanese Cuisine, Malaysian Cuisine and Singapore Cuisine. It is based on the well-known Hainanese dish called Wenchang chicken (文昌雞).
Don't be surprised though, if you find the chicken rice served in Hainan, China is different from what you can find in Southeast Asia. Over the years, adaption has been made by the Chinese Hainanese clan who migrated to Southeast Asia which resulted today's Hainanese chicken rice in Singapore and Malaysia.
Being a Hainanese myself, I often eat this when I was growing up. My mother has this ultra soft-spot for this dish, perhaps, because it is the only Hainanese dish which she can whip up perfectly. Tee hee hee!
So, how do you define a good plate of chicken rice?
You might be shocked to know that each and every one of us defines it differently. While a bowl of kick-ass rice works for me, some may think it is the oh-so-tender-chicken pieces with its silky smooth skin, or some, it is the one-of-its-kind-chili sauce.
I say, whatever works for you and that is that.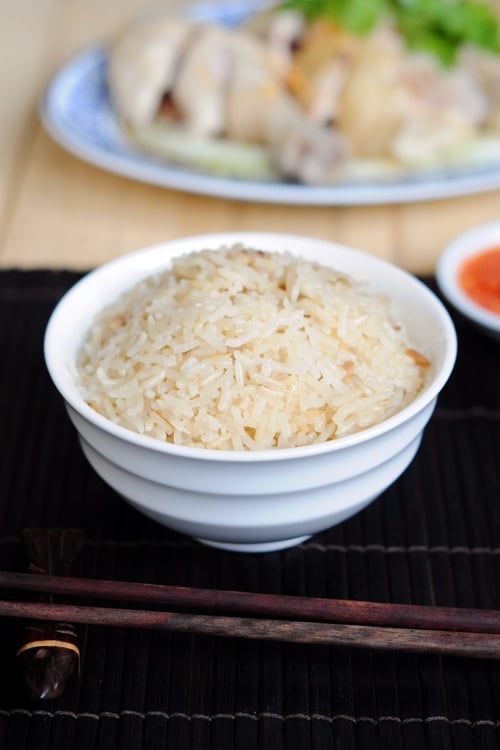 Before this, due to my non-existent chopping chicken skill, I usually cut the chicken into just 4 sections and let the children tear the meat off by themselves.
However, ever since I promised Bee that I'll produce a decent looking plate of chicken rice for her, my poor family had been consuming chicken rice for almost 5 weeks consecutively for the past month!
Thankfully on my 5th attempt, I managed to get a plate of OK-looking chicken pieces and i thought that was the end of my chicken rice meal for the next 3 months at least, but guess what?
I've just been sent a request to cook this dish on Sunday for my partner's family and his beloved sister who would be back from the States for a short holiday!
Guess it's not that easy to get bored of Hainanese chicken rice eh?
What Dishes to Serve with This Recipe?
For a wholesome meal and easy weeknight dinner, I recommend the following recipes.
For more great recipes like this, sign up for our newsletter. We'll send daily recipes you'll love!
Join
Sign up for our newsletter!
Chicken Rice
This is a chicken rice dish found in Malaysia and Singapore, called Hainanese chicken rice. Easy and delicious chicken rice recipe.
Ingredients
For the rice
3

cups

uncooked washed rice

5

tbsp

vegetable oil

4

cloves

finely chopped garlic

4

finely chopped shallots

2.5

cups

chicken broth

(+ 2 tbsp )

4-6

blades of pandan leave

(screwpine leaves)

1

small thumb of ginger

(cleaned and bruised)

1

tbsp

garlic and shallot oil

70

g

chicken fats

1.5

tsp

salt

(to taste)
For the chicken
1

whole chicken

(preferably free range organic chicken)

1

small thumb of ginger

(cleaned and bruised)

5-6

stalks of scallion

(washed)

10

bowls chicken stock

(adjust accordingly)

4

blades of pandan leaves

(screwpine leaves)

1

carrot

(roughly chopped)

3

tsp

salt

10

bowls

cold water

1

cucumber

(peeled, halved and sliced diagonally)
For chicken rice chilli sauce
90

g

red chilies, you may add in some bird's eye chili

15

g

garlic

50

g

ginger

1

tsp

salt

1

tsp

sugar

50

ml

chicken broth

60

ml

lime juice, to taste
Instructions
For the chicken
Wash chicken, drain well, stuff ginger and scallion into the chicken's cavity. Using 2 tsp of salt as scrub, rub the salt all over the chicken for smooth looking skin.

In a not too large stockpot which fits the chicken perfectly, boil the chicken stock (enough to cover the whole chicken) together with pandan leaves, carrot and salt.

Submerge the whole chicken, breast side down, in the boiling water for 35-45 minutes depending on the size of the chicken. Lower the heat to a gentle simmer immediately.

When the chicken is cooked, remove chicken and plunge it into prepared cold water at once for 10 minutes. Keep the chicken broth** for later use.

Drain the chicken, discard ginger and scallion from the cavity and set it aside to cool before chopping it neatly into desired serving size.
For the rice
Heat oil in wok, fry chopped shallots and garlic till fragrant and golden in colour. Add rice and stir well. Transfer the rice mixture to rice cooker.

Once transferred, add chicken broth, pandan leaves, ginger, garlic and shallot oil, chicken fats and salt into rice mixture. Cook according to rice cooker's manual instruction.
To prepare chicken rice
Line a serving plate with cucumber slices.

Arrange chicken pieces on top, pour in the prepared sauce before garnishing with cilantro.

Serve with chicken rice, side soup and chicken rice chili sauce.

**Any left over chicken broth can be served as side soup, garnish with cilantro or chopped scallions. I like my soup with fish balls. ;)
Notes
Never let the Great-Wall-of-China-long list of ingredients and methods intimidate you. It's really not as tough or scary as it seems + the ingredients can be easily attainable almost everywhere and importantly, your effort will be extremely well paid off after.
Nutrition

Nutrition Facts

Chicken Rice

Amount Per Serving (1 grams)

Calories 2498

Calories from Fat 567

% Daily Value*

Fat 63g97%

Cholesterol 159mg53%

Sodium 5522mg240%

Carbohydrates 387g129%

Protein 96g192%

* Percent Daily Values are based on a 2000 calorie diet.

Notice: Nutrition is auto-calculated, using Spoonacular, for your convenience. Where relevant, we recommend using your own nutrition calculations.