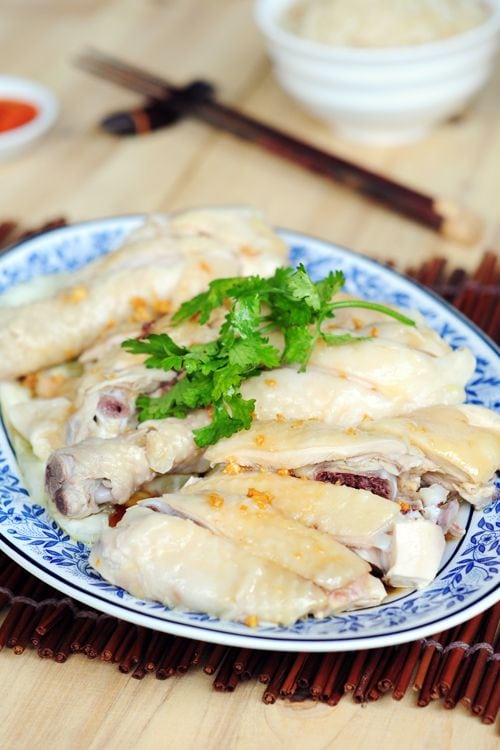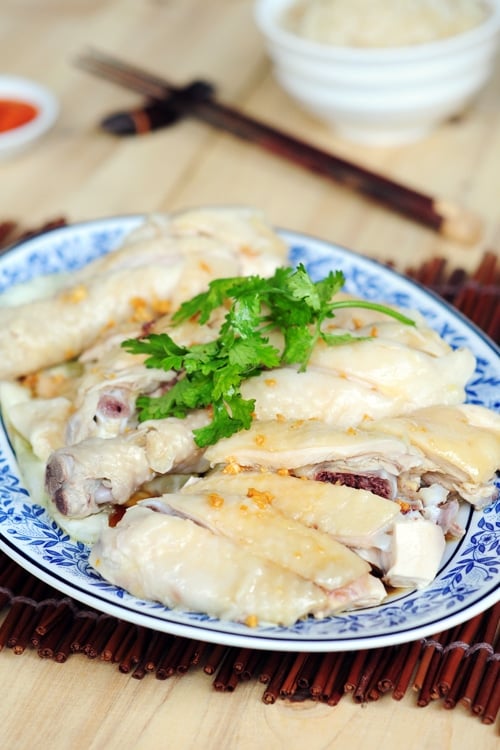 You know that someone is a serious and great cook when she tirelessly perfects her recipes even though it means that the family has to eat the same dish over and over again, Sherie of Maameemoomoo is just that with her Hainanese chicken rice recipe, a popular dish in Malaysia and Singapore.
Maameemoomoo food blog is one of the finalists of Singapore Blog Award; it beckons with mouthwatering recipes and gorgeous photography, one that is sure to stir up your appetite.
Please welcome Maameemoomoo to Rasa Malaysia with her perfect Hainanese chicken rice recipe. Enjoy!
Truth be told, I got to know about Rasa Malaysia quite sometime ago back in 2006 from one of my favourite food blogs then. All these years, I've been silently supporting Bee without her knowing but now, errrmmm… not so silently anymore aye? :)
When Bee invited me to do a guest post for her last month, I was elated but at the same time, a little worried…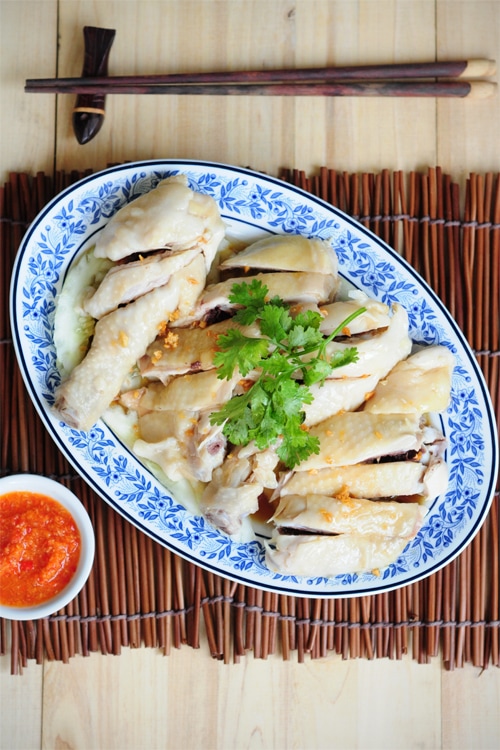 Why?
Just take a look at the Bee's recipe index. I doubt that there is any Malaysian/ Singaporean dish that has not been featured on Rasa Malaysia already.
Fortunately, 1 out of 2 suggestions suggested got Bee thrilled and she was quick to agree to it because she hasn't featured this particular dish, yet.
Hainanese chicken rice is a dish of Chinese origin most commonly associated with Hainanese Cuisine, Malaysian Cuisine and Singapore Cuisine. It is based on the well-known Hainanese dish called Wenchang chicken (文昌雞).
Don't be surprised though, if you find the chicken rice served in Hainan, China is different from what you can find in Southeast Asia. Over the years, adaption has been made by the Chinese Hainanese clan who migrated to Southeast Asia which resulted today's Hainanese chicken rice in Singapore and Malaysia.
Being a Hainanese myself, I often eat this when I was growing up. My mother has this ultra soft-spot for this dish, perhaps, because it is the only Hainanese dish which she can whip up perfectly. Tee hee hee!
So, how do you define a good plate of chicken rice?
You might be shocked to know that each and every one of us defines it differently. While a bowl of kick-ass rice works for me, some may think it is the oh-so-tender-chicken pieces with its silky smooth skin, or some, it is the one-of-its-kind-chili sauce.
I say, whatever works for you and that is that.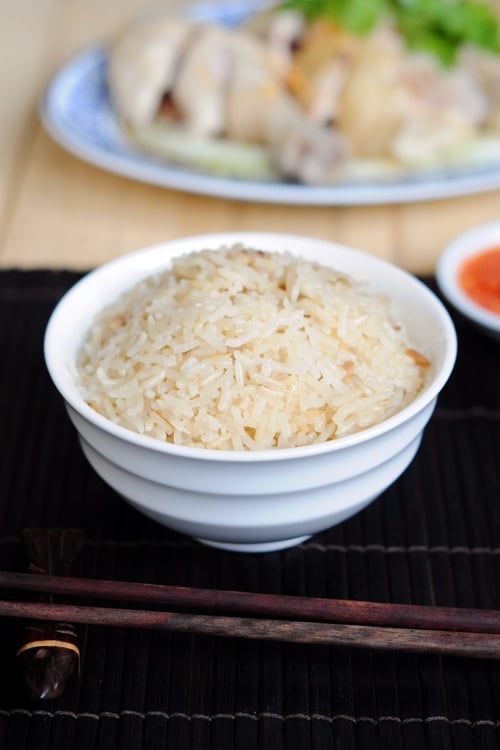 Before this, due to my non-existent chopping chicken skill, I usually cut the chicken into just 4 sections and let the children tear the meat off by themselves.
However, ever since I promised Bee that I'll produce a decent looking plate of chicken rice for her, my poor family had been consuming chicken rice for almost 5 weeks consecutively for the past month!
Thankfully on my 5th attempt, I managed to get a plate of OK-looking chicken pieces and i thought that was the end of my chicken rice meal for the next 3 months at least, but guess what?
I've just been sent a request to cook this dish on Sunday for my partner's family and his beloved sister who would be back from the States for a short holiday!
Guess it's not that easy to get bored of Hainanese chicken rice eh?
Click Here to Pin This Recipe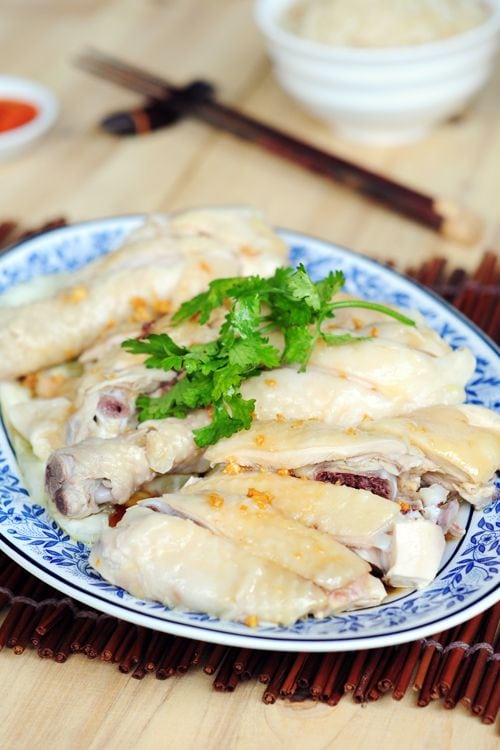 SUBSCRIBE AND NEVER MISS A RECIPE
SUBSCRIBE TO RASA MALAYSIA NEWSLETTER AND GET EASY AND DELICIOUS RECIPES DELIVERED TO YOUR INBOX. If you try my recipe, please use hashtag #rasamalaysia on social media so I can see your creations! Follow me on Facebook | Instagram | Pinterest | Twitter for new recipes, giveaways and more.