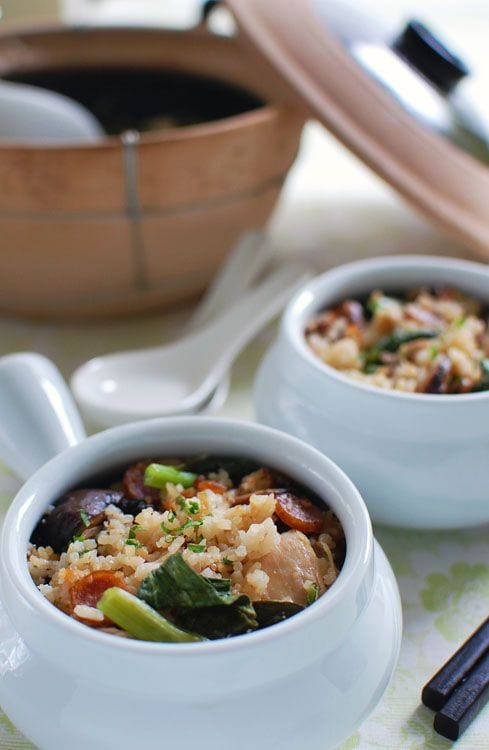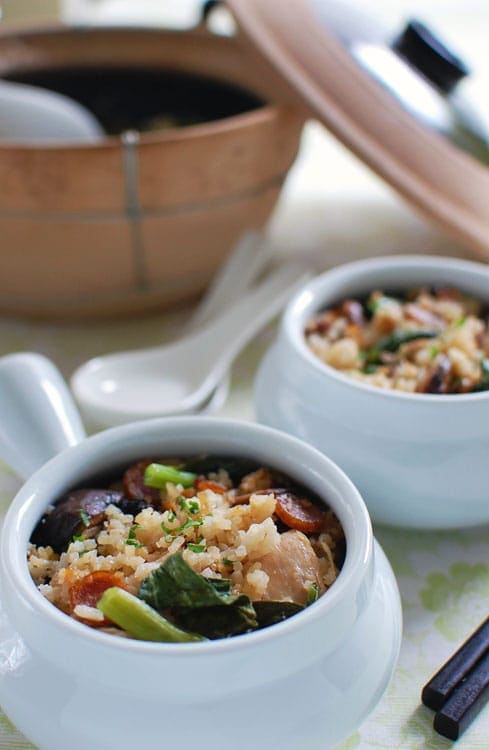 Claypot chicken rice is popular in many Asian countries, for example: Hong Kong, Malaysia and Singapore, but I've always cheated with a rice cooker when making it at home.
I'm so glad that Danielle of Bon Vivant—a gorgeous food blog with great writing, mouthwatering recipes and food photography—is sharing her claypot chicken rice recipe with us.
Danielle is a Singaporean who lives in the bay area; I applaud her dedication and patience in preparing this claypot chicken rice. Check out her wonderful guest post below and don't forget to hop over to Bon Vivant for more awesomeness. I
I'm very certain that you will like what you see on Bon Vivant!
There are so many wonderful ways to cook a meal these days—from the blink of a microwave to the meditative warmth of braising in an oven. Despite the array of 'modern' gadgets like the slow cooker, pressure cooker and the microwave, I must profess that I'm decidedly old school in owning none of these.
On the contrary, I actually enjoy the waiting (and the work) involved with the slow cooking process. It's like having front-row seats at the Evolution of Dinner; you're witnessing the transformation of food from it's raw, organic state into one capable of bringing you to gustatory heaven.
When I started cooking for myself, I appreciated the "quick weeknight" recipes found in the pages of any magazine. These were functional, utilitarian meals designed to satisfy hunger and send me off to bed for a good night's rest.
What I really looked forward to on the weekends though, was the time I could have to spend in the kitchen: I relished the four hours it took to transform perfectly smooth tomatoes into scabs of tomato confit and thought nothing of burying soft, plump pieces of cod in salt for a month for home-made bacalao.
I loved having to plan for a meal, sometimes weeks in advance, savoring the prelude of daily preparations before the big show…
The ultimate goal of these seemingly unnecessary, laborious processes (in the face of modern appliances), was in coaxing out the real, true flavor of whatever was being prepared.
Before I tasted my own, I tempted myself with the imagination, envisioning what the final dish would be like, aided by Thomas Keller's poetic prose and suchlike.
After the meal, the memory would linger, along with a satisfaction deepened by the knowledge that it was a meal that I felt I had truly worked for, in a manner so tangible, concrete and worlds apart from the conventional notion of 'work' that we subject ourselves to everyday.
So, in a tribute to slow-cooking and the primal, mouth-watering reactions borne out of wrestling with taunting aromas on an empty stomach, here's a classic Chinese claypot dish, just the way my mother prepares it.
It's a breeze to put together and tastes absolutely delicious, but you'll have to give it time, over low heat, to get there. Although traditionally cooked over a short and stocky charcoal stove and monitored with a hawk's eye, you could also use a deep cast-iron pot over the stove or the always reliable rice cooker to do the job.
You'll just be missing out on the spirals of smoke that work its way into the claypot to augment the heady combination of rice wine and sesame oil for a deeper complexity on the palate.
The timings in this recipe were tailored for claypot use on a gas or an electric stove, so adjust the cooking time accordingly if you're planning to cook this over a charcoal fire.
Also, don't fret if the ingredients at the base of the pot burn a little – these are actually the best bits of the dish, adding a satisfying crunch to every bite. You can read more about claypot cooking here and here.
Click Here to Pin This Recipe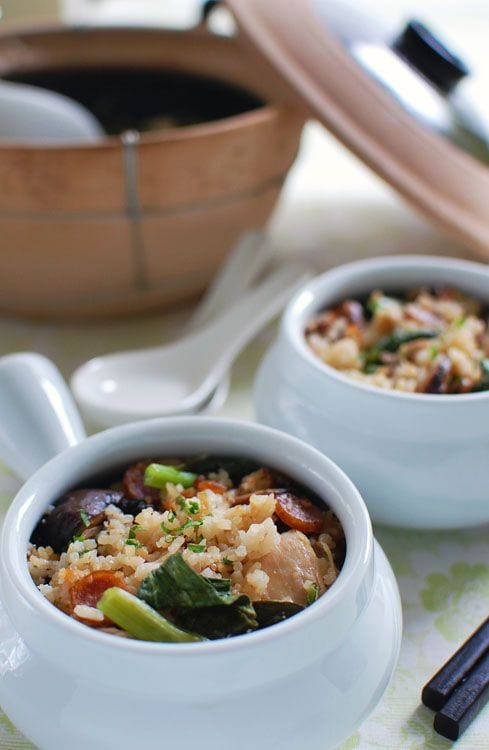 SUBSCRIBE AND NEVER MISS A RECIPE
SUBSCRIBE TO RASA MALAYSIA NEWSLETTER AND GET EASY AND DELICIOUS RECIPES DELIVERED TO YOUR INBOX. If you try my recipe, please use hashtag #rasamalaysia on social media so I can see your creations! Follow me on Facebook | Instagram | Pinterest | Twitter for new recipes, giveaways and more.