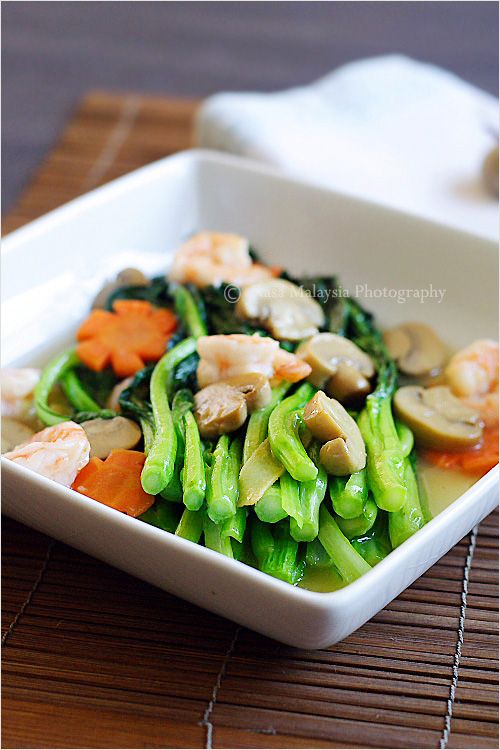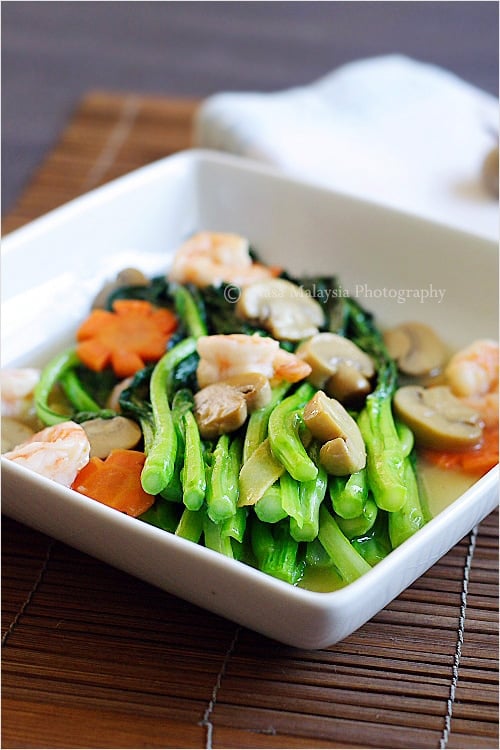 (Chinese recipes, prepare authentic Chinese food now!)
Vegetables are healthy and great, but they are boring and hard to cook. Unlike protein (such as meat or fish), vegetables don't have much flavor. In Chinese cooking, the key to cooking vegetable dishes lies in the creative use of side ingredients and sauces to bring out the taste and texture of vegetables.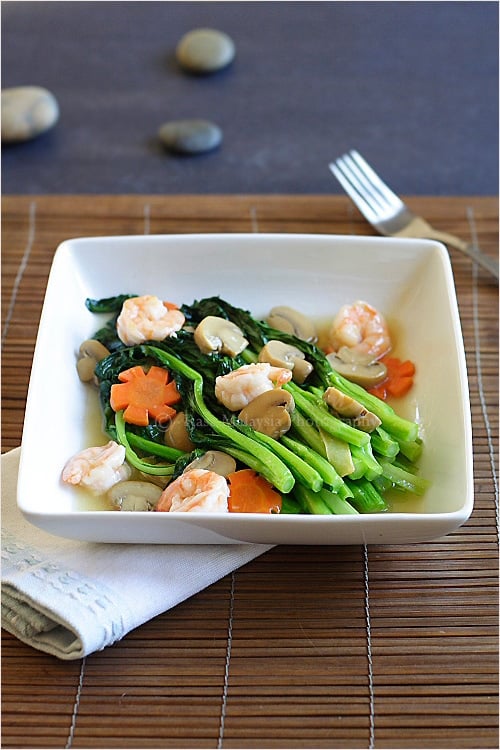 Chinese love leafy greens: choy sum, kai lan, bok choy, gai choy, etc. In everyday Chinese meal, there is always a vegetable dish to complement other main dishes.
In Chinese or Cantonese restaurants, Chinese vegetables are often served two ways: brown sauce (flavored with oyster sauce) or white sauce–a cooking style I am sharing with you today.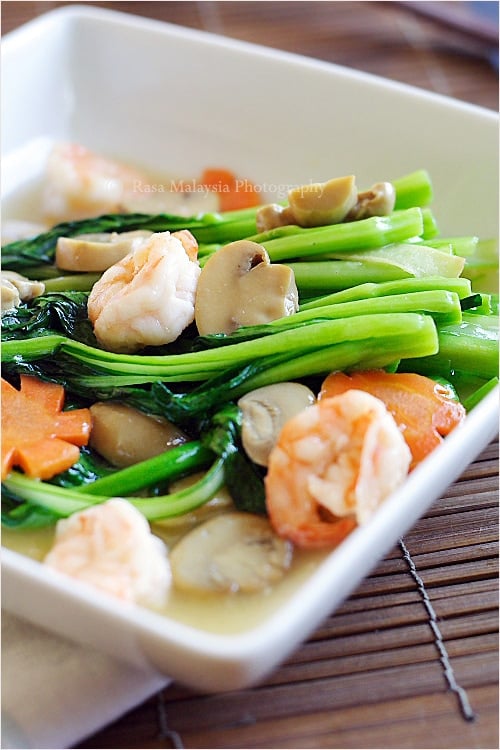 I used choy sum (菜心/油菜心) for this recipe–a very typical Chinese vegetable that you can get in any Asian stores. Choy sum is great with oyster sauce, but an occasional white sauce is awesome, too.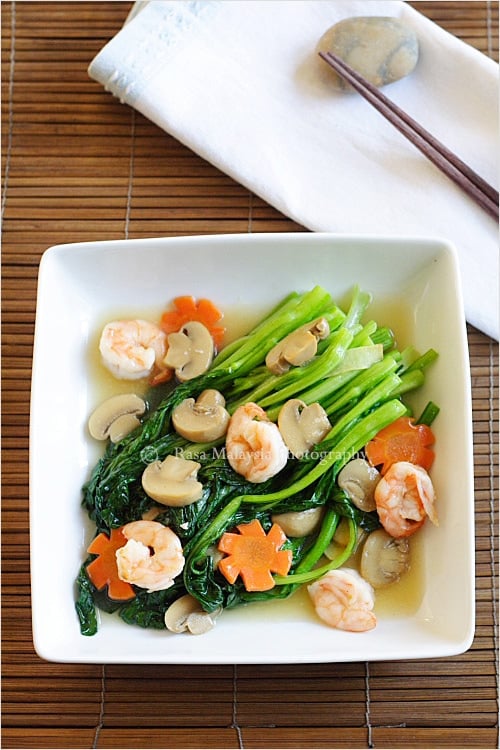 If you love Chinese recipes and wish to learn more about cooking vegetables, do master this Chinese vegetable recipe as it's very versatile and goes well with most Chinese leafy greens.
Here is my recipe for choy sum with white sauce. Bon appetit!
How Many Calories Per Serving?
This recipe is only 96 calories per serving.
5 Secrets to 20 Min Dinners
Get tricks for quick & easy meals!
Yield: 4 people
Chinese Vegetables (Choy Sum)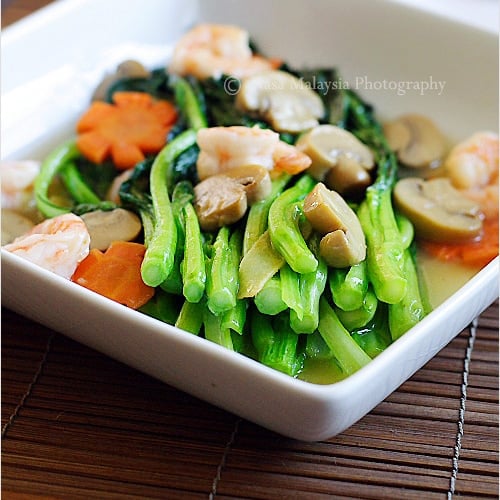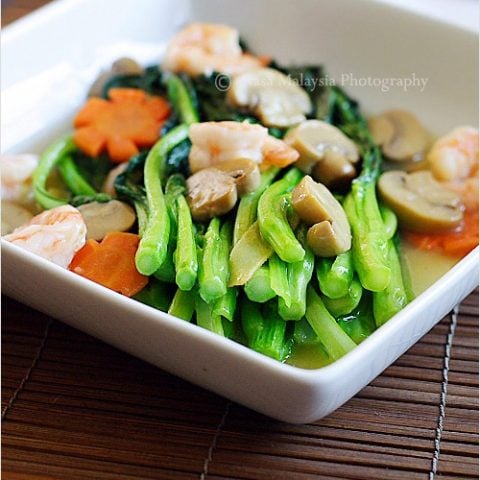 In Chinese or Cantonese restaurants, Chinese vegetables (choy sum) are often served two ways: brown sauce or white sauce--a recipe I am sharing with you today.
Ingredients
6-8 oz. (170 g-226 g) choy sum or Chinese leafy greens
Some canned button mushrooms, sliced
Some sliced carrots
6 medium-sized shrimp, peeled and deveined
1 inch (2 cm) ginger, peeled and sliced thinly
2 tablespoons cooking oil
White Sauce:
1/2 teaspoon salt
1/2 teaspoon fish sauce, to taste
1/2 tablespoon sugar
1/2 tablespoon cornstarch
6 tablespoons water
1 teaspoon shaoxing wine
1/4 teaspoon sesame oil
Instructions
Rinse the vegetables with water and drain the water dry. Mix the white sauce ingredients and set aside.
Heat up a wok and add the cooking oil until it's smoking hot. Add ginger, stir-fry until light brown or aromatic. Add mushrooms and shrimp and do a few quick stir until the shrimps become half-cooked. Add vegetables into the wok and stir quickly. Transfer the white sauce mixture into the wok and continue to stir-fry until the sauce thickens. By then, the vegetables should be perfectly cooked, but not overcooked.
Dish out and serve immediately.
Nutrition Information
Yield
4
Serving Size
4 people
Amount Per Serving
Calories

96
Total Fat

7g
Saturated Fat

1g
Unsaturated Fat

0g
Cholesterol

23mg
Sodium

431mg
Carbohydrates

4g
Sugar

2g
Protein

3g