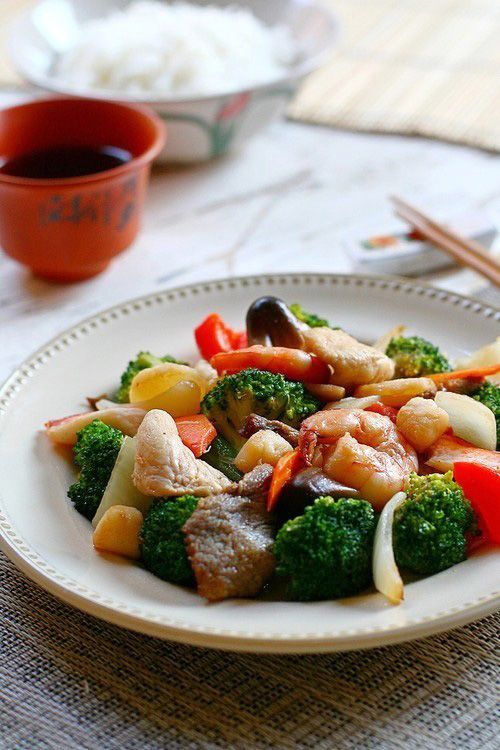 "Happy family is an American-Chinese dish with seafood, meat, and vegetables cooked in brown sauce. Easy Happy family recipes that you can make at home.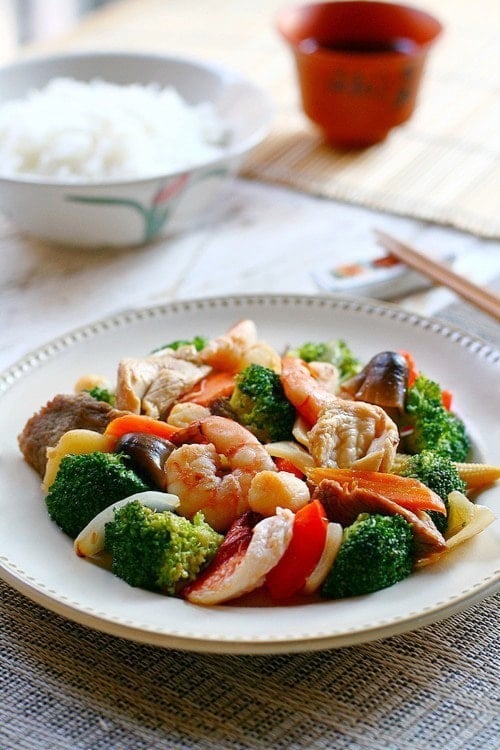 I was first introduced to Happy Family during my college days.
I was in graduate school, back in the Midwest, and not quite cooking up a storm like I am doing now.
So, hitting local Chinese buffets and take-outs was a good place to be for someone like me who misses their Chinese food.
It was also then that I got acquainted to all the popular American-Chinese food selections.
I was mostly intrigued by the American version of Sweet and Sour Chicken, BBQ Ribs, Crab Rangoon, Egg Drop Soup, to name a few, and among these, Happy Family was one of them.
Although spending a whopping US$13 (I was a poor international student then) for a large order of Happy Family with white rice on the side seemed hefty for a college student, my friends and I would usually save up to order a few items and share among ourselves, sometimes enough to last us for 3 days!
Being so far from home, Chinese food—albeit the Americanized version—was always our comfort food.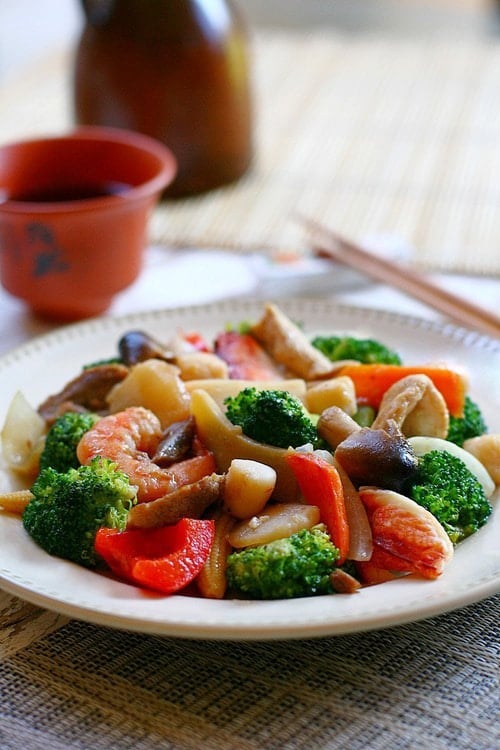 I missed home dearly, particularly mom's cooking.
At the end of the day, mom always made sure we had a balanced meal.
A typical family dine-in experience is usually served with dishes consisting of meat, vegetables and seafood of some sort.
And that is exactly what the dish Happy Family is! It is a popular Chinese stir-fry dish with colorful vegetables (broccoli, water chestnuts, baby corn, bamboo shoots, mushroom, carrots, etc.), meats (beef, pork/BBQ Pork and chicken) and seafood (shrimp, lobster/crab meat and scallops) cooked in a simple brown sauce.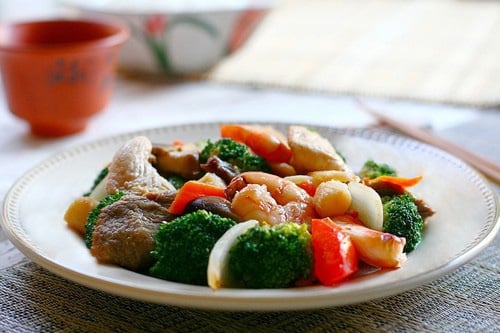 I don't think I have ever encountered any dish quite like Happy Family. It's a great one-pot meal filled with goodness and taste!
In my book, Happy Family is one of those delicious guilt-free happy meals that symbolizes a well-balanced Chinese dish and an American-Chinese creation that I actually enjoy.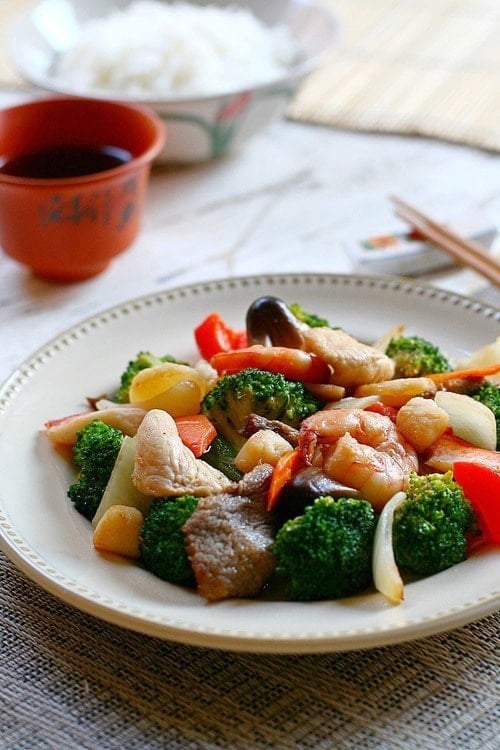 What is your favorite American-Chinese dish?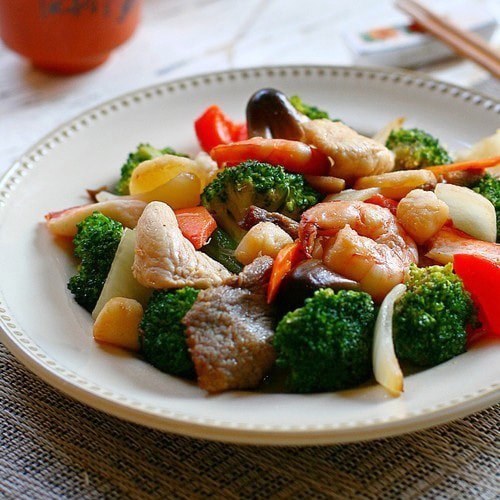 Happy Family Recipe
Happy family is an American-Chinese dish with seafood, meat, and vegetables cooked in brown sauce. Easy Happy family recipes that you can make at home.
Ingredients
3

tablespoons

oil

1

cup

cut onion, green and red bell peppers

2

cups

mixed vegetables, broccoli florets, sliced carrot and trimmed sugar snap peas/snow peas

1 1/2

cups

canned vegetables, straw mushroom, bamboo shoot sliced, young baby corn and water chestnut sliced

1

cup

meat, pork/BBQ pork, chicken breast, and beef(sliced)

1/2

cup

mixed seafood, peeled and cleaned shrimp, lobster meat/crab meat and sea scallops

3

cloves

garlic, peeled and minced
Marinade:
1/4

teaspoon

sugar

1/4

teaspoon

salt

1/4

teaspoon

ground white pepper

1

teaspoon

dry sherry wine or any Chinese cooking wine

1/2

teaspoon

cornstarch
Brown Sauce:
1

tablespoon light

soy sauce

1

tablespoon

oyster sauce

1

tablespoon

sweet soy sauce

1/2

teaspoon

sesame oil

3

dash of ground white pepper

2

tablespoons

dry sherry wine or any Chinese cooking wine

1/2-3/4

cup

chicken broth mixed with 1 teaspoon of cornstarch

Salt and Sugar to taste
Instructions
Marinade meat and seafood with a little salt, pepper, sugar and a dash of cooking wine. Set aside. In a bowl, mix all the seasoning ingredients for the Brown Sauce and set aside.

In a wok, heat 2 tablespoon oil to smoky hot, stir-fry onions and peppers until lightly charred, add in minced garlic, briskly stir-fry until fragrant, toss in the broccoli florets, carrots, and continue stir-frying for about 2 minutes, dash a little salt and pepper, mix well and dish up. Set aside.

Lightly clean up wok with damp paper towel. Heat up wok with remaining 1 tablespoon oil, stir-fry shrimp, lobster/crab meat for 1 minute, toss in sliced beef and pork/BBQ pork and continue to stir-fry for another 1 minute, or until lightly browned.

Toss in the mixed canned vegetables, stir well, add in the Brown Sauce seasoning, pour in the chicken broth and continue to stir-fry until vegetables are tender enough to your liking, meat and seafood is thoroughly cooked. Adjust salt, sugar, or other flavorings as per taste. Dish up and serve with hot steamed rice.
Nutrition Facts
Happy Family Recipe
Amount Per Serving (4 people)
Calories 308
Calories from Fat 117
% Daily Value*
Total Fat 13g 20%
Cholesterol 32mg 11%
Sodium 959mg 40%
Potassium 610mg 17%
Total Carbohydrates 32g 11%
Protein 18g 36%
* Percent Daily Values are based on a 2000 calorie diet.
If you try my recipe, please use hashtag #rasamalaysia on social media so I can see your creations! Follow me on Facebook | Instagram | Pinterest | Twitter for new recipes, giveaways and more.