Hoisin Chicken - Easy chicken stir-fry with vegetables in a savory Hoisin Sauce that takes 20 minutes with easy-to-get store ingredients.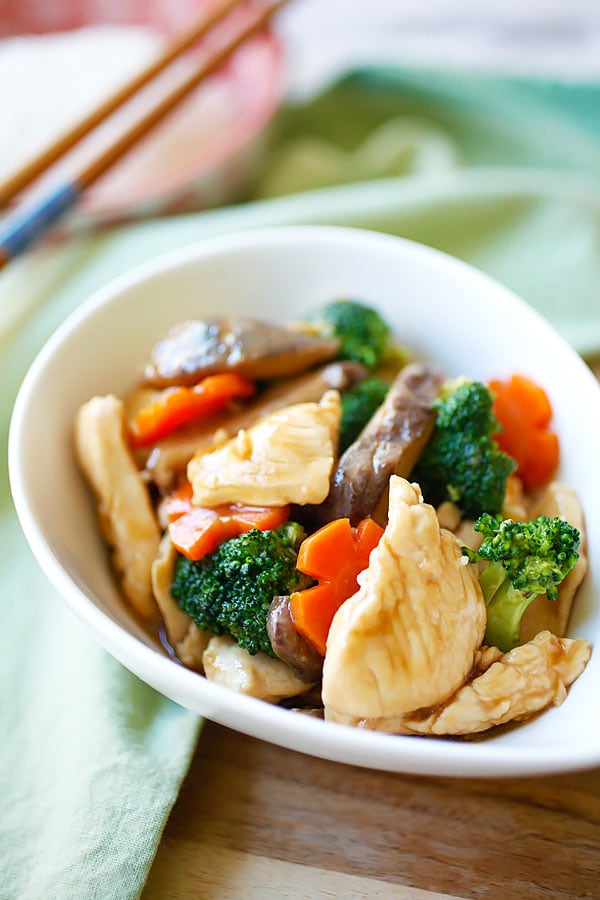 What is Hoisin Sauce?
When it comes to Chinese recipes, soy sauce and oyster sauce are two of the most used sauces. However, there are other sauces that taste great, but are less common, for example: Hoisin sauce.
The complex flavor of Hoisin sauce comes from the fermented soybeans, spices, dried sweet potatoes, salt, sugar and other ingredients. It is usually used as a dipping sauce, for example: Peking duck.
Hoisin sauce, or 海鲜酱 in Chinese, literally means seafood sauce. Ironically, there is no seafood in the sauce. Hoisin sauce is made of sweet potatoes, soybeans and other flavorings.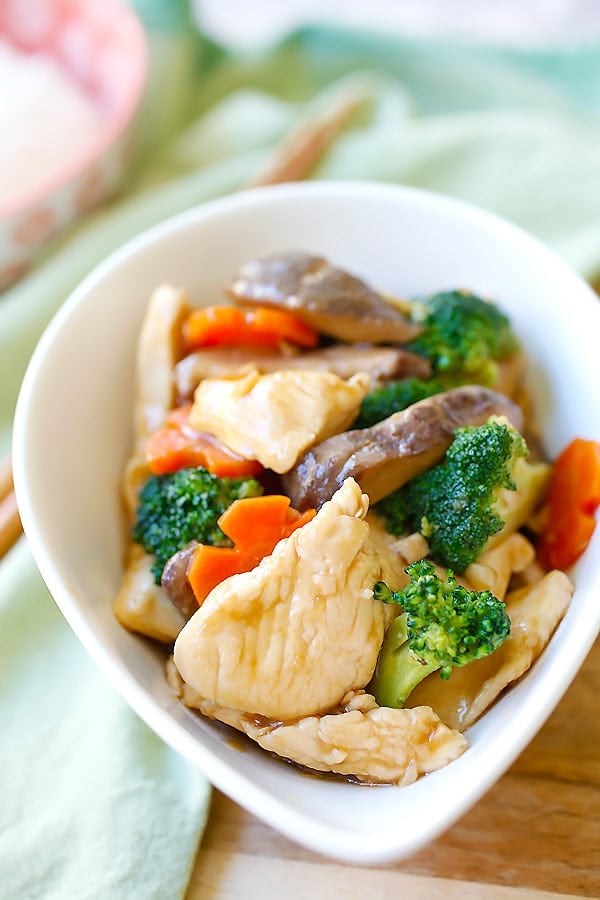 Other Recipes That Uses Hoisin Sauce:
Hoisin Sauce Stir Fry
The savory, sweet, and umami tasting sauce is actually great for stir-fries, as in this simple Hoisin Chicken. Hoisin sauce brings a new dimension in taste.
I like the slight sweetness that comes with the sauce, and it makes this Hoisin Chicken very appetizing, and especially great with steamed white rice.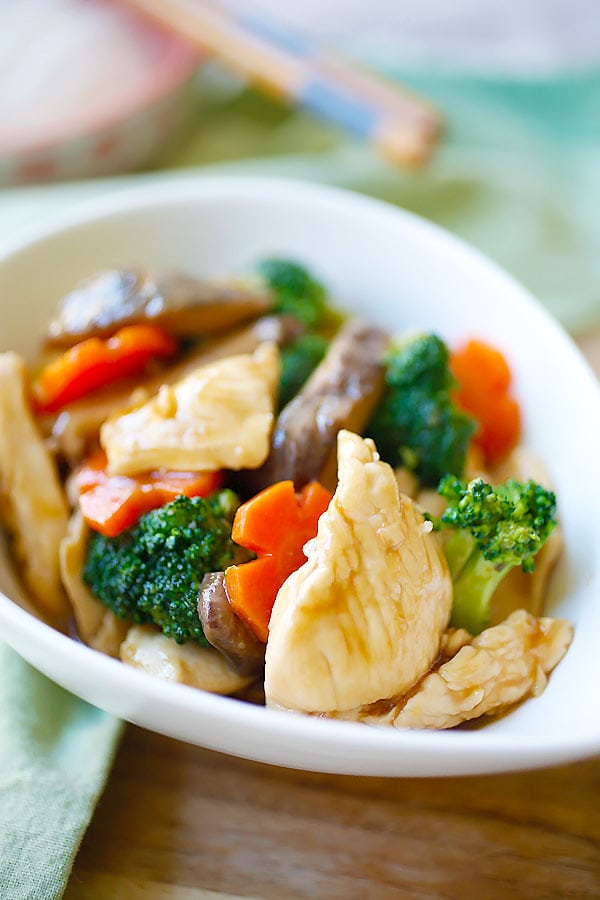 Hoisin Sauce Uses
Other than stir fries, Hoisin sauce is great as a dipping sauce and marinade. For examples: lettuce wraps and Peking duck.
The sweet, savory and smoky taste is a perfect dipping sauce for roasted duck, chicken and pork, as well as refreshing lettuce wraps. As a marinade, the sauce lends a rich earthy note to the protein.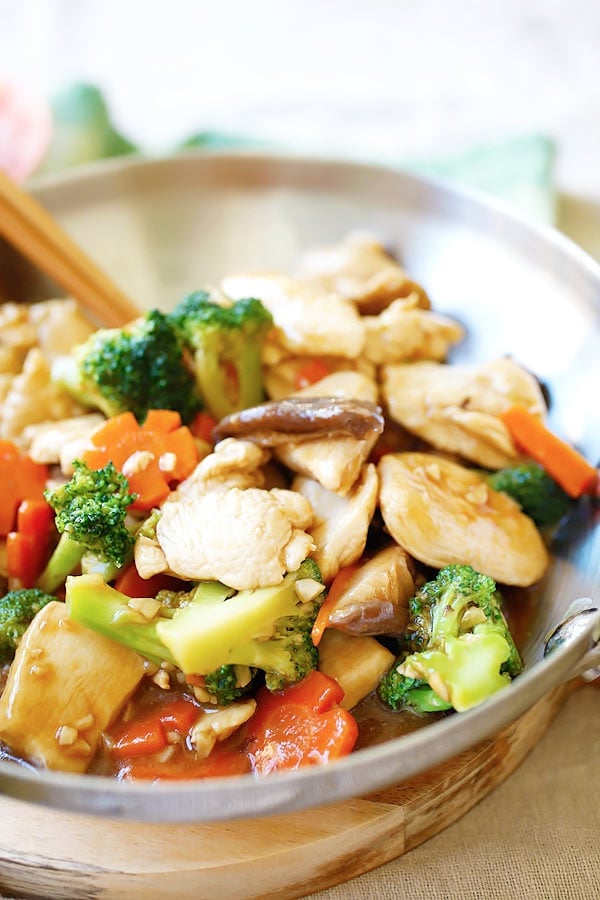 Cook's Tips
Anyway, for this Hoisin Chicken recipe, you want to add some vegetables. I used broccoli and carrot but baby bok choy will be a great substitute. You can also add mushrooms such as Shiitake mushroom or white button mushroom.
For the chicken, white meat is the best for Chinese stir fries. Once you velvet the chicken breast with corn starch, the meat will be tender, silky smooth and soft, just like your favorite Chinese takeout restaurants!
What Dishes to Serve with this Recipe?
This meal is best served with steamed rice. For a wholesome Chinese meal and easy weeknight dinner, I recommend the following recipes.
How Many Calories Per Serving?
This recipe is only 244 calories per serving.
What Dishes To Serve with this Recipe?
For a wholesome meal and easy weeknight dinner, I recommend the following recipes.
5 Secrets to 20 Min Dinners
Get tricks for quick & easy meals!
Yield: 2 people
Hoisin Chicken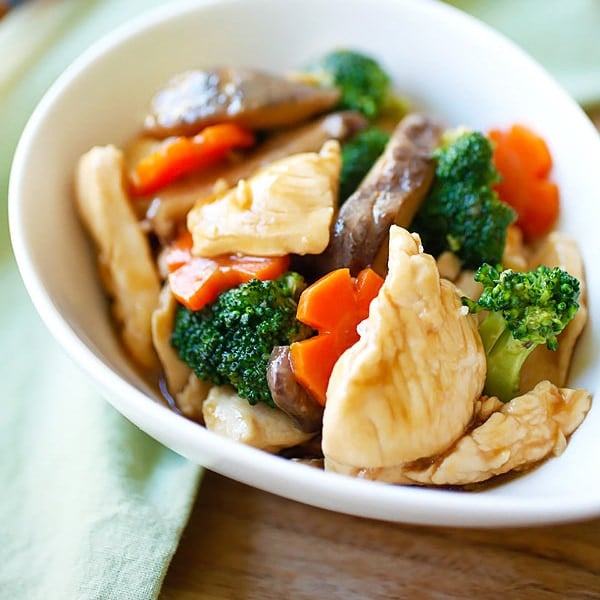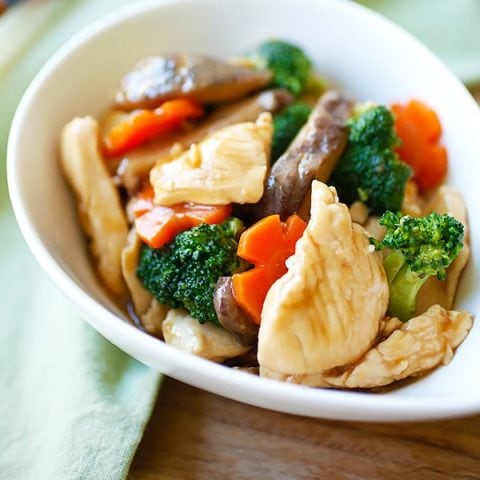 Hoisin chicken – easy chicken stir-fry with vegetables in a savory Hoisin sauce. This recipe takes 20 minutes with easy-to-get store ingredients.
Ingredients
2 tablespoons oil
2 cloves garlic, minced
3 oz. (85 g) broccoli florets
4 oz. (115 g) chicken breast meat, sliced into thin pieces
1/4 small carrot, peeled and sliced
1 pinch salt and sugar, to taste
Marinade:
1/2 teaspoon shaoxing rice wine or rice wine
1/2 teaspoon corn starch
Sauce:
Instructions
Marinate the chicken with the Marinade for about 10 minutes. Mix all the ingredients in the Sauce in a small bowl, stir to combine well.
Heat up a wok with the oil. When the wok is heated, add the garlic and stir-fry until aromatic. Transfer the broccoli into the wok and do a few quick stir. Add the chicken and continue to stir-fry. Add the mushroom, carrot, and the Sauce (stir it before using) and stir to mix well with the other ingredients in the wok.
When the sauce thicken and the chicken is cooked, add a pinch of salt and sugar to taste (optional), dish out and serve immediately with steamed rice.
Nutrition Information
Serving Size
2 people
Amount Per Serving
Calories

244
Total Fat

17g
Saturated Fat

12g
Cholesterol

37mg
Sodium

379mg
Carbohydrates

10g
Fiber

2g
Sugar

3g
Protein

14g