Quick and easy Chow Mein noodles stir-fried with chicken, shrimp, vegetables with the best Chow Mein sauce. This is an authentic Chinese noodle recipe that is better than Panda Express or takeouts.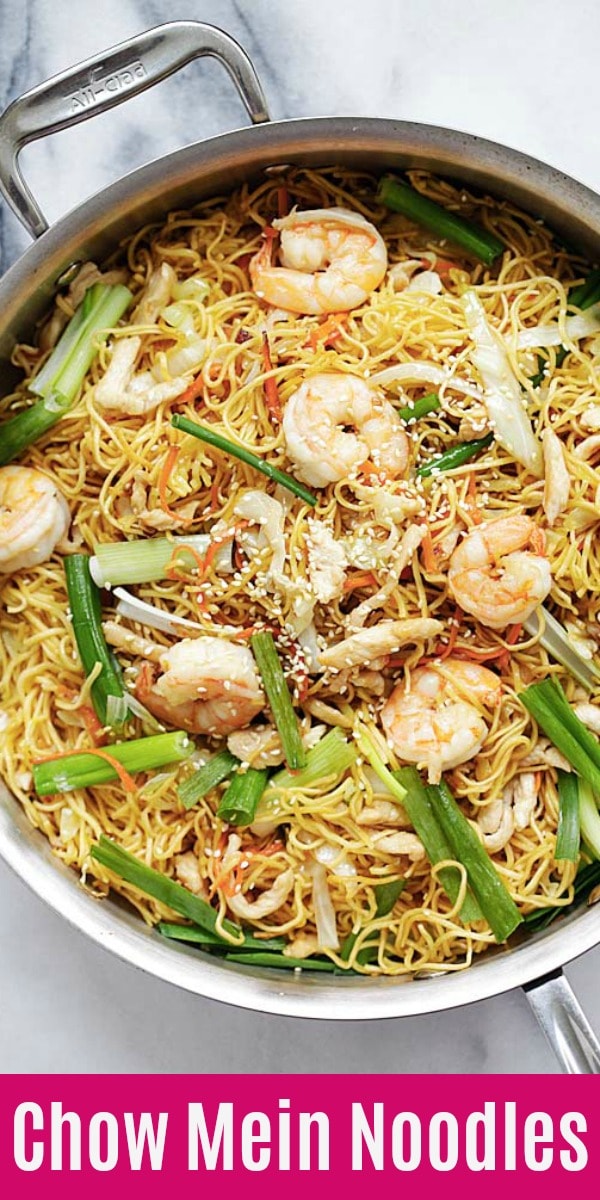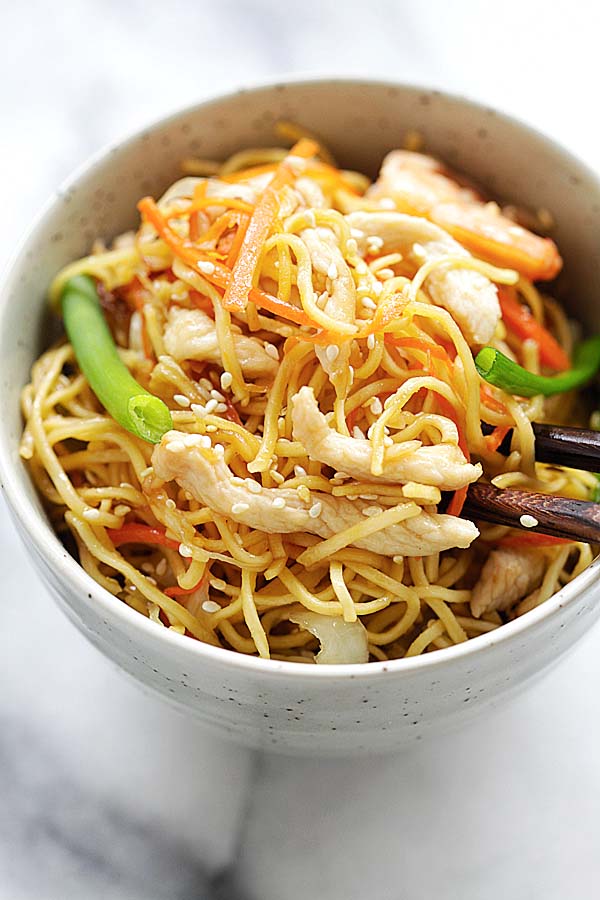 What is in a Chow Mein?
Chow Mein (sometimes spelled as chowmin) is one of my favorite Chinese food. I always order it at Chinese restaurants or takeouts. It's absolutely delicious!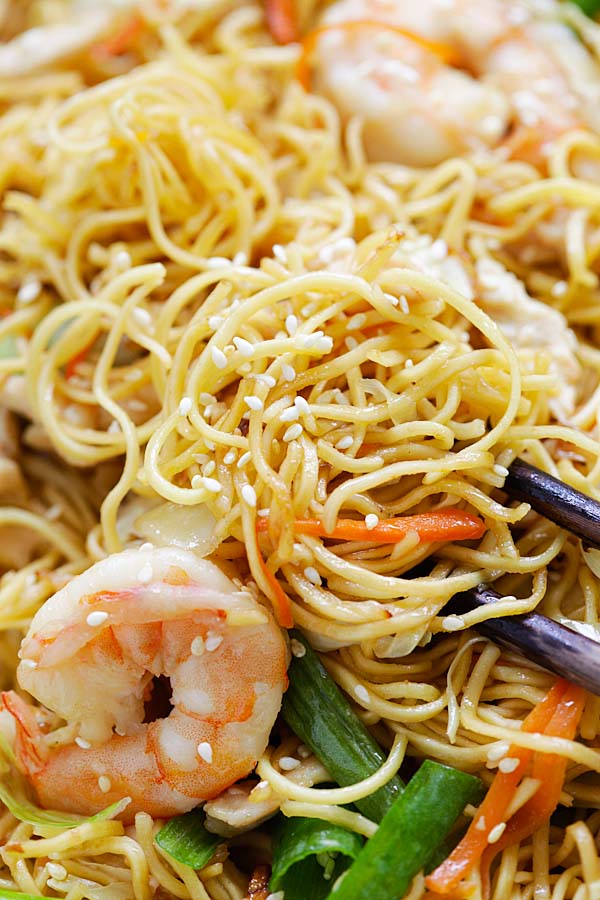 Different Types of Chinese Noodle Recipes:
Ingredients for Chow Mein Recipe
Protein – you can use pork, chicken, beef, shrimp and other seafood such as squid, scallop. You can also use a combination of the protein.
Vegetables – bean sprouts, napa cabbage, cabbage, carrots and scallions. You want to have at least a couple of vegetables in the recipe.
Sauce – a combination of oyster sauce, soy sauce, dark soy sauce and sugar.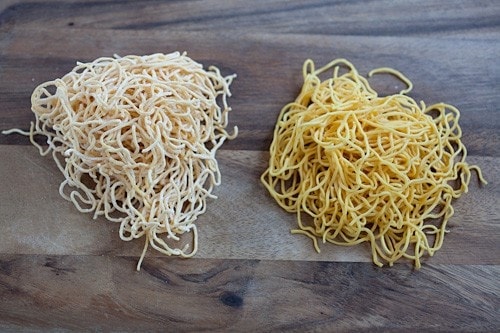 What Kinds of Noodles to Use?
There are all kinds of fresh and dry noodles available in the market. For the best and authentic homemade Chow Mein, you want to use fresh egg noodles.
The picture above shows two brands of fresh egg noodles. The color of the noodles is slightly different but the texture is similar. There are eggs in both noodles. There is a little flour that coats every strand of the noodle.
In Asian or Chinese grocery stores, you can find egg noodles in a clear plastic bag, like the picture above. They are available in the noodles section of the stores.
If you use dry egg noodles, just make sure you follow the package instructions to boil the noodles first.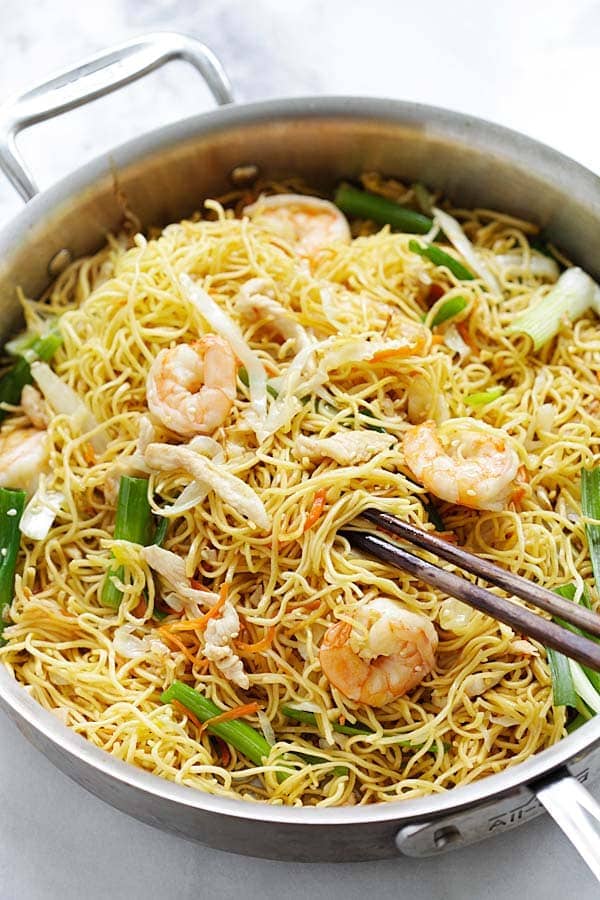 Difference between Chow Mein and Lo Mein
Chow Mein means 炒面 in Cantonese dialect, or stir-fried noodles literally. In Mandarin Chinese, it's called "chao mian." Lo Mein means 捞面 in Cantonese, which means mixed noodles.
In Lo Mein, the noodles are simply mixed with other ingredients and there is no stir-frying involved. Check out my Shrimp Lo Mein recipe to see the difference.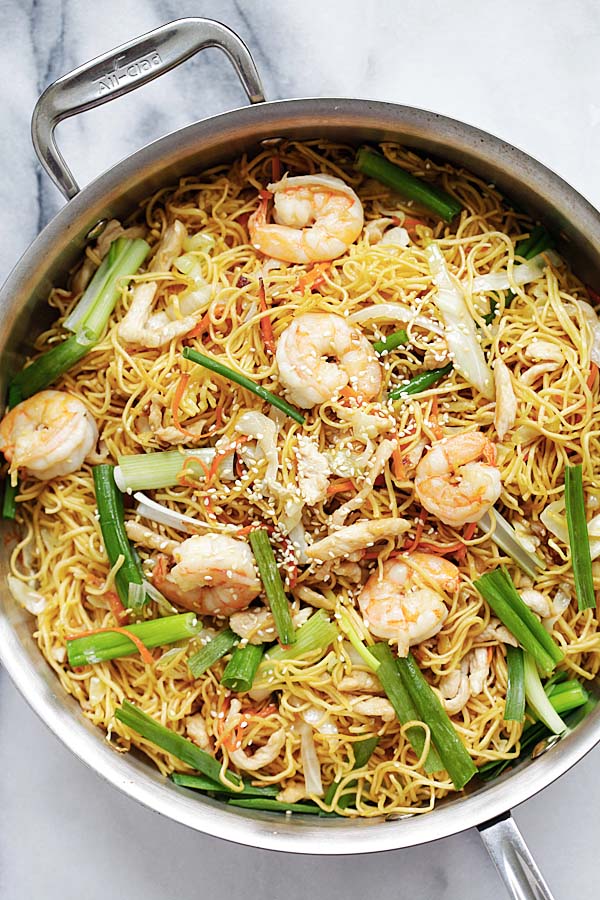 Cook's Tips
How to Make the Best Cantonese Chow Mein Noodles?
If you use fresh noodles, run cold water over the noodles and rise them before using. This will get rid of the flour on the surface.
Drain the noodles using a colander. This will ensure that your noodles are not soggy.
Make the sauce in advance by mixing all the ingredients together.
The best utensil for making Chinese noodles is a well-seasoned wok and a pair of long wooden chopsticks. Spatula can be used, too, but chopsticks will loosen up the noodles while stir-frying to avoid the noodles from clumping and sticking together.
Be generous with oil.
Check out my Perfect Stir-frying Techniques to make sure you have the best results.
Frequently Asked Questions
Is It Healthy?
Yes this recipe is healthy as it's made with lots of vegetables such as cabbage, carrot and scallions.
How Many Calories Per Serving?
This recipe is only 338 calories per serving.
What Dishes to Serve with this Recipe?
This meal is best served with a Chinese main dish or side dishes. For a wholesome meal and Chinese restaurant style dinner at home, I recommend the following recipes:
Pairs well with: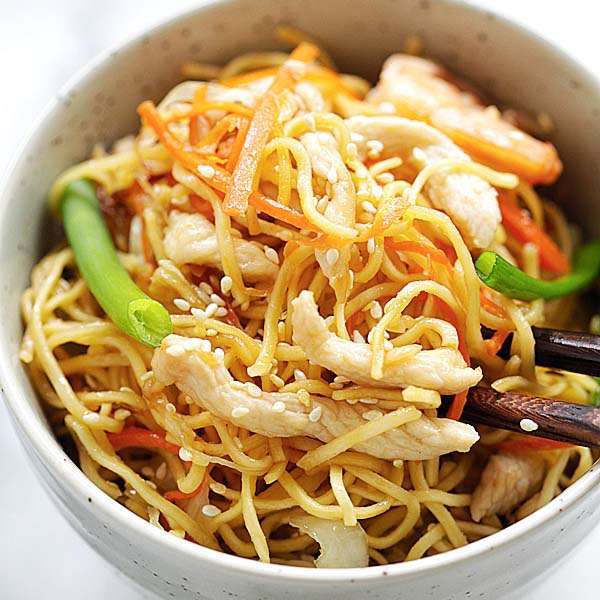 Chow Mein Recipe
Quick and easy stir-fried Chow Mein noodles with chicken, shrimp, vegetables with the best Chow Mein sauce. This is an authentic Chinese noodle recipe that is better than Panda Express or takeouts.
Ingredients
8

oz.

steamed chow mein or fresh chow mein noodles

1

tablespoon

soy sauce

1

tablespoon

oyster sauce

1/2

teaspoon

sugar

1/2

teaspoon

dark soy sauce

2

tablespoons

water

2

tablespoons

oil

3

cloves

garlic, finely minced

2

oz.

chicken, cut into thin strips

6

shrimp, shelled and deveined

1/2

cup

shredded cabbage

1/4

cup

shredded carrot

2

stalks

scallions, cut into 2-inch strips
Click Here for Conversion Tool
Directions
Soak the steamed chow mein in cold water for about 5 minutes. Rinse a few times until the water turns clear and the chow mein is soft. Drain the excess water and set aside. (Don't over soak the chow mein or the noodles will get limpy and soggy.)

In a small mixing bowl, mix the soy sauce, oyster sauce, sugar, dark soy sauce and water together. Set aside.

Heat up a skillet or wok with the oil. Add in the garlic and stir-fry until light brown or aromatic. Add the chicken and shrimp and stir fry until they are half cooked. Add the shredded cabbage and carrot into the wok and do a few quick stirs. Add the noodles and the soy sauce mixture. Continue to stir fry until the noodles are well combined with the soy sauce mixture and completely cooked through. Add the chopped scallions, do a few final stirs, dish out and and serve hot.
Nutrition Facts
Chow Mein Recipe
Amount Per Serving (3 people)
Calories 338
Calories from Fat 126
% Daily Value*
Fat 14g22%
Cholesterol 44mg15%
Sodium 1146mg50%
Potassium 137mg4%
Carbohydrates 58g19%
Protein 18g36%
Vitamin A 1890IU38%
Vitamin C 8.2mg10%
Calcium 37mg4%
Iron 3.1mg17%
* Percent Daily Values are based on a 2000 calorie diet.
Easy Weeknight New Recipes: