Quick and easy stir-fried Chow Mein noodles with chicken, shrimp, vegetables with the best Chow Mein sauce. This is an authentic Chinese noodle recipe that is better than Panda Express or takeouts.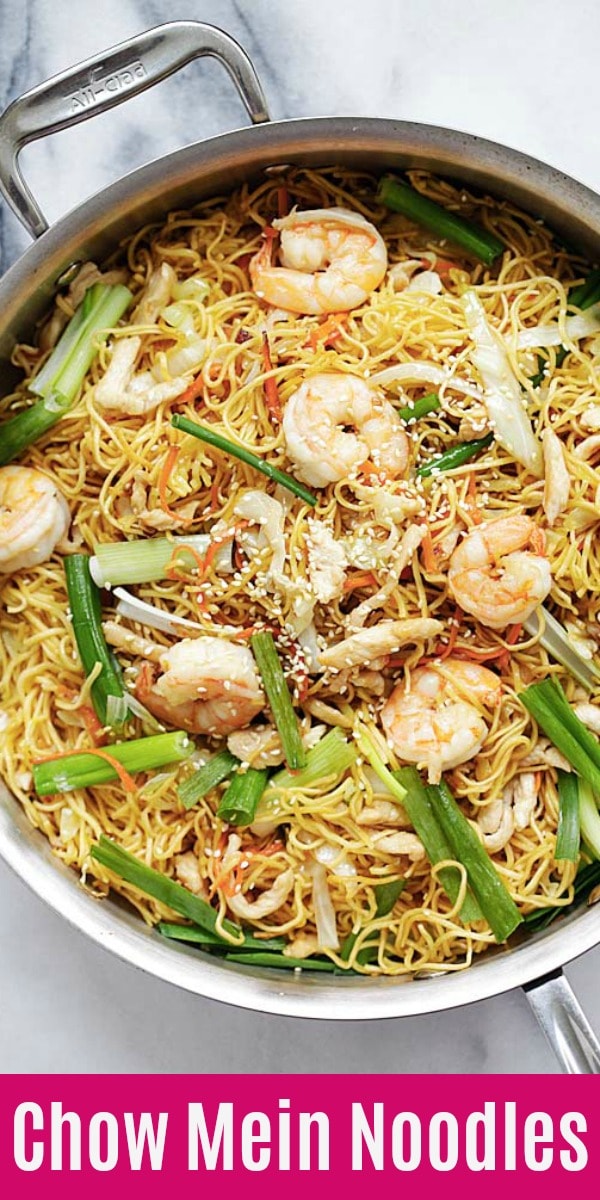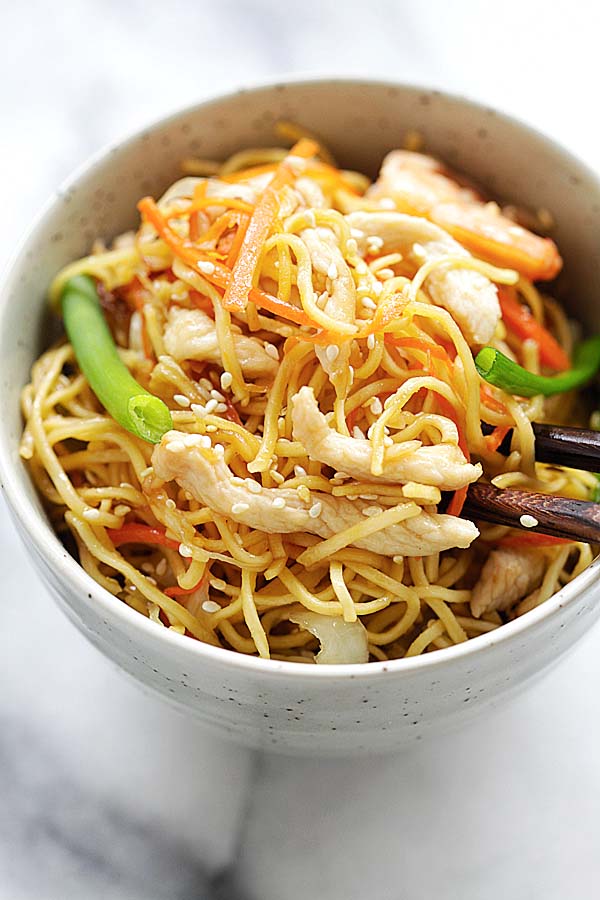 Chow Mein is one of my favorite Chinese noodles so whenever I go to Chinese restaurants, I would always order it. It calls for ingredients such as chicken, shrimp, vegetables, noodles and a savory Chow Mein sauce. It's absolutely delicious!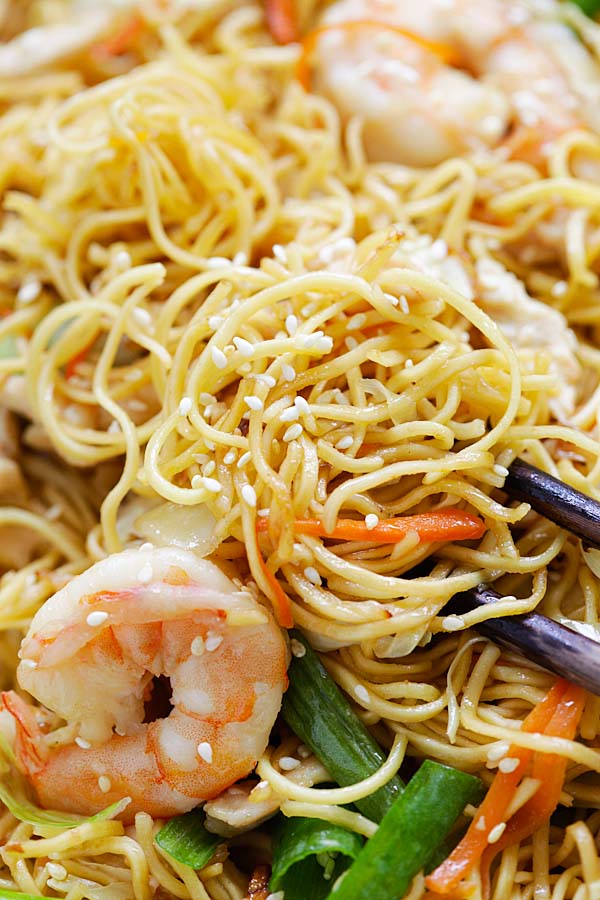 What is in a Chow Mein?
Chow Mein calls for the following ingredients:
Protein – you can use pork, chicken, beef, shrimp and other seafood such as squid, scallop. You can also use a combination of the protein.
Vegetables – bean sprouts, napa cabbage, cabbage, carrots and scallions. You want to have at least a couple of vegetables in the recipe.
Sauce – a combination of oyster sauce, soy sauce, dark soy sauce and sugar.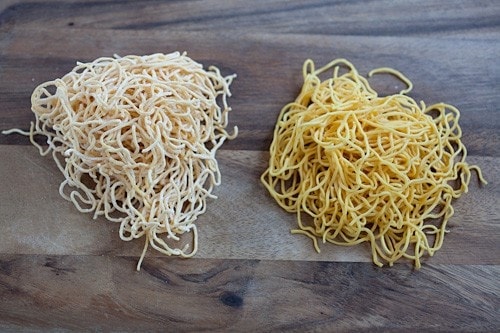 What Kinds of Noodles to Use?
There are all kinds of fresh and dry noodles available in the market. For the best and authentic homemade Chow Mein, you want to use fresh egg noodles.
The picture above shows two brands of fresh egg noodles. The color of the noodles is slightly different but the texture is similar. There are eggs in both noodles. There is a little flour that coats every strand of the noodle.
In Asian or Chinese grocery stores, you can find egg noodles in a clear plastic bag, like the picture above. They are available in the noodles section of the stores.
If you use dry egg noodles, just make sure you follow the package instructions to boil the noodles first.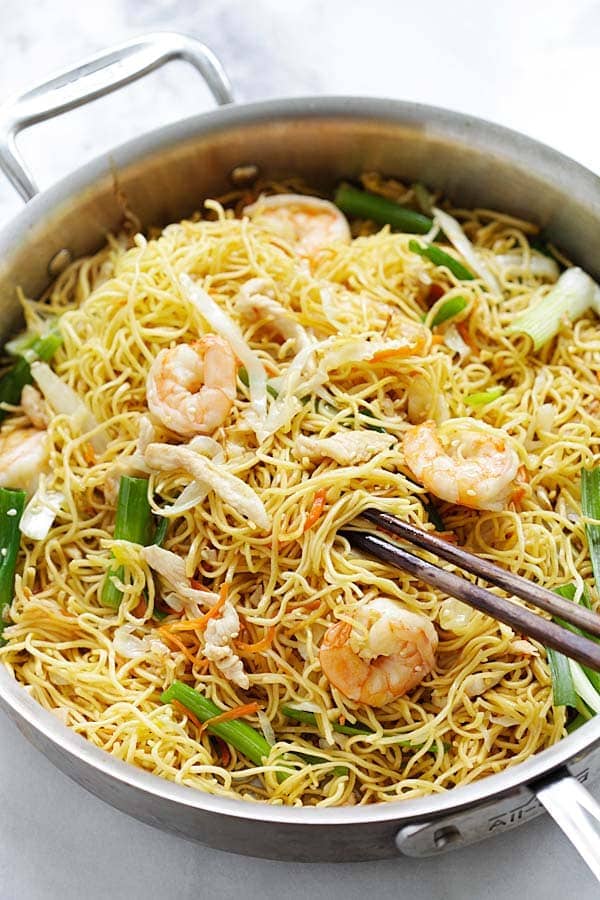 Difference between Chow Mein and Lo Mein
Chow Mein means 炒面 in Chinese, or stir-fried noodles literally. Lo Mein means 捞面 in Chinese, which is mixed noodles.
In Lo Mein, the noodles are simply mixed with other ingredients and there is no stir-frying involved. Check out my Shrimp Lo Mein recipe to see the difference.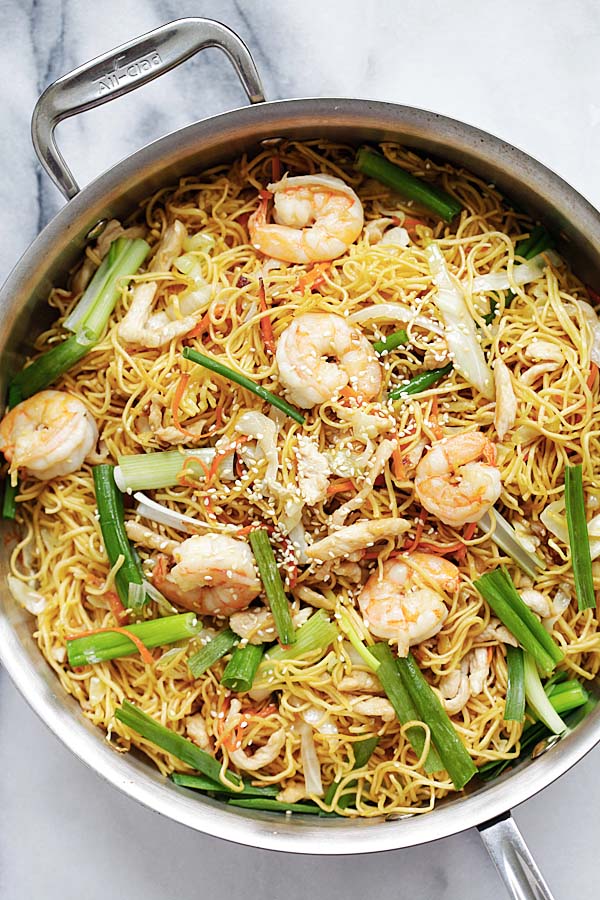 Tips on How to Cook Chow Mein Noodles?
If you use fresh noodles, run cold water over the noodles and rise them before using. This will get rid of the flour on the surface.
Drain the noodles using a colander. This will ensure that your noodles are not soggy.
Make the sauce in advance by mixing all the ingredients together.
The best utensil for making Chinese noodles is a well-seasoned wok and a pair of long wooden chopsticks. Spatula can be used, too, but chopsticks will loosen up the noodles while stir-frying to avoid the noodles from clumping and sticking together.
Be generous with oil.
Check out my Perfect Stir-frying Techniques to make sure you have the best results.
What Dishes to Serve with this Recipe?
This meal is best served with a side of Crab Rangoon, with a main dish of Kung Pao Chicken or Hunan Chicken.
For a wholesome meal and Chinese restaurant style dinner, I also recommend the following recipes:

Complete Meal Plan
Different Types of Chinese Noodle Recipes:
SUBSCRIBE AND NEVER MISS A RECIPE
If you try my recipe, please use hashtag #rasamalaysia on social media so I can see your creations! Follow me on Facebook | Instagram | Pinterest | Twitter for new recipes, giveaways and more.