Pork Chow Mein is an authentic Chinatown-style Cantonese noodle recipe. The ingredients are fried crispy egg noodles, pork, vegetables and chow mein sauce.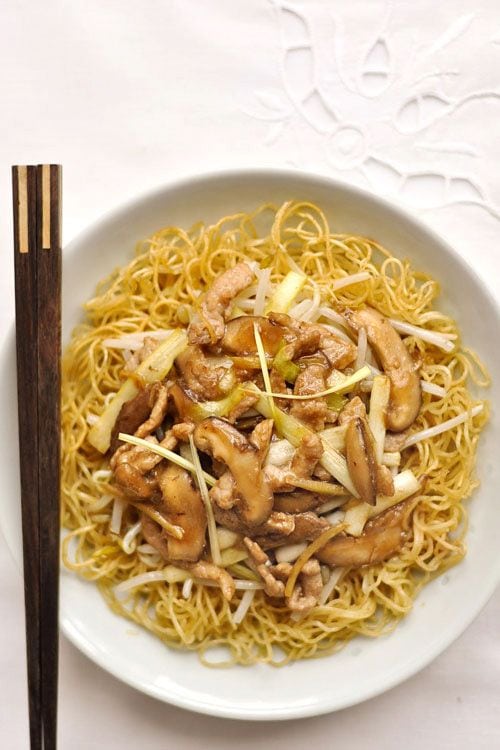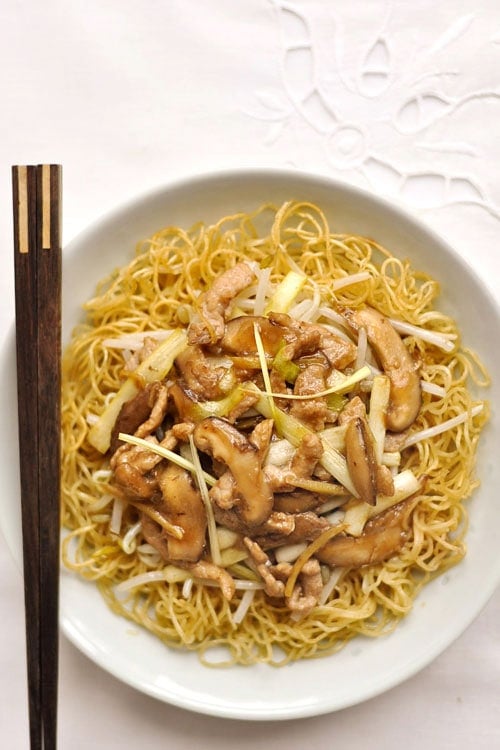 Pork Chow Mein Recipe
Pork Chow Mein is a Cantonese-style noodle dish with crispy egg noodles, pork and chow mein sauce.
Unlike chow mein, this is a crispy egg noodle dish with sauce, just like Chinatown old fashioned chow mein noodles.
Other Chow Mein Recipes You Might Like:
How to Make Pork Chow Mein?
In restaurants, the crispy egg noodles are done by deep frying. It's fastest way to turn fresh egg noodles to golden brown crispy noodles.
To make the recipe at home, you can prepare the noodles by shallow frying in a wok or pan. It's healthy as less oil is used.
Next, cook the pork, vegetables and make the sauce. Top the crispy noodles with the pork plus sauce and the dish is done.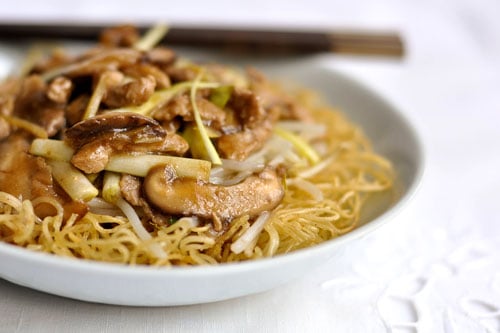 Recipe Ingredients
This easy recipe calls for the following ingredients.
You can get them at Chinese or Asian food stores, or in the international aisle of regular food stores.
Fresh egg noodles
Pork
Dried shiitake mushroom
Bean sprouts
Yellow chives
Ginger
Seasoning sauce: soy sauce, oyster sauce, wine, cornstarch and white pepper.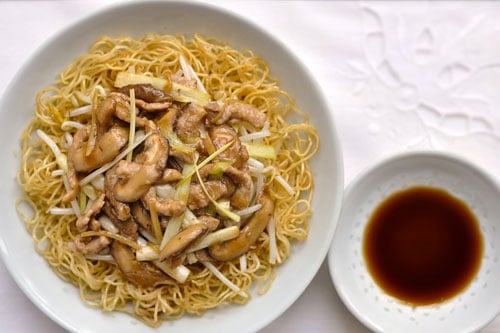 Frequently Asked Questions
The Origin of Pork Chow Mein
This recipe originated from Hong Kong. It's an iconic and old fashioned Cantonese noodle dish.
It's called Yuk See Chow Mein (肉絲炒麵) in Cantonese, which literally means "shredded pork fried noodles."
What Is the Difference between Lo Mein and Chow Mein?
Lo mein is boiled while chow mein is stir-fried. They use the same wheat egg noodles.
Click here for Chow Mein vs Lo Mein.
Can I Use Dried Egg Noodles?
Yes. If fresh egg noodles are not available, you can buy dried egg noodles in a clear plastic packaging.
Just follow the instructions to prepare the noodles and they will work well for this pork chow mein recipe.
How Many Carbs Are in This Recipe?
This recipe has 56 g of carbs per serving.
How Many Calories per Serving?
This recipe is only 376 calories per serving.
What Dishes to Serve with This Recipe?
This dish is best served as an entree. For a wholesome Cantonese meal and easy weeknight dinner, I recommend the following recipes.

5 Secrets to 20 Min Dinners
Get tricks for quick & easy meals!
Yield: 4 people
Pork Chow Mein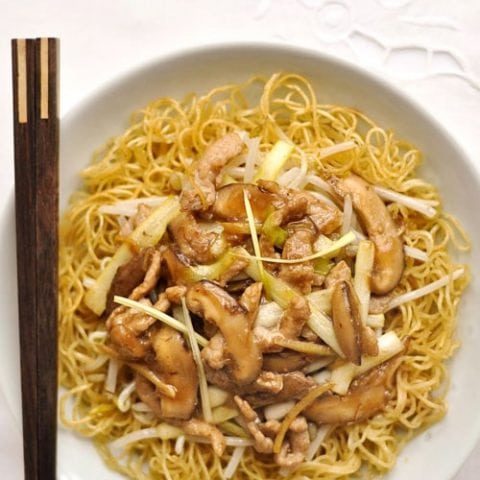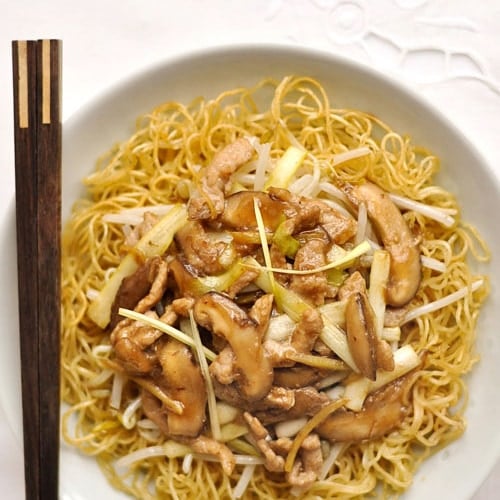 Pork Chow Mein is an authentic Chinatown-style Cantonese noodle recipe. The ingredients are fried crispy egg noodles, pork, vegetables and chow mein sauce.
Ingredients
10 oz. (300 g) fresh egg noodles or chow mein noodles
4 pieces dried shiitake mushroom, stems removed
4 oz. (100 g) lean pork, cut into thin strips
oil, for frying
1/2 tablespoon julienned ginger or ginger strips
2 oz. (50 g) bean sprouts
4 oz. (100 g) yellow chives, cut into 2-inch strips
Pork Marinade:
Chow Mein Sauce:
1 tablespoon oyster sauce
1 teaspoon sugar
1 teaspoon soy sauce
1 1/2 teaspoons corn starch
3/4 cup water
Instructions
Briefly blanch the egg noodles with hot water or par-boil the noodles according to the packet instructions. DO NOT OVERCOOK. Rinse the noodles immediately under running cold running water for 10 seconds. Drain and loosen the noodles in a colander, Set aside and air dry the noodles for 1 hour. This will ensure that the noodles are crispy after frying.
Soak the dried shiitake mushrooms in hot water until softened. Squeeze the water in the mushrooms and cut them into thin slices. Marinate the pork with all the ingredients in the Pork Marinade. Mix all the ingredients of the Chow Mein Sauce together. Set both aside.
Heat a wok or skillet over high heat, add 2 inches of oil. When the oil is hot and heated, lay the noodles flat in the wok or skillet. Turn to medium heat, do not move the noodles till they turned golden brown on the bottom. Turn and flip the noodles over and shallow fry the other side until golden brown and crispy. Repeat the same process until both sides are crispy. Remove the noodles from the oil and drain on a plate lined with paper towels. Remove the paper towels.
Keep 1 table spoon of oil in the wok or skillet over medium heat, add the ginger, dried mushrooms and pork. Stir continuously for about 2 minutes or until the pork is cooked through. Add the bean sprouts and yellow chives, stir a few times before adding the Chow Mein Sauce. As soon as the sauce thickens, turn off the heat and transfer the sauce to the top of the crispy noodles. Serve immediately.
Notes
Recipe from Taste Hong Kong, tastehongkong.com
To avoid noodles sticking to wok, it is important to make sure the wok and oil are well-heated. For presentation, it is better to top the noodles with meat and sauce, but I would suggest combining them all before sending to mouth.
Nutrition Information
Serving Size
4 people
Amount Per Serving
Calories

376
Total Fat

9g
Saturated Fat

3g
Cholesterol

80mg
Sodium

326mg
Carbohydrates

56g
Fiber

3g
Sugar

4g
Protein

17g