Chow Mein vs. Lo Mein - learn the differences between chow mein and lo mein noodles, including recipes, cooking methods, techniques and nutrition facts between these two popular Chinese noodles.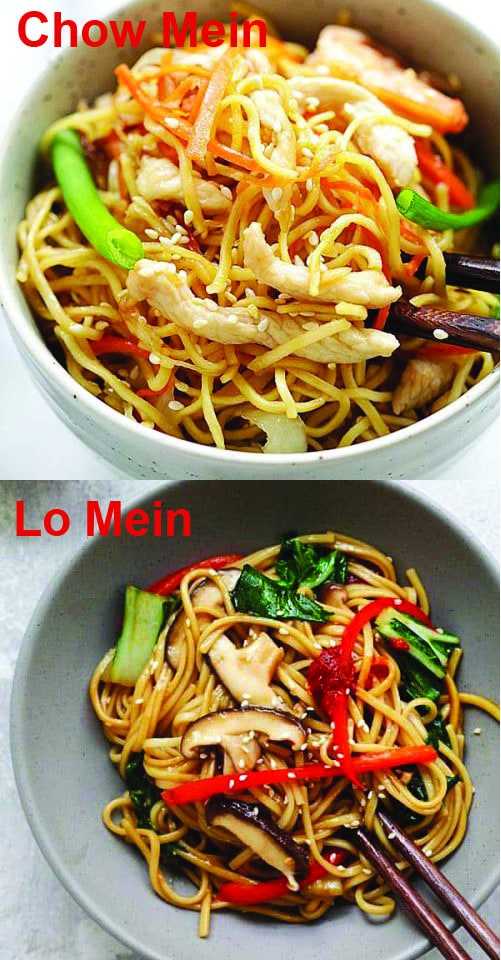 Chow Mein vs Lo Mein
Many people ask me this question. What is chow mein? What is Lo Mein?
I am an expert in Chinese food. I am a cookbook author with a best-selling Chinese cookbook "Easy Chinese Recipes" so I will explain in details.
Difference Between Chow Mein and Lo Mein
There are many types of Chinese noodles. What's the difference between Chow Mein and Lo Mein?
Here are the main differences between the two popular Chinese noodles:
Chow Mein is called 炒面 (chao mian) in Chinese language. The two words literally mean stir-fried noodles.
Lo Mein is called 捞面 (lao mian) in Cantonese dialect。 The two words literally means mixed or tossed noodles.
The cooking methods are completely different. The ingredients are very similar but the preparation is completely different.
Chow Mein Noodles are par-boiled or soaked in hot water before stir-frying in the wok. The stir-frying process completely cooks the noodles. Lo Mein noodles are fully cooked before they are mixed with meat, vegetables and sauce in the wok. They are mixed and tossed, not stir-fried.
Chow Mein is a dry noodle dish without sauce but Lo Mein is a saucy noodle dish.
Chow mein noodles are stir fried in a hot Chinese wok. In Lo Mein, the noodles are mixed and tossed with ingredients such as chicken and vegetables and the Lo Mein sauce.
Chow Mein Recipes
Below are different chow mein recipes on my site, all using traditional stir-frying techniques to make and cook the noodles.
Lo Mein Recipes
Here are the lo mein recipes. Lo Mein noodles are generously coated with sauce and wet.