Crab Rangoon - the best and easiest crab Rangoon recipe with cream cheese, crab and wonton wrapper. These cream cheese wontons are fail-proof and much better than Chinese takeouts!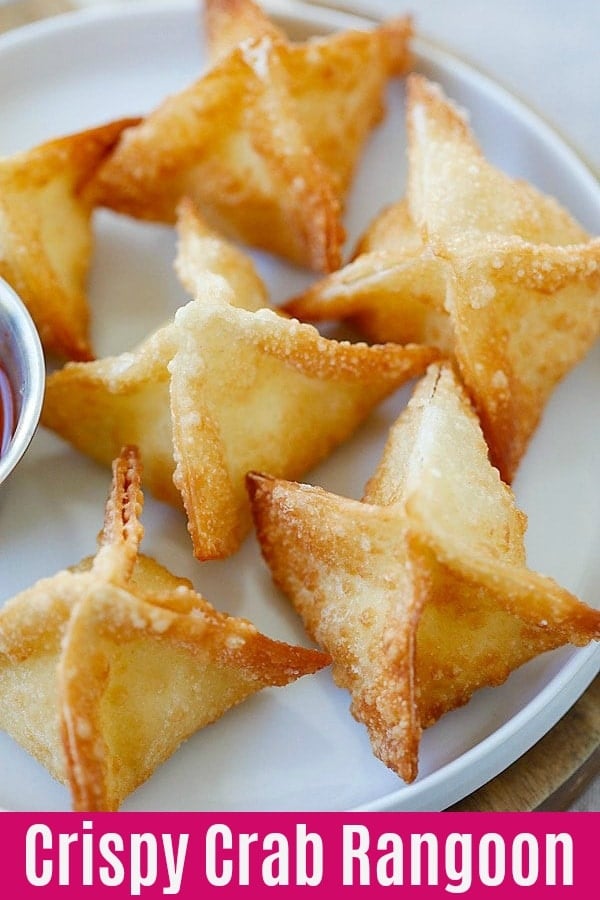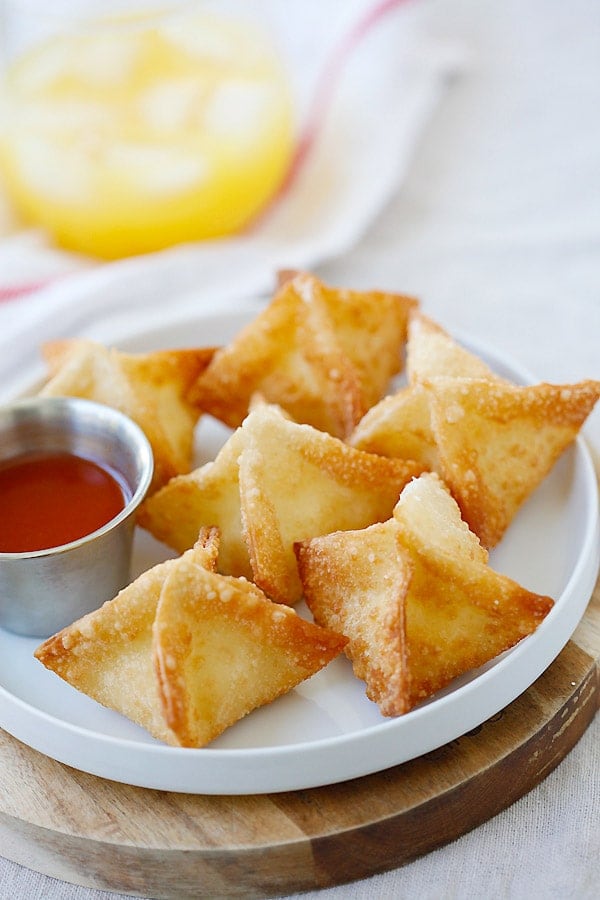 Crab Rangoon is an appetizer found in many Chinese restaurants in the United States. Many people wonder are crab Rangoon authentic and the answer is no. It is a classic American creation even though they are mostly served in Chinese restaurants.
These dainty appetizers are basically fried wontons filled with cream cheese, with real crab meat in the filling. They are deep-fried to golden brown and usually served with a pink-color sweet and sour dipping sauce.
I first encountered them at a Chinese buffet restaurant in the Midwest. They have since become one of my favorite appetizers!
Other Recipes You Might Like
Tips on How to Cook Crab Rangoon?
How do you make crab Rangoon? Just follow my recipe, method and tips below. You only need three few key ingredients: cream cheese, wonton wrapper and crab meat.
Use square wonton wrappers to wrap the cream cheese and crab filling. You can get wonton wrappers at Asian supermarkets or food stores. You can also find wonton wrappers in many regular supermarkets now, for example: Whole Foods.
Use real crab meat for the cream cheese filling. You can use fresh crab meat, frozen crab meat or canned crab meat. If crab is not an option, you can use imitation crab meat sticks. Just cut and shred up the imitation crab meat before using.

Wrap the cream cheese and crab mixture using wonton wrappers. Do not overfill with too much filling.
Seal each wonton wrapper tight so there is no leakage. Pinch it up like a little purse and deep-fried to golden brown.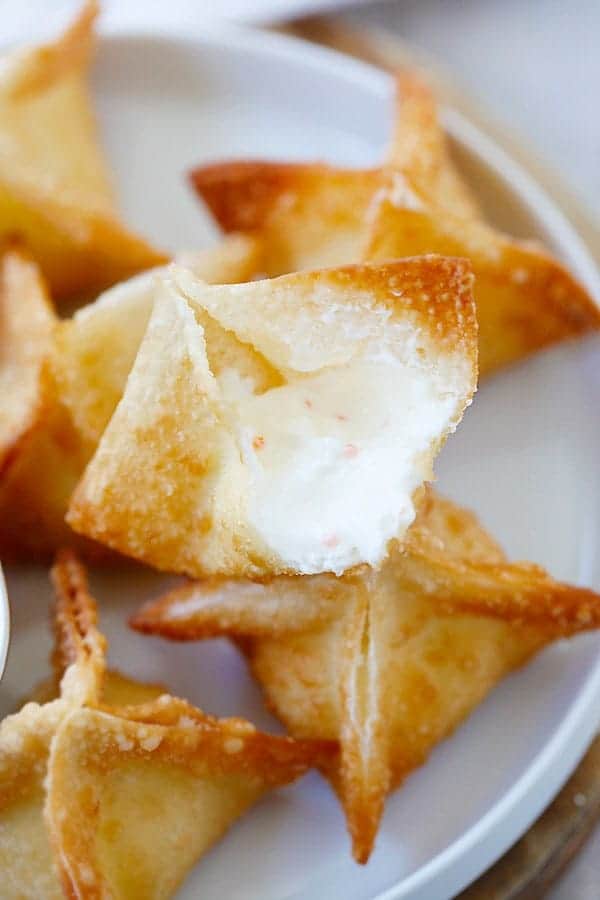 Frequently Asked Questions:
Is there crab in Crab Rangoon? Yes! You can use either fresh crab, canned crab or artificial crab.
What's the difference between fried wontons and Crab Rangoon? Fried wonton is an authentic Chinese appetizer wrapped with wonton wapper and filled with meat such as ground pork, chicken and/or shrimp. The latter is a type of wontons with cream cheese and crab as the filling.
Can you freeze crab Rangoon? Yes, once they are assembled and wrapped, you can freeze them in the refrigerator. Thaw to room temperature before deep-frying.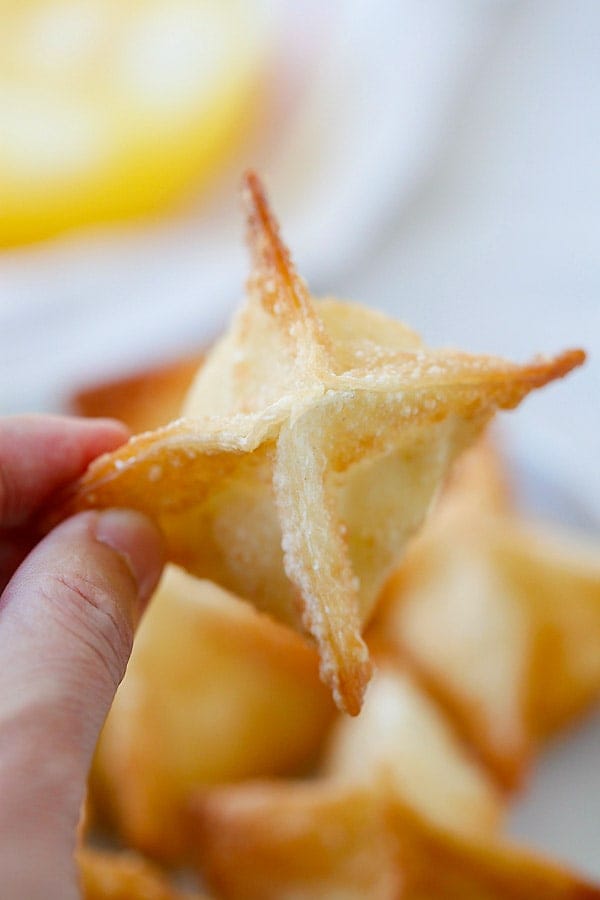 How Many Calories Per Serving?
This recipe is only 26 calories per serving.
Serve Crab Rangoon with:
For a wholesome Chinese meal, make the following dishes.
Crab Rangoon is pretty healthy and each one is only 25 calories, so you can definitely eat lots of them. Enjoy!
5 Secrets to 20 Min Dinners
Get tricks for quick & easy meals!
Yield: 20 units
Crab Rangoon Recipe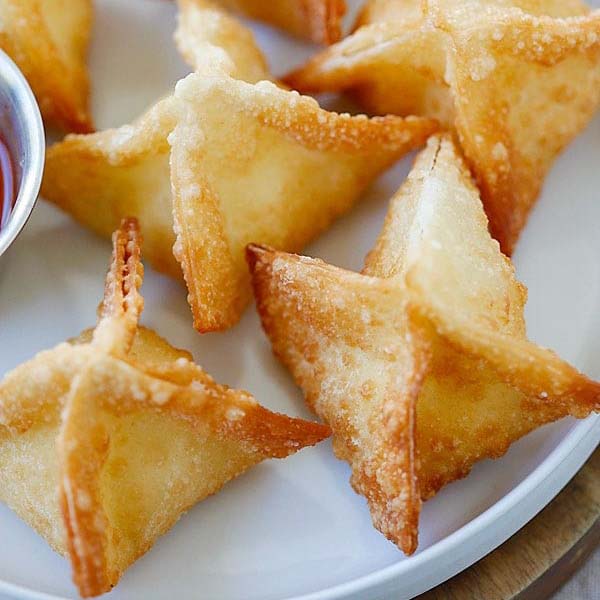 Crab Rangoon - BEST and EASIEST crab rangoon recipe with cream cheese and wonton wrapper. These cream cheese wontons are fool-proof and MUCH better than Chinese takeouts.
Ingredients
1 cube Kraft Philadelphia Regular Cream Cheese, room temperature (8 oz./226g)
2 oz (56g) crab meat or 2 sticks imitation crab meat, finely diced
1 tablespoon powdered sugar
1 pinch salt
oil, for deep frying
Instructions
Mix all the cream cheese, crab meat, sugar, and salt in a bowl. Stir to blend well. Place about 1 tablespoon of the cream cheese filling in the middle of a wonton wrapper. Dab some water on the outer edges of the wonton wrapper and fold the two ends of the wrapper together. Fold the other two ends to make a tiny parcel pictured below. Pinch to seal tight and make sure that there is no leakage.

Heat up a pot of oil for deep-frying and fry the crab rangoon until golden brown. Dish out with a strainer or slotted spoon, draining the excess oil by laying the crab rangoon on a dish lined with paper towels. Let the crab rangoon cools down a bit before serving them with sweet and sour sauce.
Notes
Use real crab meat if possible. Don't serve the crab Rangoon immediately after deep-frying as the filling will be too hot! To make the sweet and sour Crab Rangoon dipping sauce, please refer to my sweet and sour pork recipe.
Nutrition Information
Serving Size
20 units
Amount Per Serving
Calories

26
Total Fat

1g
Saturated Fat

1g
Cholesterol

2mg
Sodium

69mg
Carbohydrates

5g
Fiber

1g
Sugar

1g
Protein

1g