Malaysian Mixed Herb Rice (Nasi Ulam) - Nasi ulam is a mixed herb rice and it's aromatic and healthy. Easy nasi ulam recipe.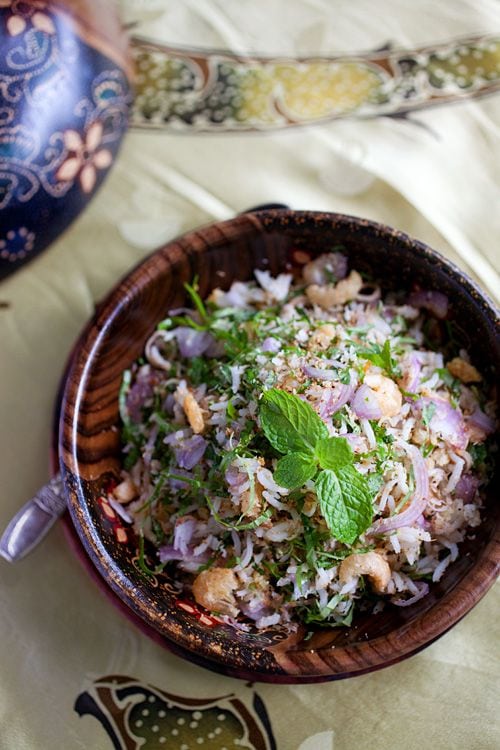 Nasi ulam is a Malay dish. It is utterly delicious, aromatic, healthy, and extremely appetizing, and great with a side dish of meat or fish. What's more, it can be a complete meal on its own.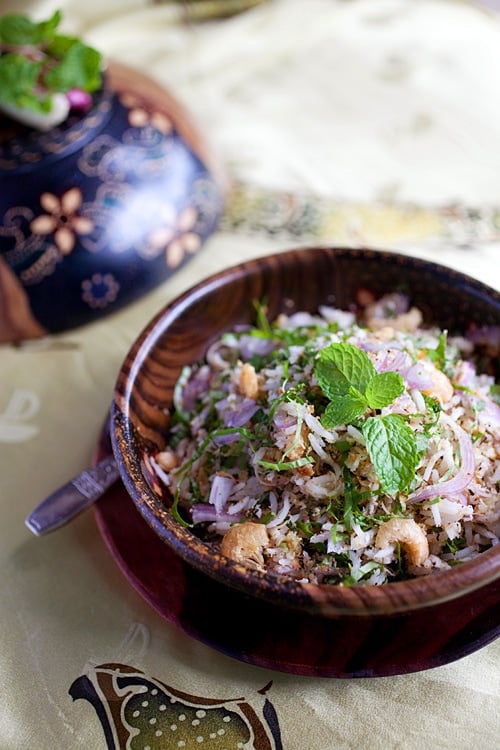 I started Rasa Malaysia in 2006 with the mission to promote Malaysian cuisine to the world.
Today, I am so thrilled to announce that I am working with Malaysia Kitchen New York City to celebrate and evangelize the rich legacy of Malaysian food.
I will be sharing two classic Malaysian recipes with Rasa Malaysia readers, and would like to kick off the Malaysia Kitchen for the World program with nasi ulam, or Malaysian mixed herb rice, a much celebrated traditional recipe for many Malaysians.
Nasi ulam is a Malay dish, and a staple to many people in Malaysia, especially for the Malays and Nyonya/Peranakan (or Straits-born Chinese).
As a multi-ethnic country makes up of Malays, Chinese, Indians, and Eurasians, nasi ulam is much loved by many denizens of Malaysia, regardless of race, ethnicity, religion, or origin.
The reason is very simple: there is nothing not to like about nasi ulam.
It is utterly delicious, aromatic, healthy, and extremely appetizing, and great with a side dish of meat or fish.
What's more, it can be a complete meal on its own.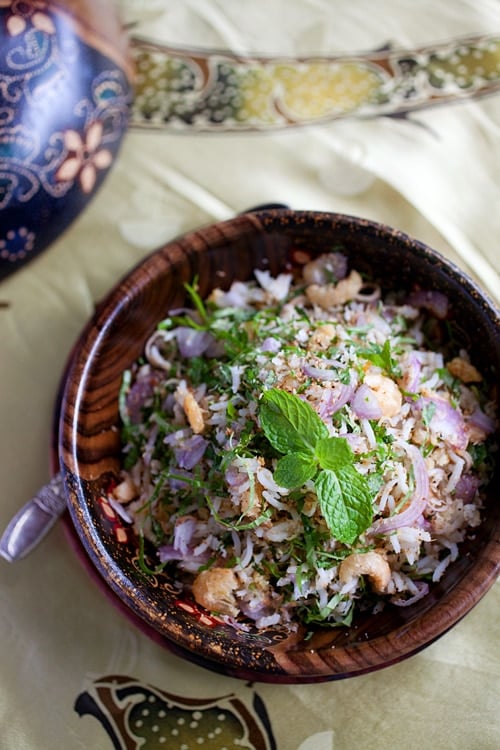 Nasi means rice in Malay, while ulam means the assortment of herbs served during meal times.
In general terms, the ulam is equivalent to "salad" and they are usually eaten with sambal belacan, which is the national condiment of Malaysia.
However, in nasi ulam, the herbs are sliced finely and mixed with rice and other ingredients.
The exotic, earthy, and aromatic nuance of the different herbs, paired with rice and dry-toasted shredded coconut or kerisik yield a richly fragrant and scrumptious concoction that is uniquely Malaysian.
In my childhood days, I used to watch my Nyonya grandmother preparing this dish.
My mother and aunt would help her slicing the many different types of herbs: daun kadok (wild betel leaf), daun kesom (polygonum leaf or Vietnamese mint leaf), daun kunyit (turmeric leaf), bunga kantan (torch ginger flower), kaffir lime leaf, mint, etc. Many of these herbs are grown in our family's garden, so it was just a matter of harvesting them from the garden.
However, some of these exotic herbs are almost impossible to find out of Malaysia, so I have improvised my recipe to make it more accessible to you.
A trip to your local Asian stores (try Vietnamese or Thai grocery stores) will enable you to gather all the ingredients needed for the dish.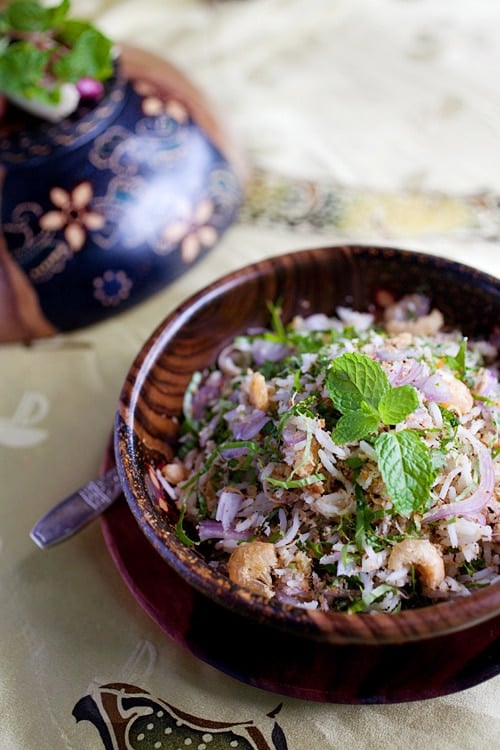 Making nasi ulam is not hard, but it does take some time.
I can assure you that the end result is rewarding, as once you have tried this, especially toying with the interplay of the different herbs in this mixed herb rice, you will be instantly converted.
Enjoy!
About Malaysia Kitchen for the World
Malaysia Kitchen for the World is a global initiative of the Malaysian government that aims to educate and inform consumers about Malaysian cuisine and Malaysian restaurants throughout the world.
The New York campaign seeks to boost interest among American food lovers to try Malaysian cuisine and visit Malaysian restaurants in the New York metropolitan area as well as in other locations in the United States.
The program also seeks to facilitate local chefs and restaurateurs to introduce Malaysian cuisine at their establishments.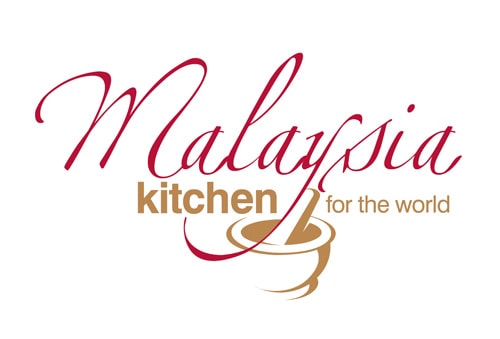 About MATRADE
The Malaysia External Trade Development Corporation (MATRADE) is Malaysia's national trade promotion agency.
Established in March 1993 as a statutory agency under the Ministry of International Trade Industry (MITI), MATRADE is responsible for assisting Malaysian companies to succeed in the international market by developing and promoting Malaysia's exports to the world. MATRADE is the lead agency for the Malaysia Kitchen campaign.
How Many Calories per Serving?
This recipe is only 310 calories per serving.
What Dishes to Serve with This Recipe?
For a wholesome meal and easy weeknight dinner, I recommend the following recipes.
5 Secrets to 20 Min Dinners
Get tricks for quick & easy meals!
Yield: 4 people
Nasi Ulam (Malaysian Mixed Herb Rice)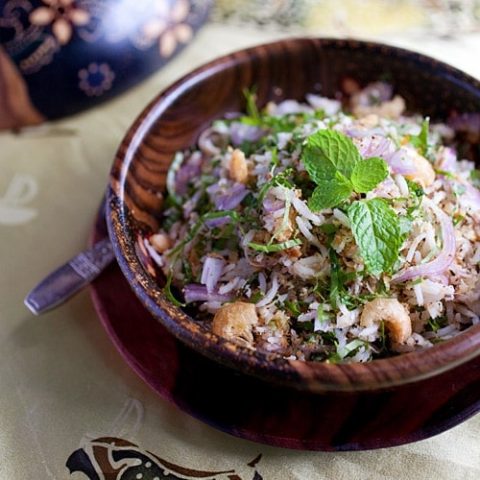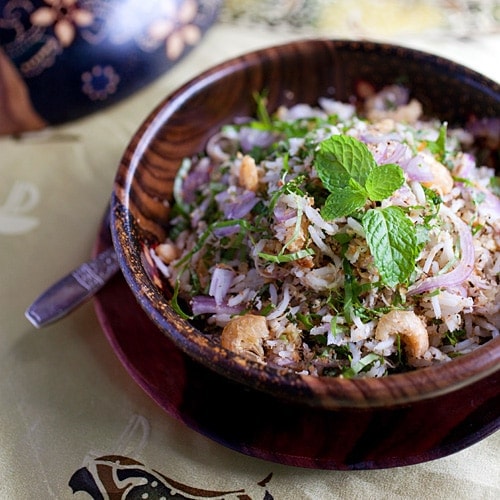 Nasi ulam is a Malay dish. It is utterly delicious, aromatic, healthy, and extremely appetizing, and great with a side dish of meat or fish. What's more, it can be a complete meal on its own.
Total Active Time
50 minutes
Total Time
1 hour
30 minutes
Ingredients
1/3 cup dried shrimp
1/2 cup fresh or frozen shredded coconut
2 cups cooked rice, chilled
5-6 medium daun kadok, wild betel leaves, finely sliced
1/4 cup Thai basil leaves, finely sliced
1/4 cup mint leaves, finely sliced
1/4 cup daun kesom, polygonum leaves/Vietnamese mint leaves, finely sliced
3 kaffir lime leaves, finely sliced
5 shallots, peeled and thinly sliced
1 lemongrass, white part only, thinly sliced
1 teaspoon salt
1 teaspoon sugar
3 dashes white pepper, powder
3 dashes black pepper powder
Instructions
Soak the dried shrimp in warm water until softened. Coarsely pound them using a mortar and pestle. Heat up a wok and dry toast the pounded shrimp until they are dry or smell aromatic. Do not burn the dried shrimp.
Make the shredded coconut into kerisik by stir-frying them continuously in a wok, until they turn golden brown in color. Transfer to the mortar and pestle and pound until fine. Set aside.
In a big bowl, combined the cooked rice and all the herbs, shallots, toasted coconut, and dried shrimp together. Add the salt, sugar, and peppers. Toss to combine well. Serve immediately.
Notes
For nasi ulam, I prefer to use basmati rice as the rice is drier and less sticky, fluffy, and nutty in flavor compared to Thai jasmine rice. I find the texture of basmati rice the best for nasi ulam. If you use regular rice for this recipe, you might want to chill it in the fridge overnight to lose the moisture content in the rice.
Nutrition Information
Yield
4
Serving Size
4 people
Amount Per Serving
Calories

310
Total Fat

5g
Saturated Fat

3g
Unsaturated Fat

0g
Cholesterol

224mg
Sodium

1310mg
Carbohydrates

47g
Fiber

2g
Sugar

8g
Protein

19g