Malaysian Curry Chicken - delicious, great with steamed rice, and good for any occasion.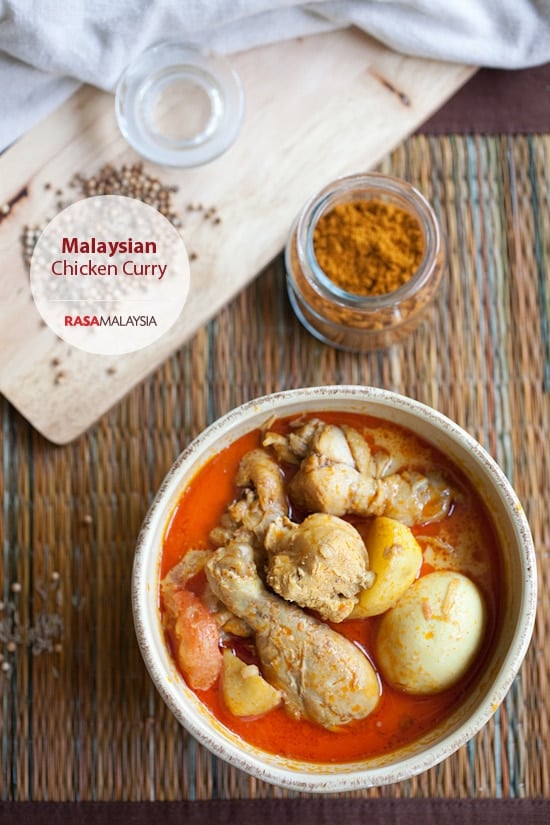 It's officially winter now in the United States, I am sure many people are bundling up at home and cooking, instead of out and about in the frigid cold weather.
I am lucky that I am in Southern California where winter is mild, in fact, this year there is no real winter here.
However, being an island girl from the forever tropical Penang island, Malaysia, I feel cold whenever the temperature dips below 60.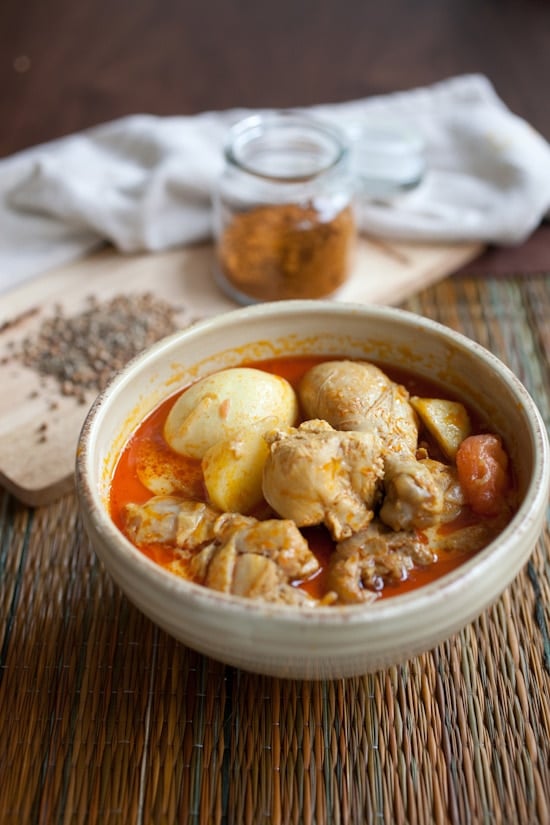 Other Recipes You Might Like
Warm up with This Curry Chicken Recipe

Whenever I feel that I need to warm up, I make dishes that warms up my body, for example: soups, stews, one-pot meals such as Japanese hot pot, and curries.
I especially love curries because they are so easy to make and I can just make a big pot and eat the whole day and I might still have some leftover the next day, which taste even better as the flavors develop overnight.
Curries are so delicious, great with steamed rice, and heats up my body right away. Plus the smell of curries wafting through the kitchen is enough to set my stomach rumbling, and my mouth watering.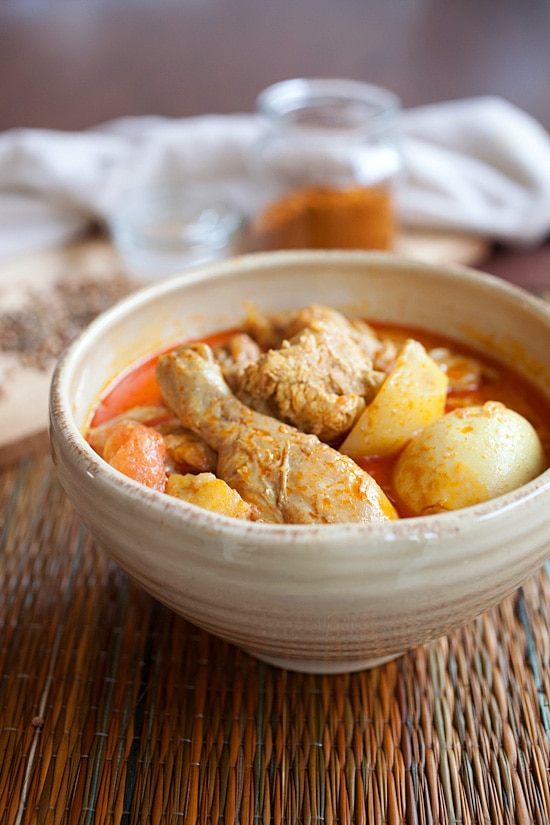 Easy Chicken Curry Recipe = Easy Ingredients

There are countless ways of making Malaysian-style chicken curries and there are various recipes: devil's curry, chicken curry kapitan, Nyonya-style chicken curry, etc.
However, this Malaysian chicken curry recipe is very easy chicken curry that you can make with easy-to-find ingredients.
For curry powder, I always buy the curry powder packets from Malaysia, brands such as Baba's meat curry powder or Alagappa curry powder (made in Penang). They are fantastic, cheap and you can use them for a long time.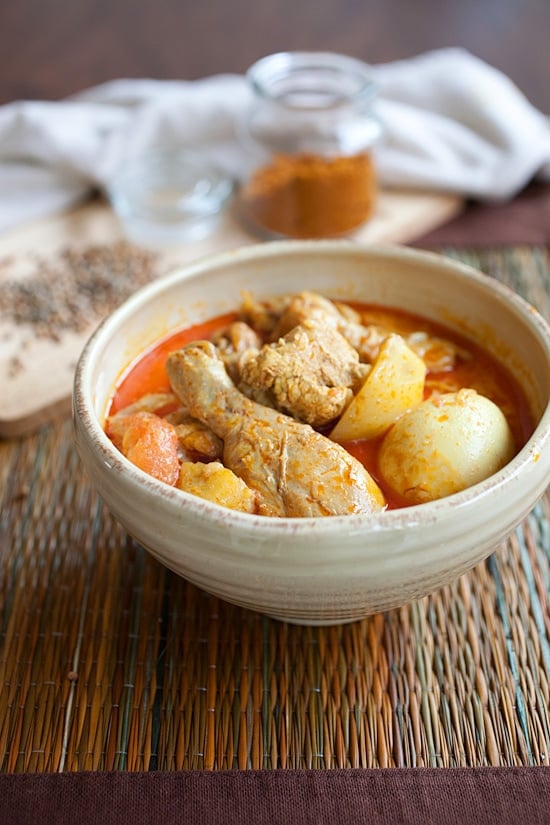 Without further ado, this is my Malay-inspired easy chicken curry recipe. Make a big pot today and share it with your family and friends. Enjoy!
How Many Calories per Serving?
This recipe is only 288 calories per serving.
What Dishes to Serve with This Recipe?
For a wholesome meal and easy weeknight dinner, I recommend the following recipes.
5 Secrets to 20 Min Dinners
Get tricks for quick & easy meals!
Yield: 6 people
Malaysian Chicken Curry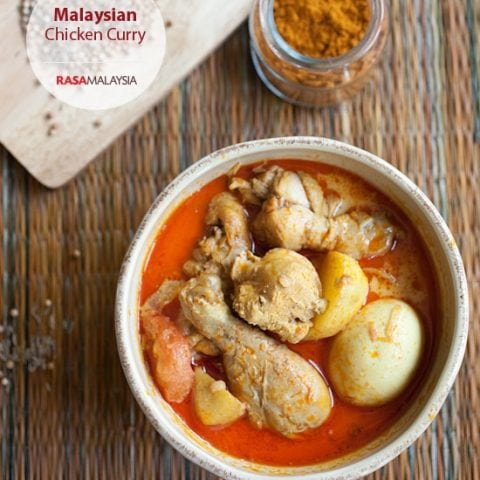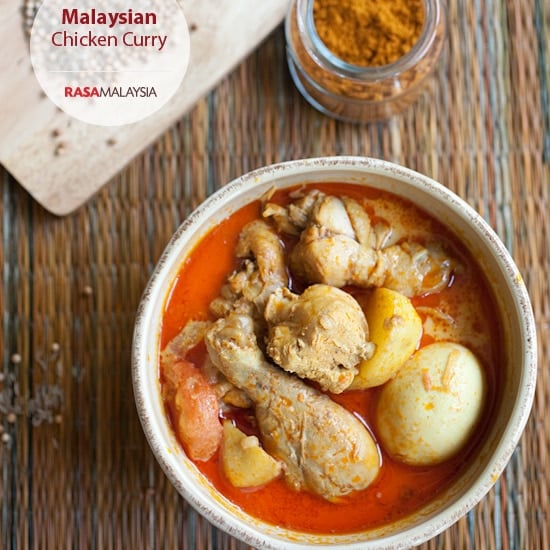 Easy Chicken Curry Recipe. DELICIOUS and can be made with easy-to-get ingredients at regular stores. Once you try this curry, you will want more!
Ingredients
2 tablespoons oil
1/2 onion, diced
1 oz. (30 g) curry powder for meat
1 1/2 lbs. (0.6 kg) chicken, chopped into pieces
3 cups water
1 big tomato, cut into wedges, optional
2 small potatoes, peeled and cut into wedges
4 hard-boiled eggs, optional
1/2 cup coconut milk or 3/4 cup milk
salt to taste
Instructions
Add the oil to a big pot and heat it up until hot. Add the onions and stir-fry until aromatic before adding the curry powder. Do a few quick stirs until you smell the aroma, then add the chicken, stir to combine well, for about 1 minute. Add the water into the pot and bring it to boil. Lower the heat and add the tomatoes, potatoes and eggs. Cover the pot and let simmer for about 30-45 minutes, or until chicken becomes tender. Add the coconut milk and salt to taste and simmer for another 5 minutes or so. Dish out and serve immediately with steamed rice.
Nutrition Information
Yield
6
Serving Size
6 people
Amount Per Serving
Calories

288
Total Fat

21g
Saturated Fat

11g
Unsaturated Fat

0g
Cholesterol

165mg
Sodium

93mg
Carbohydrates

10g
Fiber

3g
Sugar

2g
Protein

16g