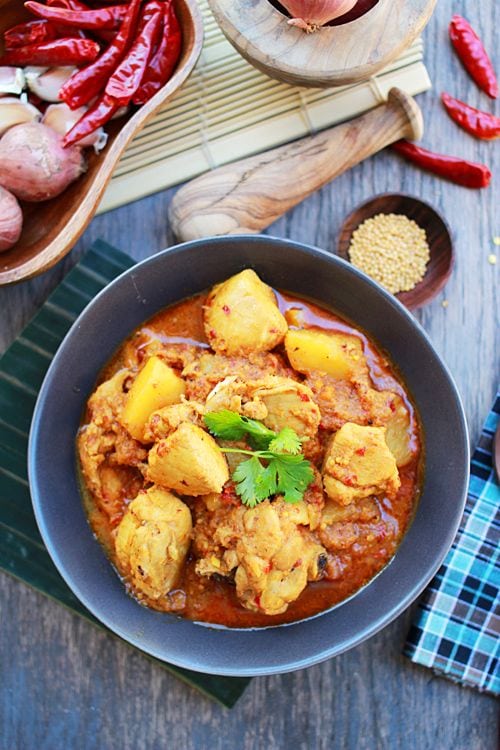 Devil's Curry is a Malaysian dish of chicken curry with vinegar. It's a special-occasion dish made popular by the Portuguese Eurasian in Malaysia.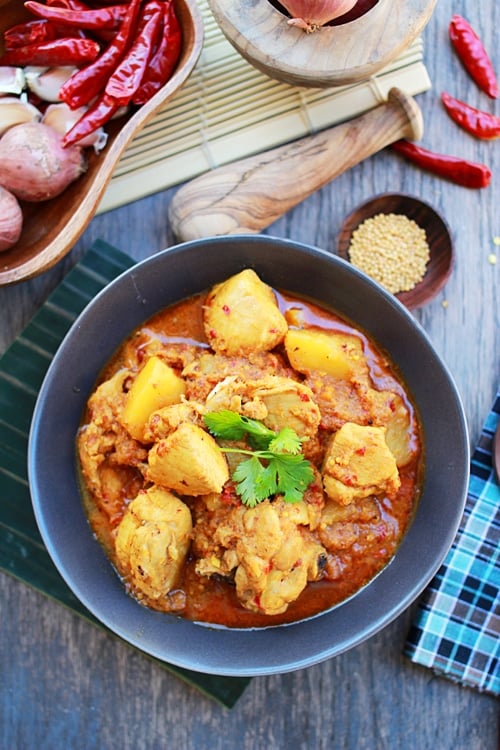 For the month of February, I am working with Malaysia Kitchen NYC for a special feature of Malaysian recipes on Rasa Malaysia.
Earlier this month, I have shared my nasi ulam, or Malaysia mixed herb rice recipe with you.
I have received a few emails from the readers that they have successful attempted the nasi ulam recipe at home with great success.
I am very pleased that many of my readers get a taste of Malaysian cuisine through the Malaysian recipes I share on this website.
From preparing and cooking Malaysian dishes, you are exposed to the spices used in Malaysian cooking.
Once you have sampled the delicious Malaysian food, you might consider dining out at a Malaysian restaurant near you, and eventually plan a trip to visit Malaysia.
Such are the goals of the Malaysia Kitchen program—to evangelize and promote Malaysia through its colorful cuisines and its many quality products (food and non-food) to the world.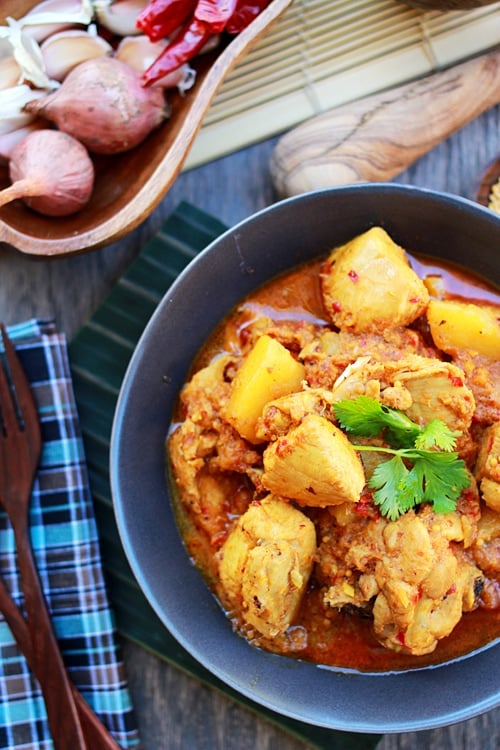 Today, I am sharing another classic Malaysian recipe with you, a curry dish named Devil's Curry, popular in the state of Malacca, Malaysia.
In the 15th century, Malacca was the most important trading port in Southeast Asia and the Sultanate of Malacca was a powerful empire.
In 1511, the Portuguese conquered Malacca and started the colonization era of Malaysia.
However, many Portuguese settled down and married local women and formed the Cristang/Eurasian community in Malaccca, and Devil's Curry or Curry Devil is a special occasion dish for them.
Devil's Curry is a fiery red curry made with a spice paste of red chilies, shallots, garlic, lemongrass, ginger, galangal, and turmeric.
Unlike other Malaysian curries, Devil's Curry is flavored with vinegar for the sharp taste.
The end result is a curry dish that is spice-laden, complex in flavor, tantalizing to the taste buds—the reasons why it's a must-have during festivities such as Christmas for the Eurasian Kristang people in Malaysia.
Before I developed this Devil's Curry recipe, I made sure I checked with my good friend Chef Robert Danhi, whose sister-in-law is a Portuguese Eurasian born and raised in Malacca.
Robert's/his sister-in-law's recipe is a very reliable reference, which I adapted to the recipe here.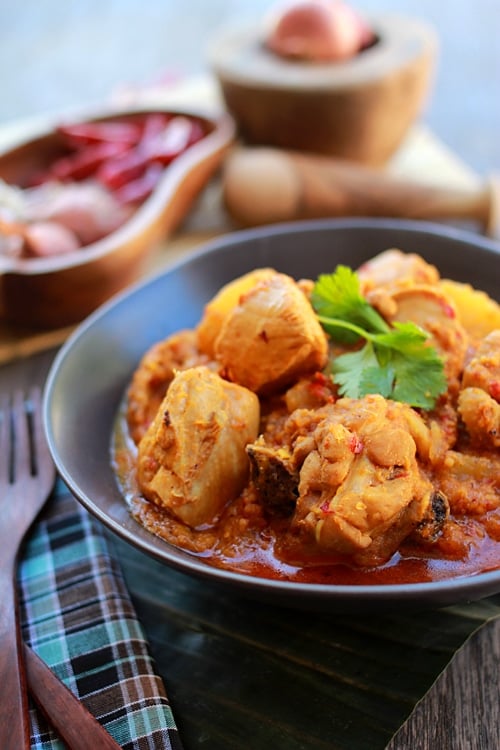 All the ingredients are accessible outside of Malaysia.
For the spices such as mustard seeds, galangal and turmeric, you can find them at Asian stores.
The recipe serves four people so it's perfect for the whole family.
For smaller family, you can have this dish for the day, both lunch and dinner, as the flavor develops and becomes richer.
Try this and enjoy Malaysian food on your dining table!
About Malaysia Kitchen for the World
Malaysia Kitchen for the World is a global initiative of the Malaysian government that aims to educate and inform consumers about Malaysian cuisine and Malaysian restaurants throughout the world.
The New York campaign seeks to boost interest among American food lovers to try Malaysian cuisine and visit Malaysian restaurants in the New York metropolitan area as well as in other locations in the United States.
The program also seeks to facilitate local chefs and restaurateurs to introduce Malaysian cuisine at their establishments.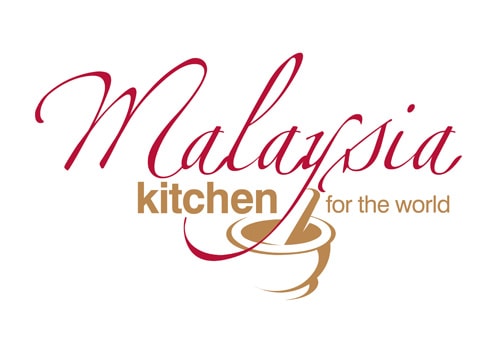 About MATRADE
The Malaysia External Trade Development Corporation (MATRADE) is Malaysia's national trade promotion agency. Established in March 1993 as a statutory agency under the Ministry of International Trade Industry (MITI), MATRADE is responsible for assisting Malaysian companies to succeed in the international market by developing and promoting Malaysia's exports to the world. MATRADE is the lead agency for the Malaysia Kitchen campaign.
How Many Calories Per Serving?
This recipe is only 336 calories per serving.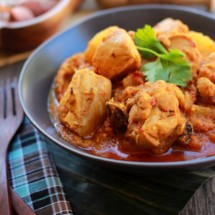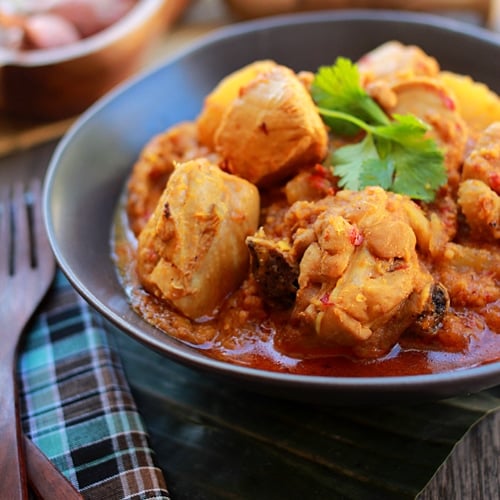 Devil's Curry Recipe
Devil's Curry is a Malaysian dish of chicken curry with vinegar. It's a special-occasion dish made popular by the Portuguese Eurasian in Malaysia.
Ingredients
1/4

cup

cooking oil

1

tablespoon

mustard seeds

3

pounds

chicken, cut into pieces

1

pound

potatoes, peeled and cut into pieces

1

cup

water

salt and sugar to taste

2

tablespoons

distilled white vinegar

1

tablespoon

cilantro, for garnishing (optional)
Spice Paste:
20-30

dried chilies, deseeded and soaked in water for 20-30 minutes

8

shallots, coarsely chopped

5

cloves

garlic, coarsely chopped

3

stalks

lemongrass, white part only, thinly sliced

1

tablespoon

minced ginger

1

tablespoon

minced galangal

1/4

teaspoon

ground tumeric

1/4

cup

cooking oil

1-2

tablespoons

water
Click Here for Conversion Tool
Directions
In a blender, transfer all the ingredients for the spice paste and puree until smooth. Set aside.

In a Dutch oven or a heavy pot, heat up the oil. When the oil is hot, add the mustard seeds and cook until you can slightly hear the popping sound from the mustard seeds.

Add the spice paste into the oil and fry until aromatic, about 10-15 minutes. Then add the chicken and coat with the spice paste. Let it cook for about 8-10 minutes and then add in the potatoes. Stir to combine.

Pour in the water; the water should barely cover the meat and potatoes. Add the salt and sugar to taste. Stir well and bring it to a boil. Turn the heat to simmer, cover with a lid and stew for about 20-30 minutes until the potatoes are soft.

Adjust the seasoning with salt and sugar. Add white vinegar. Stir to mix. Dish out to a bowl and garnish with the cilantro. Serve with warm rice.
Recipe Notes
The amount of dried chilies to use depends on the level of spiciness you prefer.
To make the tamarind juice, mix 3 tablespoons tamarind pulp with a little over 1/3 cup of water. Use your fingers, squeeze the pulp a few times to get the juice out. Discard the tamarind pulp and seeds.
Nutrition Facts
Devil's Curry Recipe
Amount Per Serving (4 people)
Calories 336
Calories from Fat 477
% Daily Value*
Fat 53g82%
Cholesterol 122mg41%
Sodium 138mg6%
Potassium 1053mg30%
Carbohydrates 27g9%
Protein 35g70%
Vitamin A 890IU18%
Vitamin C 21.5mg26%
Calcium 85mg9%
Iron 6.6mg37%
* Percent Daily Values are based on a 2000 calorie diet.