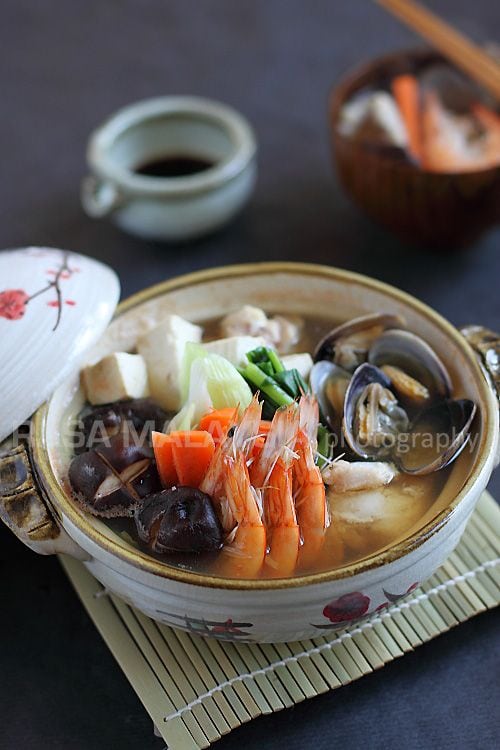 Fall is in the air, even here in Southern California. Days are getting shorter and cooler. These past few days, the sky has been dull and wintry and this morning, it rained.
I start craving foods that keep me warm—soups, hearty stews, and hot pots. To me, nothing tastes quite as invigorating and uplifting than a meal of simmering hot soup or stew. I made nabe, or Japanese hot pot, a delicious medley of ingredients steeped in dashi broth and cooked inside a clay donabe, or nabe pot.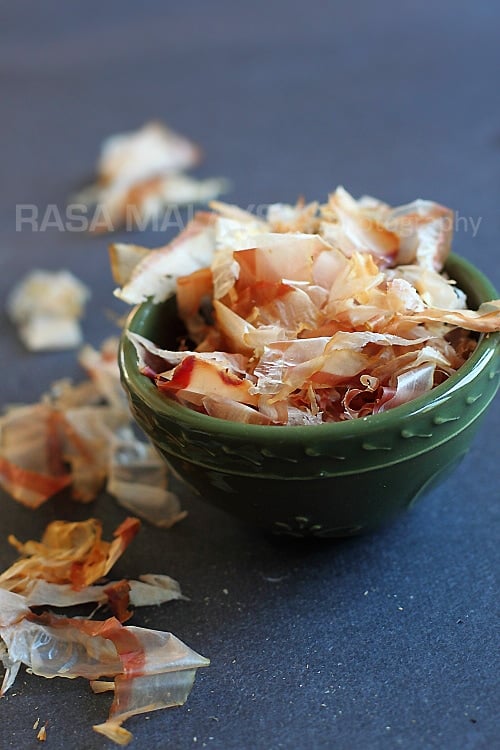 My friend La Fuji Mama took me shopping at the Japanese market here: kombu and bonito flakes for dashi, cookware, usukushi shoyu (Japanese light soy sauce) and harusame (cellophane noodles).
La Fuji Mama lived in Tokyo twice and knows how to pick out the best brands on the shelves. It was great to have someone who knows Japanese to shop with. Thanks so much, Rachael!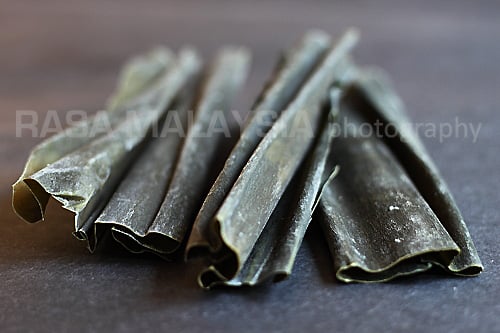 The nabe I made is called Yosenabe, or "Anything Goes" Hot Pot according to "Japanese Hot Pots: Comforting One Pot Meals" by Tadashi Ono and Harris Salat. (I attended the book launch party in New York recently.)
Yosenabe is probably one of the most popular hot pots in Japan; it's highly versatile when it comes to the ingredients used. Chicken, mushrooms, Napa cabbage, Tokyo negi, tofu, and assortment of seafood of your choice: head-on shrimp, scallops, oysters, fish fillet, clams, etc. The chicken has to stay, according to the cookbook.
How did it taste? Well, I will let my photo gallery above speaks for itself. After the nabe meal, I felt like I might even start to appreciate colder weather as I have fifty (50) recipes from the Japanese Hot Pots cookbook to take me through the gloomy days.
How Many Calories Per Serving?
This recipe is only 367 calories per serving.
Nabe Recipe (Yosenabe)
Nabe or Yosenabe is a popular Japanese hot pot. Nabe or yosenabe is a complete meal with chicken, seafood, tofu and veggies. Classic nape/yosenabe recipe.
Ingredients
Dashi:
8

cups

water

2

pieces

kombu

(6-inch)

1 1/2

oz.

dried shaved bonito
Yose Nabe
4

cups

dashi

1/2

cup

mirin

1

chicken leg and thigh, boned, skinned, and cut into bite-size pieces

1/2

lb.

napa cabbage,sliced

1

oz.

harusame, cellophane noodles, soaked in water for 15 minutes

1/2

package

firm tofu, cut into 4 pieces

(1/2 lb)

4

clams

4

head-on shrimp

4

large scallops

1/2

lb.

red snapper or sea bass fillet, cut into 1-inch slices

1

negi, sliced on an angle into 2-inch pieces

1

bunch

spinach, rinsed and cut into 2-inch bundle

3

oz.

fresh shiitake mushrooms or enoki mushrooms or oyster mushrooms

1/2

medium carrot, peeled and cut into 2-inch pieces, then thinly sliced lengthwise
Click Here for Conversion Tool
Directions
Dashi:
Add the water and the kombu to a stock pot and let it steep for 30 minutes.

Place the stockpot over medium heat and bring it to a boil. Remove the kombu and add the bonito and stir it once to mix in. As soon as the liquid boils again, decrease the heat to low and simmer for 5 minutes. Remove any scum that appears on the surface.

Turn off the heat and let the liquid steep for 15 minutes. Strain it through a fine sieve or cheesecloth. Don't squeeze the bonito flakes because it would make the dashi cloudy. Discard the bonito flakes after use.
Yose Nabe
Prepare the broth by combining the dashi, mirin, and soy sauce. Set aside.

Place the cabbage on the bottom of the nabe pot. On top of the cabbage, add the harusame, tofu, clams, shrimp, scallops, red snapper, chicken, negi, spinach, mushrooms, and carrot, arranging each ingredient in a neat order. Pour the broth over, cover the hot pot and bring it to boil over high heat until cooked.

Transfer the hot pot to the dining table and serve immediately.
Nutrition Facts
Nabe Recipe (Yosenabe)
Amount Per Serving (4 people)
Calories 367
Calories from Fat 90
% Daily Value*
Fat 10g15%
Cholesterol 77mg26%
Sodium 2872mg125%
Potassium 935mg27%
Carbohydrates 26g9%
Protein 41g82%
Vitamin A 1595IU32%
Vitamin C 17.5mg21%
Calcium 232mg23%
Iron 2.7mg15%
* Percent Daily Values are based on a 2000 calorie diet.
Easy Weeknight New Recipes: