A complete guide to Edamame, with nutrition facts, health benefits, carbs and calories information, including one of the best edamame recipes.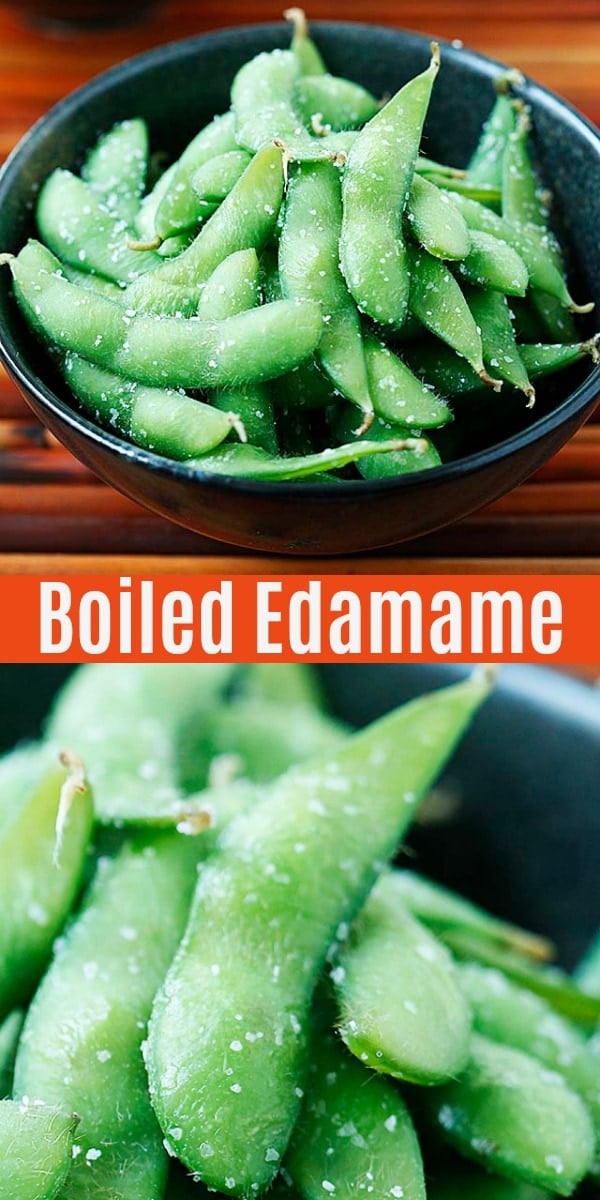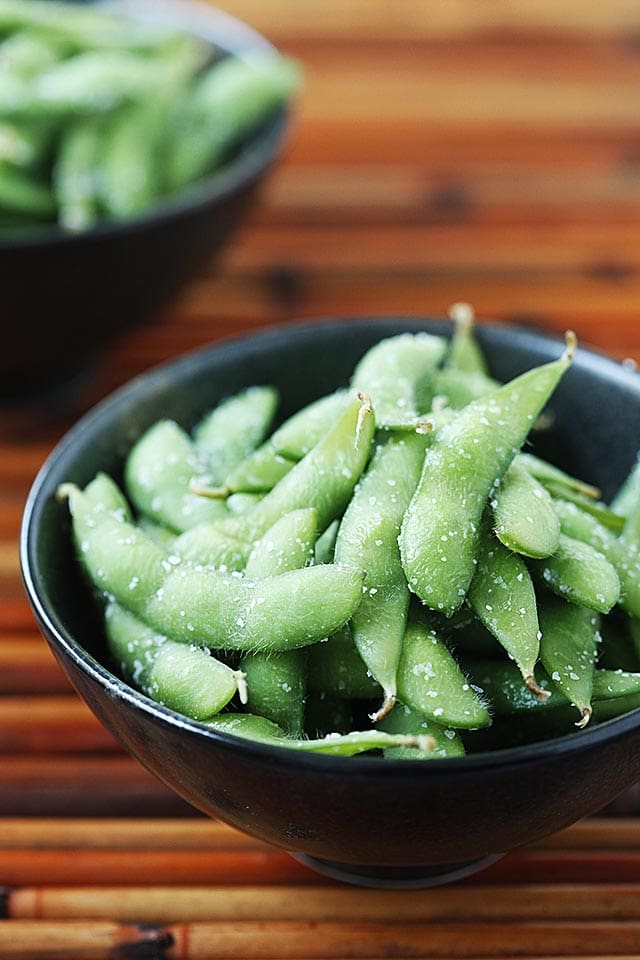 What Is Edamame?
Edamame is green and immature soy beans harvested before maturing. It's a healthy soy-based ingredient with very low carbs.
It's popular in many cuisines, for example: Japanese recipes. They are commonly served as a pre-meal snack in Japanese restaurants.
You can make it into pasta, spaghetti, noodles, hummus and salad. You can buy them at most grocery stores fresh, frozen or prepared.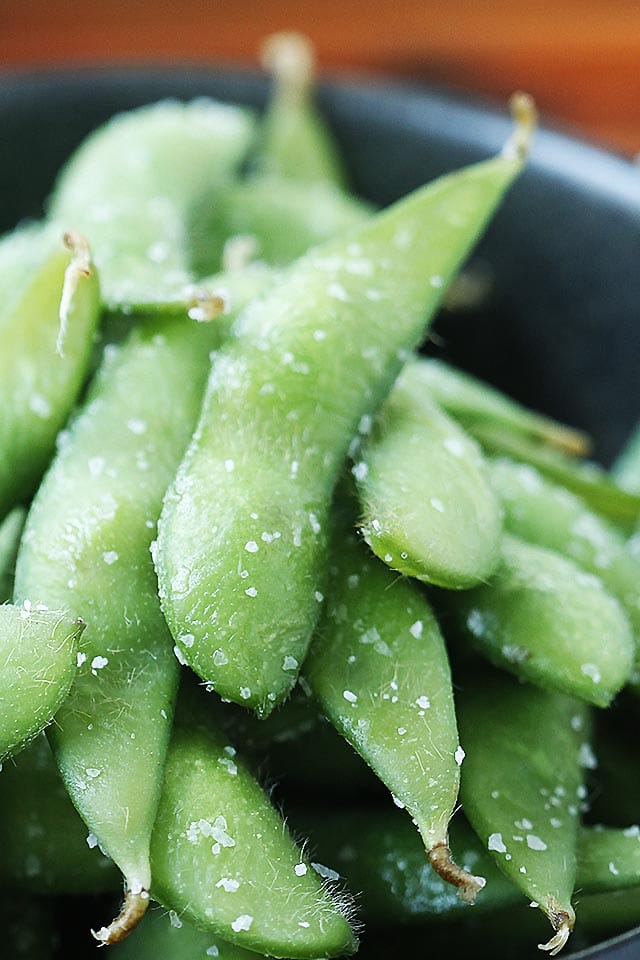 Other Recipes You Might Like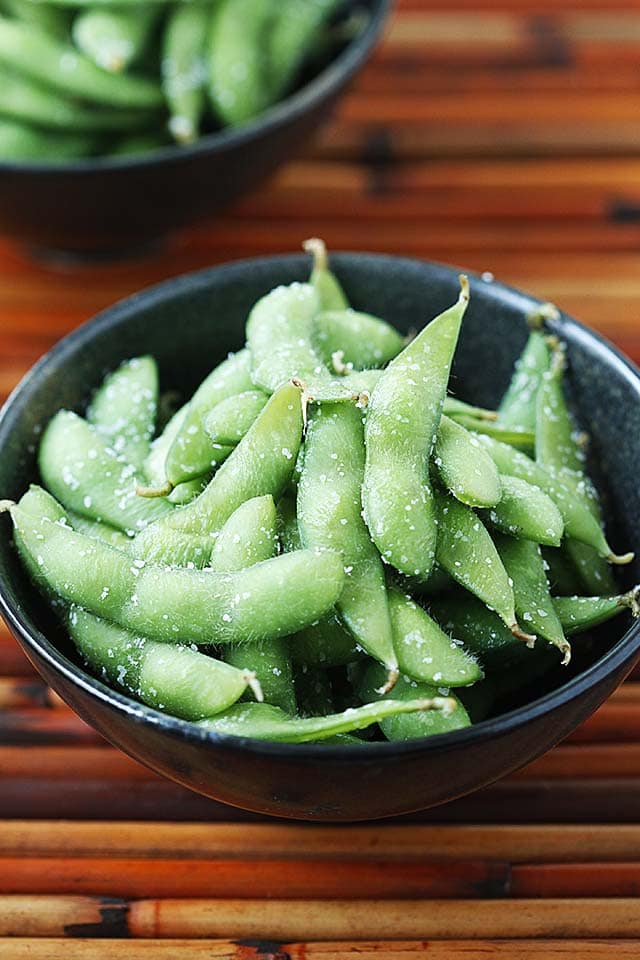 Edamame Beans
Edamame beans are inside the pods and they are the edible part of the beans.
The pod is tough, hairy and inedible. Each pod contains an average of 2-4 beans, depending on the size and length of each pod.
On an average basis, each pod contains 3 tender green beans.
Boiled Edamame
This is one of the easiest edamame recipes. They are so good and healthy and costs only a small fraction of the price you pay at restaurants.
This amazing appetizer is very easy to make at home and takes only 10 minutes.
To boil the edamame, all you have to do is boiling the pods for 3-5 minutes in a pot of boiling water and add salt before serving.
Edamame Nutrition
Here is the summary nutrition information for one cup (5.5 oz or 156 g) of shelled edamame or the beans from USDA:
188 calories
18.4 g protein
13.8 g carbs
9.4 mg sodium
8 g fat
8 g fiber
3.4 g sugar
As you can see from the data, they are super healthy with a lot of nutrients. They are also loaded with vitamins and minerals.
Compared to other beans, lentils or peas, edamame has lower carbohydrates. It's also low in calories and low fat.
They are great for people with diabetes because of the low sugar contents.
To get the complete nutrition facts, check out USDA website.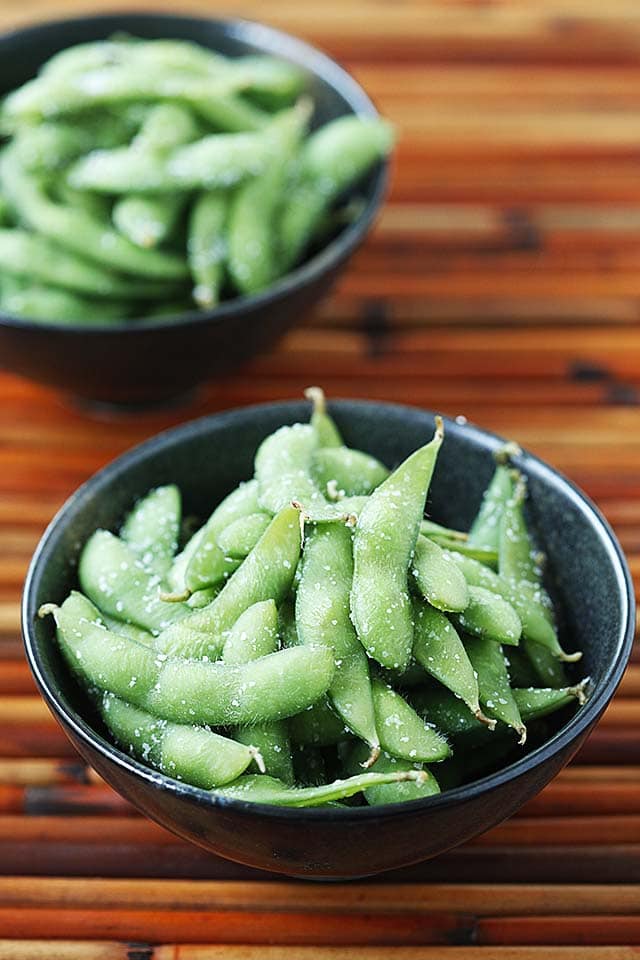 Health Benefits
Here are the list of benefits that will boost your health:
For people with diabetes, soy protein in edamame beans will help reduce insulin resistance, kidney damage and fatty liver in people with diabetes.
The beans reduce LDL cholesterol (bad cholesterol) and increase good cholesterol in men.
Protects against cancer and heart disease.
Prevents boss loss and osteoporosis in women.
Promotes healthy heart functions.
Frequently Asked Questions
Can I Steam Frozen Edamame?
Yes, you can. Steaming works the same way as boiling and it takes about the same time to cook the beans.
Is It Keto Friendly?
They are low in carbs per serving, so you could eat the beans in moderation if you are on a low-carb diet.
If you are on a strict keto diet, I don't recommend it.
Edamame Calories per Serving?
This recipe is only 104 calories per serving.
What to Serve with This Recipe?
Serve this appetizer with main dishes. For a healthy Japanese meal and easy weeknight dinner, I recommend the following recipes.

For more great recipes like this, sign up for our newsletter. We'll send daily recipes you'll love!
Join
Sign up for our newsletter!
Edamame Recipe
A complete guide to Edamame, with nutrition facts, health benefits, carbs and calories information, including one of the best edamame recipes.
Ingredients
12

oz.

frozen edamame

water

(for boiling)

1

teaspoon

kosher salt
Instructions
Thaw the frozen edamame at room temperature.

Bring a pot of water to boil. Drop the edamame into the water, boil for about 3 minutes. Drain the water.

Transfer the edamame to a big bowl, add the kosher salt. Toss a few times until the salt is nicely distributed. Serve immediately.

How to Eat Edamame?

To eat edamame, you can peel the pod open with your hands and pick out the edamame beans to eat. You can also use your fingers to squeeze the pods and push the edamame beans out into your mouth.
Notes
To prepare edamame, you may cut off about 1/2 inch of both ends of the edamame pods with a pair of kitchen scissors. This will make it easier to eat the edamame.
Nutrition

Nutrition Facts

Edamame Recipe

Amount Per Serving (4 people)

Calories 104

Calories from Fat 36

% Daily Value*

Fat 4g6%

Sodium 586mg25%

Carbohydrates 8g3%

Protein 9g18%

* Percent Daily Values are based on a 2000 calorie diet.

Notice: Nutrition is auto-calculated, using Spoonacular, for your convenience. Where relevant, we recommend using your own nutrition calculations.