Gyoza - Japanese dumplings filled with moist and juicy ground pork and vegetables and steamed and pan-fried to crispy golden brown on the bottom.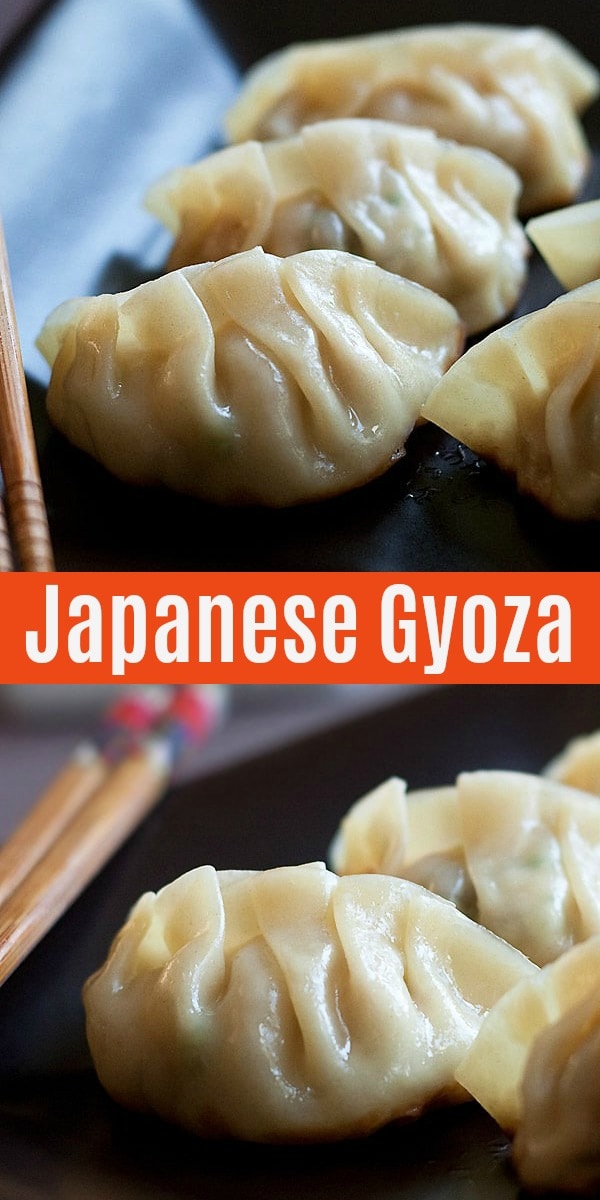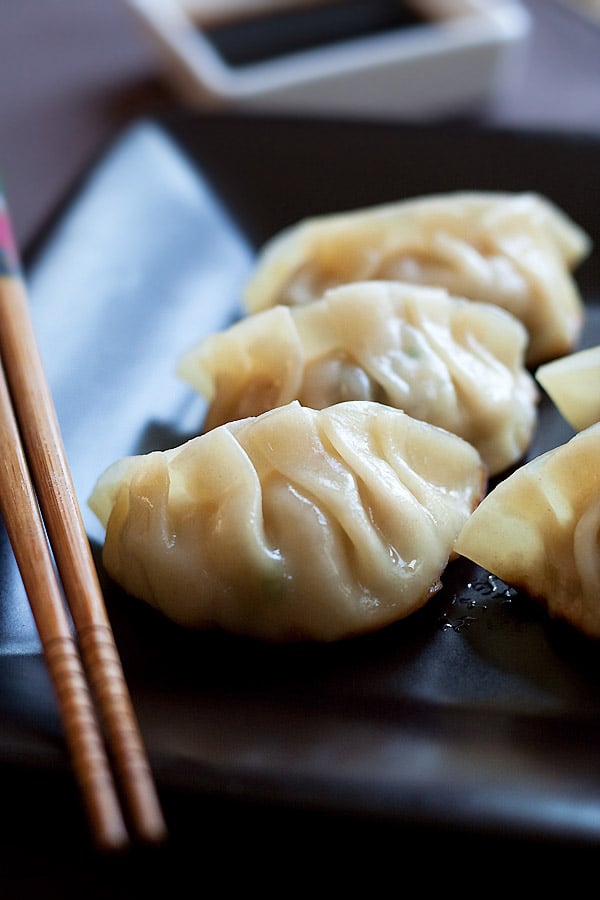 What is Gyoza?
Gyoza is a type of Japanese dumplings, with juicy meat filling inside of dumpling wrappers.
Originating from Chinese jiaozi dumplings, they have become a mainstay of Japanese recipes as a staple that is very popular in and outside of Japan.
In the United States, you can find them at Japanese restaurants and Asian-themed restaurants. They are often served as an appetizer, or part of a combo meal or in a bento box.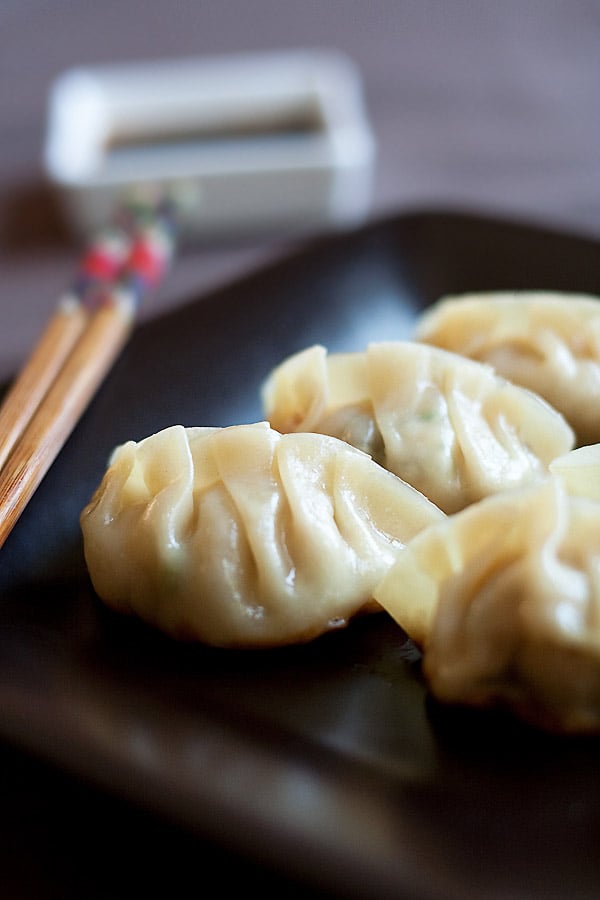 Other Gyoza and Dumpling Recipes You Might Like:
How To Cook Gyoza Dumplings
There are four ways of preparing the bite-sized dumplings: steamed, boiled, pan-fried and deep-fried. I love them pan-fried, or yaki-gyoza in Japanese.
They are pan-fried to crispy golden brown at the bottom and then steamed. Every bite is soft yet crispy in texture.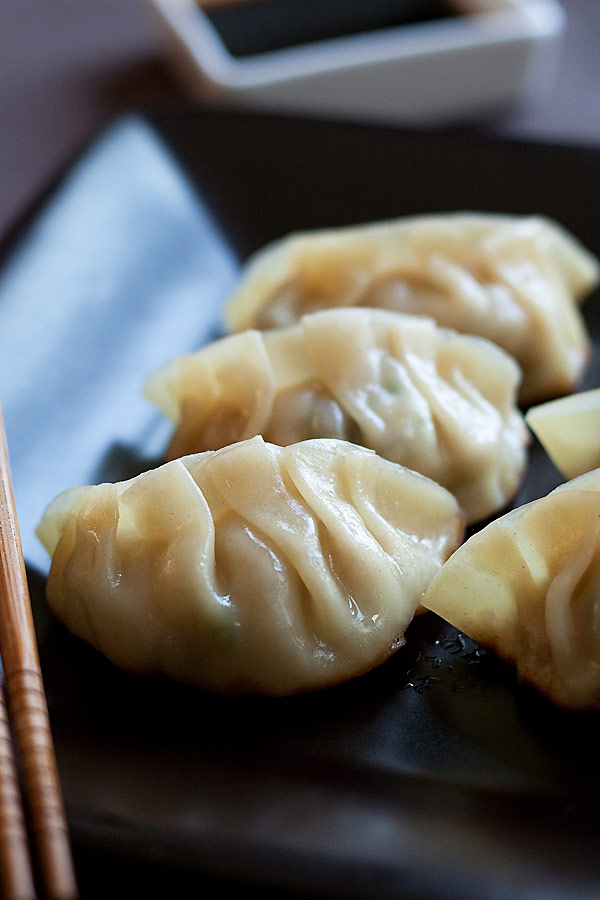 Gyoza Sauce
The sauce completes the taste of the dumplings. You can serve gyoza without any dipping sauce, but for the best flavors, serve with a Ponzu-based (citrus soy sauce) dipping sauce.
I like to add toasted sesame oil to the sauce, making it aromatic and fragrant. Additionally, you can add some sliced ginger strips to the sauce.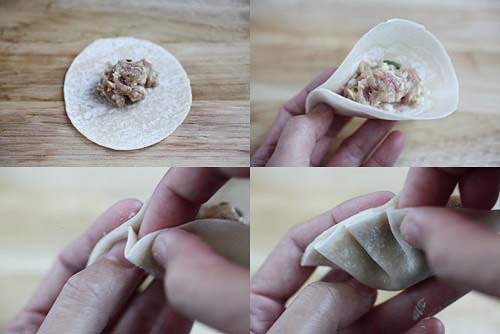 How to Wrap Gyoza
Learn how to assemble or wrap the dumplings with the step-by-step picture guide above.
First, place the filling (you can use pork, chicken or vegetables) in the middle of a wrapper. You can buy the wrappers from regular food stores or Asian food stores. They come in plastic packages like the picture below.

Secondly, add water around the outer edges of the wrapper and fold it up into a half moon shape.
Using your fingers, fold the wrapper opening into pleats and seal tight.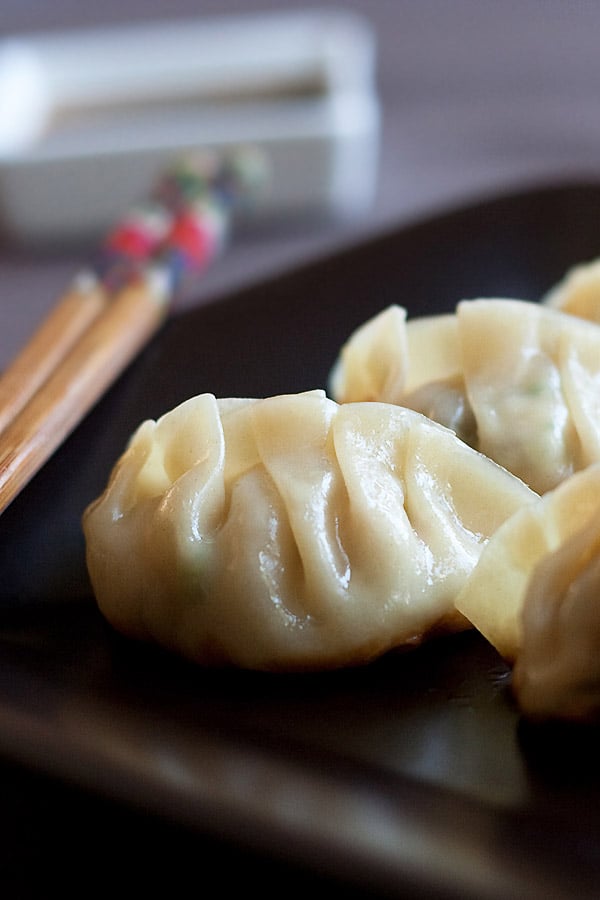 Practice makes perfect when it comes to making homemade gyoza and wrapping them.
Frequently Asked Questions
What is the difference between gyoza and dumplings?
Gyoza are usually made from thinner, smaller, and more delicate wrappers, and the filling is more finely textured. Potstickers are also bigger, as gyoza are usually bite-sized.
Can you make gyoza in advance?
Yes, you can make and freeze gyoza up to 3 months in advance.
How Many Calories?
Each serving of dumplings is only 180 calories; they are healthy to eat on a daily basis.
What Dishes to Serve with this Recipe?
This meal is best served as an appetizer. For a wholesome Japanese meal and easy weeknight dinner, I recommend the following recipes.
Pairs well with: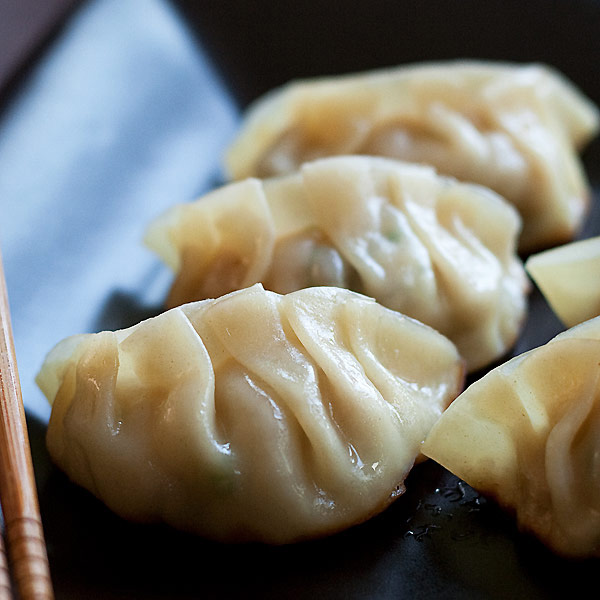 Gyoza Recipe
Gyoza is a type of Japanese dumplings with ground pork and vegetable filling. They are steamed and then pan-fried to crispy golden brown at the bottom.
Ingredients
1

packet

store-bought gyoza wrapper

oil, for pan-frying

water, for steaming
Filling:
8

oz

ground pork

2

oz

cabbage, shredded and cut into small pieces

1

thumb-sized ginger, peeled and grated

1

clove

garlic, peeled and grated

1/2

tablespoon

corn starch

1

tablespoon

soy sauce

1/2

tablespoon

sake

3

dashes

white pepper

1/2

teaspoon

sesame oil

1

tablespoon

chopped scallion, green part only

1

pinch

salt
Click Here for Conversion Tool
Directions
In a bowl, combine all the ingredients in the Filling and blend well. The Filling should be sticky and cohesive.

In a dipping bowl, combine the Ponzu with the sesame oil. Stir to blend well.

To assemble the gyoza, place a piece of the gyoza wrapper on your palm or a flat surface. Spoon about 1 teaspoon of the Filling onto the center of the wrapper. Dip your index finger into some water and moisten the outer edges of the dumpling wrapper. Fold the gyoza over, press and seal the left end. Use your thumb and index finger to make a pleat. Pinch to secure tightly. Repeat the same to make the pleats. (Start with 3-4 pleats if you are a beginner). A nicely wrapped gyoza should have a crescent shape.

Heat up the oil in a skillet or stir-fry pan over medium heat. Arrange the gyoza and cover with the lid. Pan-fry the gyoza until the bottoms turn golden brown and become crispy. Add about 1/4-inch water into the skillet or stir-fry pan and cover the lid immediately. The water should evaporate after a few minutes. Continue to cook the gyoza for a couple of minutes to crisp up the bottoms.

Remove the gyoza from the skillet or stir-fry pan and serve immediately with the Ponzu dipping sauce.
Recipe Notes
To grate the ginger and garlic, you can use a Japanese grater (oroshigane) or Microplane.
Get a good gyoza wrapper. Gyoza wrapper is generally thicker compared to other dumpling wrapper. Most of them are round in shape, but some are oval-shaped. For easier assembling, I suggest the round-shaped gyoza wrapper. If you can't find gyoza wrapper, you can always use pot sticker wrapper, or Chinese jiaozi wrapper. Traditionally, Japanese home cooks use their hands to mix the gyoza filling for the best texture. You can adapt this recipe and make vegetarian gyoza.
Nutrition Facts
Gyoza Recipe
Amount Per Serving (4 people)
Calories 180
Calories from Fat 117
% Daily Value*
Fat 13g20%
Cholesterol 40mg13%
Sodium 626mg27%
Potassium 196mg6%
Carbohydrates 4g1%
Protein 10g20%
Vitamin A 30IU1%
Vitamin C 6.1mg7%
Calcium 14mg1%
Iron 0.8mg4%
* Percent Daily Values are based on a 2000 calorie diet.