Learn how to make restaurant-style and the best Japanese shabu shabu hot pot at home. This shabu recipe is easy with the step-by-step picture guide, complete with ingredient suggestions.
Shabu
What is shabu shabu?
It's a type of Japanese hot pot with thinly sliced meat (mostly beef) and assorted vegetables.
The words shabu shabu meaning "swish swish," which describes the light swishing sound of the meat in the simmering broth.
Sometimes, seafood such as crab legs can be added to the ingredients.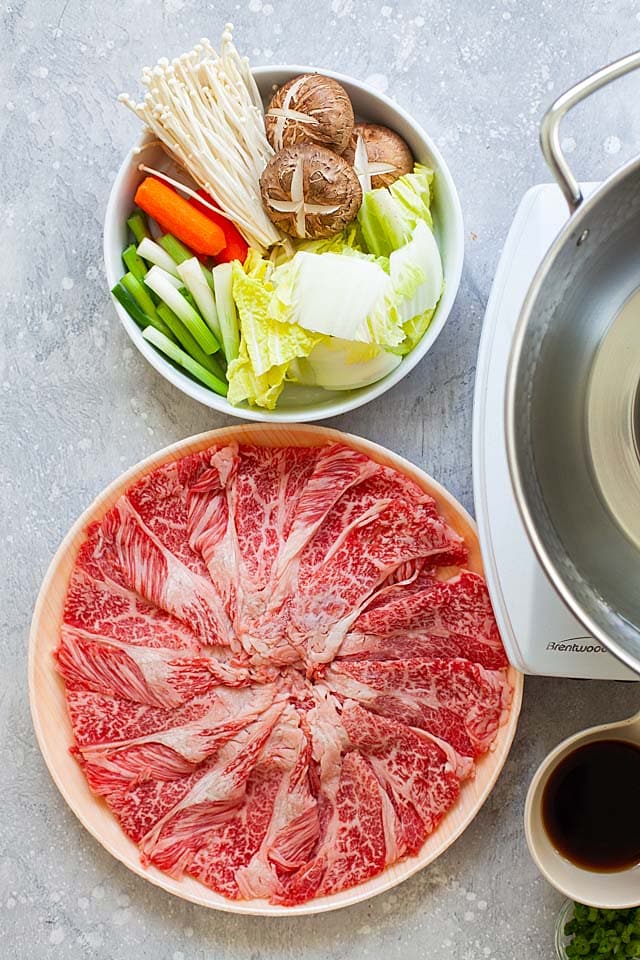 Shabu Shabu Recipe
Originated from China, Japanese shabu shabu is slightly different with the ingredients used, sauces and condiments.
Beef is the most common meat but pork is sometimes used. The meat is always thinly sliced.
As a result, fatty and marbled beef such as wagyu (Japanese beef) or American wagyu is the best, for example: Kobe beef or Miyazaki beef.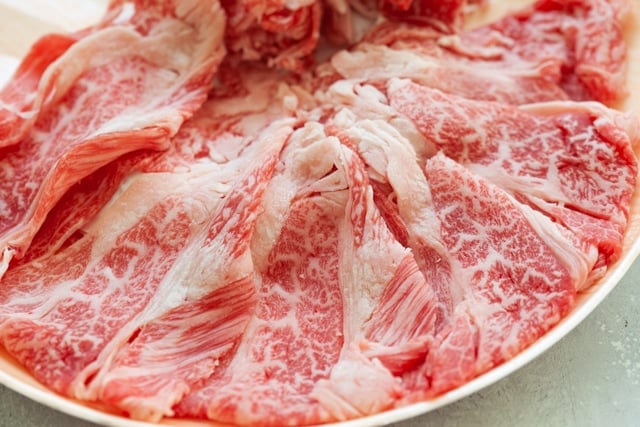 Shabu is an easy and fun way to eat a variety of ingredients, all cooked in the rolling boil hot soup.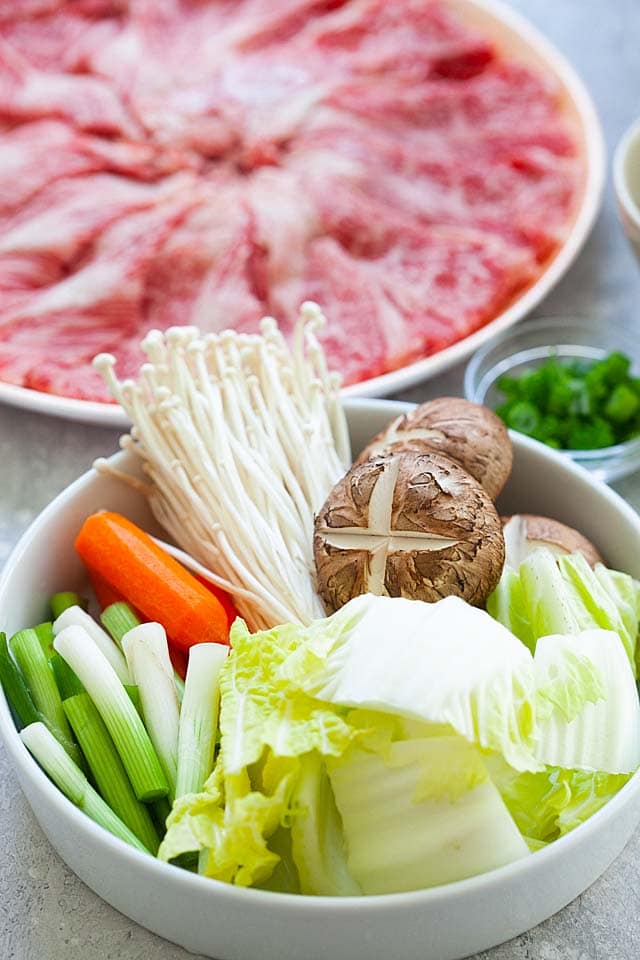 Other Japanese Recipes You Might Like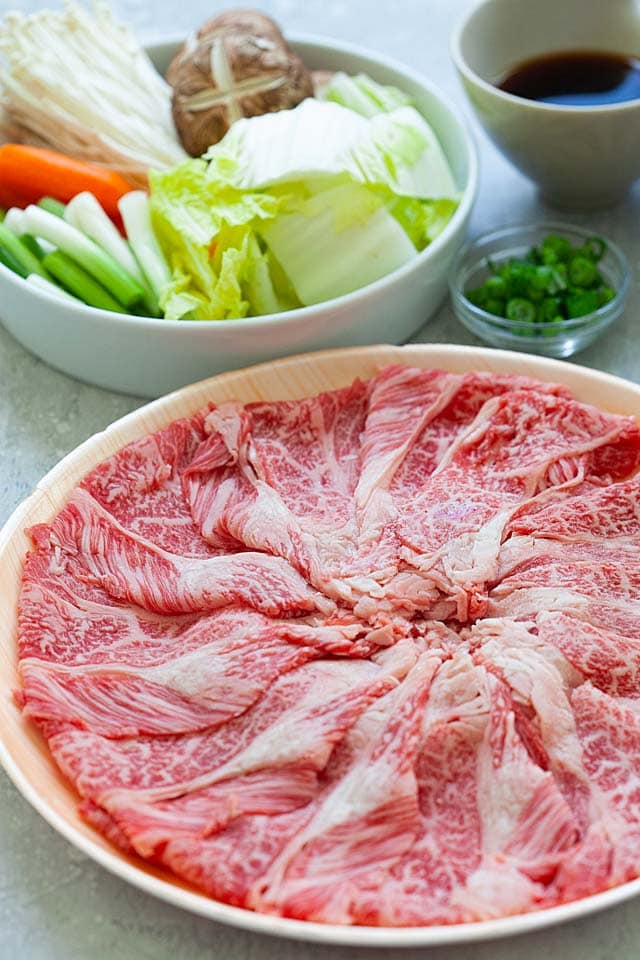 How to Make Shabu Shabu?
It's very easy to make this delicacy at home. Most of the work is preparation of the soup, sauces and ingredients.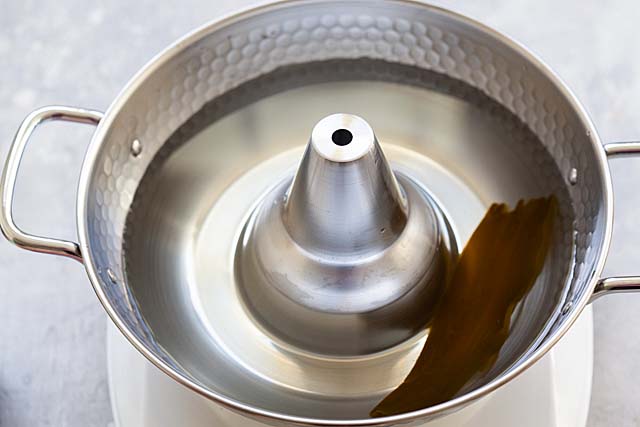 First, prepare the broth. Traditionally, the broth is made of water, kombu seaweed and Japanese cooking sake.
However, in many shabu shabu restaurants, only water is used. I prefer the soup base because it adds so much flavors.
Next, prepare and cut the ingredients such as napa cabbage, carrot, shiitake mushrooms, enoki mushrooms, tofu and scallions (or Tokyo negi).
For beef, you can buy the sliced beef from Japanese stores, which usually comes in a tray.
Ponzu sauce and sesame sauce are two favorite dipping sauces for shabu. Both are available in bottles at Japanese stores or Asian stores.
The final step is to place all the ingredients on the dining table, with the hot pot set on top of a portable butane burner in the middle.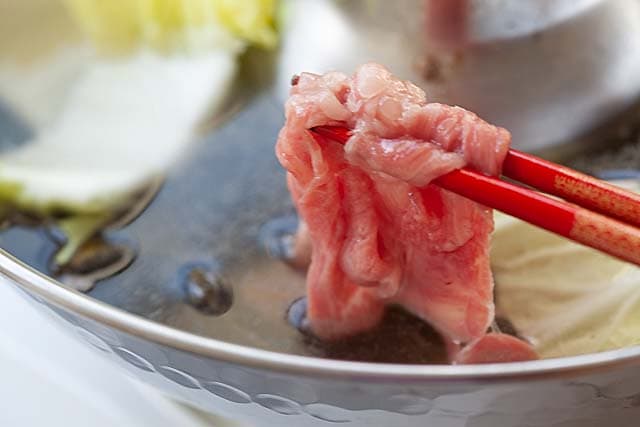 Cooking and Eating Tips
For results that rival the best restaurants, please follow my tips below:
Please make sure that the broth comes to a boil before you start cooking.
Pick up a slice of beef with your chopsticks and quickly dip the beef into the hot boiling broth. You might dip or swish it quickly for about 2-3 times.
DO NOT overcook the beef. The beef should be soft, tender and just cooked through.
Dip the beef into the Ponzu or sesame sauce and enjoy immediately.
Frequently Asked Questions
Is Shabu Healthy?
Yes, this is one of the healthiest ways to eat a wholesome meal.
It's not greasy and comes with a variety of vegetables.
What Is the Best Cut of Beef for Shabu?
Rib steaks, top sirloin and sirloin tip are the best cuts for Shabu Shabu.
Japanese A5 Wagyu will be the ultimate best, but USDA Prime will be equally delightful.
Fatty cuts of USDA Choice that has adequate marbling will also be great.
Avoid USDA select beef because it has the least fat.
Check out USDA for the difference.
How Do I Slice the Beef?
If you don't have a Japanese grocery store where you are, you can still enjoy the dish by slicing the beef very thin with a sharp knife.
Freeze the beef in the freezer. Remove from the freezer and leave it out at room temperature for 30 minutes.
Use a pair of very sharp chef knife and slice the beef thinly while it's still hard and frozen.
Lay out the thin-sliced beef on a serving platter.
How Many Calories per Serving?
This recipe is only 556 calories per serving.
What to Serve with This Shabu Recipe?
Serve this dish with steamed rice or ramen noodles. For a healthy Japanese meal, I recommend the following recipes.

For more great recipes like this, sign up for our newsletter. We'll send daily recipes you'll love!
Join
Sign up for our newsletter!
Shabu Shabu
Learn how to make restaurant-style and the best Japanese shabu shabu hot pot at home. This shabu recipe is easy with the step-by-step picture guide
Ingredients
1

lb.

thinly sliced beef

1

lb.

king crab legs, cut into small sections

8

oz.

Napa cabbage, cut into pieces

2

oz.

enoki mushrooms

2

oz.

shiitake mushrooms

1

stalk

scallion

(cut into strips)

2

oz.

baby carrots
DIPPING SAUCES
Bottled sesame dipping sauce

Ponzu

Condiments

Bottled Shichimi Togarashi

Scallion

(cut into small rings)
Instructions
Place the meat and crab on two separate plates.

Assemble the Napa cabbage, enoki mushrooms, shitake mushrooms, scallion and baby carrots in another plate.

Combine the Soup ingredients in a Shabu pot.

Prepare the dipping sauces in two small dipping bowls. Place the condiments on small dishes.

Heat the pot on a countertop burner. When the Soup comes to a rolling boil, add the Napa cabbage, mushrooms, crab legs and other ingredients in the boiling soup.

Quickly blanch and cook the meat using a pair of chopsticks.

Remove the meat immediately and dip it in your favorite sauce and enjoy with condiments according to taste.

Scoop out the other ingredients in the pot and enjoy. You may skim scum off the soup in the pot as needed.
Notes
You may eat Shabu Shabu with steamed rice or add ramen to the soup.
Adapted from Recipes of the World's Most Popular Japanese Dishes Mayuko Matsumura.
Nutrition

Nutrition Facts

Shabu Shabu

Amount Per Serving (1 g)

Calories 556

Calories from Fat 234

% Daily Value*

Fat 26g40%

Cholesterol 160mg53%

Sodium 2663mg116%

Carbohydrates 20g7%

Protein 56g112%

* Percent Daily Values are based on a 2000 calorie diet.

Notice: Nutrition is auto-calculated, using Spoonacular, for your convenience. Where relevant, we recommend using your own nutrition calculations.