Garlic Lemon Butter Crab Legs - crazy delicious king crab legs in garlic herb and lemon butter. This crab legs recipe is so good you want it everyday!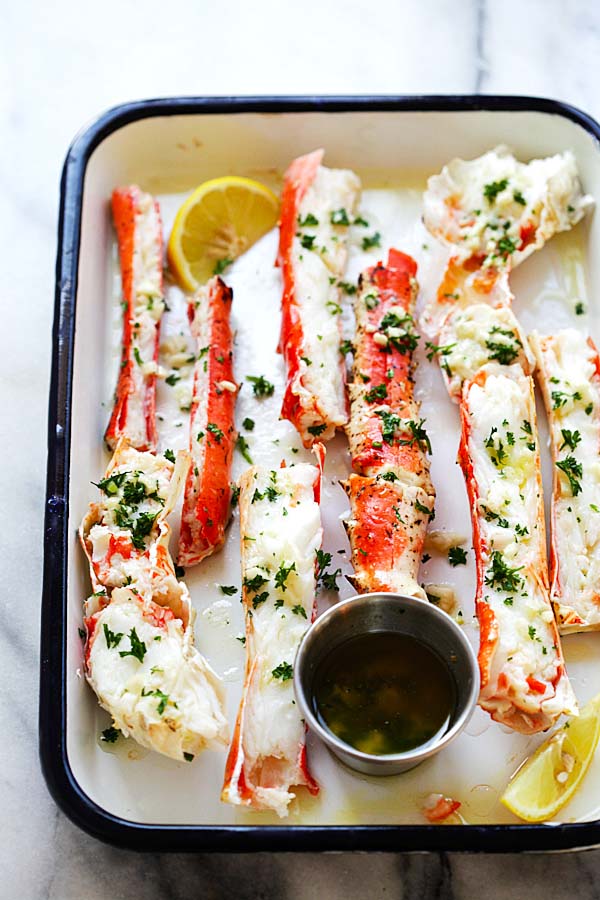 King Crab Legs
King Crab is one of my favorite seafood. Whenever I go to Las Vegas, Alaska king crab legs are the first thing I would grab from the buffet because they are so delicious with sweet and juicy crab meat inside the legs.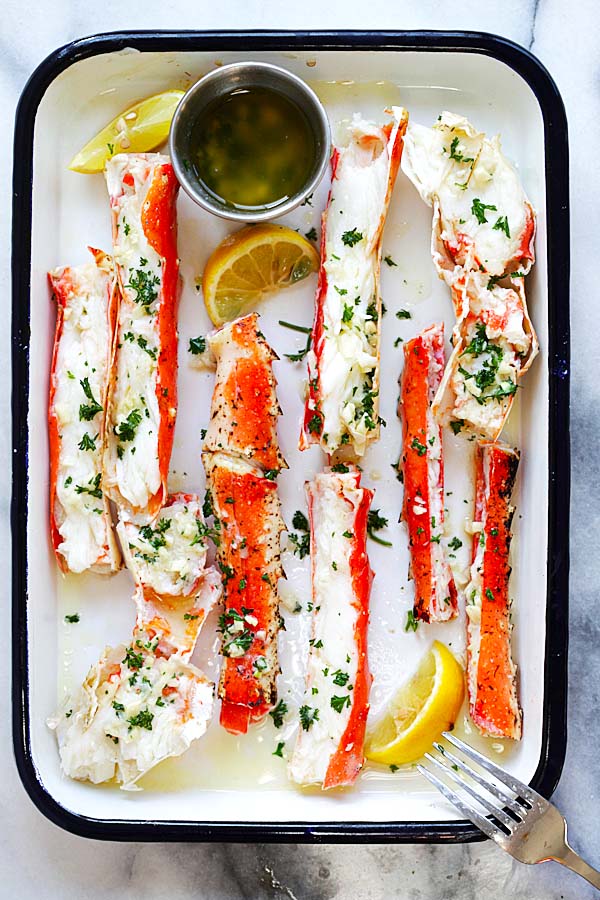 Summer is the season to indulge yourself in great seafood; this season is about enjoying, having fun, and eating really good food, so let's add this recipe to your list!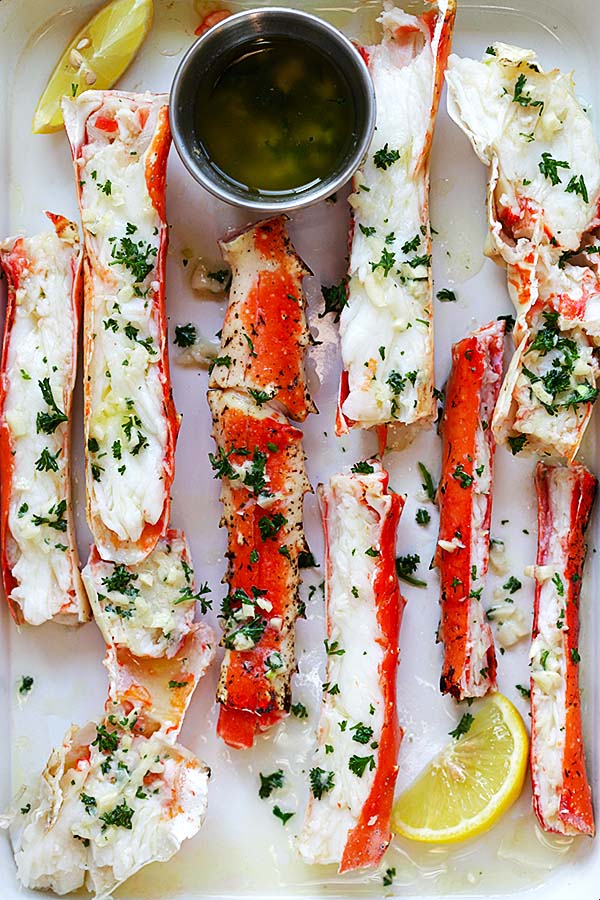 Crab legs are not cheap, but occasionally, you can get discounted price from stores. I got mine from Costco and they have good quality King crab legs that taste sweet, briny and not overly salty.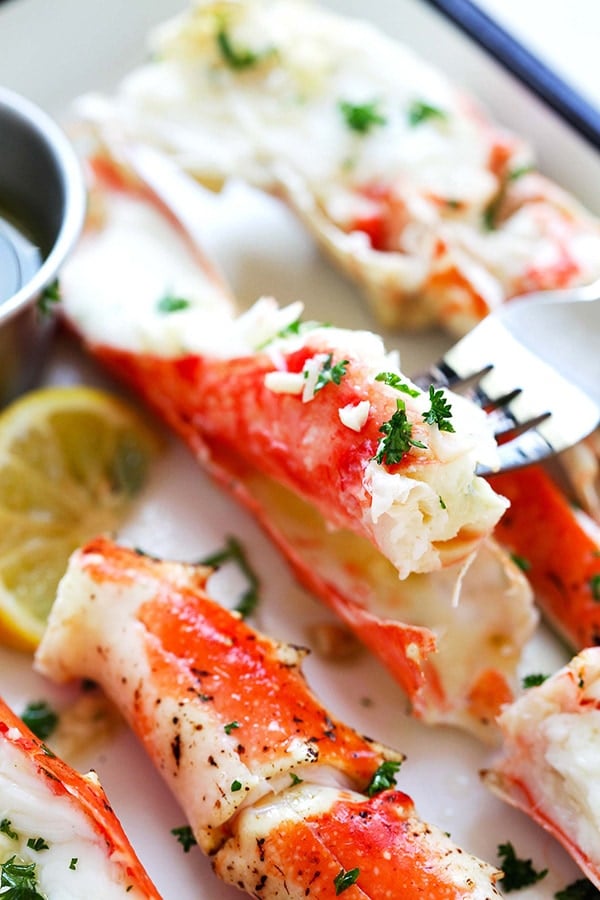 Other Recipes You Might Like
How to Season Crab Legs?
Most frozen crab legs are heavily salted, so at buffets, they usually just boil them and serve with melted butter.
DO NOT do that at home because boiling depletes the natural sweetness of the crab, which is what makes them so delicious.
To season them, all you need are some melted butter, garlic, lemon juice, parsley, and bake them in the oven.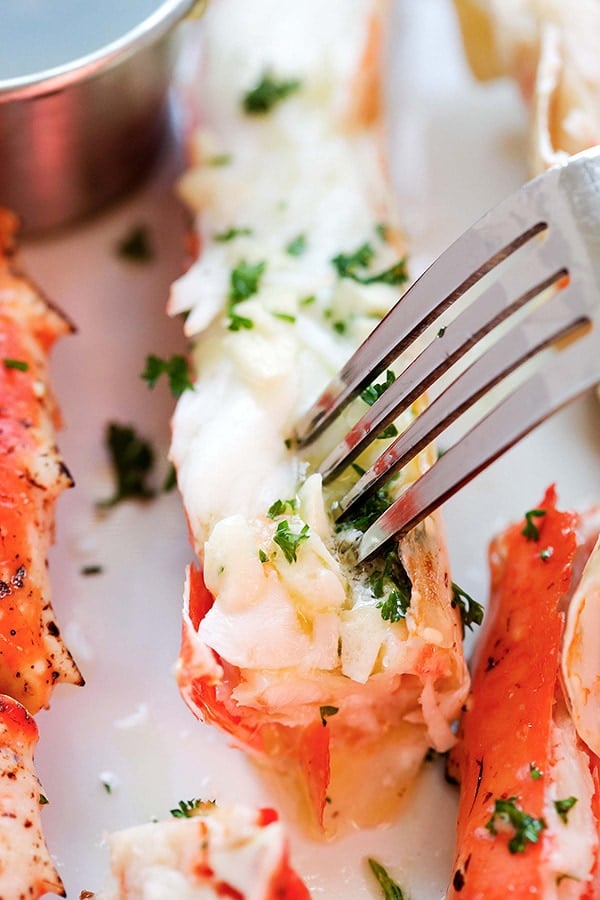 Frequently Asked Questions
Do You Have to Thaw Frozen Crab Legs Before Cooking?
The answer is yes. As I mentioned above, they are heavily salted so thawing them to room temperature will remove some salt from the meat.
It's a good idea to thaw the crab before cooking.
King Crab Legs VS. Snow Crab Legs
I personally love the former because the legs are bigger, meatier and more succulent.
Snow crab has skinnier legs, making them less meatier. However, there are no "thorns" the the legs so they are easier to handle.
What Dishes to Serve with this Recipe?
This recipe is best served with a side of crusty skillet garlic bread, cheesy garlic Texas Toast or cheddar bay biscuits, as an appetizer. For a wholesome meal and easy weeknight dinner, I recommend the following recipes.
How Many Calories Per Serving?
This recipe is only 401 calories per serving.
Pairs well with:
This crab legs recipe is the only recipe you will need! Make them for the family and indulge in the deliciousness of the crab. You will love me for that!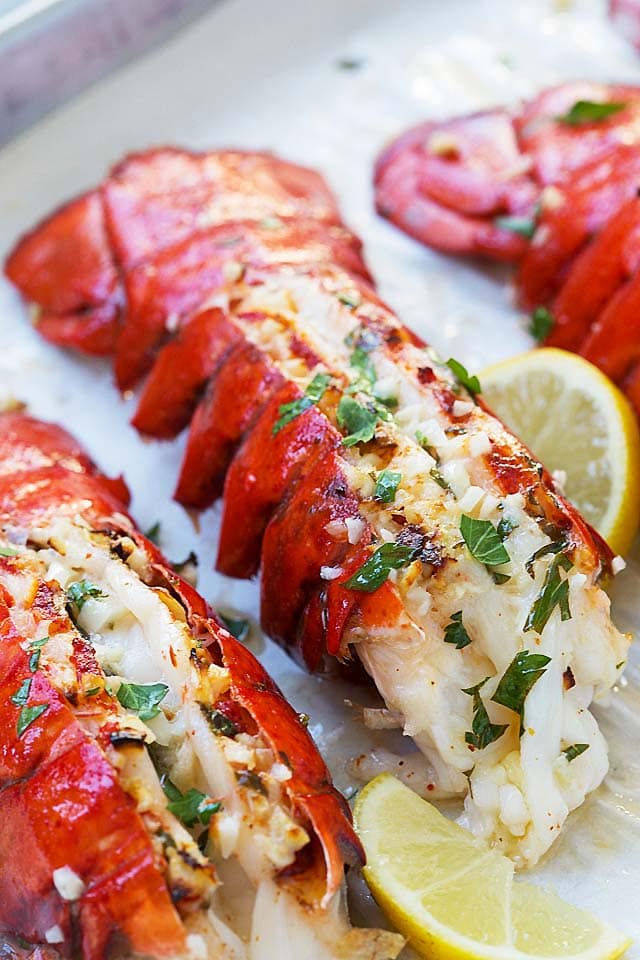 If you love lobster tails, you will definitely love this garlic butter lobster tail recipe.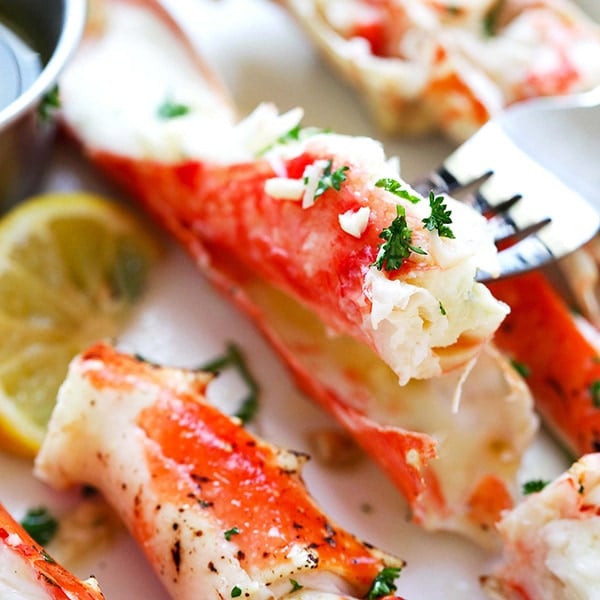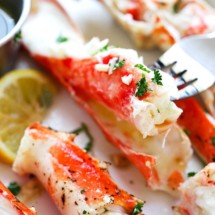 Garlic Lemon Butter Crab Legs Recipe
Garlic Lemon Butter Crab Legs – crazy delicious king crab legs in garlic herb and lemon butter. This crab legs recipe is so good you want it everyday.
Ingredients
1

lb.

king crab legs

1/2

stick

salted butter, melted

(4 tablespoons)

3

cloves

garlic, minced

1

tablespoon

chopped parsley

1/2

tablespoon

lemon juice

lemon slices
Click Here for Conversion Tool
Directions
Preheat oven to 375F.

Thaw the crab legs if they are frozen. Using a sharp knife or a pair of a scissors, slice or cut the crab legs into halves to expose the flesh. Arrange them evenly on a baking sheet or tray.

Melt the butter in a microwave, for about 30 seconds. Add the garlic, parsley and lemon juice to the melted butter. Stir to mix well. Drizzle and spread the butter mixture on the crab. Save some for dipping.

Bake the crab legs in the oven for about 5 minutes, or until the crab legs are heated. Serve immediately with the remaining garlic lemon butter and lemon slices. Squeeze some lemon juice on the crab before eating.
Nutrition Facts
Garlic Lemon Butter Crab Legs Recipe
Amount Per Serving (2 people)
Calories 401
Calories from Fat 216
% Daily Value*
Fat 24g37%
Cholesterol 156mg52%
Sodium 2100mg91%
Potassium 481mg14%
Carbohydrates 2g1%
Protein 42g84%
Vitamin A 930IU19%
Vitamin C 21.4mg26%
Calcium 119mg12%
Iron 1.5mg8%
* Percent Daily Values are based on a 2000 calorie diet.