Crawfish Boil - mouthwatering crawfish recipes just like how it's done in New Orleans. Made with live crawfish, Louisiana and Cajun seasonings, corn, red potato and smoked sausage, so delicious!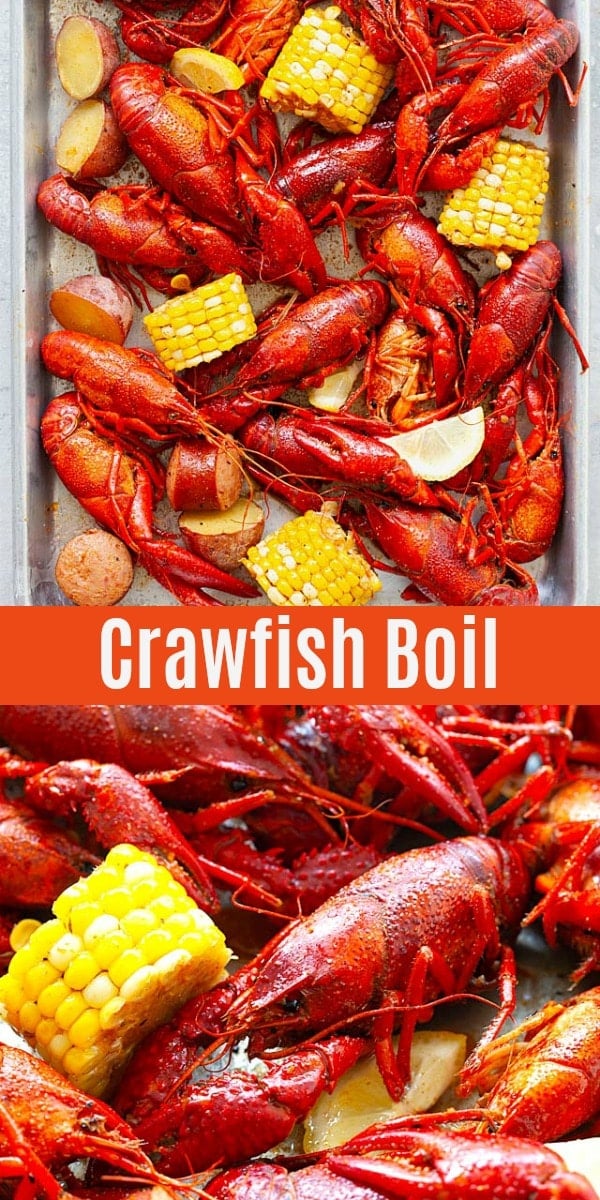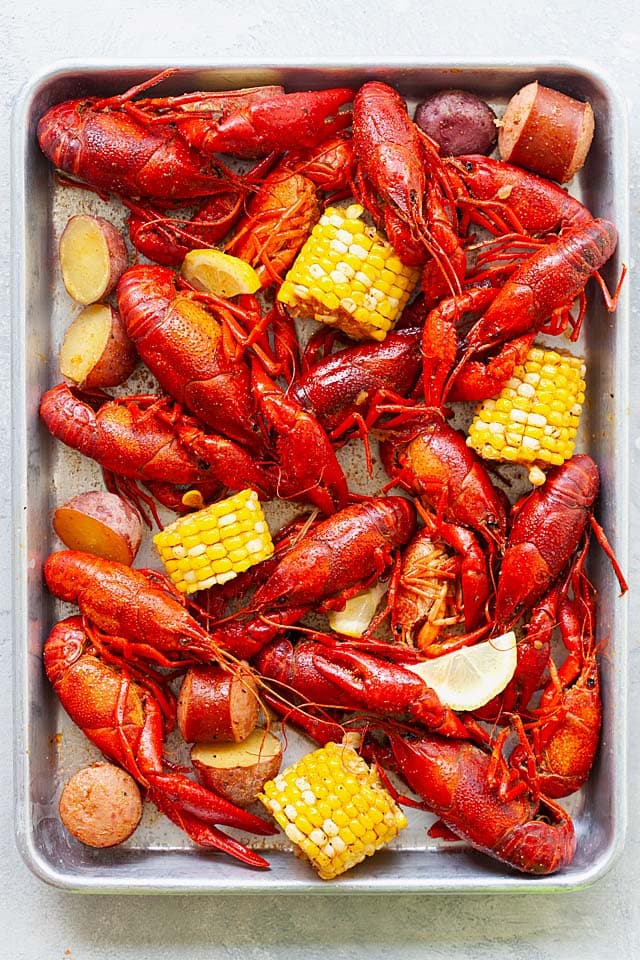 What is a Crawfish?
Crawfish is a type of freshwater crustacean. It's also called crayfish and crawdad. They look like tiny little lobsters, with hard red shells after cooking, with two tiny claws. They can be found wild or farm-raised.
Their natural habitats are muddy swamps, paddy fields or places with a pool of fresh water. Crawfish is a delicacy and well loved by many food lovers. They are especially popular in Louisiana, Texas and the south.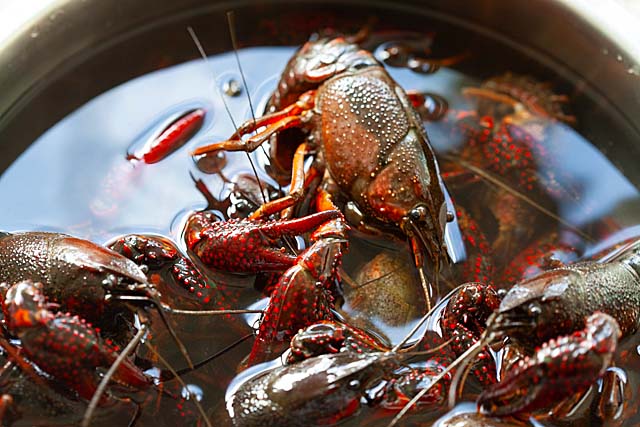 In recent years, crawfish has become increasingly popular with foodies in California and Texas, made popular by Vietnamese-Cajun crawfish or crab boil restaurants like The Boiling Crab.
Crawfish recipes such as Chinese Sichuan Ma La crawfish are very popular all over China, especially in the province of Sichuan and in the metropolitan cities of Beijing and Shanghai.
Crawfish Boil Recipe
Crawfish boil is one of the most popular crawfish recipes. It is an iconic Lousiana Cajun delicacy where friends and family gather around to feast on a big pot of crawfish (or crayfish) boiled in a spice mix broth during spring and summer, or when the freshwater shellfish is in season!
Crawfish are peaking in season now so I got them from my market today. In this crawfish recipe, I will teach you how to make New Orleans crawfish boil with step-by-step photos.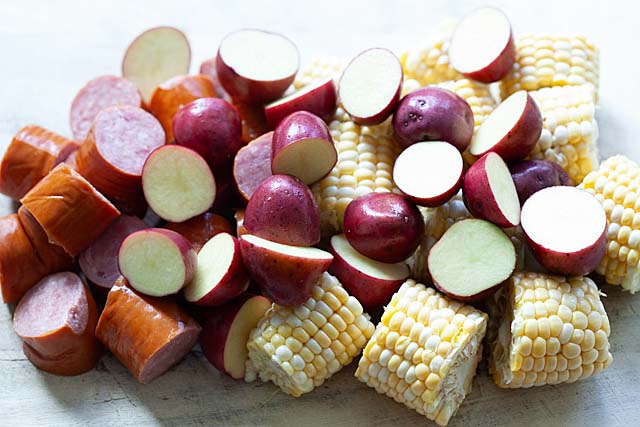 What's in a Crawfish Boil?
The ingredients are:
Live crawfish (preferred) or frozen crawfish.
Smoked sausage.
Red potatoes.
Corn.
Garlic.
Lemon.
Seasonings.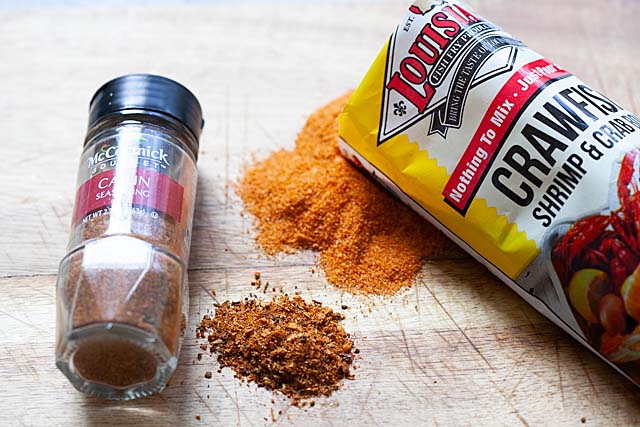 Seasonings for Spicy Cajun and Creole Flavors:
Louisiana Crawfish, Shrimp and Crab Boil spice mix. You can buy it on Amazon.
Bottled Cajun Seasoning.
Bottled Lemon and Pepper Seasoning.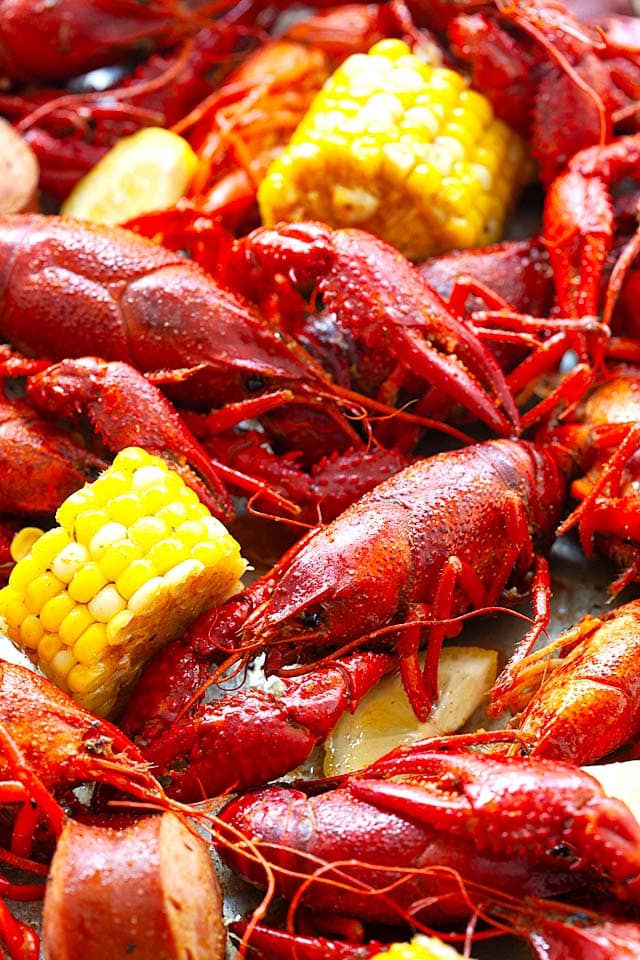 Frequently Asked Questions about Cooking Crawfish
How to Boil Crawfish?
To boil crayfish, you will need a pot that is deep with enough water to cover the shellfish. You will need 8-10 cups water to boil them. I used a Dutch oven to make this recipe; you can use any deep and tall soup pot to boil crawfish.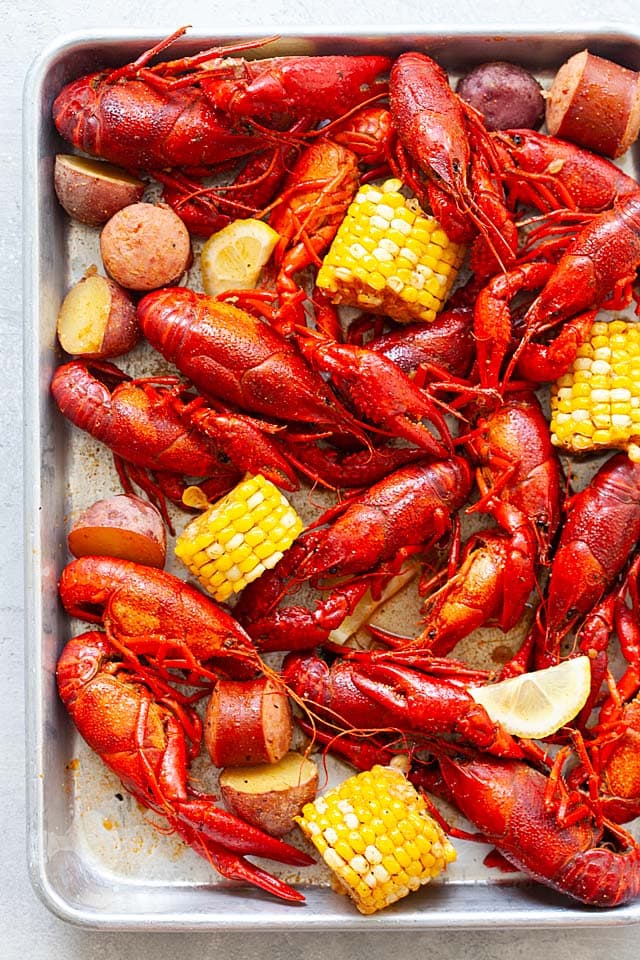 How Long Do You Boil Them?
For live crawfish, it taeks 3-4 minutes in hot boiling water, with the lid covering the pot. You can also check the visual cues: they are done as soon as the shells turn red color.
For frozen crawfish, thaw them at room temperature before boiling. Boil for 1 minute since they are already cooked.
How Do You Eat Crawfish?
Here are the simple steps to peel and eat crawfish:
First, pull off the head of a crawfish.
Next, peel the shell off the tail, starting at the end furthest away from its tail. Peel on the side of the shell to expose the meat.
Pull the tail out of the shell and enjoy.
The best part of crawfish is in its head; the yellow liver is creamy and delicious, and tastes like uni (sea urchin).
You may eat the claws, if they are big enough. Just crack the shell of the claws by gently biting with your teeth. Remove the shell to expose the meat.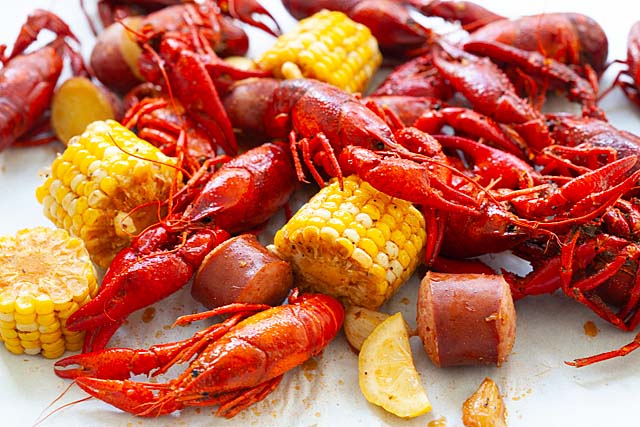 Regardless of the crawfish recipes, the best way to serve is to lay out the crawfish on parchment paper or newspapers. Dig in with your hands and enjoy the deliciousness!
How Many Calories Per Serving?
This crawfish recipe is only 317 calories per serving.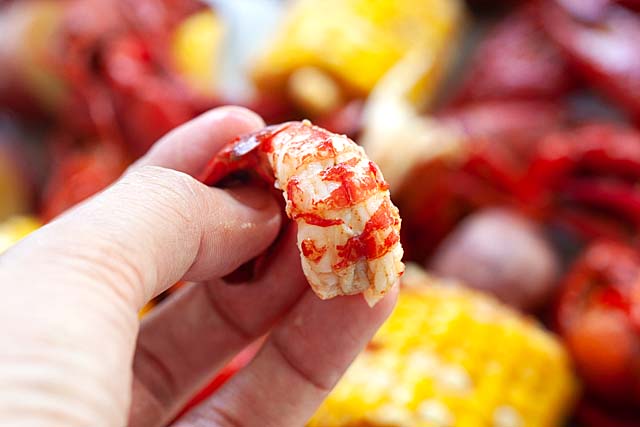 What Dishes to Serve with this Recipe?
This meal is best served alone with beer. For a summer cookout, I recommend the following recipes.

This Recipe Goes Well with:
Other Recipes You Might Like
SUBSCRIBE AND GET NEW RECIPES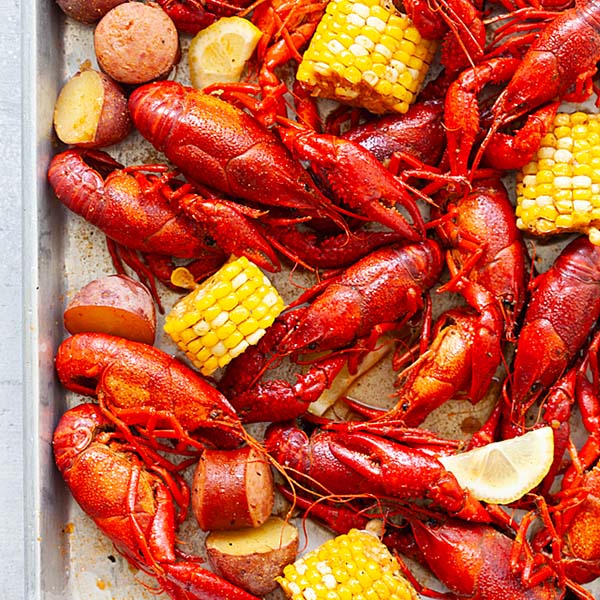 Crawfish Boil Recipe
The best Crawfish Boil recipe just like New Orleans. Made with live crawfish, Louisiana and Cajun seasonings, corn, red potatoes and smoked sausages, these crawfish are so delicious!
Ingredients
3

lbs

crawfish

8 -10

cups

water

6

oz

Louisiana Crawfish Shrimp & Crab Boil

2

tablespoons

McCormick Cajun seasoning

1

tablespoon

McCormick Lemon Pepper seasoning

1

head

garlic, unpeeled but separated

3

ears

corn, cut into 2-inch pieces

12

oz

small red potatoes, halved

14

oz

smoked sausage, cut into chunky pieces

(Hillshire Farms)

1

lemon, sliced into rounds
Instructions
Fill a large pot with water. Bring the water to a boil. Add the Louisiana Crawfish Shrimp and Crab Boil, Cajun seasoning and Lemon Pepper seasoning. Stir well to a rolling boil.

Add the garlic, corn, potatoes, sausage and lemon slices. Cover the pot with its lid and cook for 10 minutes.

Taste the crawfish boil water. If it's too salty, add more water. If it's too bland, add more seasonings to taste. Transfer the crawfish into the pot and cook for 3-4 minutes, with the lid covered.

Turn off the heat and let the crawfish soak for 10 minutes. The longer the crawfish soaks, the spicier they will be. Remove all the ingredients using a strainer and serve immediately. Discard the crawfish boil water.
Recipe Notes
If you don't have live crawfish, you may use frozen crawfish. If you use frozen crawfish, just cook the crawfish for 1-2 minutes.
You may use this recipe to make shrimp boil. Just substitute the crawfish with head-on and shell-on shrimps.
Nutrition Facts
Crawfish Boil Recipe
Amount Per Serving (6 people)
Calories 317
Calories from Fat 162
% Daily Value*
Total Fat 18g 28%
Cholesterol 84mg 28%
Sodium 606mg 25%
Potassium 654mg 19%
Total Carbohydrates 22g 7%
Protein 16g 32%
* Percent Daily Values are based on a 2000 calorie diet.
If you try my recipe, please use hashtag #rasamalaysia on social media so I can see your creations! Follow me on Facebook | Instagram | Pinterest | Twitter for new recipes, giveaways and more.