Rich, creamy and delicious Uni Pasta (Sea Urchin Pasta) made with fresh sea urchins. The uni lend a remarkable taste to this pasta.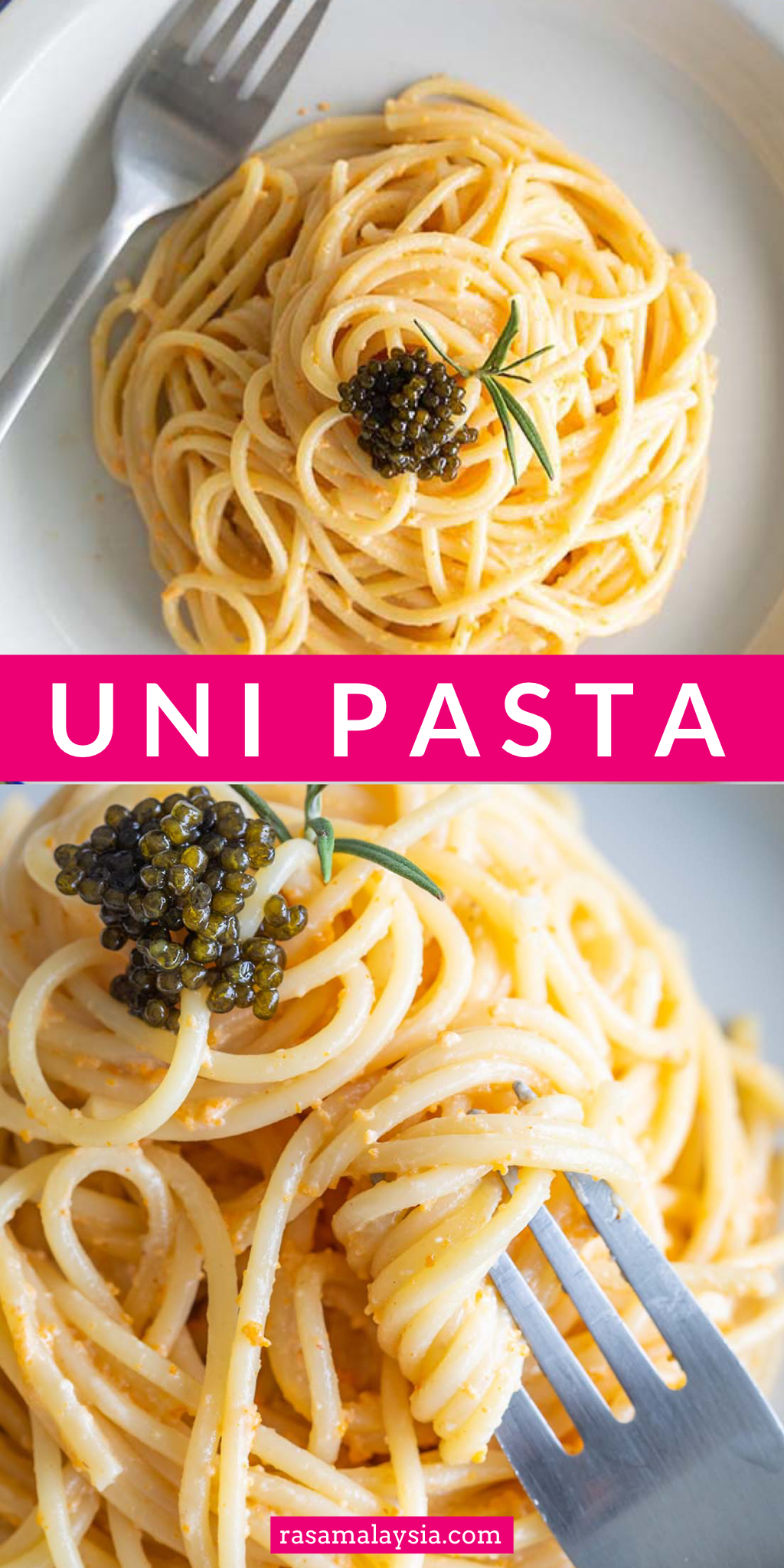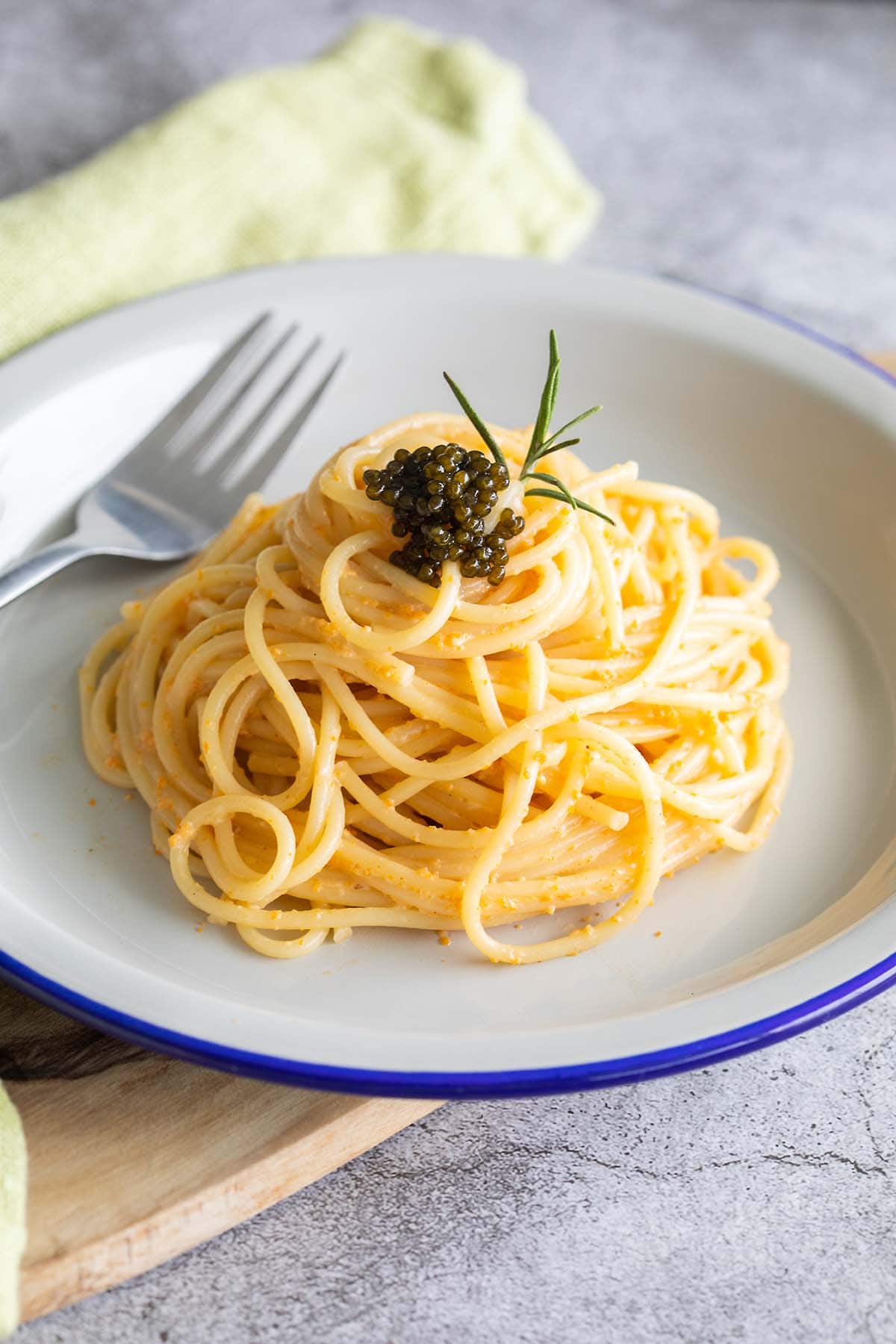 Uni Pasta Recipe
This uni pasta recipe was adapted from Eat A Duck I Must.
This is a restaurant quality recipe that is 100% homemade and made from scratch, at a fraction of cost compared to restaurants.
This is a perfect dinner date recipe if you want to impress your guests or your significant other.
The recipe comes together in less than 30 minutes.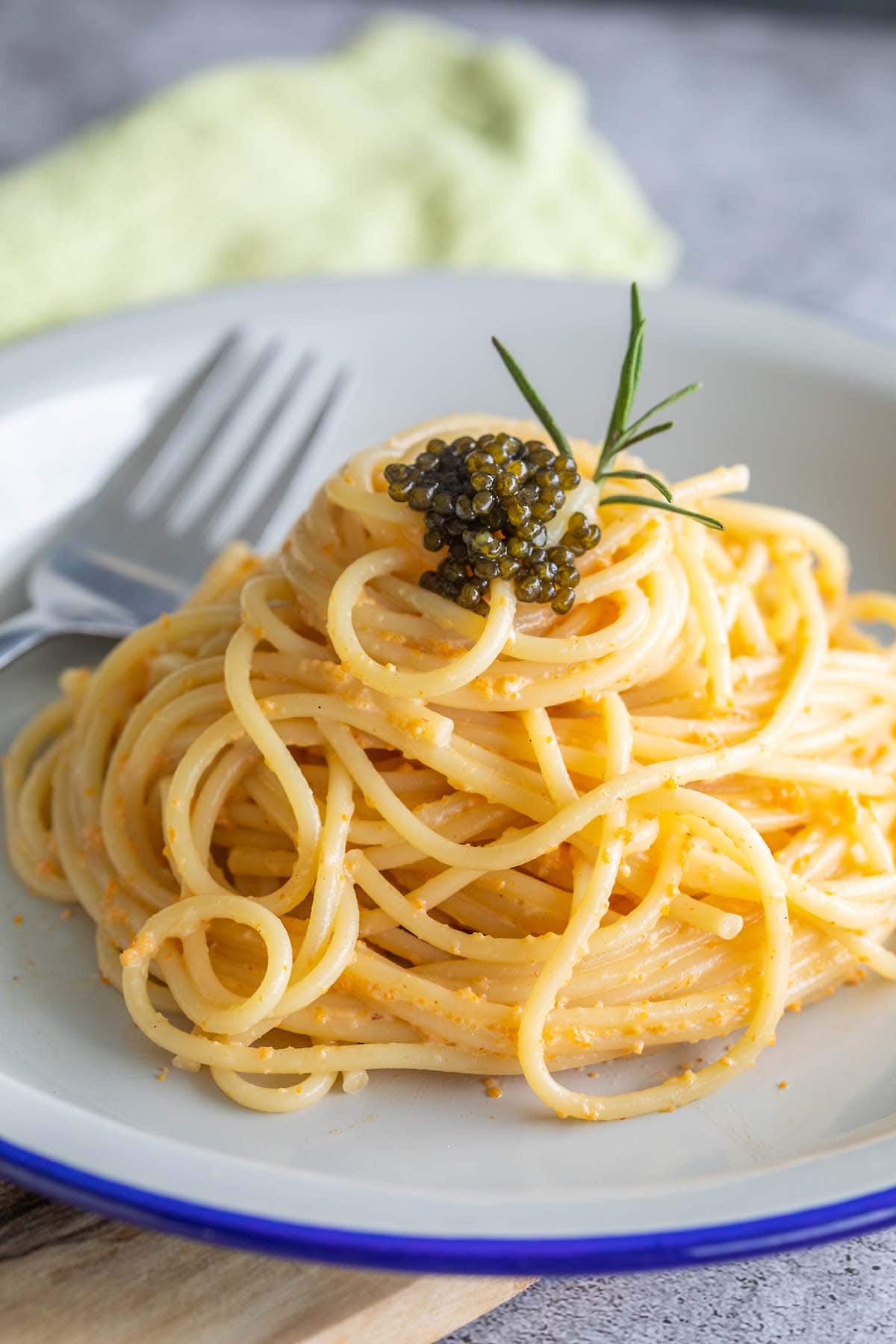 Other Recipes You Might Like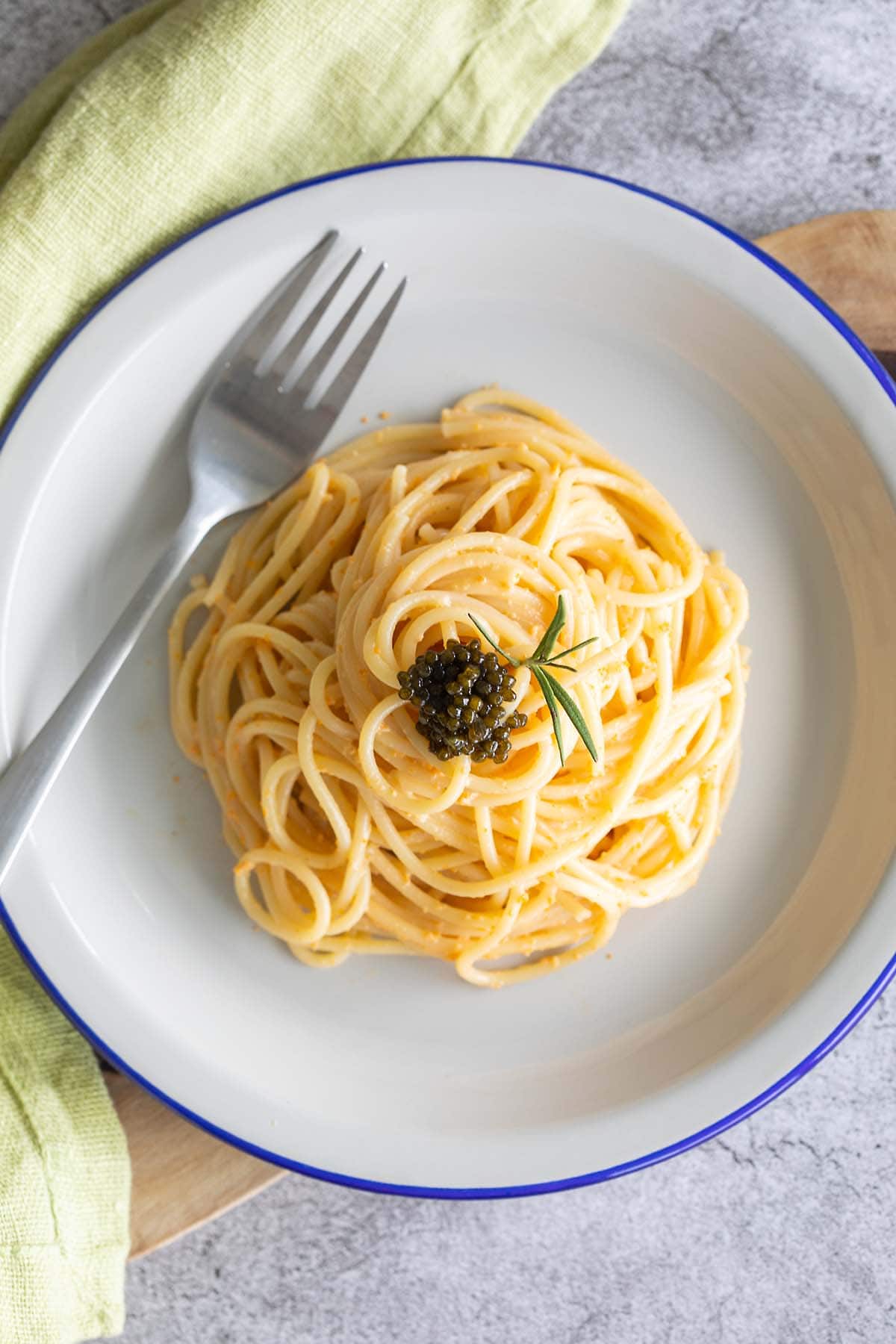 What Is Uni Pasta?
The pasta has a rich and creamy taste, with the sauce loaded with the briny flavors of fresh sea urchins.
With this easy recipe, now you can make it at home!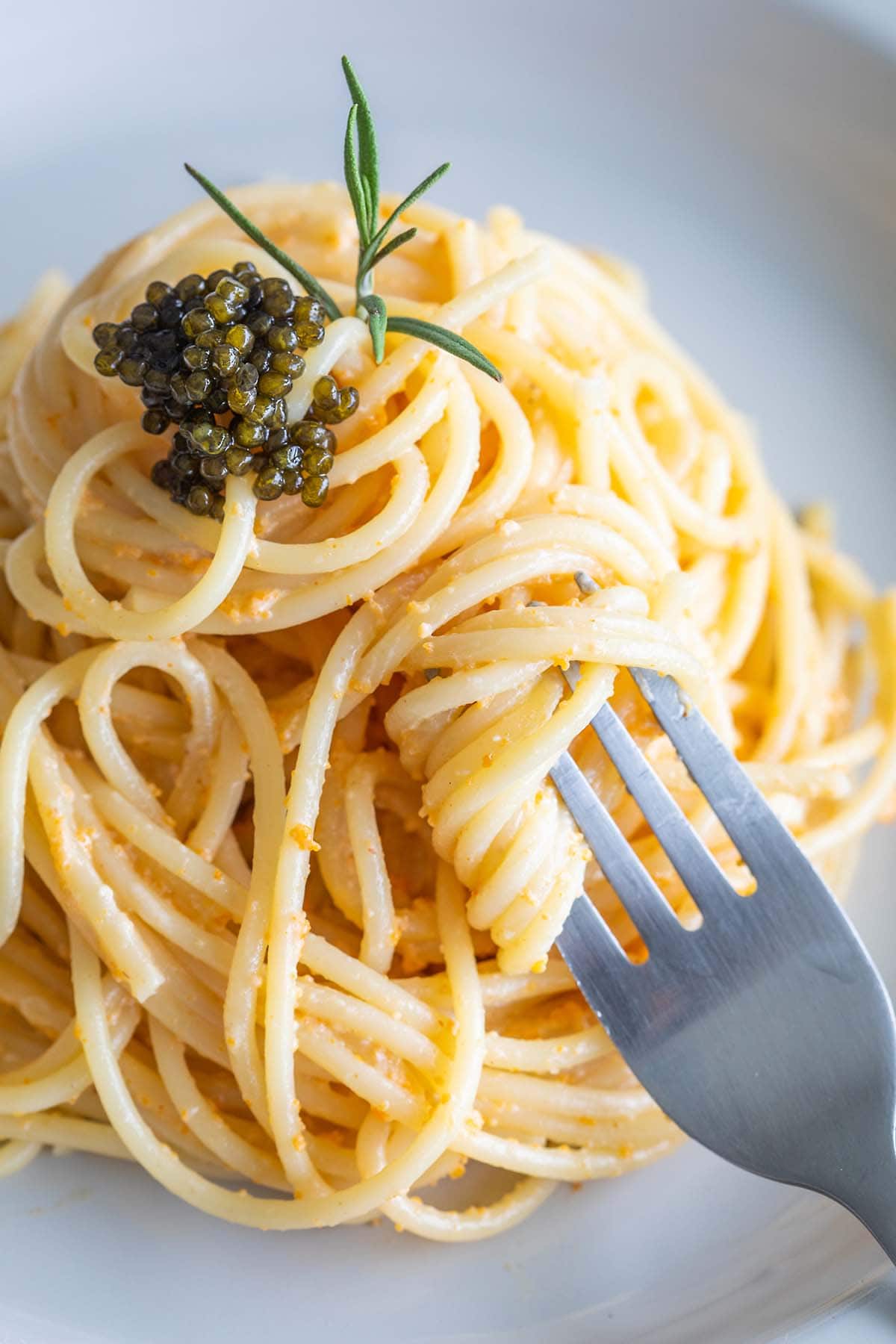 How to Make Uni Pasta?
If I am not mistaken, uni pasta is made famous by celeb chef extraordinaire Eric Ripert.
I remember watching a TV program where Eric made his famous signature dish with the following ingredients:
Fresh sea urchin or Japanese uni
Heavy whipping cream
How Many Calories Per Serving?
This recipe is only 460 calories per serving.
What Dishes To Serve with this Recipe?
For a wholesome meal and easy weeknight dinner, I recommend the following recipes.
5 Secrets to 20 Min Dinners
Get tricks for quick & easy meals!
Yield: 2 people
Uni Pasta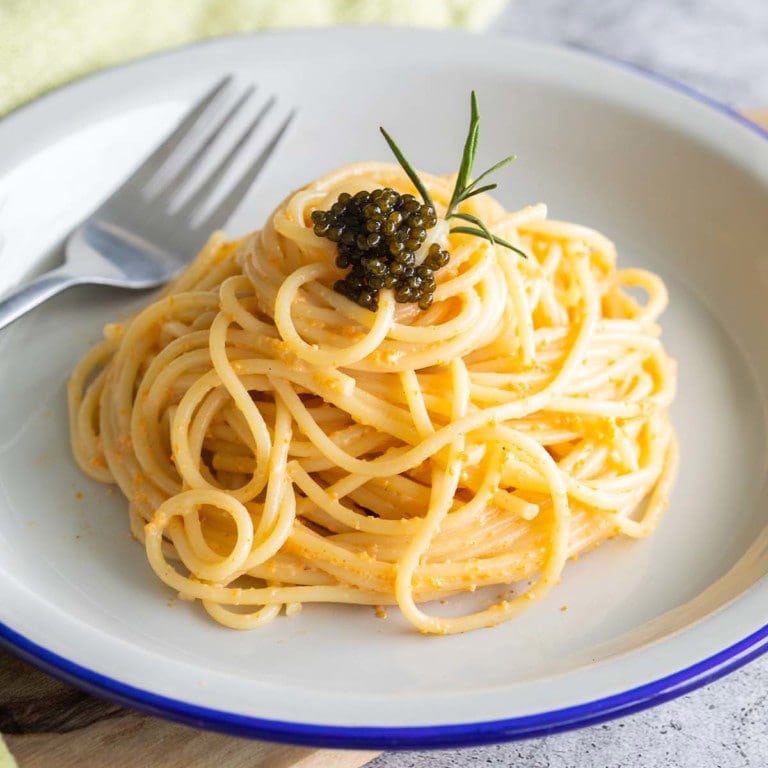 Rich, creamy and delicious Uni Pasta (Sea Urchin Pasta) made with fresh sea urchins. The uni lend a remarkable taste to this pasta.
Ingredients
2 cups heavy whipping cream
1 clove garlic, peeled and smashed
4 oz. (100 g) fresh uni (sea urchins)
4 oz. (100 g) spaghetti
2 egg yolks
Grated Parmesan cheese
Salt and pepper, to taste
Shrimp or caviar, for topping
Herb, for garnishing
Instructions
Warm up the cream and garlic in a sauce pan on low heat. Simmer for 10 mins or until cream has thickened.
Remove the cream from heat and reserve a little for the egg yolk. Add 3/4 of uni into the sauce. Using an immersion blender, blend till smooth and strain through a sieve; keep warm.
Start a pot of salted boiling water for the spaghetti and cook until al dente. Strain the pasta and add to a hot pan, then add the uni sauce and cook for a couple more seconds. Beat the egg yolks with the reserved cream. Remove the hot pan from the stove and slowly pour in the egg mixture while stirring. This will prevent it from turning into scrambled eggs.
Add a handful of the grated parmesan cheese and stir. Season the pasta to taste with salt and pepper. Plate the pasta and garnish with shrimp or caviar. Garnish with herb (chives, parsley, etc.)
Notes
You may top the uni pasta with a few shrimp. Season the shrimp with salt and pepper. In a hot pan, pan-sear until the shrimp are cooked. Add the shrimp as a topping.
Nutrition Information
Yield
2
Serving Size
2 people
Amount Per Serving
Calories

460
Total Fat

23.5g
Saturated Fat

12.9g
Unsaturated Fat

0g
Cholesterol

364mg
Sodium

350mg
Carbohydrates

38.3g
Sugar

0.2g
Protein

24.7g