Dungeness Crab - learn all about Dungeness crab, its season, price, recipes, how to eat the crab and a delicious roasted Dungeness crab recipe with butter and black pepper.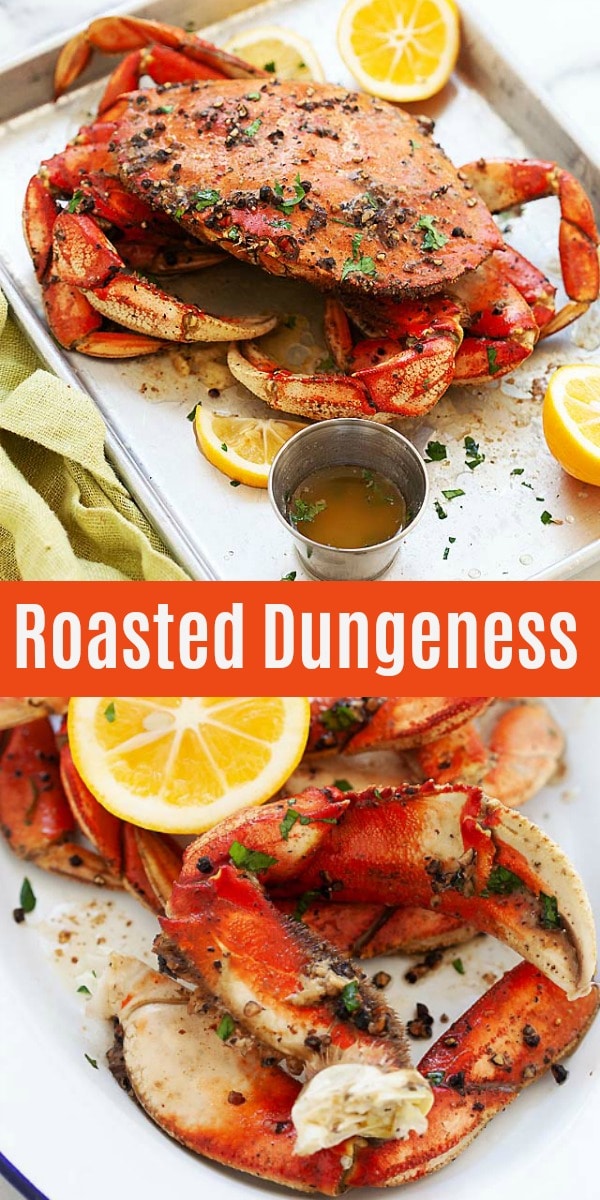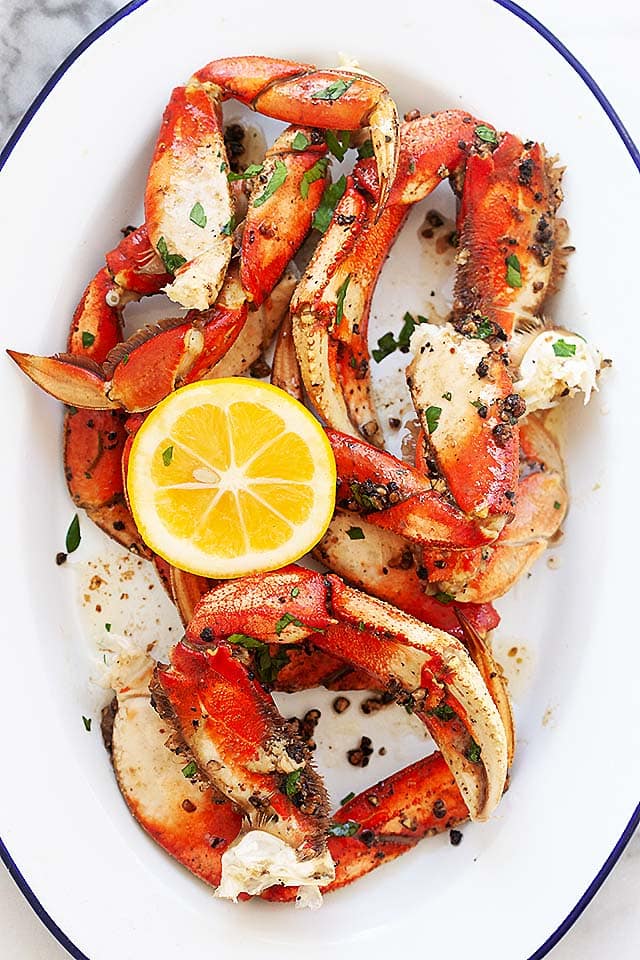 Dungeness Crab – My Favorite Crab!
I love crustacean, especially crab! I am so lucky that I live in California where I can get live Dungeness crab all year round.
They are found on the west coast of the North America, from British Columbia all the way down to Southern California.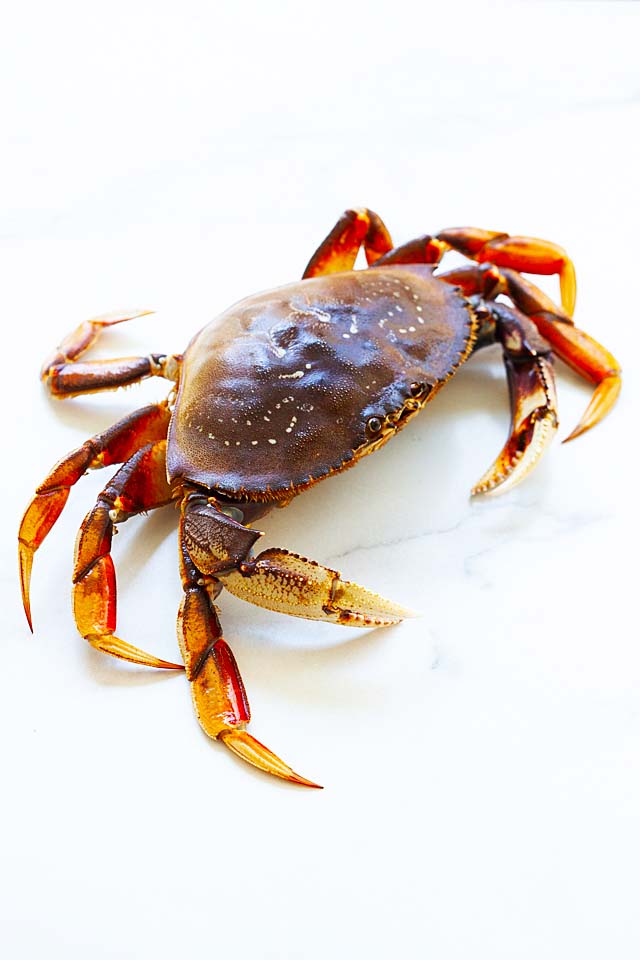 Dungeness Crab Season
When is dungeness crab in season? Every year, the crab season starts in November and runs through to summer months of June to July.
The peak season when Dungeness are the biggest are winter months, for example: December to January, when they are in the 2.5 lbs range, with the sweetest meat and the biggest crab claws.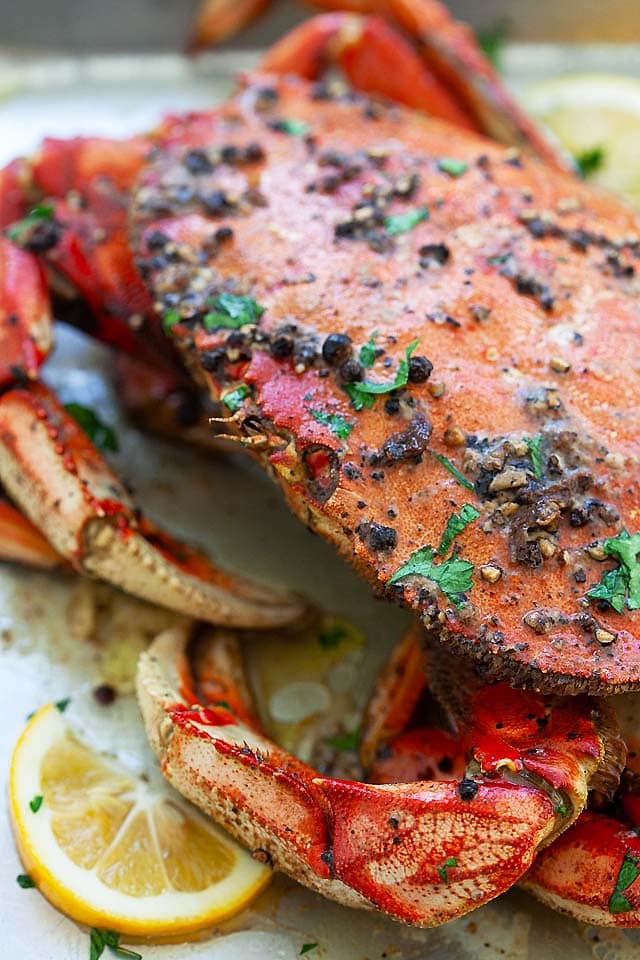 Dungeness Crab Recipes
There are a variety of recipes to enjoy the crab. Here are some cooking methods to show you how to cook Dungeness crab: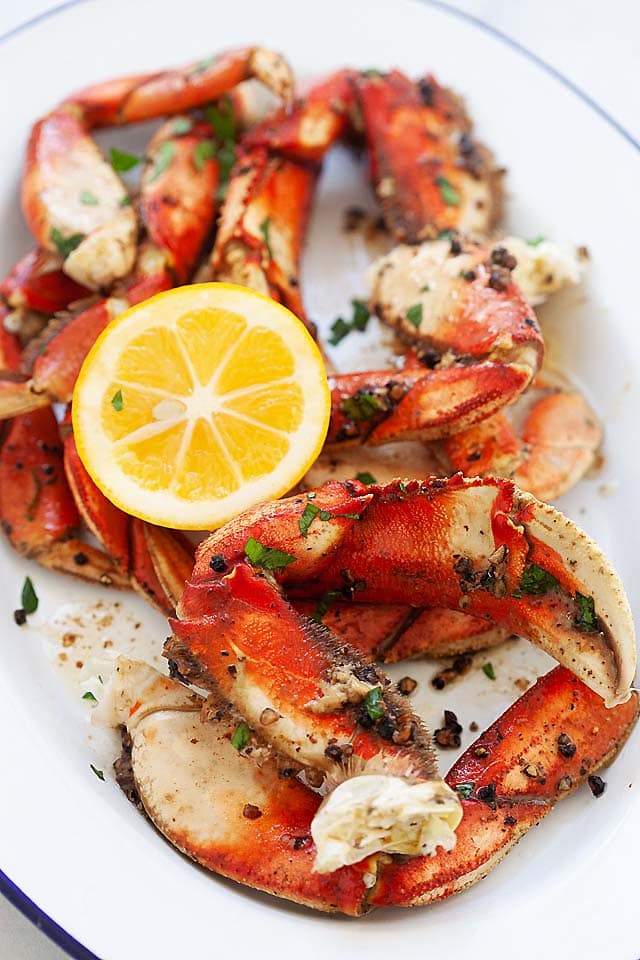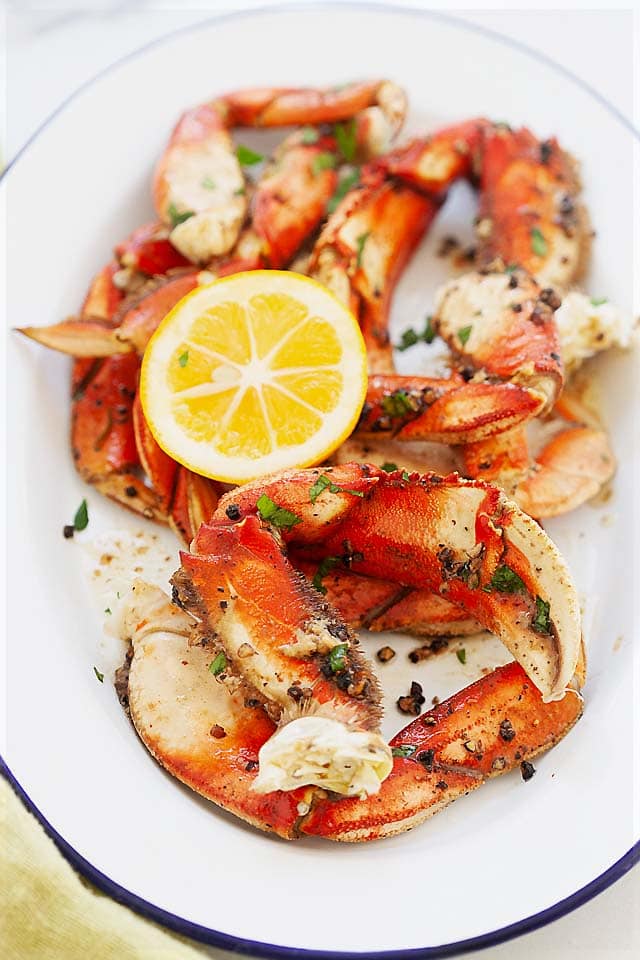 How to Eat Dungeness Crab?
Once the crab is cooked, it's easy to enjoy the crab meat inside. Use a pair of cracker (or even your teeth!) and hand gloves (optional) as the tools.
Below are the step-by-step guide to enjoy the crab meat.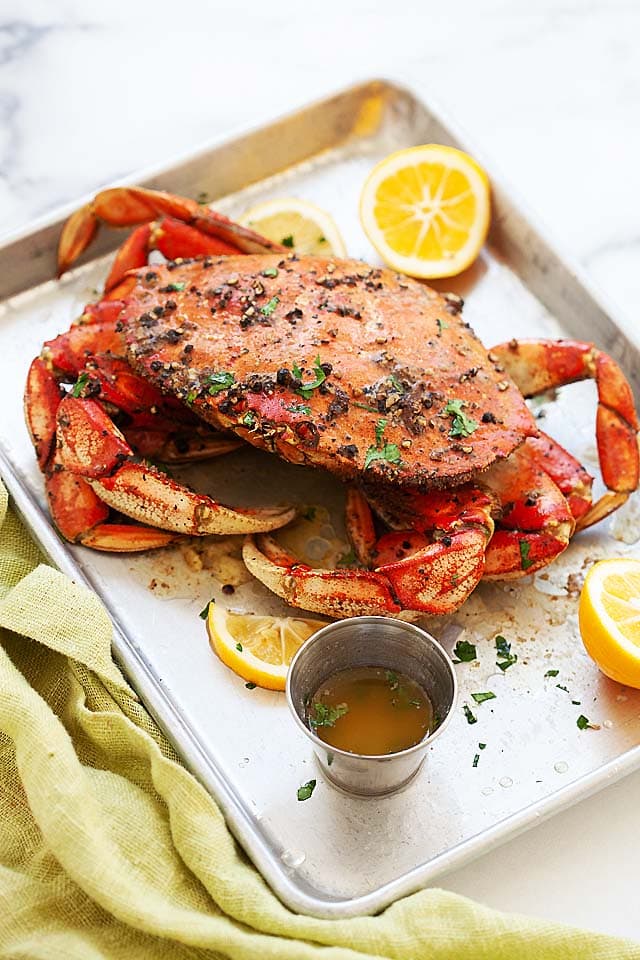 Remove the top shell by flipping it open from the body. Use both hands; one holding on to the bottom part of the crab and the other hand flips open the shell. Discard the shell.
Remove the gills on the crab.
Snap and break the crab into halves.
Separate each crab leg and crab claw from the cluster using your hands. They should break off from the cluster quite easily.
Use the cracker to crack the shell on the claws and crab legs. Remove the shells and enjoy the sweet flesh.
The crab meat is inside the cluster, separated by white soft shells of the cluster. Pick the crab meat out with your fingers or use a small fork to remove all meat.
Practice makes perfect. Crab meat is so delicious and it's worth it to pick out the meaty flesh.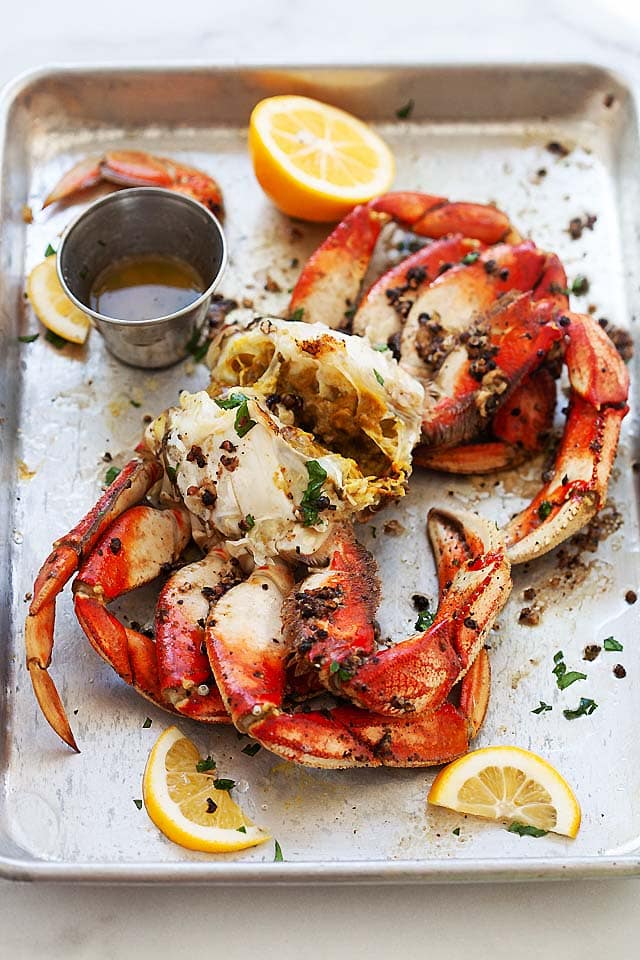 What Is the Price for Dungeness Crab?
Believe it when I say this, Dungeness crab is not pricey if you know where to buy it.
If you live in a city with Chinese and Asian markets, you will be able to find live Dungeness crab swimming in a water tank in the fish department.
The crab is sold for an average of $5.99 – $8.99 per lb here in California. During its peak season, the price could be as low as $3.99 per lb, which means that a live crab is less than $10 and you can get it cleaned, chopped up, steamed or deep-fried at no extra charge!
However, I understand that many of you do not live in a city with an Asian market. In that case, you can always try Costco and you will be able to buy it at a reasonable price.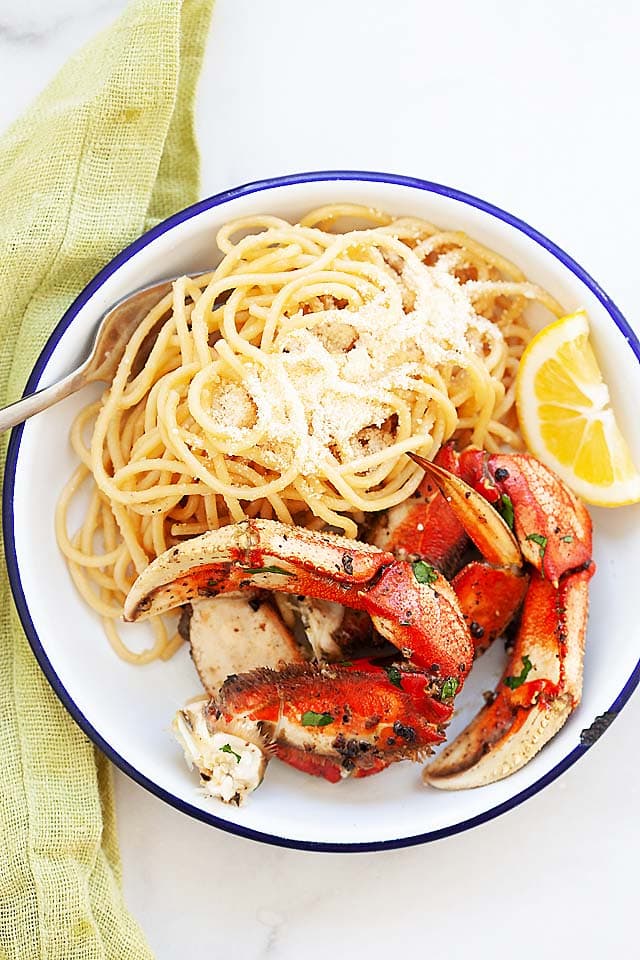 Roasted Dungeness Crab
Today, I am sharing an easy and super delicious recipe with you. The crab is roasted with butter, black pepper and great for entertaining.
How Many Calories per Serving?
This recipe is only 235 calories per serving.
What to Serve with This Recipe?
Serve the crab with garlic noodles, garlic Parmesan spaghetti and side dishes.
For more great recipes like this, sign up for our newsletter. We'll send daily recipes you'll love!
Join
Sign up for our newsletter!
Dungeness Crab
Dungeness Crab - learn all about Dungeness crab, its season, price, recipes, how to eat the crab and a delicious roasted Dungeness crab recipe with butter and black pepper.
Ingredients
1

tablespoon

black peppercorns

6

tablespoons

unsalted butter

(room temperature)

1/2

teaspoon

salt

1

Dungeness crab

lemon wedges
Instructions
Preheat the oven to 350°F (176°C). Using the flat side of the knife, press down and smashed the black peppercorns. Chop the black pepper roughly. Heat up the butter in the microwave, then add the black pepper and salt. Stir to mix well.


To kill a live Dungeness crab, stab the crab in the middle of the body, above its abdominal flab. As pictured here. Set aside for 10 minutes, until all the murky dark water from inside the Dungeness crab drains out. Rinse and pat dry with water.


Coat the butter-black-pepper mixture on the crab and roast in oven for 30 minutes.


Remove from oven, garnish with parsley and lemon wedges. Serve immediately.
Nutrition

Nutrition Facts

Dungeness Crab

Amount Per Serving (6 people)

Calories 235

Calories from Fat 117

% Daily Value*

Fat 13g20%

Cholesterol 119mg40%

Sodium 642mg28%

Carbohydrates 2g1%

Protein 27g54%

* Percent Daily Values are based on a 2000 calorie diet.

Notice: Nutrition is auto-calculated, using Spoonacular, for your convenience. Where relevant, we recommend using your own nutrition calculations.