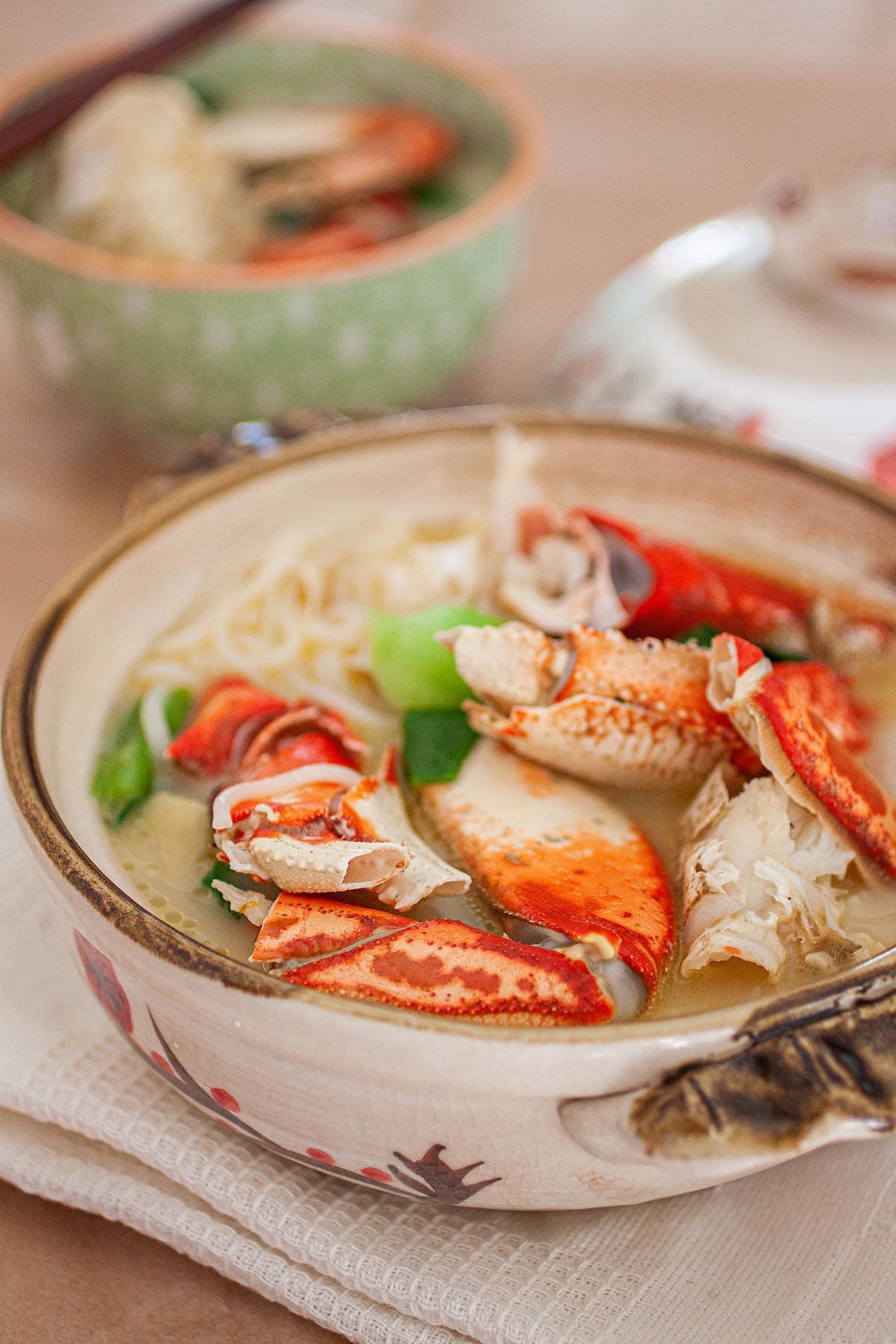 Crab Bee Hoon (Crab Noodles)
Crab Bee Hoon (Crab Noodles) – Popular crab dish in Singapore. Easy Crab Bee Hoon recipe that you can make at home at a fraction of the cost.
During my most recent trip to Singapore (in April), my friends took me to Melben—a popular restaurant famed for its crab dishes. When the waiter came to take the order, I knew that I had to try crab bee hoon, a dish that I had read so much about on Singaporean food blogs.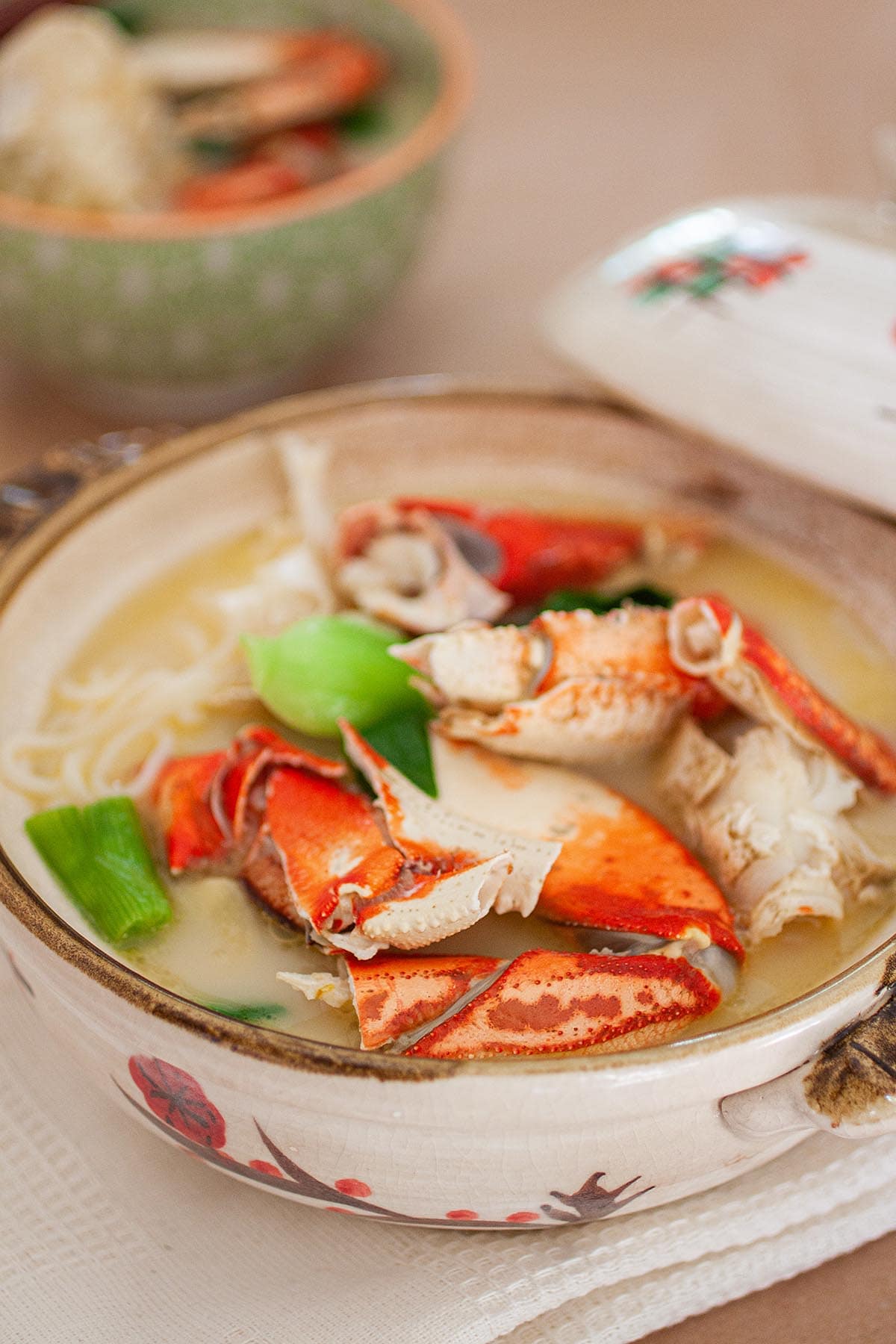 The crab bee hoon was served in a clay pot, with a big and succulent crab swimming in a milky broth. At the first taste, I was transported to crab heaven.
I love crab and have tried many versions: chili crab, ginger and scallion crab, black pepper crab, creamy butter crab, roasted crab, my mother's version of chili crab, but I had never tried the soupy combination of crab and bee hoon.
It was simply delicious! After the meal, my friends told me that the restaurant chain makes millions every year just selling crab. They asked me if I could crack the secret crab bee hoon recipe.
I told them that I would try and that we could then start a crab restaurant and make a boat load of money…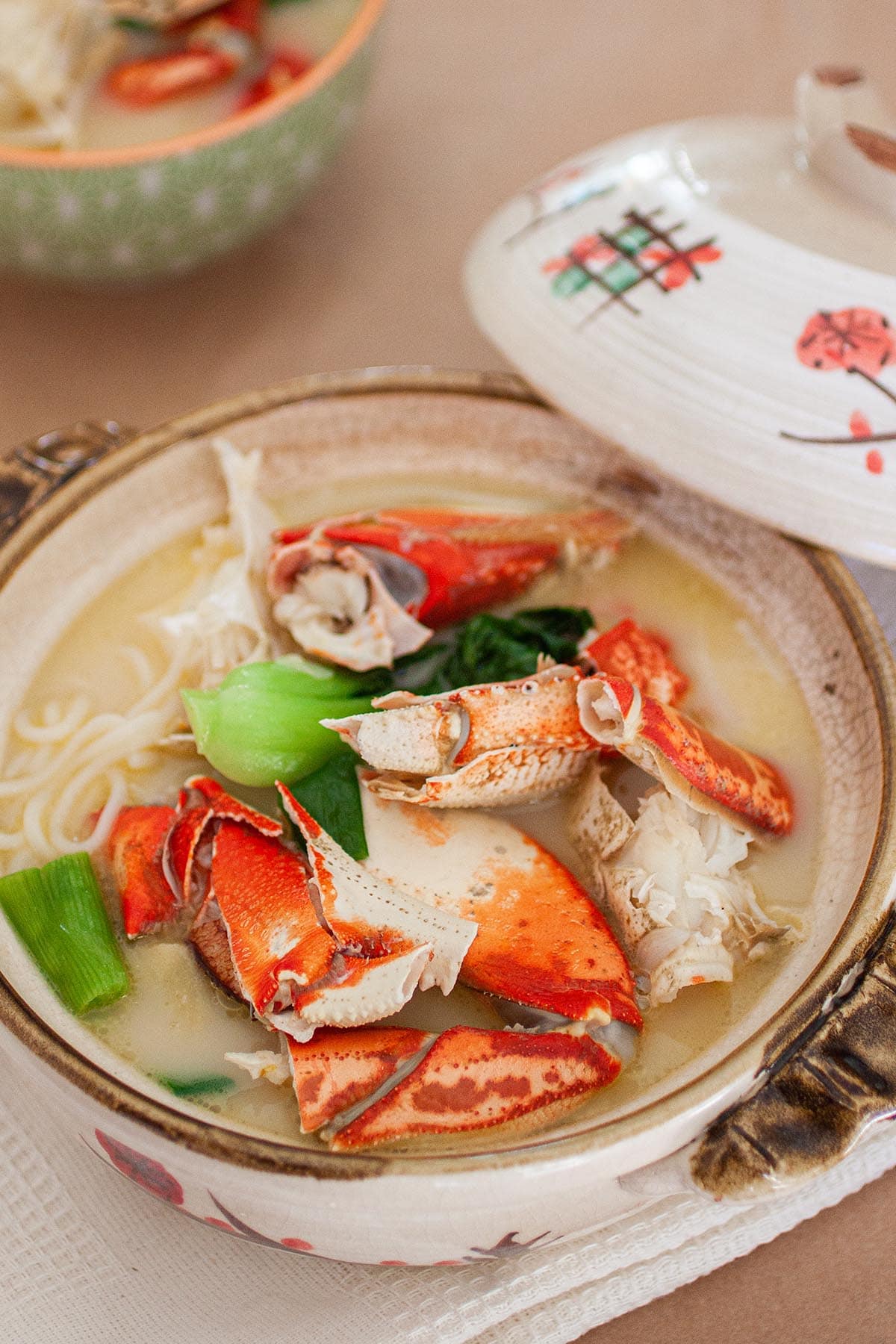 So, here it is, my crab bee hoon recipe. To be very honest, I think the taste of this crab bee hoon is extremely close to the ones I had in Singapore, except that Dungeness crab is used instead of Sri Lankan crab, which is not available in the United States. The secret ingredient is evaporated milk, hence the milky color of the crab bee hoon. It's also a very easy recipe, one that anyone can attempt at home. If you love crab bee hoon, try this recipe and let me know how it's compared to the real ones served in Singapore!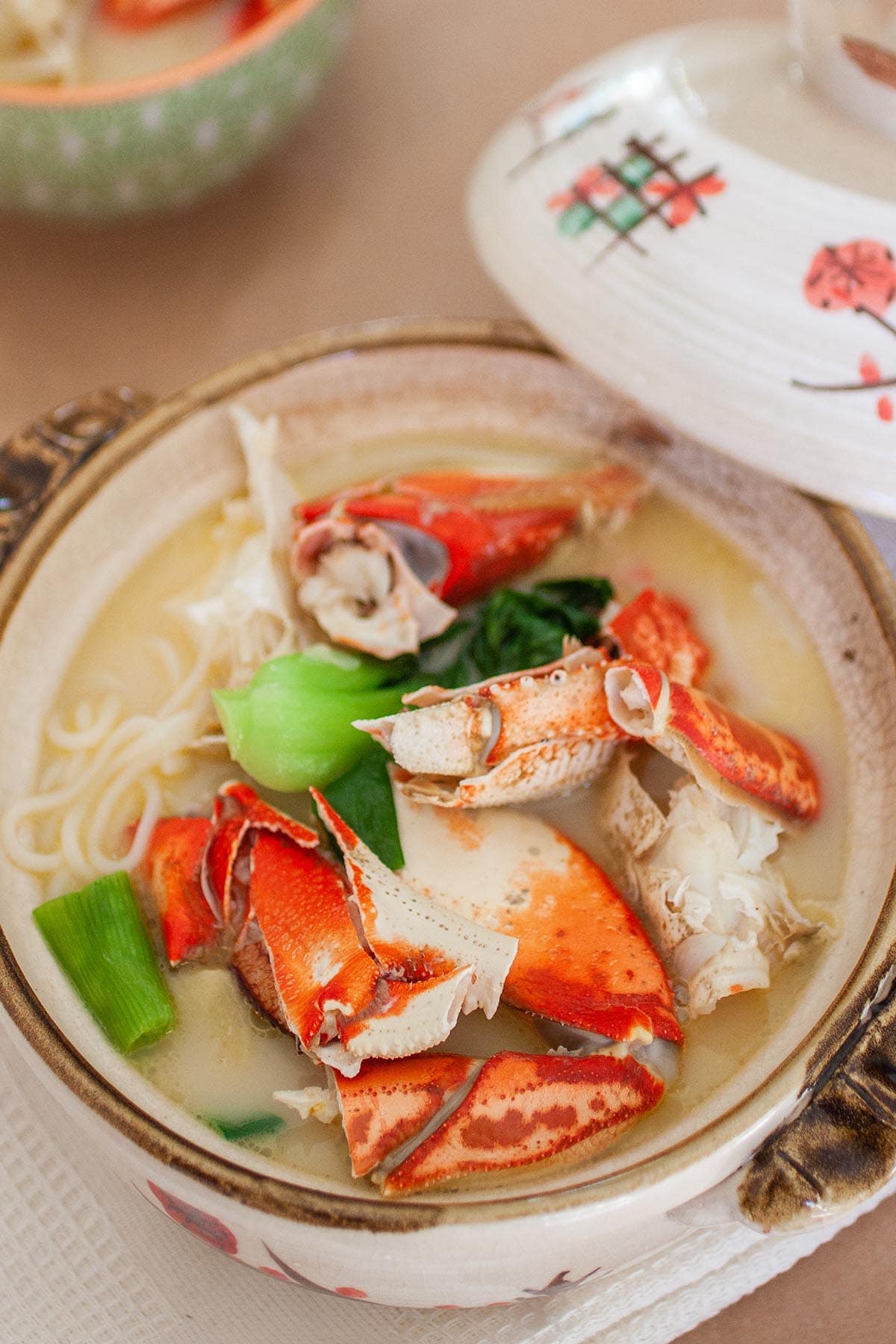 How Many Calories Per Serving?
This recipe is only 504 calories per serving.
What Dishes To Serve with this Recipe?
For a wholesome meal and easy weeknight dinner, I recommend the following recipes.
5 Secrets to 20 Min Dinners
Get tricks for quick & easy meals!
Yield: 3 people
Crab Bee Hoon (Crab Noodles)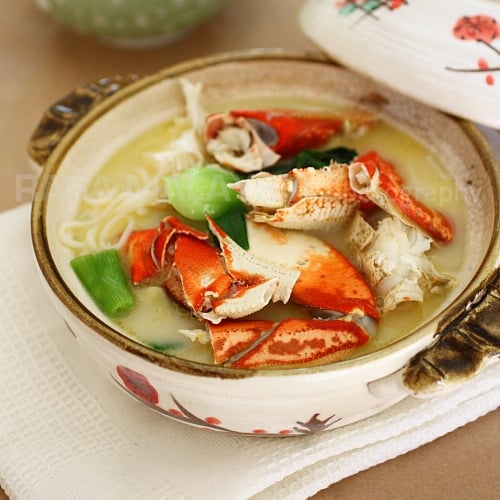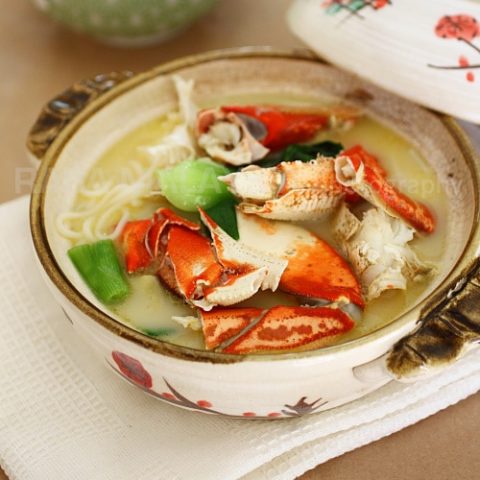 Crab Bee Hoon is a popular crab dish in Singapore. Easy Crab Bee Hoon recipe that you can make at home at a fraction of cost.
Ingredients
6 oz. (170 g) Guilin rice noodles, dry
4 tablespoons melted unsalted butter
6 slices peeled ginger
1 cup canned chicken broth
2 cups water
1/2 cup evaporated milk
2 lb. (1 kg) crab, cleaned and cut into pieces
5 baby bok choy, cut lengthwise into halves
1 tablespoon rice wine
1/2 tablespoon fish sauce, or to taste or salt to taste
3 dashes white pepper
1 stalk scallion, cut into 1-inch lengths
Instructions
Boil the dry Guilin rice noodles per the package instructions until al dente. Rinse the noodles with cold running water to remove the starch of the noodles (the noodles should be smooth and clean of starch after rinsing). Drain the noodles dry and set aside.
In a pot, add the butter and saute the ginger. Add the chicken broth and water and bring it to boil. Add the evaporated milk and follow by the crab. Cook for a few minutes until the crab turns red and cooked. Add the baby bok choy, rice wine, fish sauce, white pepper, scallion, and the noodles. Bring it to a quick boil and serve immediately.
Notes
Add 2 more tablespoons of evaporated milk if you like your crab bee hoon creamier.
Nutrition Information
Yield
3
Serving Size
3 people
Amount Per Serving
Calories

504
Total Fat

19g
Saturated Fat

11g
Unsaturated Fat

0g
Cholesterol

84mg
Sodium

1436mg
Carbohydrates

57g
Fiber

3g
Sugar

6g
Protein

21g