KL Hokkien Mee recipe - This dish is famous for the dark, fragrant sauce that the noodles are braised in. The secret to an authentic KL Hokkien Mee is the pork fat!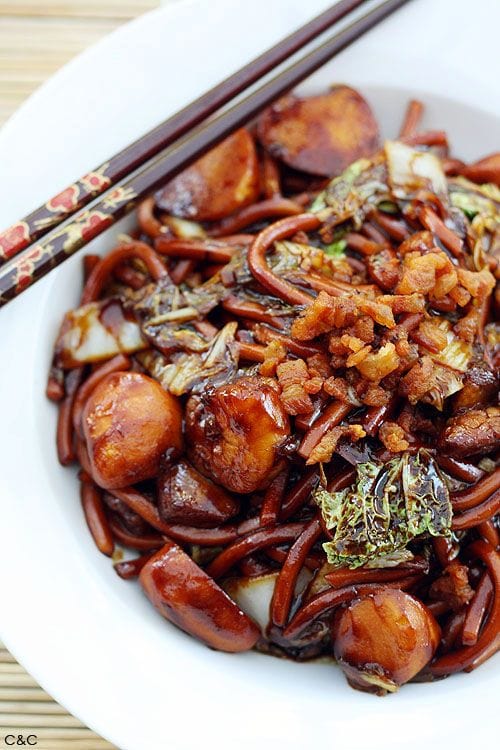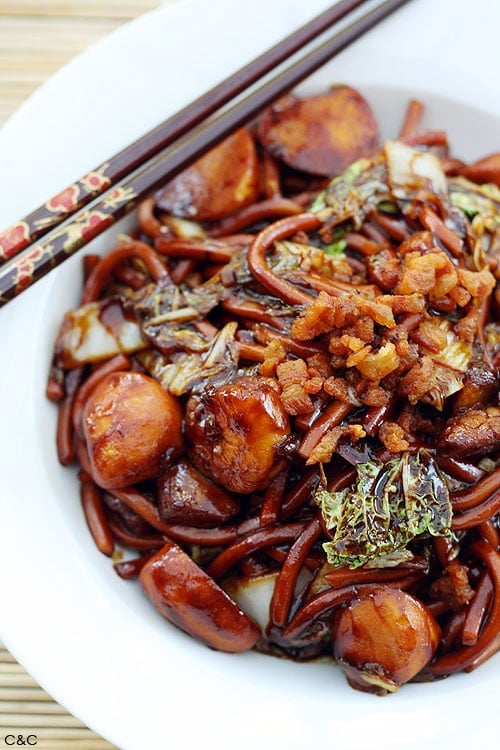 Remember I told you that there are many talented Malaysian food bloggers?
Today, I would like to introduce you to Citrus and Candy—a fantastic and gorgeous food blog by the very talented Karen Low, who is based in Sydney.
Citrus and Candy is choked full of beautiful food photography and her dessert recipes are to-die-for. Anyway, for this guest post, I've got Citrus and Candy to share her favorite recipe with us—KL Hokkien Mee, or stir-fried dark noodles commonly found in Kuala Lumpur, the capital city of Malaysia, which tops The New York Times "31 Places to Go in 2010." Dig in, albeit virtually, and enjoy!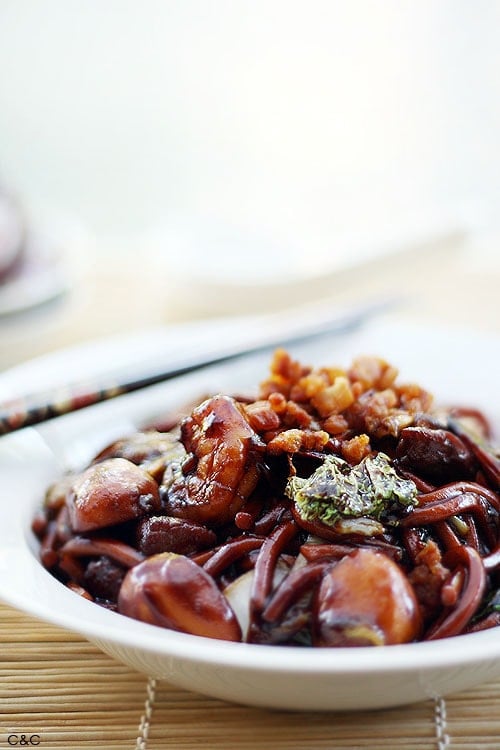 Other Recipes You Might Like
I absolutely love Malaysia and I'm so proud of our amazing cuisine.
I have never really lived in my home country so I made the most of my holidays to KL with plenty of overeating! But it still doesn't ease the constant cravings and homesickness.
Recently I started learning how to cook Malaysian at home. I'm still very much a beginner of course, so when Rasa Malaysia invited me for a guest post, I admit I was a little surprised (and scared) but excited!
I knew I wanted to do a dish to showcase my home city of Kuala Lumpur and there's only one so far that I know so well— KL Hokkien Mee.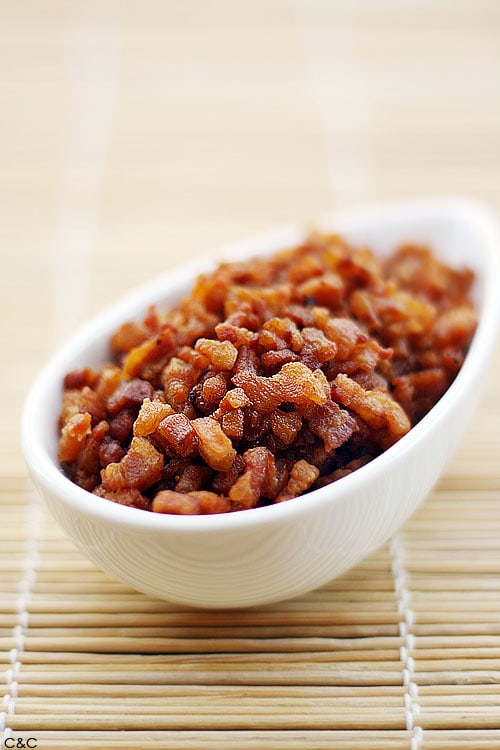 Not to be confused with Singaporean (which is lighter in colour) and Penang Hokkien Mee, the KL version (a.k.a Char Mee) is famous for the dark, fragrant sauce that the noodles are braised in. It's the first dish that I seek out as soon as I touch down in KL!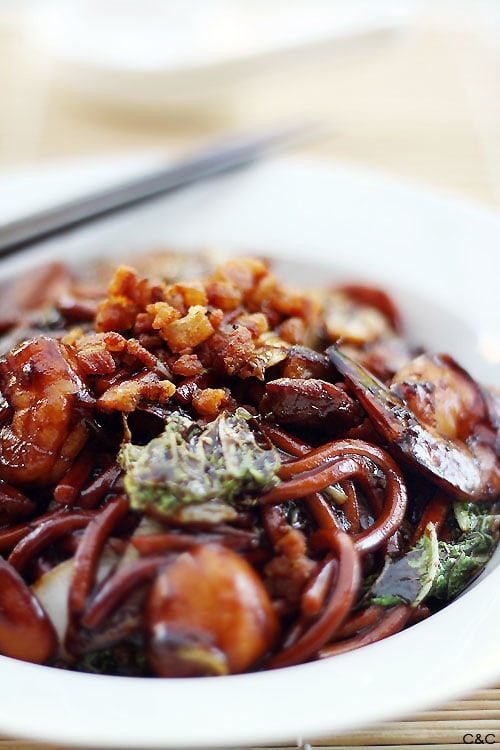 The secret to an authentic KL Hokkien Mee is the pork fat (which should be available from your butcher). Pork fat makes any dish tasty but of course I try not to indulge in KL Hokkien Mees too often!
If it isn't available on its own, then a piece of pork belly with a good layer of fat on the top would be fine.
I hope you enjoy it! A huge thanks to Rasa Malaysia for allowing me to share one of my favourite hometown recipes with you all.
How Many Calories per Serving?
This recipe is only 456 calories per serving.
What Dishes to Serve with This Recipe?
For a wholesome meal and easy weeknight dinner, I recommend the following recipes.
For more great recipes like this, sign up for our newsletter. We'll send daily recipes you'll love!
Join
Sign up for our newsletter!
KL Hokkien Mee
KL Hokkien Mee recipe - This dish is famous for the dark, fragrant sauce that the noodles are braised in. The secret to an authentic KL Hokkien Mee is the pork fat!
Ingredients
200

g

pork belly

(skin and excess fat removed and sliced into 1cm pieces)
Condiments:
shrimp

(allow about 3-4 per person)

white fish balls

(allow about 2-3 per person)

4

cloves

garlic

(finely chopped)

1

small baby Chinese cabbage

250

g

thick hokkien noodles

Chu yau cha

(recipe below)
Seasoning:
2

tablespoons

pork flavoured oil

(recipe below)

4

tablespoons

dark soy sauce

(sounds like a lot, but this dish is suppose to be dark)

2

tablespoons

light soy sauce

(adjust if the stock is salty or to your taste)

3/4

cup

chicken or pork stock

2

teaspoons

white sugar

1

tablespoon

corn flour

2

tablespoons

cold water
Instructions
Mix the sliced pork belly pieces into the pork marinade and set aside for 30 minutes.
In the meantime, prepare the rest of your ingredients and set aside within reach of your cooking area:
Shrimp – peeled, deveined, tails removed

Baby Chinese cabbage – washed and sliced into 1cm strips (discard the really thick stems)

Noodles – prepared according to your packet's instructions. Mine was placed in boiled water until the noodles have separated, then drained thoroughly.

Mix the cornflour and cold water in a little bowl until smooth and set aside.

When everything is ready, preheat a wok over a high flame and add about 2 tablespoons of pork oil and heat until smoking.

Add the marinated pork belly and fry briskly (be careful of hot spitting oil).

When just browned, add the shrimp, fishballs and garlic and fry for half a minute. Toss in the chinese cabbage and fry for a further 30 seconds or so.

Add in the noodles and give it a quick toss.

Add the dark soy sauce and light soy sauce and mix to coat the noodles. Add more dark soy sauce if the colour isn't dark enough.

Add the stock, sugar, white pepper and a small handful of chu yau cha (crispy pork lardons) and fry to combine. Taste the sauce and adjust the saltiness and sweetness to your preference.

Add in the cornflour/water mixture and toss until the sauce has thickened, and the noodles are coated in the gravy.

Serve the noodles onto plates and spoon over the gravy. Garnish with more chu yau cha if you wish and a spoonful of sambal belacan.
To make the pork oil and chu yau cha:
Dice your pork fat into small cubes (or lardons). If using just pork belly, remove the skin and then trim off the excess fat from the top of the belly and dice.

Place the diced pork fat in about 2 tablespoons of peanut oil over medium-low heat. I used a deep pot and covered it partially with a lid to prevent the pork from spitting oil all over my kitchen!

Render the fat until the little pork pieces are crispy and golden. Depending on the size of your lardons, this could take 30 minutes to an hour. Check it regularly to make sure it's not browning too much.

Remove the chu yau cha from the oil and drain on paper towels. Once it's completely cooled, you can store the chu yau cha in an airtight container or jar.

Drain the pork oil into a sterilized and airtight glass jar to store.
Nutrition

Nutrition Facts

KL Hokkien Mee

Amount Per Serving (2 people)

Calories 456

Calories from Fat 504

% Daily Value*

Fat 56g86%

Cholesterol 72mg24%

Sodium 3626mg158%

Carbohydrates 21g7%

Protein 20g40%

* Percent Daily Values are based on a 2000 calorie diet.

Notice: Nutrition is auto-calculated, using Spoonacular, for your convenience. Where relevant, we recommend using your own nutrition calculations.