Singapore Hokkien Mee - The prawn stock imparts the essence to the noodle and is the key ingredient that makes the bland-looking dish flavourful.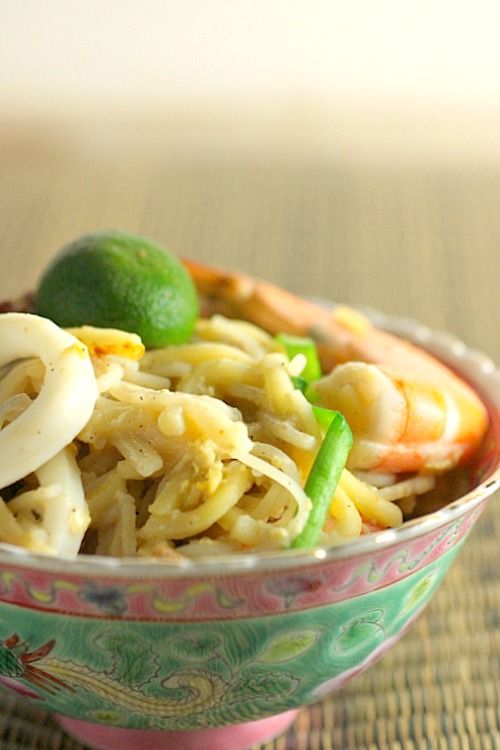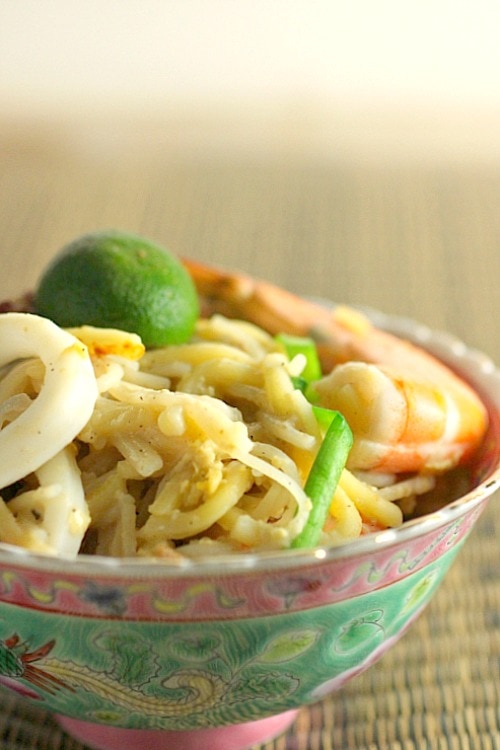 Køkken69 is a Singaporean food blog. Authored by Shirley, a chemist by day, Køkken69 is a gorgeous blog chocked full of delicious Asian dishes, pastry recipes, and travel tales as Shirley travels around the world.
While Shirley says that she approaches every recipe on her site like an experiment, I personally think that she is a talented home cook, and a fantastic food photographer. Please welcome Køkken69 to Rasa Malaysia and learn more about the Singaporean version of Hokkien Mee!
It is too old fashioned to proclaim that I am honoured to be invited by super star food blogger, Bee to do a guest post for her immensely successful blog, Rasa Malaysia. Unfortunately, for my lack of eloquence, that is probably the best way to sum up my thrill and appreciation for this opportunity.
Excited as I might be, I was also plagued with a bugging concern over what else I can bring to a blog that is already so rich in content. I doubt that there is any Malaysian/ Singaporean dish that has not been featured on Rasa Malaysia already…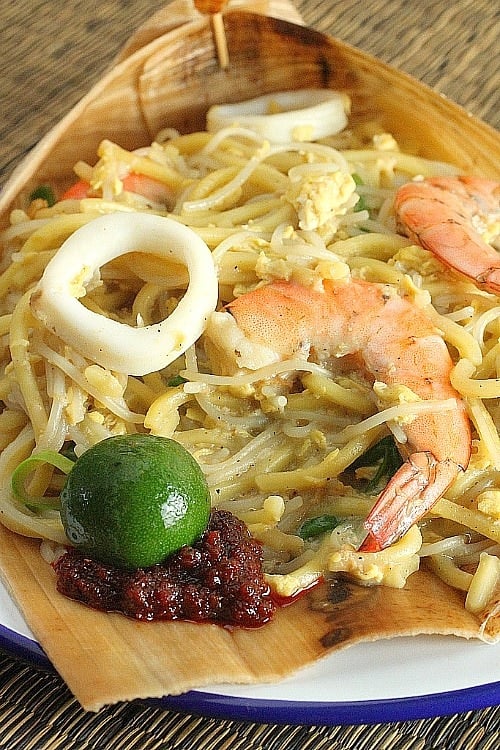 I was literally at the cusp of exasperation when I recall a dish which I have been told is not available in Malaysia. Fried Hokkien Mee, literally translates to mean noodles,fried Fujian style. Fujian (Hokkien) is a province in Southern China.
Most of the Chinese residing in Malaysia and Singapore have roots originating from the Fujian province. Hence, Fujian/Hokkien cuisine and way of cooking tend to feature prominently in the local chinese food here.
Despite being close neighbours, Singapore and Malaysia frequently have their competitive moments. Some trivial, some not so… Both nations are fierce food lovers and there have been countless debates on who has better food and who should lay claim to ownership of a particular dish… There are, as far as I can recall 2 versions of Hokkien Mee in Malaysia.
Hokkien Char mee from Kuala Lumpur is a fried yellow noodle dish braised in dark soya sauce. Penang Hokkien Prawn Noodles is another yellow noodle dish served in a rich spicy and flavourful prawn broth. The Singapore Fried Hokkien Mee featured here, is a variant of the Penang Prawn Noodles.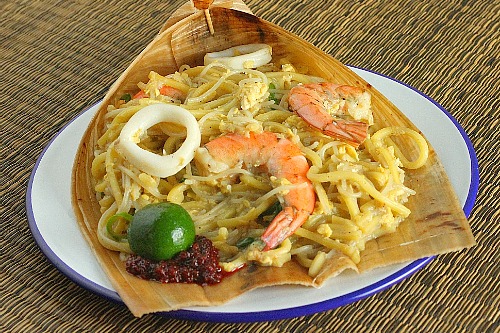 A mixture of yellow noodles and thick rice vermicelli ,first fried with eggs until fragrant and braised in rich, flavourful prawn broth, the Singapore Fried Hokkien Mee is served semi-dry and garnished with prawns, squid, sliced pork belly, chives and eaten with Sambal chilli and a squirt of lime juice.
Traditionally, for take out, the Hokkien Mee would be wrapped in Opeh leaf. The Opeh leaf comes from the inner sheath of the bark of a Betel Nut tree. It could be nostalgia but I have always felt that food wrapped in an Opeh leaf smells better.
This is not a very difficult dish to cook, however it is pertinent that you work with a good prawn stock. The prawn stock imparts the essence to the noodle and is the key ingredient that makes the bland-looking dish flavourful.
The sambal and lime juice cuts through the richness of the dish to balance an otherwise heavy starchy dish.
I hope you enjoy this local Singaporean local dish as much as I have enjoyed cooking it for this guest post.
How Many Calories per Serving?
This recipe is only 224 calories per serving.
What Dishes to Serve with This Recipe?
For a wholesome meal and easy weeknight dinner, I recommend the following recipes.
For more great recipes like this, sign up for our newsletter. We'll send daily recipes you'll love!
Join
Sign up for our newsletter!
Singapore Hokkien Mee
Singapore Hokkien Mee recipe - The prawn stock imparts the essence to the noodle and is the key ingredient that makes the bland-looking dish flavourful.
Ingredients
250

g

yellow noodle

250

g

white thick rice vermicelli

400

g

prawn

350

g

squid, sotong

200

g

pork belly

40

g

green chives

750

ml

chicken stock

3

eggs

5

g

chopped garlic
Instructions
Peel the prawn head. In a hot wok, add a tbsp oil and fry the prawn head until fragrant. Add fried prawn head into chicken stock and boil for 30 mins to 1 hour. (I usually reserve the uncooked prawn shells and prawn heads from other dishes and keep them frozen in the freezer)

Add the pork belly into the stock and boil for 45 mins. Take out the pork belly and cool. Cut pork belly into strips. (I am not a big fan of pork belly, hence I have omitted this)

Blanch prawns and squid in boiling water. Drain and cut the squid into rings.

Into a hot wok, add 1 tbsp of oil, fry the garlic until fragrant. Add in egg and scramble.

Add in yellow noodle and rice vermicelli. Fry for a few minutes until noodles just begin to sear. (Use high heat)

Add 1/3 of prawn stock and seasoning. Fry until stock is almost dry. Add another 1/3 of prawn stock. Cover the wok to braise the noodles on medium low heat. (5 to 7 mins)

Lastly add in prawn, squid, chives and fry together. Add remaining stock, fry for 1 min and plate. Serve with sambal chilli and lime.
Nutrition

Nutrition Facts

Singapore Hokkien Mee

Amount Per Serving (2 people)

Calories 224

Calories from Fat 810

% Daily Value*

Fat 90g138%

Cholesterol 1241mg414%

Sodium 5420mg236%

Carbohydrates 204g68%

Protein 114g228%

* Percent Daily Values are based on a 2000 calorie diet.

Notice: Nutrition is auto-calculated, using Spoonacular, for your convenience. Where relevant, we recommend using your own nutrition calculations.