Braised Abalone with Sea Cucumber Recipe - This recipe so easy and DELICIOUS to homemade!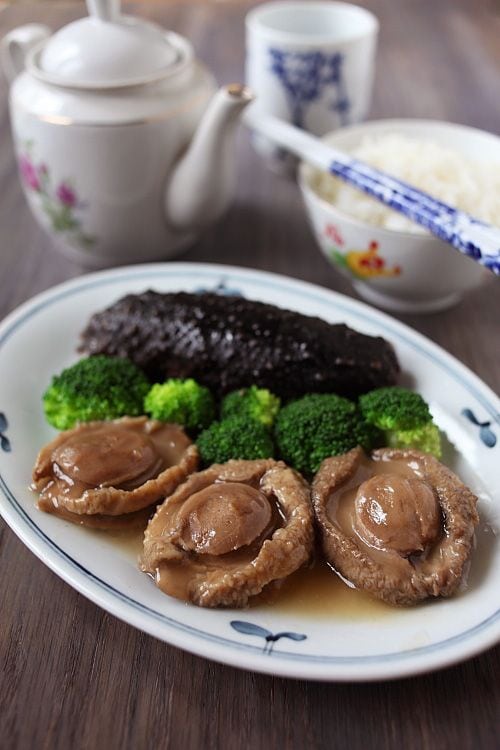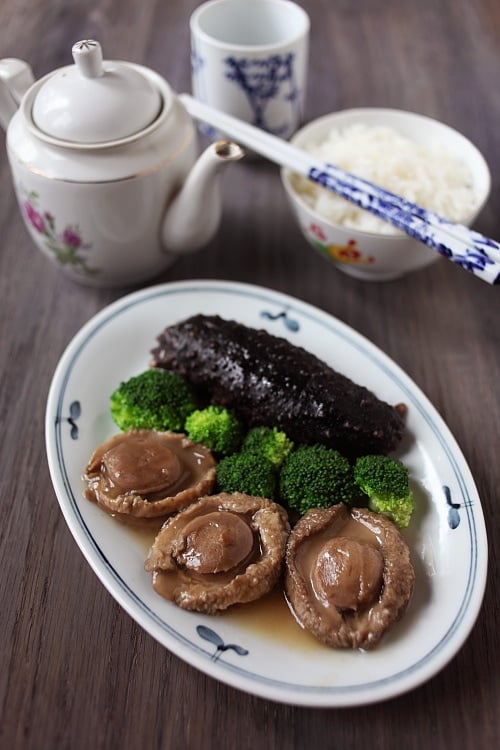 In early 2008, I shared my thoughts about Chinese and the foods that we consume in my version of Maslow's Hierarchy of Needs (for Chinese people), in which I categorized the foods that Chinese eat into 4 categories.
I love eating expensive Chinese food, such as abalone, fish maw, geoduck, hairy crab, etc.
Most of the time, I indulge in these Chinese delicacies during very special occasions, for example: my birthday or Chinese New Year, or when I visit my uncle in Hong Kong, during which he would feed me with various delicious and extravagant Chinese dishes.
However, I have never attempted to make these type of foods at home, until very recently as my high-school friend AsianSupermarket365.com sent me a package consisting of South African dried abalone, sea cucumber and Japanese dried scallop.
With such an expensive care package and my eternal craving for braised abalone and sea cucumber, I knew that it was time I learn the master Chinese cookery skills of making these Chinese delicacies.
I reached out to my uncle and asked for the detailed instructions and embarked on a 4-day (yes, four days!) cooking process of making the braised abalone with sea cucumber you see here.
For people who love abalone and sea cucumber (read: me), this is one of the best things to eat in haute Chinese cuisine.
And as with other extreme Chinese delicacies, the preparation is meticulous and the end result has to be pure perfection.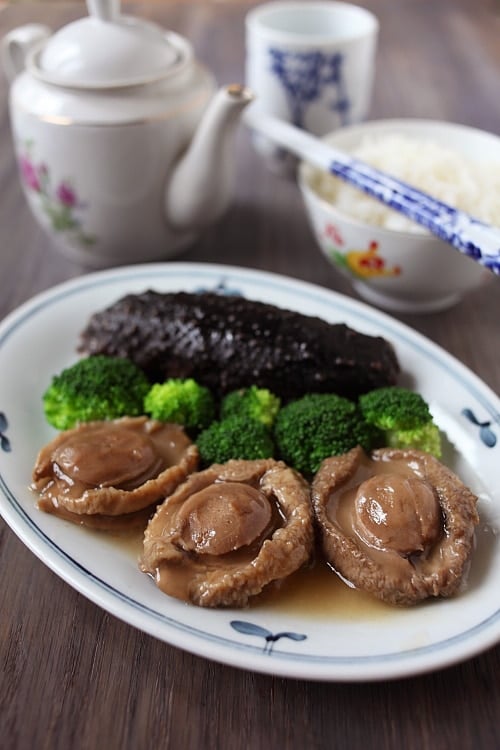 Now if you are not familiar or have never tried these ingredients (they are not the most photogenic creatures), you would be puzzled as to why I would spend so much time making this dish.
But, you see, we are talking about abalone and sea cucumber, which are two of the most prized commodities in Chinese cuisine.
Walk into any lavish and upscale Chinese restaurants in China or Hong Kong and you will see them on the first page of the menu, with very expensive price tags next to these dishes.
For example: in a moderately-priced Chinese restaurant in Irvine, they sell abalone (just abalone) for US$20 per ounce, and the smallest abalone will easily cost you $100, for only one abalone with some sauce.
Braised abalone with sea cucumber is an uber expensive and pricey dish, so what you see on the pictures here will probably cost you $500!
You get the idea.
The preparation includes four steps:
1) soaking the dried abalone and sea cucumber separately
2) cleaning them properly and thoroughly
3) preparing the supreme Chinese stock
4) slow cook the abalone and cucumber until perfection.
And that takes 4 days!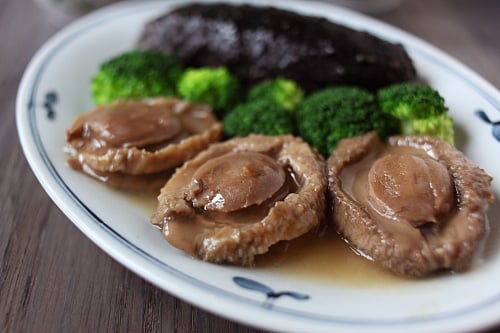 Suffice it to say, this braised abalone and sea cucumber recipe was one of the most testing recipes that I had undertaken, but oh boy, was I glad I did it.
At the first bite of the abalone and sea cucumber and the first taste of the extremely flavorful sauce, I was transported to Chinese food nirvana.
And then I ate another abalone, and then another one, and finished all four of them plus the two sea cucumbers and scallops.
That was what I call supreme culinary satisfaction and gratification.
Now the good news to my readers: to celebrate the launch of the dried seafood section, AsianSupermarket365.com is sponsoring two packages of abalone, sea cucumber, and dried scallop to two lucky winners.
Click here to enter to win and enjoy the $500 supreme Chinese delicacy at the comfort of your home!
How Many Calories per Serving?
This recipe is only 333 calories per serving.
What Dishes to Serve with This Recipe?
For a wholesome meal and easy weeknight dinner, I recommend the following recipes.
For more great recipes like this, sign up for our newsletter. We'll send daily recipes you'll love!
Join
Sign up for our newsletter!
Braised Abalone with Sea Cucumber
Braised Abalone with Sea Cucumber Recipe.
Ingredients
4

dried South African Abalone

2

dried South African Deep Sea Cucumber

1

knob ginger

(pounded)

3

stalks scallion

(roots removed)

8

dried Japanese scallop

(rinsed with water before using)

4

oz.

broccoli florets

Cornstarch + water
Supreme Chicken Stock:
1

stewing hen

(skin removed and chop into big pieces)

1

lb.

pork spare ribs, cut into riblets

4

oz.

Chinese ham (or Virginia ham), cut into pieces

5

quarts

water
Instructions
Soak the dried abalone in cold water for 24 hours. The next day, clean and brush thoroughly and cook the abalone in boiling water for 15 minutes. Turn off the heat and cover the pot and let stand for a few hours until the water is cool.

Clean and brush the abalone again, remove the tail-end of the abalone, discard the impurities and then soak in clean cold water again for another 10 hours or overnight.

In the meantime, soak the sea cucumbers overnight in a clean pot that is completely free of oil. The next day, bring a big pot of water to boil. Turn the heat off and put the sea cucumbers in. Cover the pot and let stand for a few hours until the water is cool.

Repeat this process for 3-4 times until the sea cucumbers are relatively soft. At this point, clean each sea cucumber by following the steps here: picture 1, picture 2, picture 3, picture 4.

Bring a pot of water, preferably in a stainless steel pot, to boil. Add the ginger, scallions, and sea cucumbers to cook on low heat until they are soft enough for cooking.

While you're prepping the dried ingredients, you can make the Supreme Chicken Stock. Bring the water to boil in a deep stock pot. Add the chicken, ribs, and ham and bring to boil. Then lower the heat and keep boiling and simmering for 8 hours until all the meat falls off the bones and the stock reaches an extremely flavorful taste. Discard the residue and save the stock. You can keep the stock in the fridge.

When you're ready to cook, use a smaller stock pot and add about 3-4 cups of the Supreme Chicken Stock, abalone, sea cucumbers, and scallops and bring to boil. Turn down to low heat and let simmer for 10 to 12 hours until the abalone become tender/soft (not rubbery) and absorb the essence and flavor of the stock.

To check for doneness, use a chopstick to poke through to get a feel. As the sea cucumbers cook faster than the abalone, check the texture of the sea cucumbers often. As soon as the sea cucumbers become soft and jiggly, remove from the pot and set aside. Add them back and reheat right before serving. DO NOT overcook the sea cucumbers, as they will dissolve into gel-like texture.

To serve, quickly blanch the broccoli florets with boiling water. Drain and set aside. Use some of the soup base and thicken with a little bit of corn starch mixed with water. Arrange the abalone, sea cucumbers, broccoli florets and on a serving plate, drizzle the thickened sauce on top of the dish. Serve immediately.
Notes
To save some cooking time, you might slice the abalone into slices before cooking. If you do so, make sure you cut the sea cucumbers into bigger pieces so they cook at a similar rate as the abalone slices.
You can keep the remaining Supreme Chicken Stock in the fridge for a week or so. It's great for a variety of Chinese recipes such as stir-fries that calls for water, soups, noodle soup, stews, etc.
Nutrition

Nutrition Facts

Braised Abalone with Sea Cucumber

Amount Per Serving (4 people)

Calories 333

Calories from Fat 207

% Daily Value*

Fat 23g35%

Cholesterol 93mg31%

Sodium 595mg26%

Carbohydrates 4g1%

Protein 24g48%

* Percent Daily Values are based on a 2000 calorie diet.

Notice: Nutrition is auto-calculated, using Spoonacular, for your convenience. Where relevant, we recommend using your own nutrition calculations.