Chocolate Spiced Biscotti – super easy, crunchy, and the BEST biscotti loaded with chocolate and almonds, get the recipe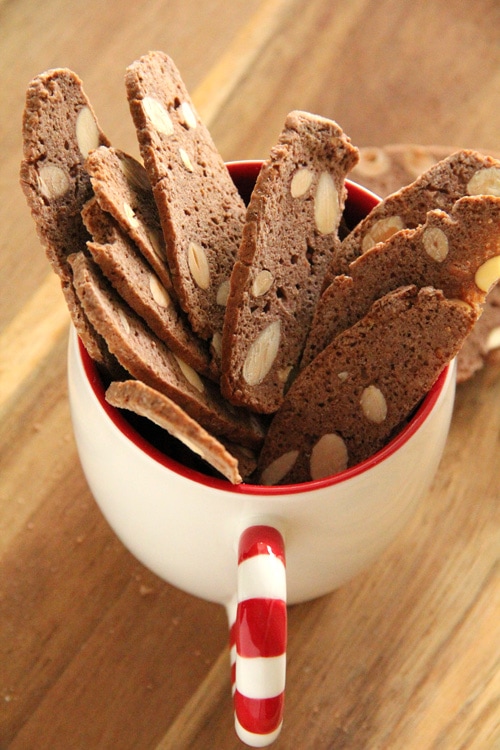 'Tis the season for baking, lots of baking: cookies, sweet treats, cakes, and holiday biscotti.
Biscotti is such a wonderful Christmas cookie—crunchy, crisp, and absolutely yummy—they are a great treat and especially great with a cup of coffee.
I also love it that we can make a bunch of biscotti weeks before the holidays and they stay crunchy, as long as they are properly stored.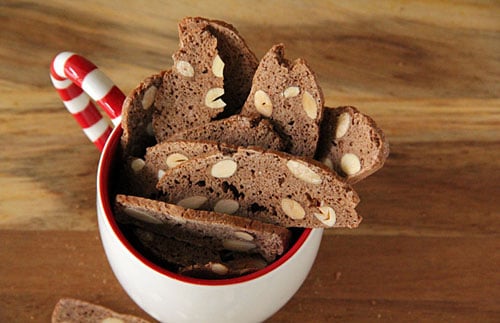 I'm so happy that my friend CP Choong is sharing two of her favorite biscotti recipes with us this holiday season.
I love this chocolate spiced biscotti because there are more eggs used in the recipe so the end result is eggy, with a nice touch of chocolate and just a wee bit aroma of the spices.
If you like your biscotti to be more spice-laden, you can feel free to add a little more.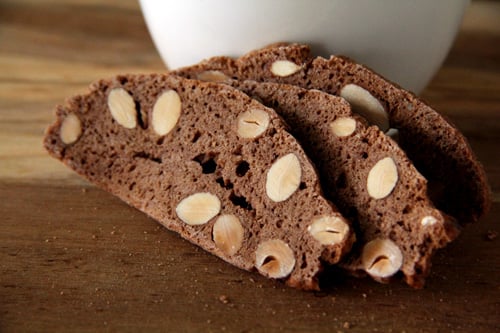 I also love the almonds in this chocolate spiced biscotti recipe.
Every crunchy bite is accompanied by the nutty flavor of the almond.
For the chocoholic, you can also add some melted chocolate dip to the biscotti to make it even better.
However, if you do so, make sure you cut your biscotti into thicker slices so the biscotti doesn't lose its crisp.
So gather your ingredients and start baking today.
It's never too early to start baking for the holidays.
I am doing a lot of Christmas recipes ideas and baking recipes on Rasa Malaysia Facebook page.
Like me to follow my daily updates and new recipes!
How Many Calories Per Serving?
This recipe is only 451 calories per serving.
5 Secrets to 20 Min Dinners
Get tricks for quick & easy meals!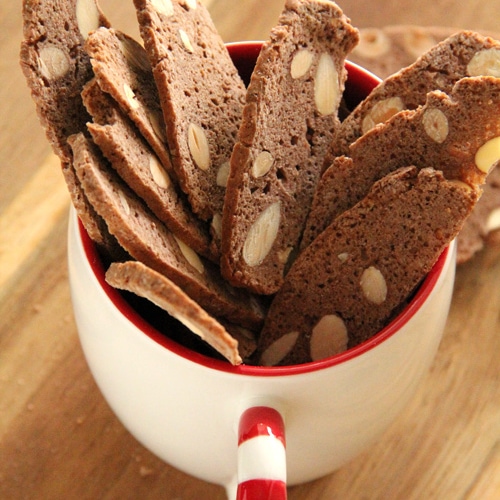 Chocolate Spiced Biscotti Recipe
Chocolate Spiced Biscotti - super easy, crunchy, and the BEST biscotti loaded with chocolate and almonds, get the recipe.
Ingredients
3 3/4

cups

all-purpose flour

(450 g)

1

teaspoon

baking powder

¼

cups

cocoa powder

1

g

cinnamon powder, I used ½ teaspoon

1

g

nutmeg powder, I used ½ teaspoon

180

g

3/4 cups plus 2 tablespoons castor sugar

1

teaspoon

salt

4

large eggs, beaten- save up a tablespoon of egg white, put aside.

50

g

½ cups almonds (I used more)
Click Here for Conversion Tool
Directions
In a large mixing bowl, combine flour, baking powder, cocoa powder, cinnamon and nutmeg powder, sieved.

Dry roast the almonds with temperature 150C/300F until fragrant, removed and let cool.

Preheat oven to 200C/400F.

Add sugar and salt into the flours mixture, stir to combine.

Pour in beaten eggs and mix, meanwhile add in almonds and form dough.

Divide dough to 2 equal portions, roll into log shapes and transferred to a baking sheet lined with parchment paper. Flatten the dough to get 3 inches in width and ½ inch in height. Brush with the egg white.

Bake in the preheated oven for 20 minutes on the lower shelf.

Removed from oven and let cool for approximately 15 minutes. Lower oven temperature to 150C/300F

Use a serrated knife to cut into thin slices (1cm or less). Arranged the slices on baking sheet and bake for 20 minutes till dry and crisp.
Recipe Notes
1. If the dough is sticky, dust hand and countertop with flour for easy handling.
2. I cut my biscotti to very thin slices (2mm), to make biscotti chips. Thus the final baking time is lesser (approximately 12 minutes, 6 minutes each side for even browning).
Nutrition Facts
Chocolate Spiced Biscotti Recipe
Amount Per Serving (4 people)
Calories 451
Calories from Fat 108
% Daily Value*
Fat 12g18%
Cholesterol 163mg54%
Sodium 649mg28%
Potassium 482mg14%
Carbohydrates 141g47%
Protein 21g42%
Vitamin A 240IU5%
Calcium 136mg14%
Iron 7.5mg42%
* Percent Daily Values are based on a 2000 calorie diet.