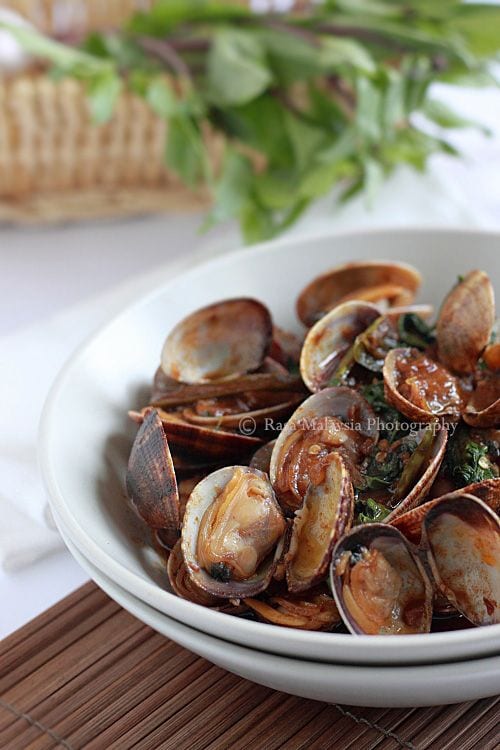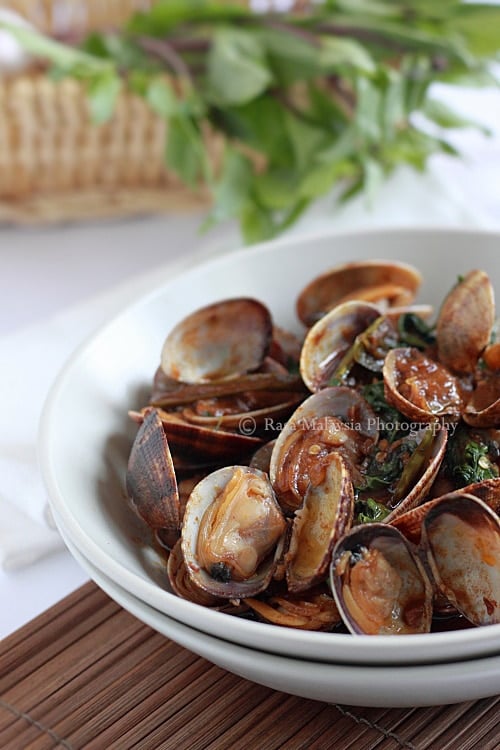 One early morning in January when I was home in Penang, my brother, sister, nephew, our maid and I set off to a clam-digging expedition in a little island off the coast of Penang.
In less than two hours, we dug two buckets full of big, fat, and succulent fresh clams, after we got both our hands and feet wet, not to mention some mud on my sister's hair. It was one of the most exciting, fun-filled, and fruitful excursions nonetheless. We had so much fun!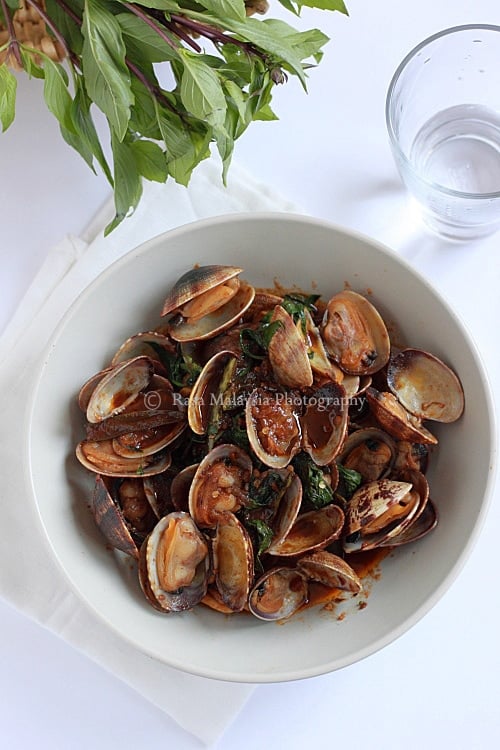 As soon as we went home, my brother cooked up a big batch of hoy lai ped, or fried clams with roasted chili paste, a Thai recipe that he had learned from his Thai friend.
Our family and all the kids gathered together and savored the bounty with great victory–nothing tastes quite as good as food caught with our own hands.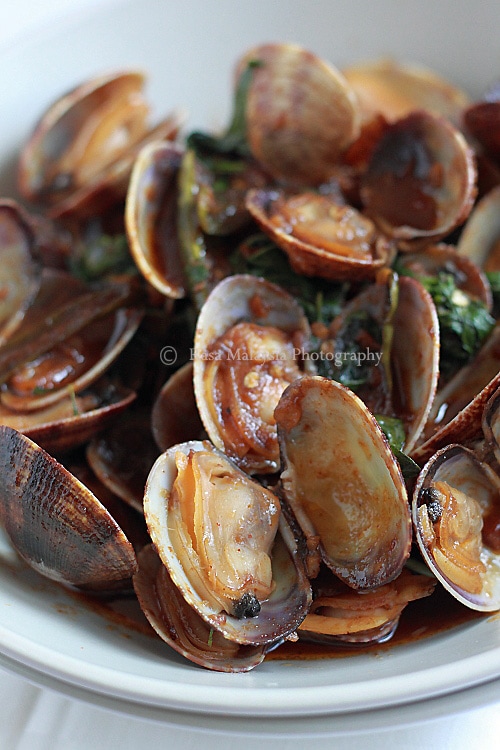 Hoy lai ped literally means spicy clams in Thai. It's a popular clam recipe in Thailand.
Thailand is blessed with abundant seafood and clams are hugely popular. Hoy lai ped is very easy to prepare and you need only a few key ingredients: Thai roasted chili paste or "nam prik pao," fresh basil leaves, and bird's eye chilies.
It has become one of my favorite clam recipes because of its vibrant flavors: fiery hot and exuberantly briny with a robust minty note from the basil leaves.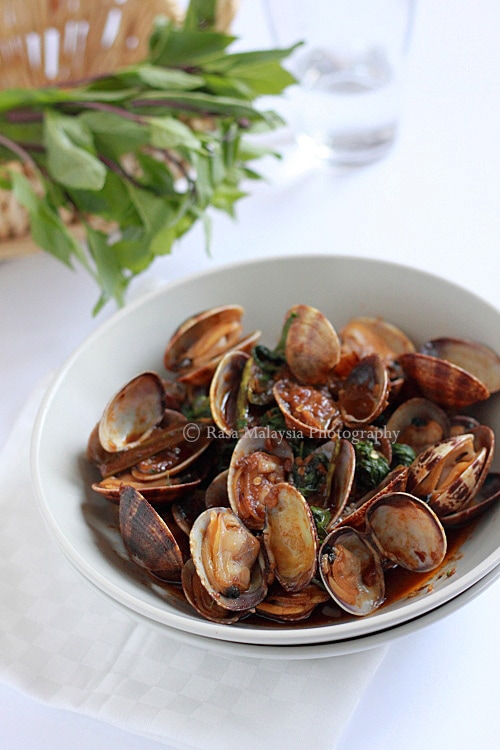 Now back in the US, I often make hoy lai ped. While there is no clam digging, I can always get fresh Manila clams from Asian supermarkets.
My brother's friend also bought me a big tin of nam prik pao (Thai roasted chili paste) which is now an essential ingredient in my cooking repertoire.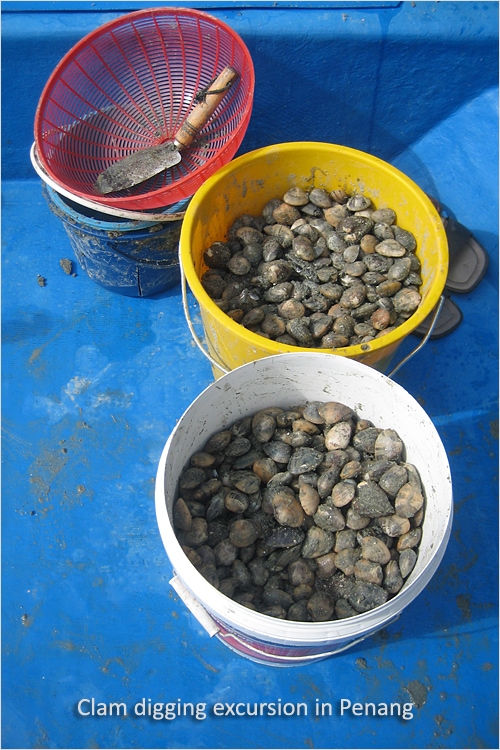 Here is my recipe for hoy lai ped or spicy clams in Thai roasted chili paste. Try it out, it's seriously delicious!
How Many Calories Per Serving?
This recipe is only 132 calories per serving.
What Dishes To Serve with this Recipe?
For a wholesome meal and easy weeknight dinner, I recommend the following recipes.
5 Secrets to 20 Min Dinners
Get tricks for quick & easy meals!
Yield: 4 people
Spicy Clams in Thai Roasted Chili Paste (Hoy Lai Ped)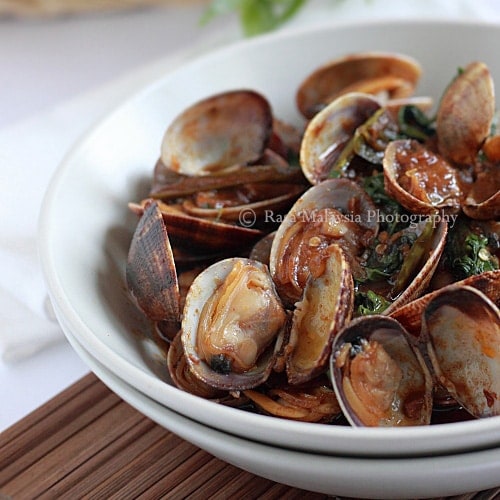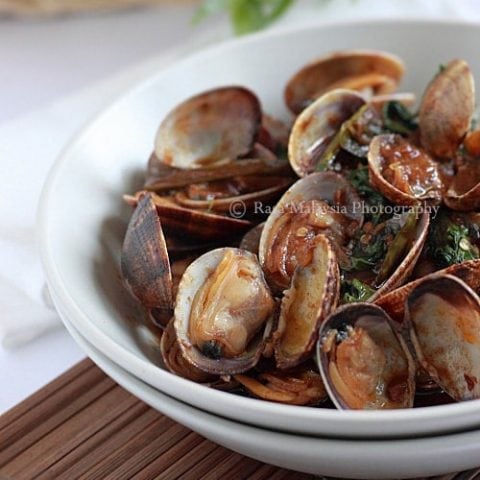 Clams Recipe: Hoy Lai Ped (Spicy Clams in Thai Roasted Chili Paste) recipe - Here is my recipe for hoy lai ped or spicy clams in Thai roasted chili paste. Try it out, it's seriously delicious!
Ingredients
1 1/2 pound (0.6 kg) clams
2 tablespoons nam prik phao
2 oz. (56 g) Thai basil, remove stems, just use the leaves
6 bird's eye chilies, lightly pounded
2 cloves garlic, finely chopped
1 teaspoon sugar or to taste
1/2 teaspoon fish sauce, optional or to taste
3 tablespoons oil
Instructions
Clean and rinse the clams well, scrubbing the surface. Set aside.
Heat wok over high heat and add oil. Stir-fry the garlic until aromatic, then add nam prik phao and bird's eye chilies. Continue stirring for 1 minute and add clams into the wok. Stir-fry until the clams open, then add Thai basil leaves, fish sauce and sugar to taste. Do a few quick stirs, dish out and serve immediately with steamed white rice.
Notes
You can get nam prik pao from Asian supermarkets or online here. If you wanted to make it from scratch, please click here for Pim's secret recipe.
Nutrition Information
Yield
4
Serving Size
4 people
Amount Per Serving
Calories

132
Total Fat

10g
Saturated Fat

8g
Unsaturated Fat

0g
Cholesterol

7mg
Sodium

214mg
Carbohydrates

5g
Sugar

2g
Protein

4g