Tom Yum Soup - the BEST Thai Tom Yum Goong recipe you'll find online. Loaded with shrimp and mushroom, Tom Yum is spicy, sour, savory, and addictive!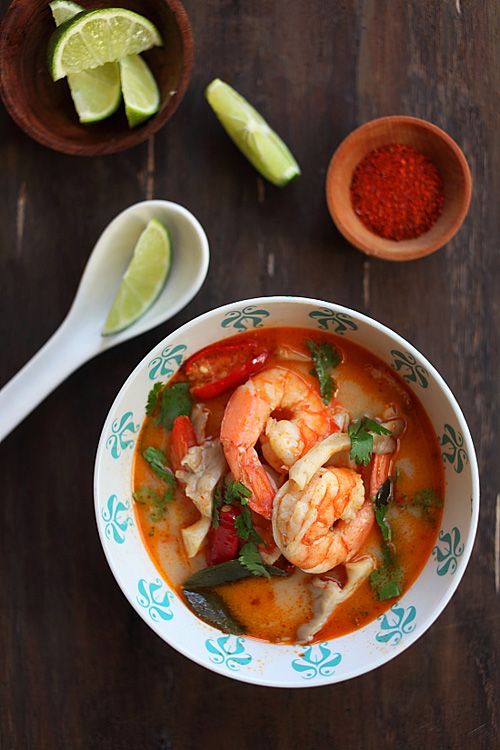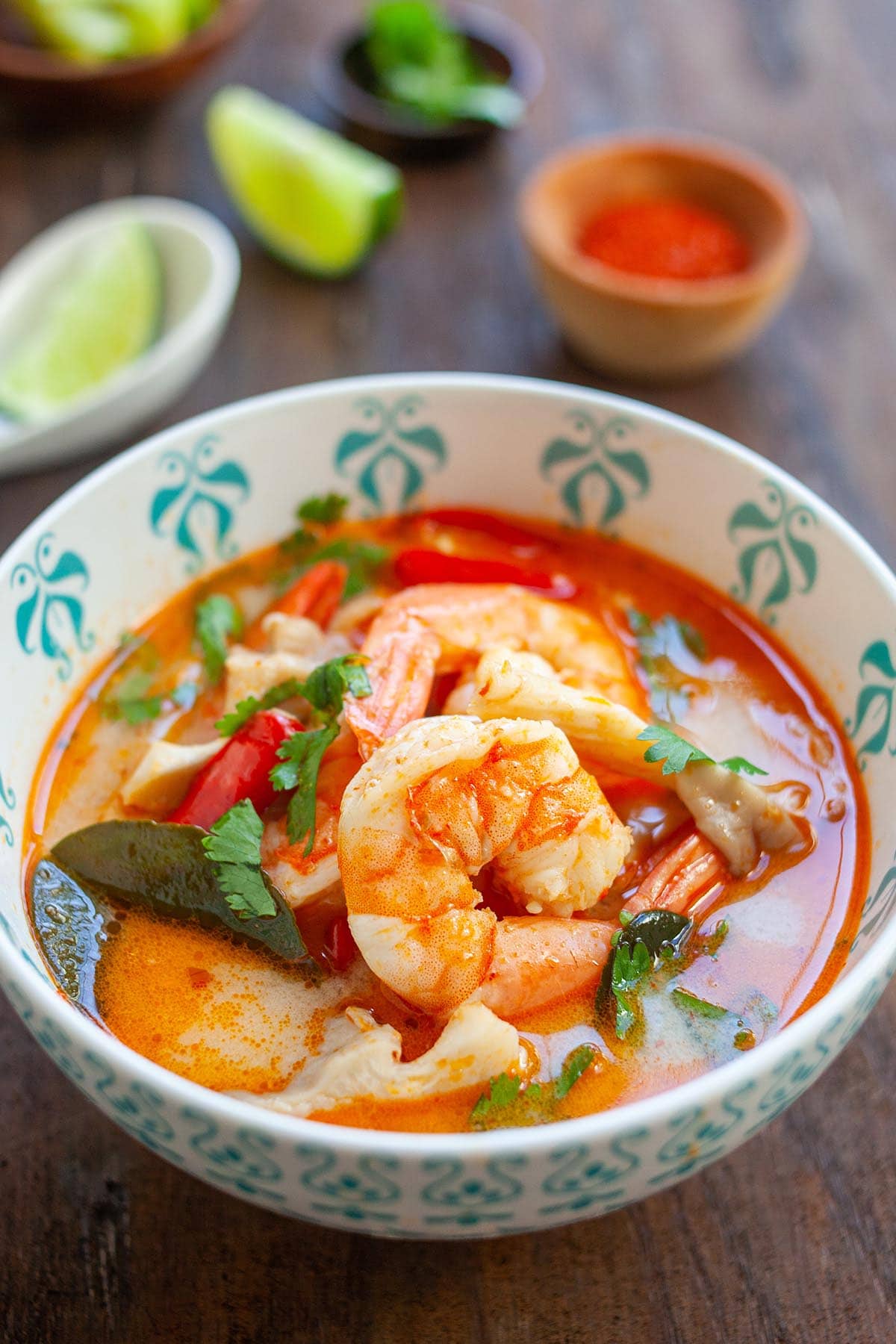 What is Tom Yum Soup?
Tom Yum Goong is one of the most well-known Thai recipes, and I have the BEST and most authentic Tom Yum recipe for you. Not to mention how easy it is to make.
Goong means "shrimp" in Thai, as the soup is usually made with shrimp. You can also make it with seafood such as squid or a combination of different seafood.
Other Thai Recipes You Might Like:
Ingredients for Tom Yum
Shrimp Stock
Shrimp
Lime Juice
Thai Chilies
Thai Roasted Chili Paste
Fish Sauce
Mushrooms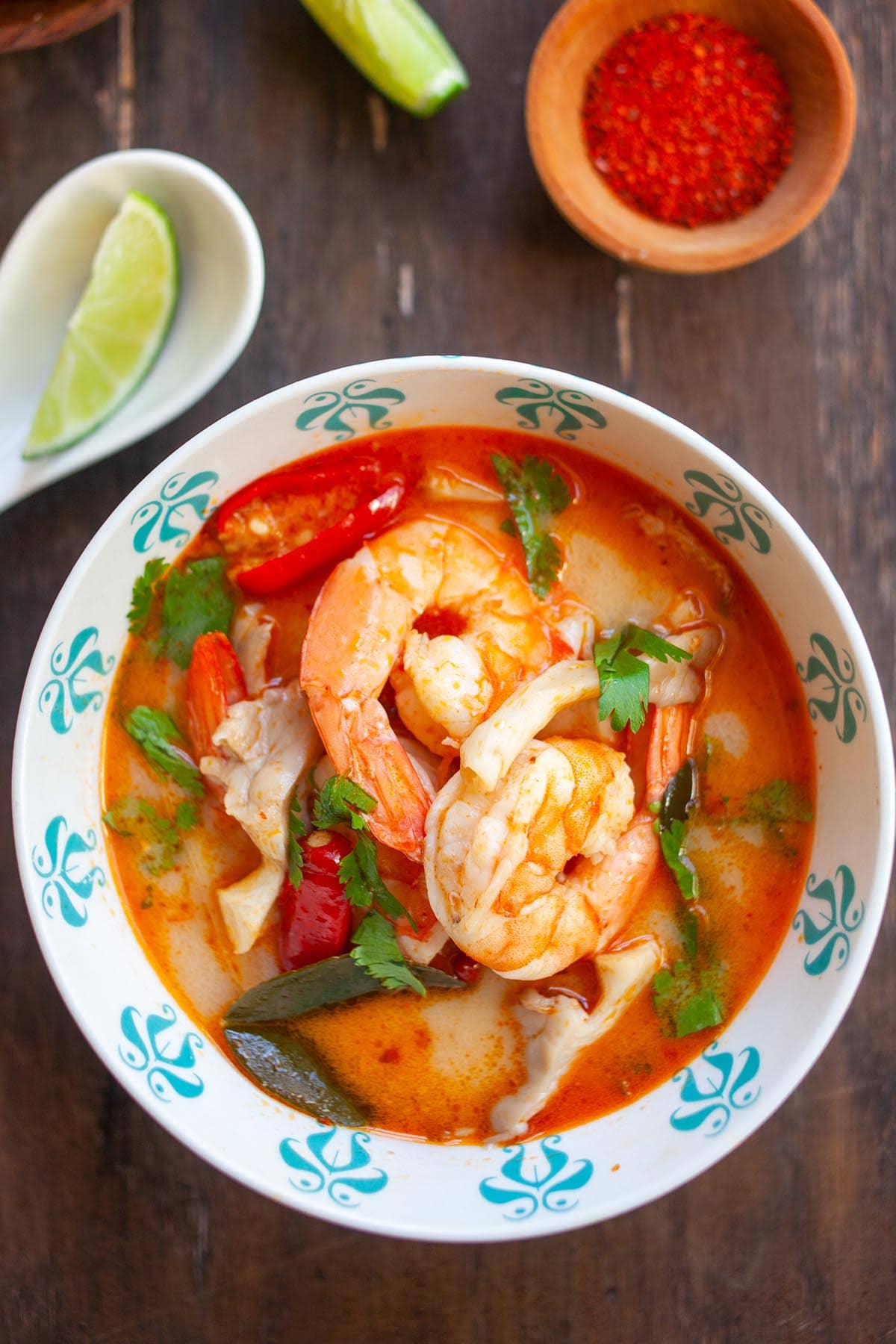 Cook's Tips
The best Tom Yum calls for shrimp stock, which you can make by boiling the shrimp heads with water. A good stock guarantees the great taste of Tom Yum. However, you can also make it with water or canned chicken stock.
Another secret is the use of nam prik pao (Thai roasted chili paste). You can't do without the aromatics: galangal, lemongrass, kaffir lime leaves and bird's eye chilies.
To make Bangkok-style Tom Yum which is creamier and whiter in color, add a few tablespoons of evaporated milk to the soup.
Once you have these ingredients, you will have the best bowl of homemade tom yum you've ever tasted, I promise.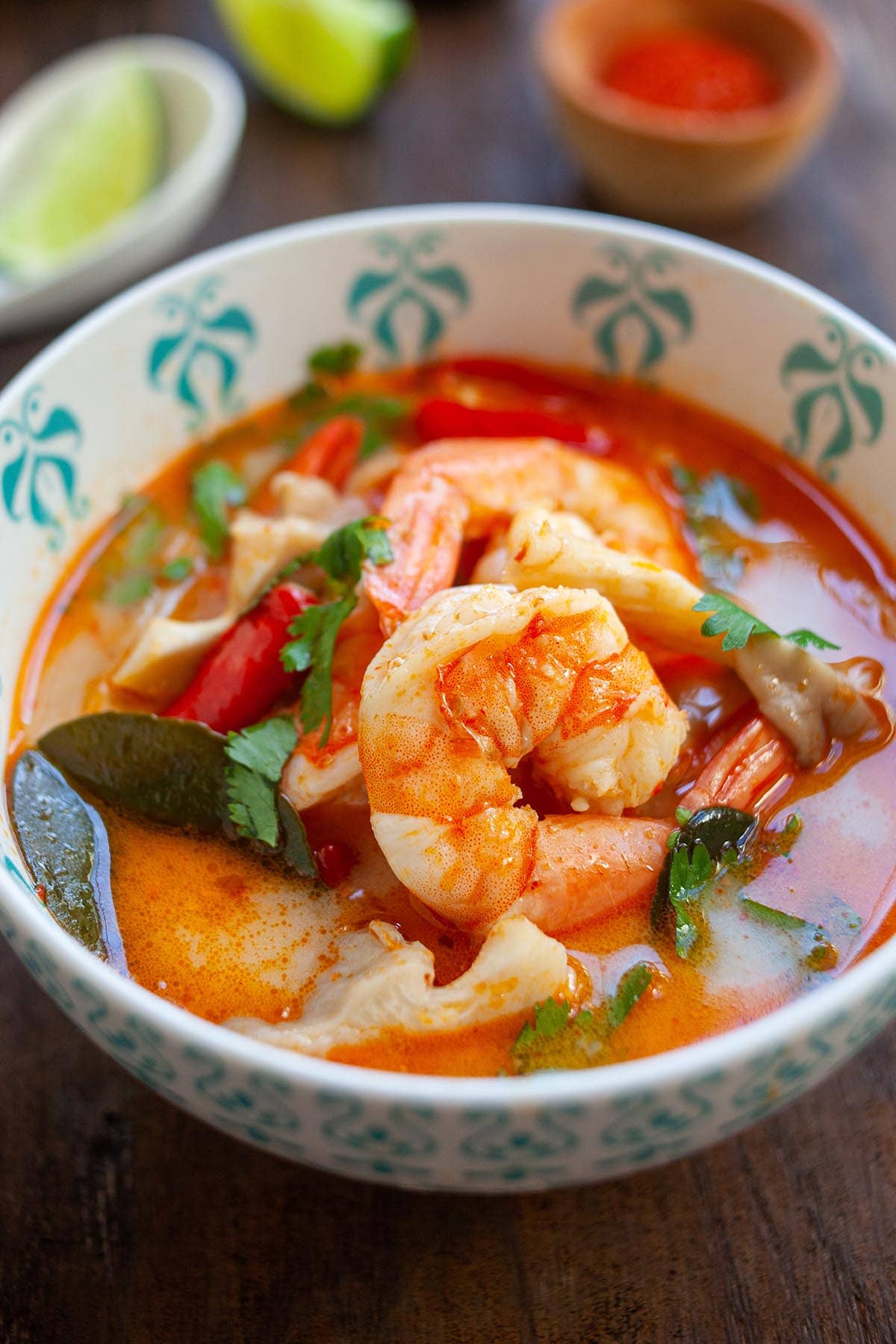 Frequently Asked Questions
Is tom yum soup healthy?
In Thai culture, it is believed that tom yum is beneficial to ones health.
What is the difference between Tom Yum and Tom Kha?
The main difference is the use of coconut in tom kha.
How many calories?
One serving has 270 calories.
What Dishes to Serve with this Recipe?
This meal is best served with Thai entrees. For a wholesome meal and easy weeknight dinner, I recommend the following recipes.

5 Secrets to 20 Min Dinners
Get tricks for quick & easy meals!
Yield: 2 people
Tom Yum Soup Recipe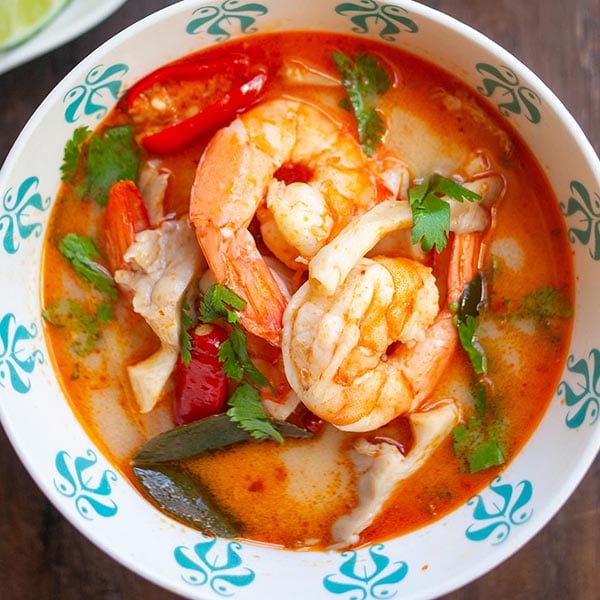 Tom Yum Soup - the BEST Thai Tom Yum Goong recipe you'll find online. Loaded with shrimp and mushroom, Tom Yum is spicy, sour, savory, and addictive!
Ingredients
2 1/2 cups shrimp stock, best, canned chicken stock, or water
10-12 shrimp or 8 oz(226g), head-on and shell-on but chop the eyes part off, devein if you like
3 1/2 tablespoons lime juice
6 bird's eyes chilies, pounded
3 slices galangal
2 tablespoons nam prik pao, Thai roasted chili paste
2 tablespoons nam prik pao oil
3 teaspoons fish sauce
1 stalk lemongrass, cut into 3-inch strips, pounded with a cleaver
6 canned straw mushrooms / fresh oyster mushrooms / fresh white button mushrooms
Instructions
In a pot, bring 3 cups of water to boil. Then add a big handful of shrimp/prawn heads. Boil the shrimp head until the water turns slightly orange in color. Press the shrimp heads with spatula to extract the "goodies" from their heads. Let the stock reduce to slightly more than 2 1/2 cups. Drain the shrimp stock and discard the shrimp heads.
Add lemongrass, galangal, kaffir lime leaves, bird's eye chilies, mushrooms, nam prik bao to the shrimp stock and bring it to boil. Add in the shrimp and fish sauce. Lastly, add the lime juice (if you add lime juice too early, the soup might turn bitter). Boil until the shrimps are cooked, dish out and serve hot.
Notes
You can use also chicken, a combination of chicken plus shrimp, or seafood combination (shrimp, squid, scallops, green-lipped mussels) for tom yum soup. It's really up to you, but the most popular tom yum is tom yum goong, goong means prawn.
Nutrition Information
Serving Size
2 people
Amount Per Serving
Calories

270
Total Fat

4g
Saturated Fat

1g
Cholesterol

53mg
Sodium

1402mg
Carbohydrates

41g
Fiber

1g
Sugar

7g
Protein

14g