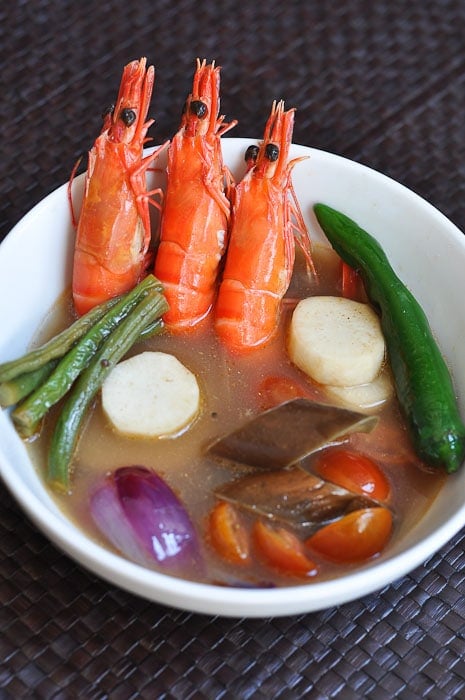 I haven't had guest bloggers on Rasa Malaysia for a while, and am very happy to have Trissa of Trissalicious as a guest writer today. Trissa is one of my recipe testers and certainly one of the most trusted ones (thanks so much for your help!).
Her passion in food can be seen on her gorgeous food blog Trissalicious. In this post, Trissa shares a classic Filipino recipe—Shrimp Sinigang.
I have always wanted to learn more about Filipino cuisine, and Shrimp Sinigang is very high on my list. Imagine big, fresh, succulent shrimp swimming in a savory, sweet, and sour broth…the thought of it instantly sets my mouth watering. Please give your warmest welcome to Trissalicious.

Pucker up with Shrimp Sinigang…
Sour, salty, with a hint of sweet and bitter, Sinigang is one of the Philippine's most loved dishes. In fact, the late Doreen Fernandez, who was one of the most respected food writers in the Philippines once argued that sinigang, rather than adobo should be considered the national dish of the Philippines, after all, Filipinos are the champion lovers of sourness…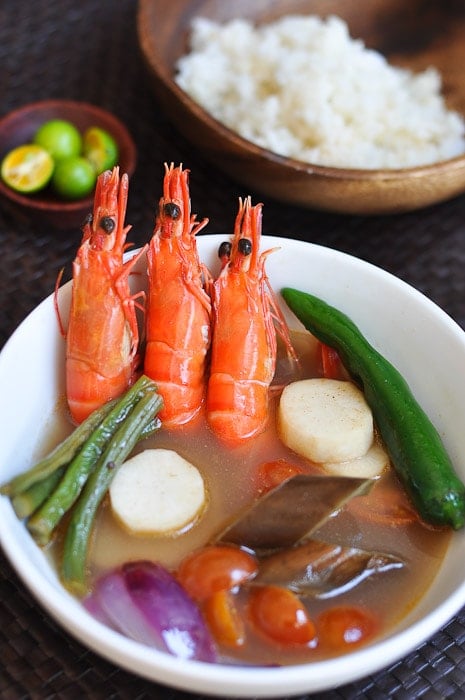 Sinigang is a soup whose flavor is soured with fruits abundant in the Philippines like tamarind, guava, green mangoes or bilimbi (kamias).
The dish is easily adaptable depending on what protein is on hand, but most frequently made with pork, beef, or prawns. The soup is also rich in vegetables that are easily available in the Philippines like daikon, eggplants, snake beans and water spinach.
Despite sinigang being one of my favorite comfort foods, I'm embarrassed to admit that I've always used a mix to make it. Every time my parents visit from the Philippines they bring me a care package which includes packets of "instant sinigang mix".
So it was definitely with a mix of excitement and apprehension that I attempted this dish from scratch. To create that signature sourness I chose tamarind.
As a fruit it is quite difficult to come by overseas but tamarind pulp is readily available in Asian groceries. To make the base of the soup, tamarind pulp is soaked in hot water for a few minutes and then mashed, strained and added to the pot.
Sinigang is never complete without a bowl of steaming white rice and what we refer to as sawsawan, a dipping sauce made with fish sauce, calamansi and a bit of chili. Together, with the rice, you have a complete dish.
I am grateful to Bee for giving me this opportunity to share with you a dish that is distinct to the Filipino palate and yet appeals to everyone else.
What started out as a quest to create sinigang from scratch has made me more proud than ever of my wonderful cuisine.
Sour, salty, with a hint of sweet and bitter… this dish takes me back to the Philippines every single time.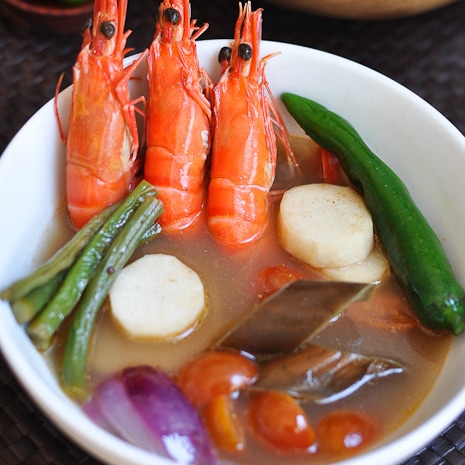 Shrimp Sinigang Recipe
Shrimp Sinigang (Sinigang na Hipon) Recipe.
Ingredients
100

grams

tamarind pulp, soaked in a cup of hot water for 15 minutes

24

pieces

fresh prawns

2

tablespoons

vegetable oil

1

red onion, sliced

2

large tomatoes, quartered (or 8 cherry tomatoes)

1

green chili

8

cups

rice wash*

1/2

bunch

snake beans, cut the size of 2 inches

1

daikon, peeled and sliced

2

Japanese eggplants, sliced

1

bunch

water spinach, also known as kang kong or morning glory

¼

cup

fish sauce, or to taste

1

teaspoon

sugar or to taste
Instructions
Heat the vegetable oil in a deep pot and sauté the red onion, tomatoes and green chili for two to three minutes.

Strain the tamarind pulp into the pot and add the rice wash. Bring this to a boil and then turn down to a simmer to cook the vegetables.

For the vegetables, add them to the pot according to how long they take to cook. Add the vegetables that take longer to cook first. As an estimate, the snake beans will take around 7 minutes, the daikon and eggplant around 5 minutes and the water spinach around 3 minutes.

Once the vegetables are done, add the prawns which should take only around 3 minutes or so to cook.

Finally, add the fish sauce and sugar and adjust the seasoning to your liking.
Recipe Notes
*Rice wash is the water that the rice has been rinsed in. It is normally
Nutrition Facts
Shrimp Sinigang Recipe
Amount Per Serving (6 people)
Calories 157
Calories from Fat 54
% Daily Value*
Total Fat 6g 9%
Cholesterol 10mg 3%
Sodium 860mg 36%
Potassium 1046mg 30%
Total Carbohydrates 224g 75%
Protein 22g 44%
* Percent Daily Values are based on a 2000 calorie diet.
If you try my recipe, please use hashtag #rasamalaysia on social media so I can see your creations! Follow me on Facebook | Instagram | Pinterest | Twitter for new recipes, giveaways and more.