Mango Sticky Rice is sweetened sticky rice served with fresh mangoes. This dessert is served after a meal and very popular in Thailand and Southeast Asia. This is an easy and authentic recipe to make at home!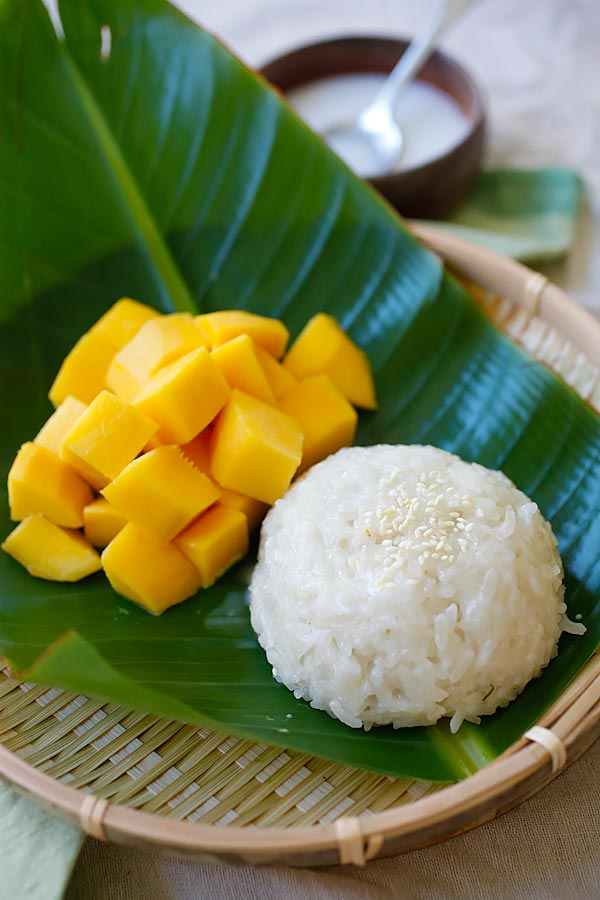 Sticky Rice
Sticky rice is also known as glutinous rice because the rice is sticky and gluey in texture.
It's widely cultivated in Southeast Asia and one of the mainstays of Thai cuisine.
Sticky rice is commonly served with a sweet or savory topping of lentils or beans. However, the best sticky rice recipe comes with ripe and juicy fresh mangoes.
Mango Sticky Rice Recipe
What is mango sticky rice?
It's a popular dessert in the Indochina region (or in French "Indochine") of Southeast Asia: Thailand, Laos, Cambodia and Vietnam.
Mango sticky rice is made with coconut milk, sugar, salt and mango cubes. The combination of mango and sticky rice are so delicious. If you love mangoes, you should also try out Mango Pomelo Sago, another amazing mango dessert.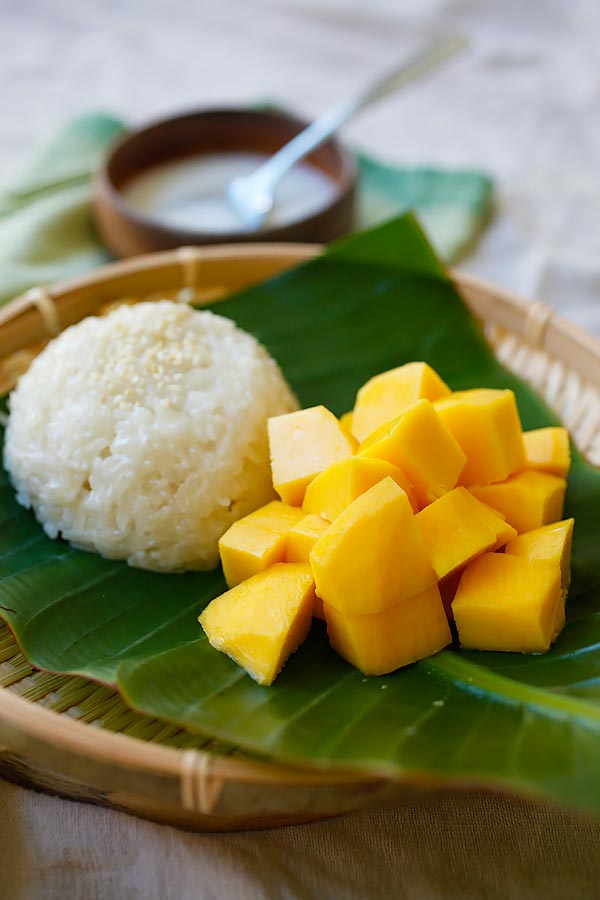 Other Recipes You Might Like
Ingredients for Thai Mango Sticky Rice
This sticky rice recipe calls for just a few simple ingredients:
Fresh and ripe mangoes
Glutinous rice or sticky rice
Coconut Milk
Sugar
Salt
Pandan leaves
Other than mangoes, you may use durian for this delicacy.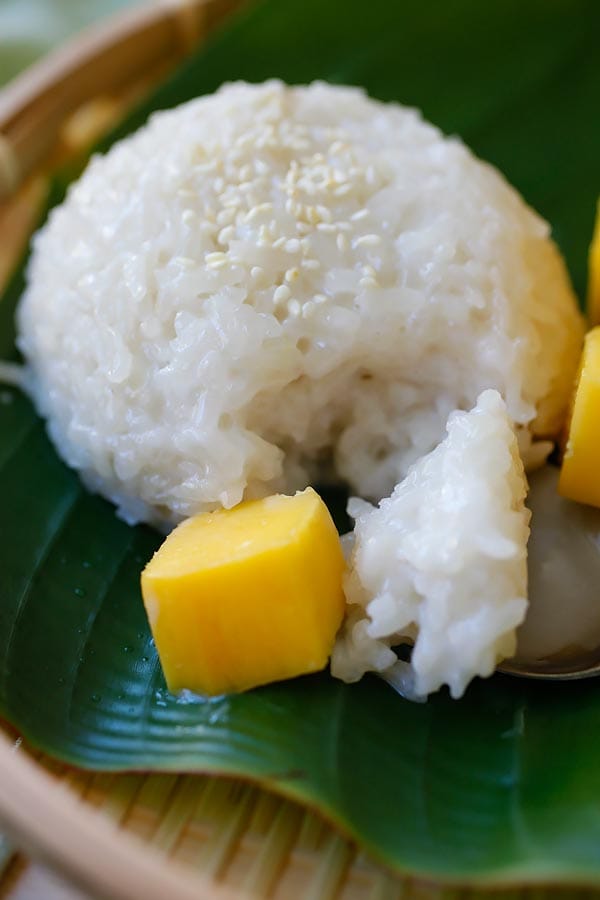 How to Make Sticky Rice?
Here are the steps to cook sticky glutinous rice:
Prepare a steamer for steaming. Drain the glutinous rice and spread it out inside the steamer.
Steam the glutinous rice for 20-25 minutes or until translucent.
Add coconut milk to the cooked glutinous rice until it becomes a thick and sticky consistency.
Cook's Tips for Sticky Rice Recipe
Sticky rice is the star of the dish. Make sure that the cooked sticky rice is soft, sticky but retains a good bite. It shouldn't be mushy.
The coconut milk and sugar should be in the perfect ratio so it's not too sweet and overwhelm the natural sweetness of fresh mangoes.
Choose Asian mangoes from Thailand or Indian. They are sweeter in taste with vibrant orange flesh.
Frequently Asked Questions
How Do You Reheat Sticky Rice?
Microwave is the best way to reheat sticky rice. Warm the rice for 1-2 minutes in the microwave.
Make sure you cover the rice with plastic wraps before reheating in the microwave.
If you don't have a microwave at home, you can reheat by steaming the sticky rice in a steamer.
How Long Can Sticky Rice Last?
Cooked glutinous rice will last for about 4-7 days in the fridge however it's best to eat in 2 days.
How Many Calories per Serving?
This mango sticky rice recipe is only 222 calories.
What Dishes to Serve with this Recipe?
This recipe is best served as a dessert. For a wholesome Thai meal and easy weeknight dinner, I recommend the following recipes.

5 Secrets to 20 Min Dinners
Get tricks for quick & easy meals!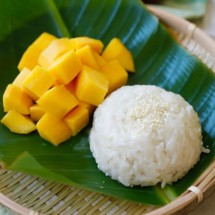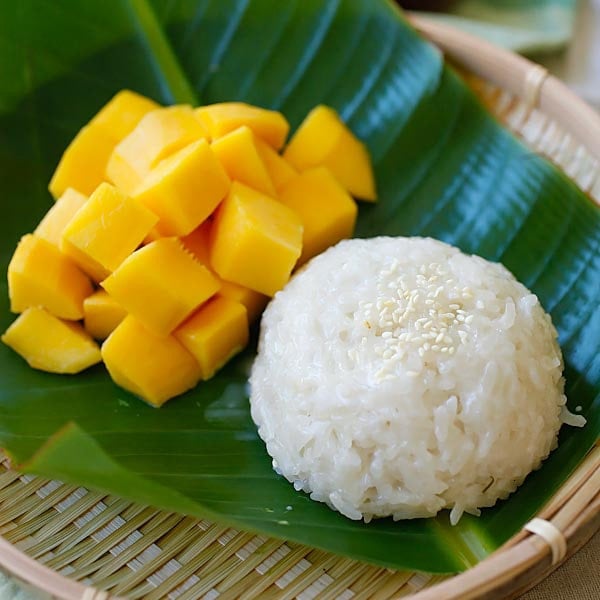 Mango Sticky Rice
Mango Sticky Rice is sweetened sticky rice with fresh mangoes. This dessert is very popular in Thailand and Southeast Asia. It's so easy to make at home!
Ingredients
1

cup

glutinuous rice (sticky rice)

2-3

pandan leaves

screwpine leaves, cut into 2-inch length

2-3

fresh ripe mangoes

peeled and cut into small cubes

1

cup

coconut milk

1/4

cup

sugar

1/2

teaspoon

salt

1

tablespoon

toasted sesame seeds

optional
Click Here for Conversion Tool
Directions
Soak the glutinous rice for at least 8 hours or overnight.

Prepare the steamer with a banana leaf. Drain the glutinous rice and spread it out on the banana leaf. Throw in the Pandan leaves. Steam the glutinous rice for 20-25 minutes or until translucent.

While the rice is cooking, cut the mangoes into small cubes and chill in the refrigerator until use.

In a sauce pan, heat up the coconut milk over low heat. Add in the salt and sugar. Keep stirring until the sugar dissolved. Remove from the heat. Pour out 1/4 cup of the coconut milk and reserve for serving.

When the glutinous rice is cooked, transfer it in to a bowl. Pour the rest of the coconut milk into the bowl and mix it with the glutinous rice. Keep stirring until it becomes a thick porridge consistency. Slowly, the rice will absorb all the coconut milk. Leave it to cool to room temperature.

Serve the sticky rice with the chilled mangoes. Drizzle the reserved coconut milk over the rice and top it with some toasted sesame seeds.
Recipe Video
Recipe Notes
You can use a muslin/cheese cloth to steam the glutinous if you do not have a banana leaf. Pandan leaves are usually found in the frozen section of Asian grocery stores. You can omit the Pandan leaves if you don't have them readily available. This is used to give the sticky rice an extra fragrant.
Nutrition Facts
Mango Sticky Rice
Amount Per Serving (4 people)
Calories 222
Calories from Fat 108
% Daily Value*
Fat 12g18%
Sodium 299mg13%
Carbohydrates 30g10%
Protein 2g4%
* Percent Daily Values are based on a 2000 calorie diet.