Easy and the best Thai shrimp cakes made of shrimp, red curry paste, long beans and coconut milk. Learn how to make these amazing appetizers with the step-by-step recipe.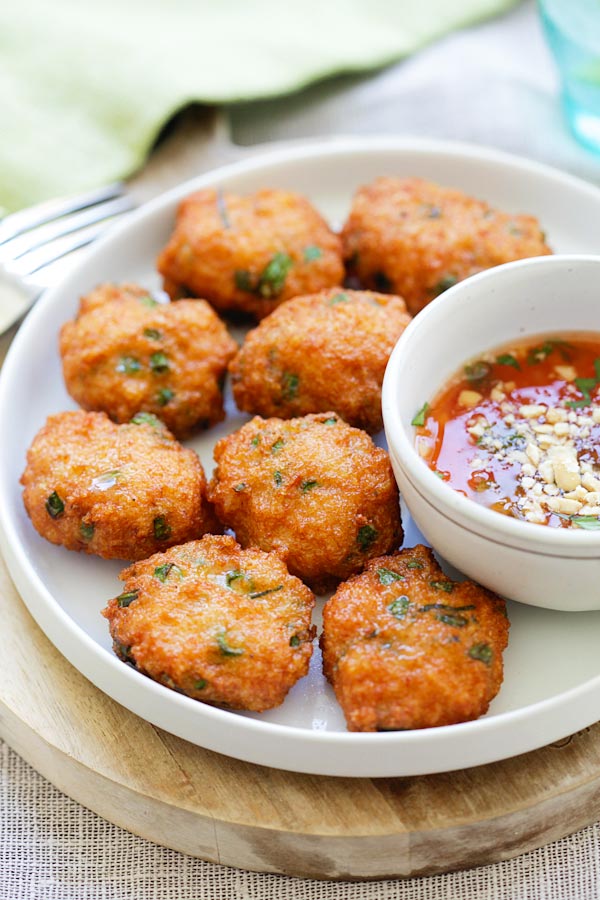 Shrimp Cakes
I love shrimp recipes because shrimp is my favorite seafood.
Shrimp cakes are definitely one of my favorites, especially Thai version of them.
This Thai shrimp cake recipe is from my good friend Robert Danhi's Easy Thai Cooking cookbook.
If you love Thai recipes and wish to explore beyond green curry, Tom Yum and Pad Thai and Pad See Ew, please try this Thai shrimp cakes recipe.
I will assure you that this is the best and most delicious recipe ever!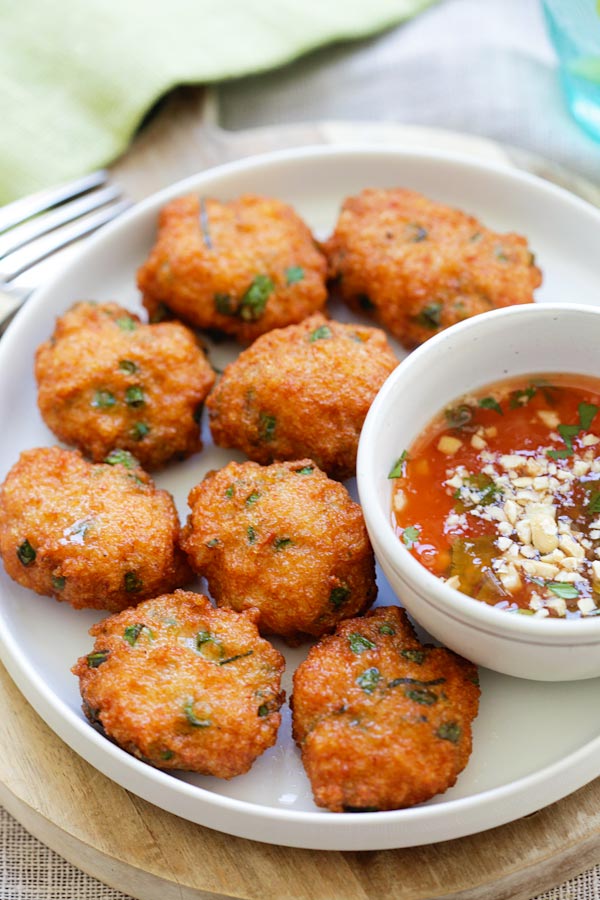 Other Recipes You Might Like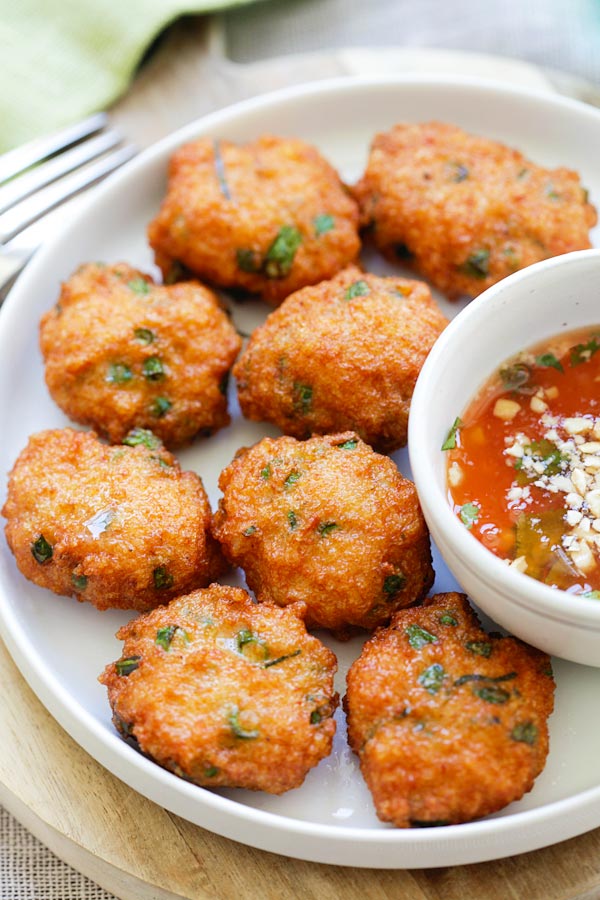 How to Make Shrimp Cakes?
It's very easy to make Thai shrimp cakes. The recipe calls for only a few ingredients:
Peled and deveined shrimp (size doesn't really matter in this recipe)
Thai red curry paste
Long beans
Coconut milk
Roughly chopped up the shrimp to form a sticky shrimp paste. You may also use a food processor to process the shrimp into a fine paste.
Next, shape the shrimp into a patty.
The final step is to pan fry the shrimp cakes with cooking oil. Serve them with Thai sweet chili sauce.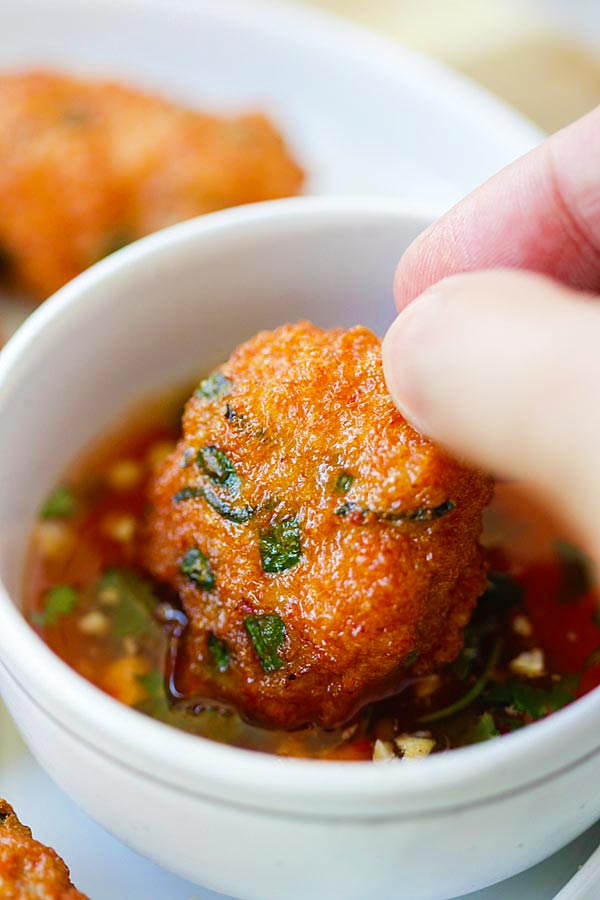 Frequently Asked Questions
Can I Use Cooked Shrimp to Make Shrimp Cakes?
No, you cannot use cooked shrimp for this recipe.
In order to form the cakes, you will need raw shrimp.
Are Shrimp Cakes Keto?
Yes, they are. There is no carb in the recipe, so they are 100% keto-friendly.
How Many Calories per Serving?
This recipe is only 152 calories per serving.
What Dishes to Serve with This Recipe?
For a wholesome meal and easy weeknight dinner, I recommend the following recipes.
5 Secrets to 20 Min Dinners
Get tricks for quick & easy meals!
Yield: 5 people
Thai Shrimp Cake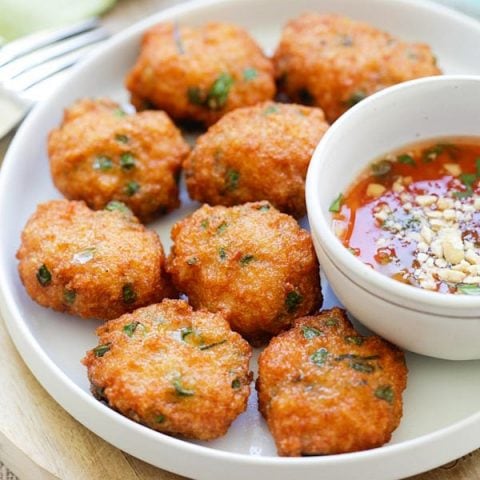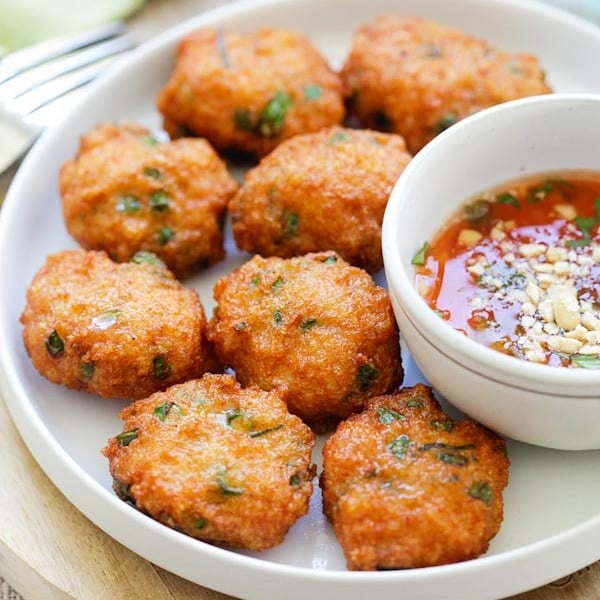 Thai Shrimp Cake - best Thai shrimp cake recipe loaded with shrimp, red curry, long beans and served with sweet chili sauce. So good!
Ingredients
8 oz. (250 g) peeled and deveined raw shrimp, roughly chopped
2 tablespoons red curry paste
1 large egg
2 teaspoon fish sauce
1 tablespoon sugar
2 tablespoons coconut milk
1/4 cup (25 g) chopped long bean/ green beans
2 tablespoons roughly chopped Thai basil leaves
2 tablespoons oil
Sweet Chili Sauce:
1/4 cup (65 ml) Thai sweet chili sauce
1 tablespoon fresh lime juice
2 teaspoon chopped coriander leaves, cilantro
1 teaspoon minced ginger
Instructions
Prepare the Sweet Cilantro Sauce by whisking all the ingredients together in a small bowl and then set aside.
Spread the shrimp on a plate and chill the shrimp in the freezer for 15 minutes(this can ensures the springy texture of the shrimp cakes). Meanwhile get all your other ingredients ready. Combine the chilled shrimp, red curry paste, egg, fish sauce, sugar and coconut milk in a food processor or blender. Process until smooth, about 30 seconds. Transfer the mixture to a mixing bowl. Mix in the green beans and basil.
Because different brands of curry pastes have differing amounts of salt you'll want to make a sample shrimp cake first by saute 1 tablespoon of the mixture in a skillet(frying pan). Taste, and if necessary, adjust the seasoning with fish sauce and salt.
Heat a large skillet over medium heat. First use 1 tablespoon of the oil to coat the skillet, use a measuring spoon to drop 1 tablespoon of the paste into the skillet. With a damp finger, flatten the paste slightly to about 1/2" thick. Make about 10 of these shrimp patties in the skillet.Cook the cakes until they are golden brown on each side and cooked through, about 2 minutes per side. Wipe out the skillet with a paper towel, make more patties from the remaining paste and cook the same way. Serve with a side bowl of the Sweet Chili Sauce.
Nutrition Information
Serving Size
5 people
Amount Per Serving
Calories

152
Total Fat

9g
Saturated Fat

6g
Cholesterol

90mg
Sodium

586mg
Carbohydrates

11g
Fiber

1g
Sugar

9g
Protein

8g