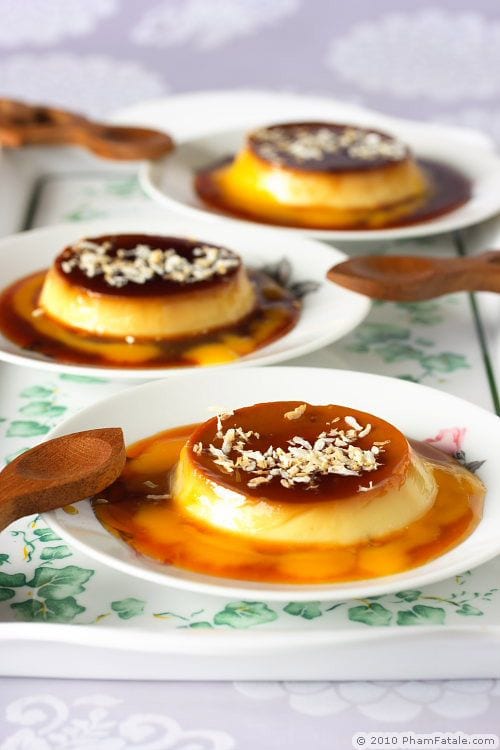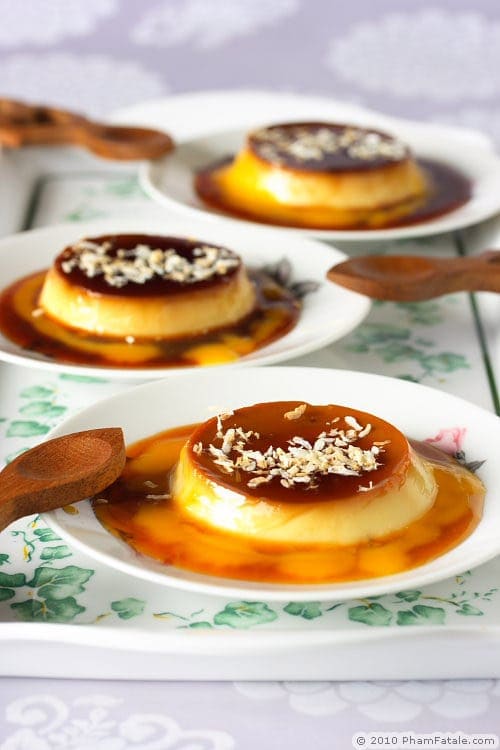 It's Friday and let's serve up something sweet for the weekend. I am not particularly strong in the desserts department, so I have Jacqueline Pham of PhamFatale sharing her mango and coconut creme caramel recipe with us.
Creme caramel with a tropical and Asian twist, what's not to like? PhamFatale is food blog with many interesting and delicious recipes, thanks to the exotic background of Jackie—a French-Vietnamese born and raised in Paris, and currently resides in San Francisco, so do expect to find a variety of Asian, French, and Asian-inspired recipes on her blog. Please give your warm welcome.
I've been posting recipes every day on my site, PhamFatale.com for a year now. The dishes are a chronicle of what we eat in my home, and a reflection of the diversity of the members of my family. I was born and raised in Paris, France, but my family is originally from Vietnam. My husband is of Indian descent, but grew up in the US. He also happens to be a vegetarian.
One thing my husband and I can agree upon, culinarily speaking, is our love of desserts. Since I got married, I have introduced him to a myriad of decadent French desserts, such as crème brulée and madeleines.
Over the holidays I had a craving for crème caramel, and prepared quite a few batches. I experimented with several different flavor combinations, but my absolute favorite was mango and coconut. The dessert not only embodies both my French upbringing and Vietnamese roots, but tastes great too.
The acidity and fruity notes of the mango balance out the sweetness of the caramel and the richness of the coconut cream and heavy cream. Mango goes incredibly well with the caramel sauce.
I often try to cook depending on what's available in season, but during the winter that can be a challenge. Canned mango pulp and coconut milk are great because they're always available and consistently good. Plus, who couldn't use a taste of the tropics when it's freezing cold outside!
The recipe for my mango and coconut crème caramel can be found below. I'm both surprised and flattered that Bee asked me to post a recipe here on Rasa Malaysia; I hope you like it.
How Many Calories Per Serving?
This recipe is only 372 calories per serving.
5 Secrets to 20 Min Dinners
Get tricks for quick & easy meals!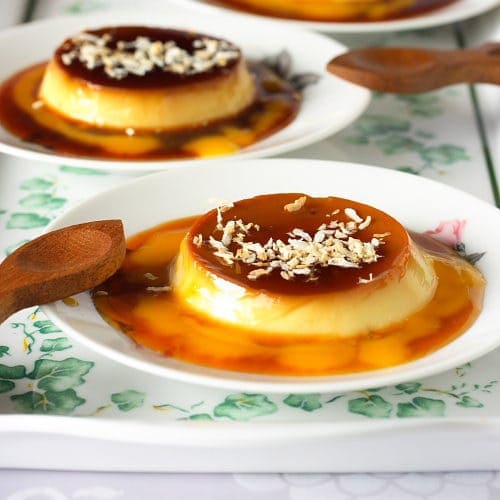 Mango and Coconut Creme Caramel Recipe
Mango and Coconut Crème Caramel: The acidity and fruity notes of the mango balance out the sweetness of the caramel and the richness of the coconut cream and heavy cream. Mango goes incredibly well with the caramel sauce.
Ingredients
1-1/2

cups

superfine sugar, or granulated sugar

3

tablespoons

water

1

cup

heavy cream

1

cup

coconut cream

2/3

cup

milk

3

egg yolks

3

eggs

2

teaspoons

mango extract

1

teaspoon

coconut extract

2/3

cup

mango pulp, see tips

3/4

teaspoon

green peppercorns, coarsely crushed, (optional)

2

tablespoons

sweetened coconut flakes, slightly toasted
Click Here for Conversion Tool
Directions
Preheat the oven to 300°F.

Line up 6 (6-ounce) ramekins. In a small saucepan, gently dissolve a scant cup of sugar with water. Bring to a full boil, then lower to medium-low until the caramel becomes golden brown (about 5-6 minutes). As soon as the caramel is the right golden brown color, pour a layer of caramel into each ramekin.

In a small saucepan, combine the coconut cream, heavy cream, milk and green peppercorns. Bring to a near boil. Remove from the heat right away. Let the liquid cool a bit.

Separately, whisk the egg yolks and whole eggs with the rest of the sugar in a mixing bowl until it becomes pale yellow. Add the mango and coconut extracts. Add the dairy liquid with the egg mixture by slowly adding a ladle at a time to prevent the yolks from curdling. Add 5 tablespoons of mango pulp.

Strain through a fine mesh. Discard the solids (green peppercorns) from the strainer. Fill the 6 ramekins with the mixture. Place them in a warm water bath in a deep baking pan. The water should go half-way up the side of the ramekins. Bake for 10 minutes at 300°F, then lower the heat to 275°F and bake for an additional 45-50 minutes. The texture of the crème caramel should be jiggly but not too liquid.

Let the crèmes cool first, then plastic-wrap each individual ramekin and refrigerate for at least 4 hours. The texture will become firmer.

When serving, place a dessert plate onto each ramekin and turn both upside down to unmold the crème caramel onto the plate. Drizzle 1 tablespoon of mango pulp around each crème caramel. Finish by sprinkling 1 teaspoon of coconut flakes.
Recipe Notes
This recipe yields 6 (6-ounce) ramekins or 14 (2.75-ounce) mini-ramekins.
I prefer using canned mango pulp because the mangoes are picked at the peak of ripeness, which guarantees a consistent result. I buy it at an Indian store but you can also get it online. I prefer the Kesar mango variety, which is much smaller than the Alphonso kind and much sweeter.
You can also use a fresh ripe mango if you don't have canned mango pulp. You might need to check the level of sweetness though, and the texture of the custard could be more watery.
You can find coconut cream in Asian stores, specialty food stores, online or even in some local chain markets in the International Cuisine aisle. It is sold in different-sized packages (a 7-ounce version is available).
If you don't have coconut cream, you can use a blend of whole milk and heavy cream and increase the quantity of coconut extract.
Set aside the egg whites in the refrigerator and save them for making almond tuiles cookies (literally "roof tiles" in French).
When making the caramel, make sure all the sugar is dissolved and there is no sugar on the side of the saucepan. This way no sugar gets burnt and you have an easier clean-up. Prior to placing the saucepan on the stove, I usually slightly dissolve the sugar by creating a swirl in the center of the saucepan with my finger. During the caramelization process, if you see sugar on the side of the saucepan, just brush the side with a wet brush. Believe me, it's so hard to get burnt sugar off a pan!
When making caramel, you have to be very careful. Don't leave the stove, even if the phone rings or someone's at the door. If you wait too long, the caramel will taste bitter or even worse, it will burn. So watch your caramel carefully as it changes color very fast.
As opposed to crème caramel, crème brulée has a hard caramel topping. Check out my other French custard desserts.
Infusing green peppercorns in the cream enhances the flavor of mango. I've also tried this recipe using white peppercorns, but I think the woody taste of the green peppercorns is much milder and sweeter.
Flip the crème caramel only when you're ready to serve. If you want to be even more cautious, you can use a paring knife around the crème caramel right before flipping the ramekin.
When it's time to clean up, just boil some water and pour the hot water into the ramekins so the caramel dissolves for easy clean-up.
Nutrition Facts
Mango and Coconut Creme Caramel Recipe
Amount Per Serving (6 people)
Calories 372
Calories from Fat 216
% Daily Value*
Fat 24g37%
Cholesterol 180mg60%
Sodium 113mg5%
Potassium 303mg9%
Carbohydrates 34g11%
Protein 7g14%
Vitamin A 930IU19%
Vitamin C 4.7mg6%
Calcium 67mg7%
Iron 4.9mg27%
* Percent Daily Values are based on a 2000 calorie diet.