Minced Chicken and Pork Rolls (Jijuan) – Protein (meat) wrapped with bean curd skin and deep-fried to perfection. Enjoy this scrumptious recipe!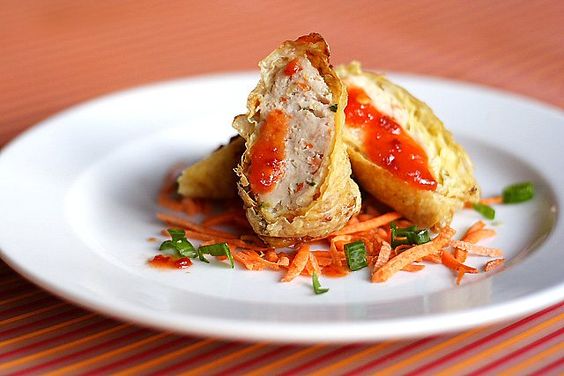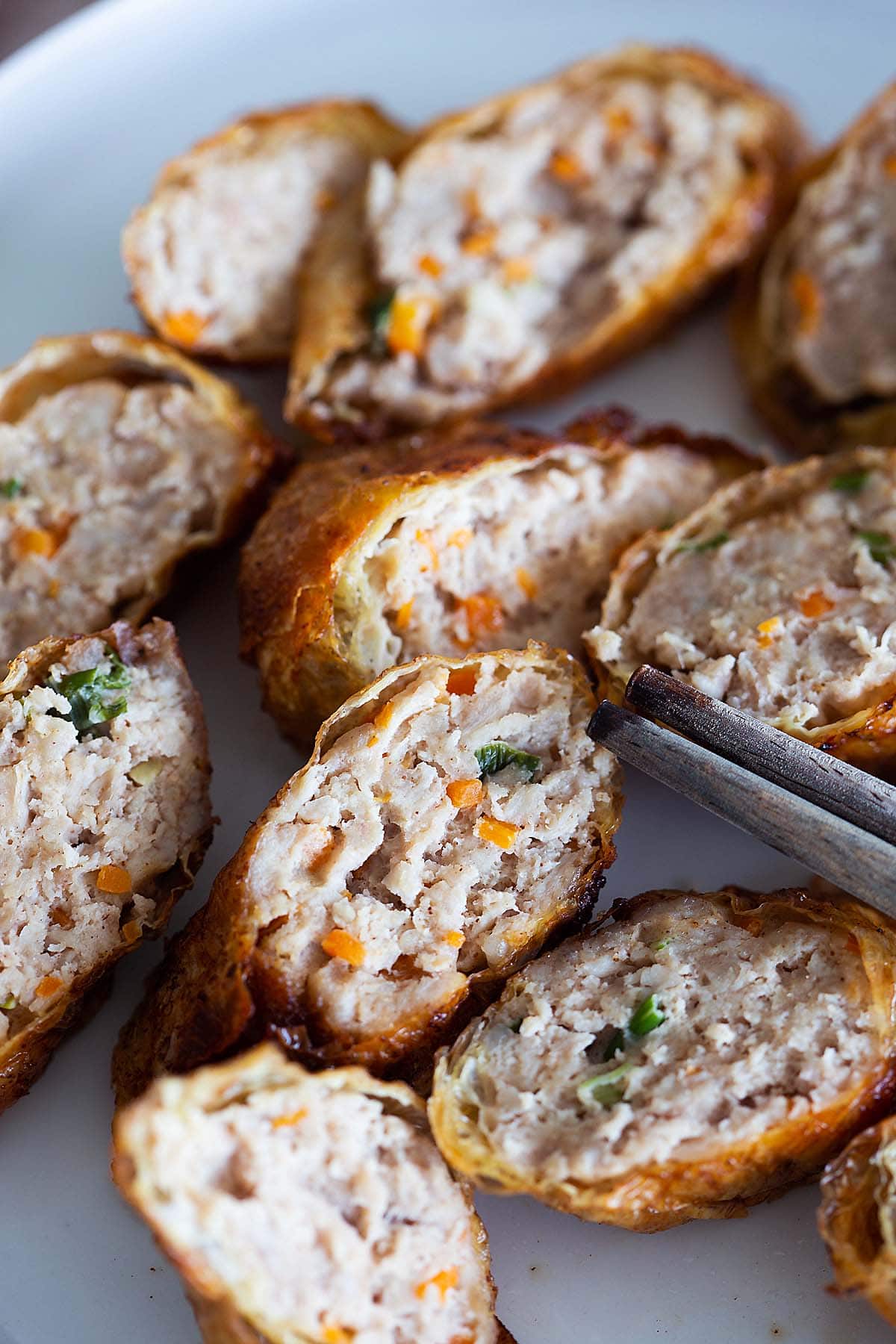 Having a food blog is great, really.
Other than the dedication to constantly whipping up good food (and try not to repeat the same dish in order to generate new content!), I also learn to experiment with different cuisines and recipes that I wouldn't have attempted otherwise.
(I mean, why would I want to cook a dish when there is no real purpose of preparing it at home and that it's easily available in the restaurants?!)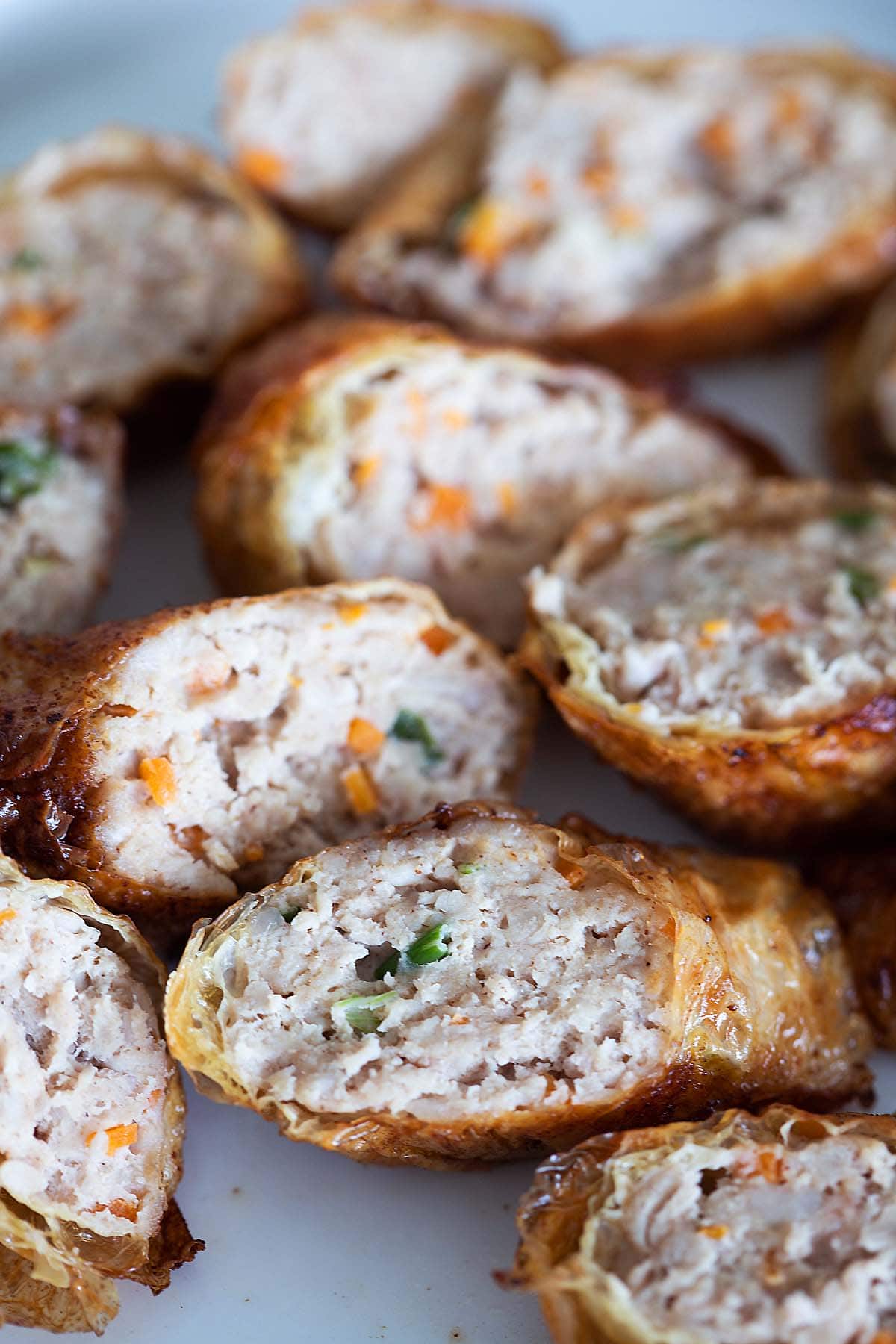 Rasa Malaysia adds colors to my life; there is the food styling, presentation, photography which I am more and more addicted to as days go by, and of course, there are just endless recipes that I can play and experiment with.
Plus, my food blog makes me think harder about food, for example: how do I make use of those leftover ingredients that I have accumulated in the refrigerator, like since last December?
I have become a lot more creative and innovative in the kitchen, that's for sure. Eating better on a daily basis is just an extra perk…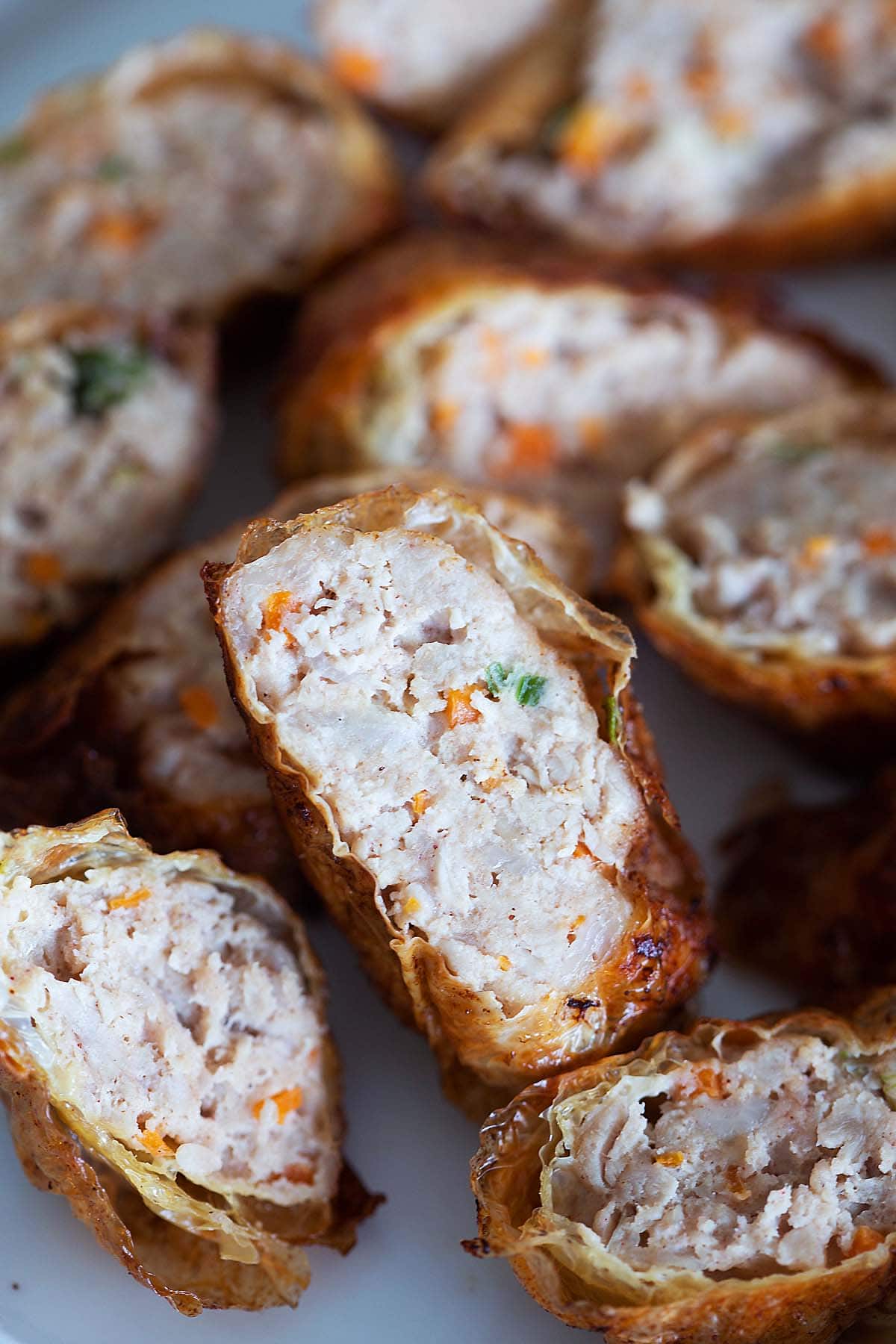 Last week, I used bean curd skin to make some mouthwatering Vietnamese Tau Hu Ky.
Soon after that, I tossed some of them into my Bak Kut Teh, but still, I had a few pieces left. Inspired by >For the Love of Food/a>, I went ahead and made these pleasing Taiwanese minced chicken and pork rolls, or "Ji Juan" (鸡卷).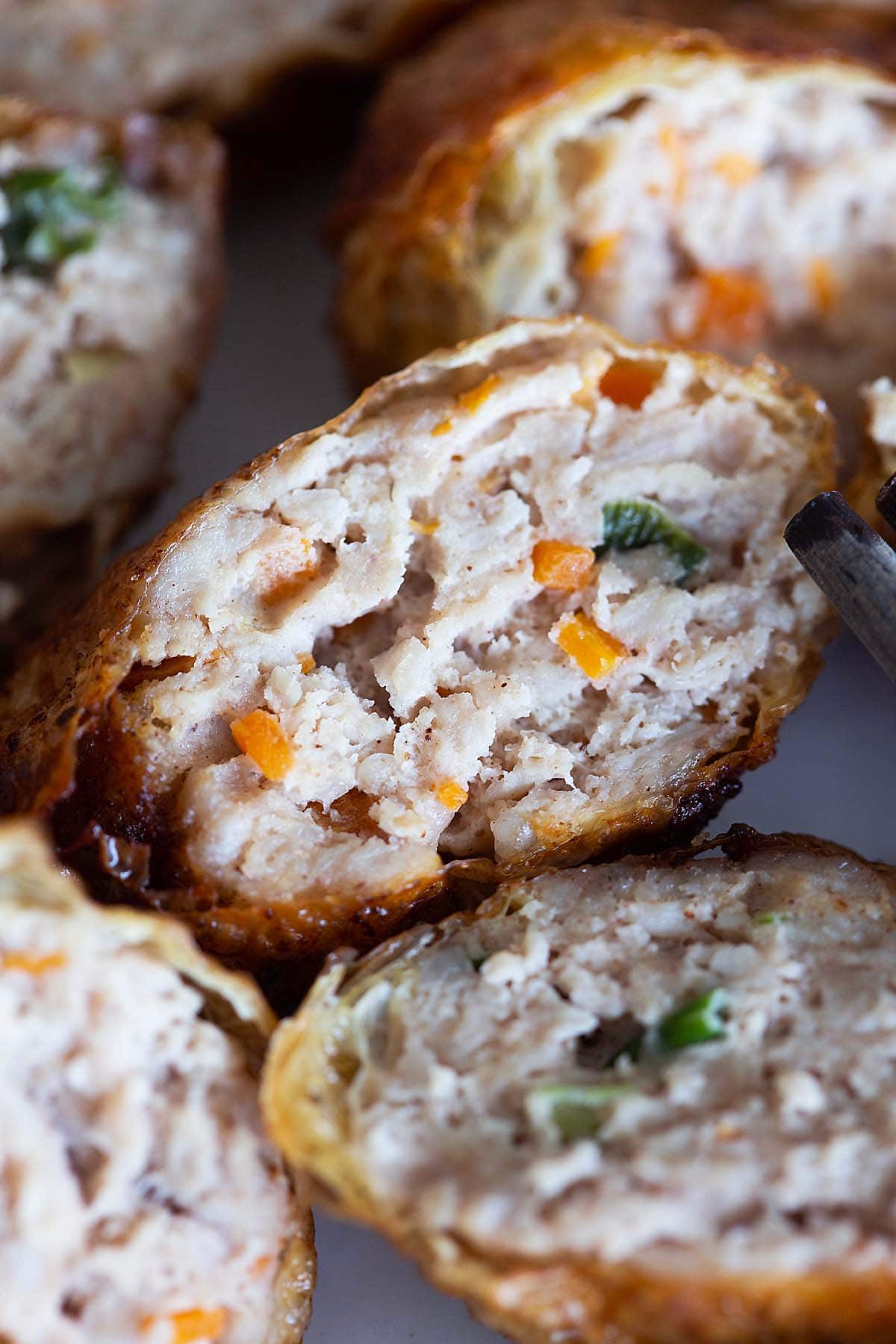 Taiwanese Ji Juan is not exactly Lor Bak (Malaysian five-spice pork rolls), but the principle is basically the same–protein (meat) wrapped with bean curd skin and deep-fried to perfection.
Since I could never get enough of Ji Juan whenever I eat out at Taiwanese restaurants, I am just happy that I can churn out these meaty and savory bites in my own kitchen now.
But there is one drawback–I will need to upgrade my cheapo $20 deep fryer pronto so cooking oil doesn't splatter all over my counter top, the wood flooring, and my FACE!
Now that's a good problem to solve.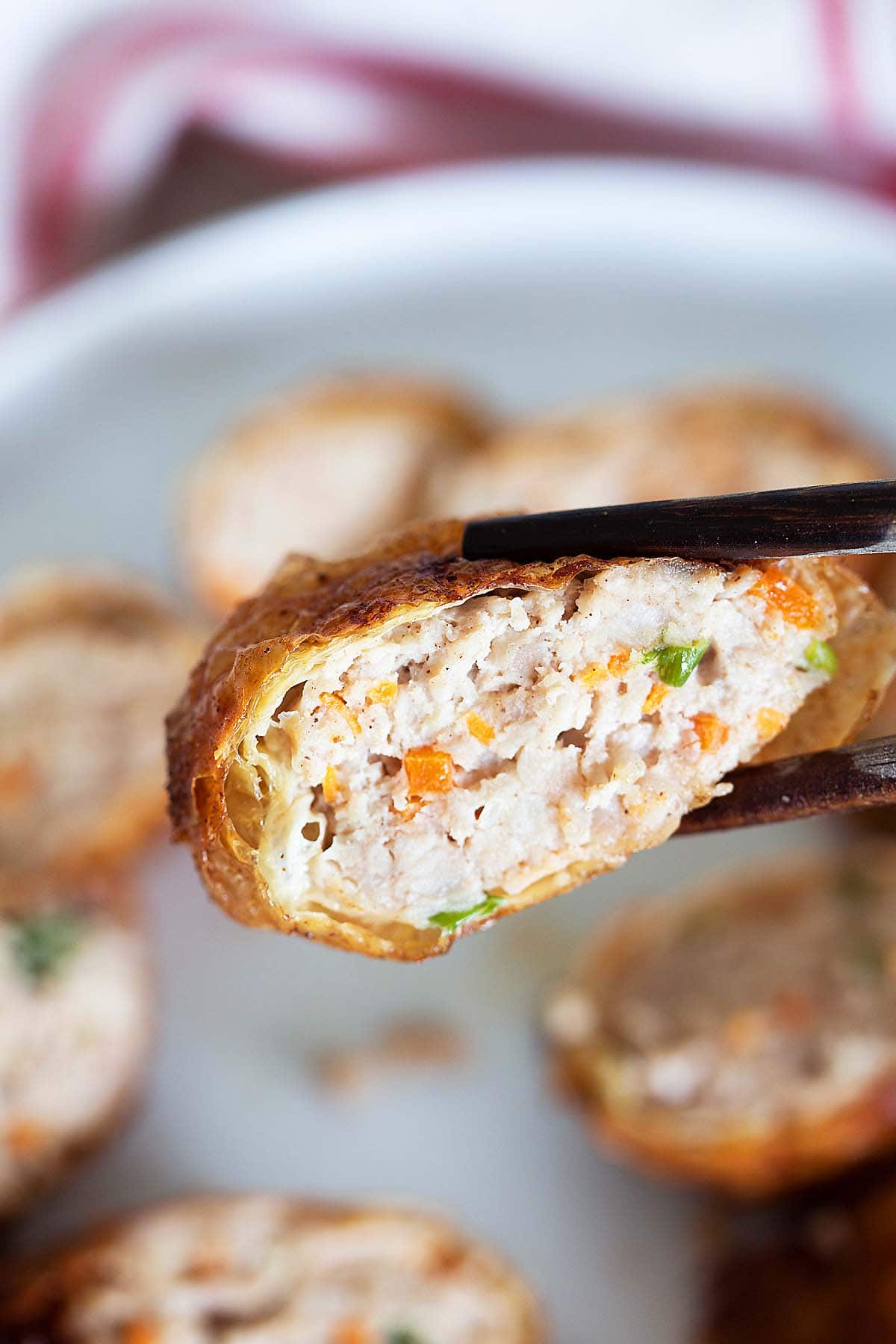 How Many Calories per Serving?
This recipe is only 254 calories per serving.
What Dishes to Serve with This Recipe?
For a wholesome meal and easy weeknight dinner, I recommend the following recipes.
5 Secrets to 20 Min Dinners
Get tricks for quick & easy meals!
Yield: 4 people
Minced Chicken and Pork Rolls (Jijuan)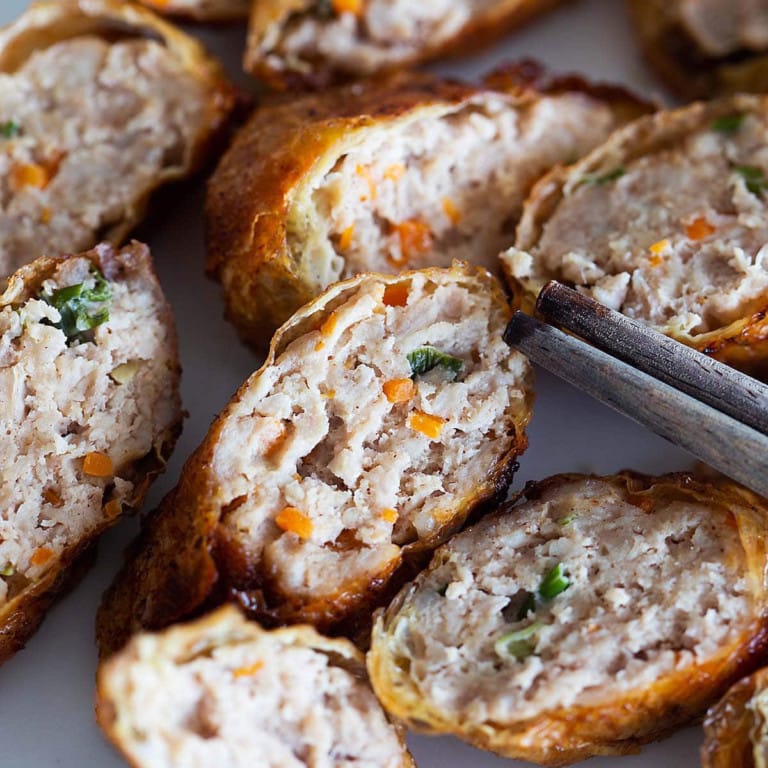 Minced Chicken and Pork Rolls – Protein (meat) wrapped with bean curd skin and deep-fried to perfection.

Prep Time 10 minutes

Cook Time 20 minutes

Total Time 30 minutes
Ingredients
1/2 lb. (0.2 kg) chicken,chicken breast or chicken thigh
1/2 lb. (0.2 kg) pork, with a little fat
1/2 carrot, shredded
10 shrimp, optional
1 stalk scallion, chopped finely
bean curd skin, cut into 6 in. by 6 in. pieces
1/8 teaspoon sesame oil
1/8 teaspoon salt
1/4 teaspoon sugar
1/8 teaspoon Lee Kum Kee chicken bouillon powder
1/2 tablespoon oil
5 dashes white pepper, powder
oil for deep frying
Instructions
Mince the chicken and pork meat with a mini food processor or with hand.
Add shredded carrot, chopped scallion, and all the seasoning into the minced meat and stir-well. Set aside.
On a dry surface, lay out the bean curd skin. Use a damp cloth to moisten the skin.
Place 2 - 2.5 tablespoons of minced meat onto the lower center of the bean curd skin. Leave about 1/2 inch (1 cm) on both sides.
Fold the sides inwards and roll it up. Use some water or the minced meat to seal.



In a deep fryer or frying wok, add enough cooking oil for frying purposes.



Once the oil is heated, add in the meat rolls and deep fry to golden brown.



Dish out and serve immediately with chili garlic sauce or sweet chili sauce.


Notes
To learn more about Lor Bak, click here to read Tigerfish's definition.
Nutrition Information
Yield
4
Serving Size
4 people
Amount Per Serving Calories 254Total Fat 15gSaturated Fat 4gUnsaturated Fat 0gCholesterol 114mgSodium 307mgCarbohydrates 2gProtein 24g