Sausage Rolls - easy sausage roll recipe that calls for 3 basic ingredients: sausage, bread flour and butter. Make this delicious pastry at home today.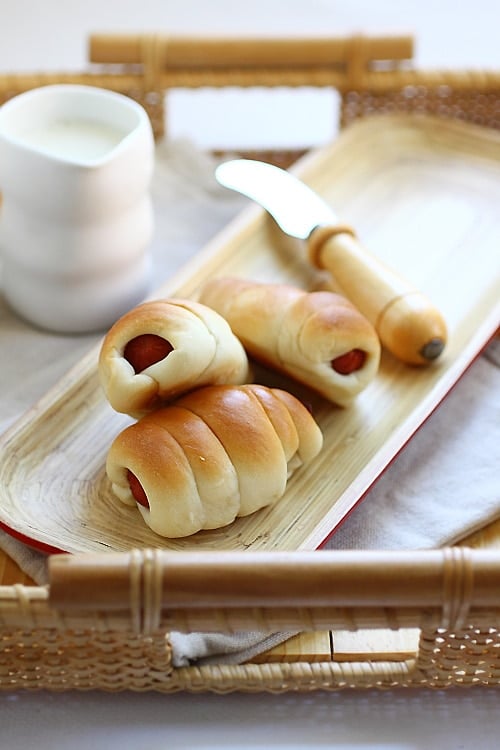 Easy Sausage Rolls
I have wanted to make sausage rolls for the longest time. They are a delicious and savory pastry snack.
This recipe is probably more Asian than western baking.
If you go to dim sum restaurants or Chinese bakery shops, you will most likely find them, though I have also seen them at Japanese bakery shops.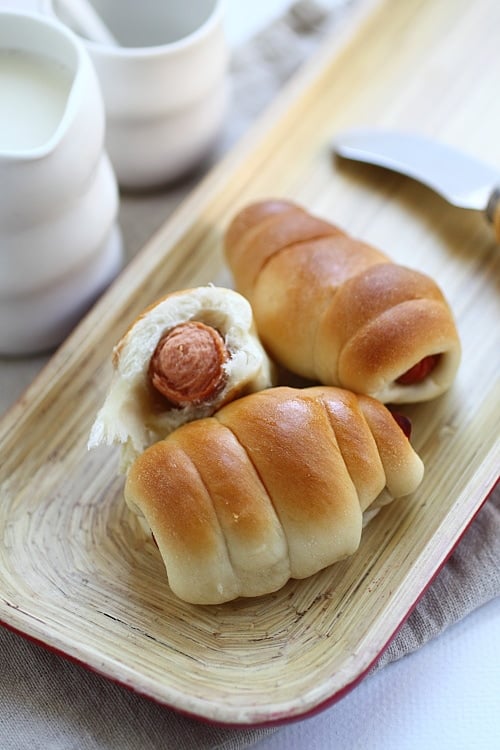 Ingredients for Sausage Roll Recipe
Bread flour
Instant dried yeast
Unsalted butter
Eggs
Whole milk
Sausages
How to Make Sausage Rolls
For the wrapping, I chose the easier method on Christine's Recipe (please click on the link to see the step-by-step picture guide).
The end result was these cute and gorgeous pastries that I just cannot stop eating.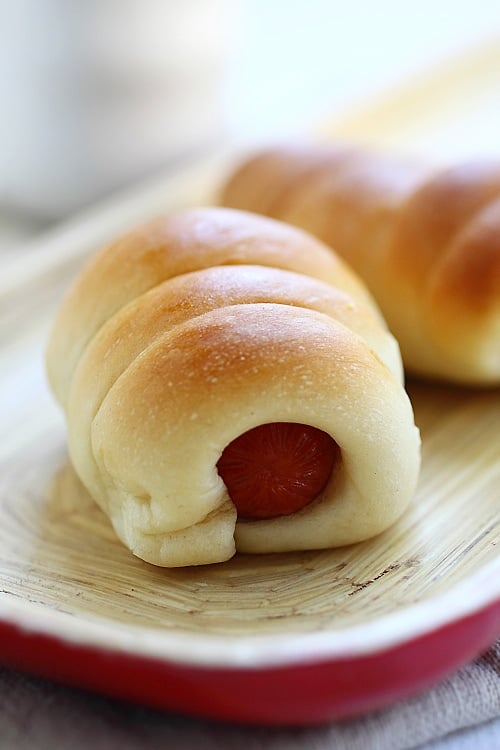 Frequently Asked Questions
Can I make sausage rolls the day before?
Yes, you can store covered up sausage rolls unbaked in the refrigerator for a day or two without anything happening to its quality. If it will be longer, it would be best to freeze them.
How long do fresh sausage rolls last?
If the sausages are stored correctly, they will last 3-4 days in the fridge.
How many calories?
This recipe has 363 calories per serving.
What Dishes to Serve with this Recipe?
This dish is best served as a snack. For a wholesome meal and easy weeknight dinner, I recommend the following recipes.

Pairs well with: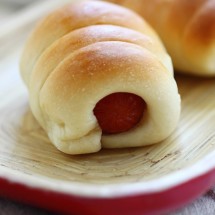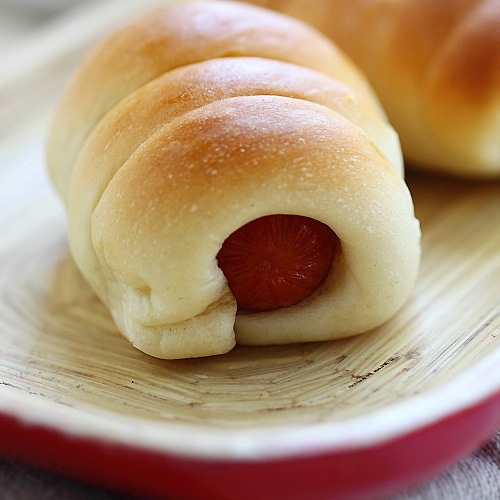 Sausage Rolls Recipe
Homemade Sausage Rolls. So soft, so yummy, and wrapped with your favorite sausage. Get the recipe now.
Ingredients
300

g

bread flour

5

g

instant dried yeast

10

g

sugar

6

g

salt

30

g

unsalted butter, room temperature

1

egg plus whole milk

about (220-230g)

8

pieces

sausages

1

egg white + 2 teaspoons water for egg wash
Click Here for Conversion Tool
Directions
Put ½ portion of the flour and yeast in a bowl and combine. Add the sugar and salt and mix well.

Pour the egg and milk mixture into the bowl. Use a large spoon (or pastry scraper) to mix everything together.

Put the remaining ½ portion of the flour into the bowl and knead briefly to combine all the ingredients.

Take the dough out of the bowl and knead. You will feel the dough become elastic after kneading for about 5 minutes.

Add the butter and knead the dough for 5-10 minutes or until the dough is soft, pliable, smooth and slightly shiny, almost satiny. You can also try stretching part of the dough, if it stretches into a thin sheet without breaking, the dough is ready.

Put the dough into a lightly buttered bowl and cover with a damp cloth. Let the dough rise in a warm place until its size doubles (1 – 1 ½ hour depending on the room temperature).

Take the dough out of the bowl, deflate it by touching lightly.

Cut the dough into 8 pieces, roll into a ball, cover with a damp cloth and let them rest for 10 minutes.

Use a rolling pin to roll the dough into long cylinders, about 40cm in length (depends on the length of the sausage). Roll to enclose the sausage, with the end of the dough facing down.

Place the rolls on a tray lined with parchment paper. Cover the rolls and let it rise until it almost doubles in size. Brush lightly with some egg wash. Preheat the oven to 200°C and bake for about 10-12 minutes or until the rolls turn light brown.
Recipe Notes
To convert the measurement, please use the Conversion tool here.
Nutrition Facts
Sausage Rolls Recipe
Amount Per Serving (4 people)
Calories 363
Calories from Fat 81
% Daily Value*
Fat 9g14%
Cholesterol 58mg19%
Sodium 625mg27%
Potassium 114mg3%
Carbohydrates 57g19%
Protein 12g24%
Vitamin A 245IU5%
Calcium 17mg2%
Iron 0.9mg5%
* Percent Daily Values are based on a 2000 calorie diet.