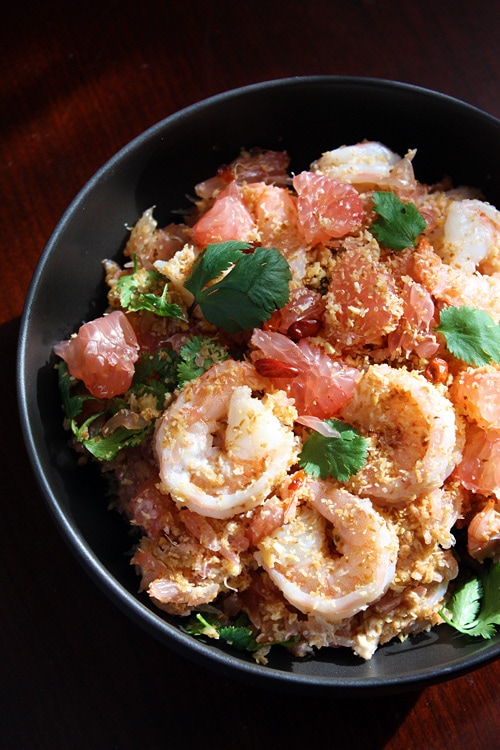 I adore Thai cuisine and am always in search of great Thai cooking blogs.
She Simmers is a fabulous resource for Thai cooking with many Thai recipes, including Thai pantry. Authored by the talented Leela, She Simmers is a gem—authentic and easy-to-follow Thai recipes, gorgeous food photography, and beautiful food writing and story-telling.
I am a big fan of She Simmers. Please welcome Leela to Rasa Malaysia as she shares her family's Thai Pomelo Salad or Yam Som-O recipe with us.
For a long time, I could never figure out why I got into the habit of saving up what I considered to be very special recipes in my draft folder, adamantly refusing to publish them for reasons even I failed to grasp. 
Then Bee invited me to write a guest post for Rasa Malaysia, and it became clear why I, like a squirrel hoarding acorns for winter,  had saved up those precious few recipes. It is indeed for an occasion like this.
Yam (rhymes with "some") Som-O or pomelo salad is one of those things which my mother and her sisters loved to make when they visited each other.
My two aunts and Mom had this stone soup-esque tradition of taking turns hosting a get-together. Along with the children in tow, the guests would bring 2-3 components of a dish and cook them in the kitchen of the host.
Pomelo salad is one of those dishes which my cousins and I grew up eating quite a bit of at these gatherings organized by our moms. Naturally, even though there are a few variations of this salad out there, I'm partial to our family's recipe.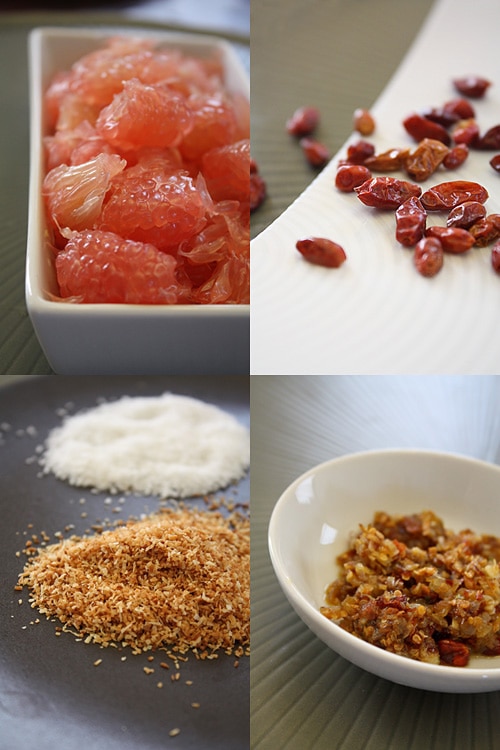 Outside the home, pomelo salad is served mostly, if not only, at sit-down type of restaurants; it is not a common street food like Pad Thai or Som Tam.
And though hugely popular in Thailand, pomelo salad is rarely found on the menus of Thai restaurants outside of the kingdom. This is all the more reason to learn how to make this unique and delicious salad at home, I think.
Pomelo salad, like most traditional Thai salads, needs to be consumed immediately after it's tossed. That is when the flavor rises to a crescendo before it steadily and rapidly declines.
The salad does not keep well and it certainly cannot be refrigerated and reheated without being utterly annihilated. It also tastes best when the individual components are prepared just before they are tossed together.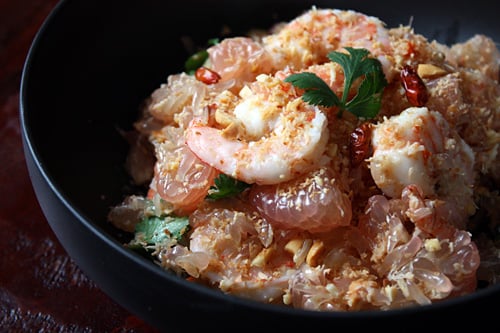 Did I just talk you out of making this salad? Are you now thinking why on earth we are talking about a salad whose main ingredient, pomelo, is hard to find and the number of whose components so daunting?
Well, take heart. For one thing, if you have not noticed, pomelo has started to show up everywhere nowadays. For another thing, please believe me when I say that pomelo salad is really not as difficult to make as it may seem.
Once all of the individual components are prepared, it's just a matter of tossing everything together and consuming the fruit of your labor blissfully. And if you, like me, are motivated by the promise of bliss, then let's fasten our aprons and get cooking, shall we?
Click Here to Pin This Recipe
SUBSCRIBE AND NEVER MISS A RECIPE
SUBSCRIBE TO RASA MALAYSIA NEWSLETTER AND GET EASY AND DELICIOUS RECIPES DELIVERED TO YOUR INBOX. If you try my recipe, please use hashtag #rasamalaysia on social media so I can see your creations! Follow me on Facebook | Instagram | Pinterest | Twitter for new recipes, giveaways and more.
v