Thai Pomelo Salad (Yam Som-O) - Recipe by SheSimmers. Thai pomelo salad is a fresh traditional Thai salad that can easily be prepared at home.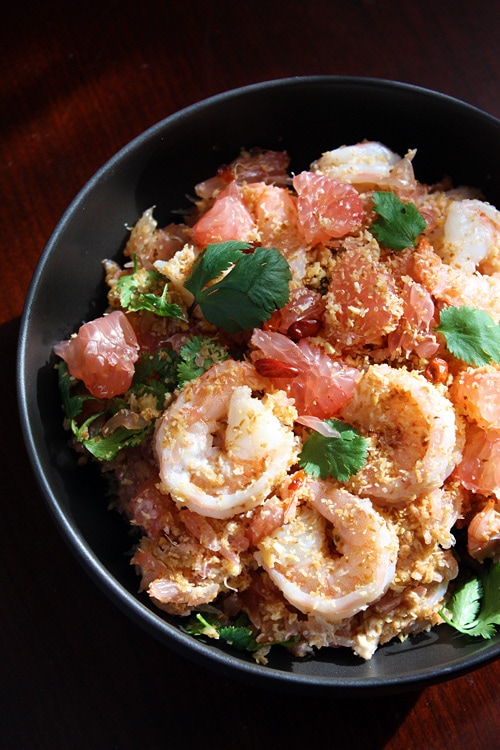 I adore Thai cuisine and am always in search of great Thai cooking blogs.
She Simmers is a fabulous resource for Thai cooking with many Thai recipes, including Thai pantry. Authored by the talented Leela, She Simmers is a gem—authentic and easy-to-follow Thai recipes, gorgeous food photography, and beautiful food writing and story-telling.
I am a big fan of She Simmers. Please welcome Leela to Rasa Malaysia as she shares her family's Thai Pomelo Salad or Yam Som-O recipe with us.
For a long time, I could never figure out why I got into the habit of saving up what I considered to be very special recipes in my draft folder, adamantly refusing to publish them for reasons even I failed to grasp.
Then Bee invited me to write a guest post for Rasa Malaysia, and it became clear why I, like a squirrel hoarding acorns for winter, had saved up those precious few recipes. It is indeed for an occasion like this.
Yam (rhymes with "some") Som-O or pomelo salad is one of those things which my mother and her sisters loved to make when they visited each other.
My two aunts and Mom had this stone soup-esque tradition of taking turns hosting a get-together. Along with the children in tow, the guests would bring 2-3 components of a dish and cook them in the kitchen of the host.
Pomelo salad is one of those dishes which my cousins and I grew up eating quite a bit of at these gatherings organized by our moms. Naturally, even though there are a few variations of this salad out there, I'm partial to our family's recipe.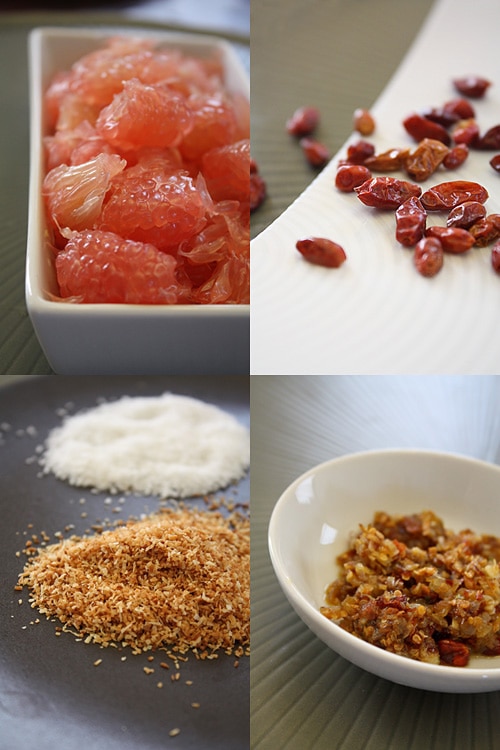 Outside the home, pomelo salad is served mostly, if not only, at sit-down type of restaurants; it is not a common street food like Pad Thai or Som Tam.
And though hugely popular in Thailand, pomelo salad is rarely found on the menus of Thai restaurants outside of the kingdom. This is all the more reason to learn how to make this unique and delicious salad at home, I think.
Pomelo salad, like most traditional Thai salads, needs to be consumed immediately after it's tossed. That is when the flavor rises to a crescendo before it steadily and rapidly declines.
The salad does not keep well and it certainly cannot be refrigerated and reheated without being utterly annihilated. It also tastes best when the individual components are prepared just before they are tossed together.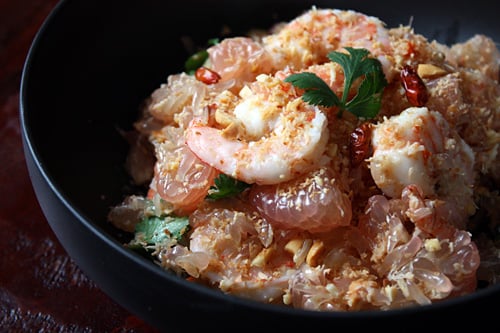 Did I just talk you out of making this salad? Are you now thinking why on earth we are talking about a salad whose main ingredient, pomelo, is hard to find and the number of whose components so daunting?
Well, take heart. For one thing, if you have not noticed, pomelo has started to show up everywhere nowadays. For another thing, please believe me when I say that pomelo salad is really not as difficult to make as it may seem.
Once all of the individual components are prepared, it's just a matter of tossing everything together and consuming the fruit of your labor blissfully. And if you, like me, are motivated by the promise of bliss, then let's fasten our aprons and get cooking, shall we?
What Dishes to Serve with This Recipe?
For a wholesome meal and easy weeknight dinner, I recommend the following recipes.
For more great recipes like this, sign up for our newsletter. We'll send daily recipes you'll love!
Join
Sign up for our newsletter!
Thai Pomelo Salad (Yam Som-O)
Thai Pomelo Salad recipe (Yam Som-O) - coconut flakes, shrimp, red chili flakes, shallots, garlic, roasted peanuts, lime juice, cilantro.
Ingredients
1.5

lb.

pomelo, peeled and separated into segments

1

lb.

shrimp, peeled and deveined

(21-26 count )

¾

cup

desiccated coconut flakes

(unsweetened)

½

cup

coconut milk

Dried red chile flakes

(to taste (I use whole Mexican chile pequin as they are very easy to crumble up with your fingertips and taste just like dried bird's eye chiles. They're also very, very cute.))

4

tablespoons

finely-minced shallots or onion

2

tablespoons

finely-minced garlic

2

tablespoons

vegetable oil

½

cup

plain roasted peanuts

(roughly chopped)

fresh lime juice to taste

fish sauce

(to taste)

1

handful fresh cilantro leaves fish sauce
Instructions
In a small saucepan, sauté together the vegetable oil, shallots, garlic, and dried pepper flakes over medium heat until the mixture releases its wonderful aroma and becomes confit-like in consistency. Add the coconut milk into the shallot mixture and heat through; remove from heat and set aside to cool.

In a skillet over medium-low heat, dry toast the desiccated coconut flakes until they turn medium brown color. Be careful not to leave the skillet unattended; coconut burns very easily. Set the toasted coconut aside to cool.

Poach the shrimp, drain, and set it aside.

Gently break up the pomelo segments into roughly ½ inch (1 cm) pieces and put them in a large mixing bowl.

Add the poached shrimp, shallot-coconut mixture, toasted coconut flakes, peanuts, and cilantro leaves to the pomelo bowl.

Add to the mixing bowl 2 tablespoons each of the lime juice and fish sauce and toss everything together as gently as you can with your hands. Adjust the seasoning with more lime juice or fish sauce as needed. (If your pomelo is on the tart side, you may want to add just a tiny bit of sugar to counteract the acidity. But usually the subtle, natural sweetness of the toasted coconut and coconut milk is sufficient.)

Serve immediately with additional roasted peanuts and toasted coconut on top, if desired.
Notes
Though quite a few recipe authors suggest grapefruit as a substitute for pomelo, I encourage you to seek out pomelo in Hispanic or Asian stores in your area first. Then, if you absolutely cannot find it, use grapefruit segments, blotted dry with a clean kitchen towel to remove as much juice as possible. (Grapefruit releases a lot of juice and I don't like a salad that swims in juices.) Navel orange segments can also be used. (But then you can't really call it Yam Som-O since the Som-O is absent.
Make sure that the roasted peanuts are fresh. Nothing ruins an otherwise good dish like rancid peanuts.
The best way to poach shrimp is in simmering, not furiously boiling, water at the temperature of 160° and 180°F (71–82°C). Be sure to not overcook the shrimp.
Do not substitute lemon juice for lime juice, soy sauce for fish sauce, or sweet coconut flakes for plain desiccated coconut.
To kick it up a notch, add to the mix 2-3 tablespoons of crispy-fried shallots, commercial or homemade.
Nutrition

Nutrition Facts

Thai Pomelo Salad (Yam Som-O)

Amount Per Serving (4 people)

Calories 420

Calories from Fat 297

% Daily Value*

Fat 33g51%

Cholesterol 142mg47%

Sodium 732mg32%

Carbohydrates 11g4%

Protein 22g44%

* Percent Daily Values are based on a 2000 calorie diet.

Notice: Nutrition is auto-calculated, using Spoonacular, for your convenience. Where relevant, we recommend using your own nutrition calculations.