Malaysian Beef Satay with Spicy Peanut Sauce
Makes 16-20 skewers | Prep Time: 30 Minutes | Cook Time: 10 Minutes
Ingredients:
16-20 bamboo skewers, soaked in water
2 lbs beef (sirloin), cut into 1/4-inch thick, 3/4-1-inch cubes
1 small cucumber, cut into small pieces
1 red onion, cut into quarters
Malaysian rice cakes (optional), cut into bite size pieces
Marinade:
1 teaspoon chili powder
2 tablespoons coriander powder
2 teaspoons turmeric powder
10 shallots, peeled, cut and halved
3 cloves garlic, peeled
4 stalks lemongrass (white part only), cut into 1-inch length
4 tablespoons sugar
1 teaspoon salt
4 tablespoons oil
1-2 tablespoon water
Method:
Blend all the ingredients in Marinade into a smooth paste. Heat up some oil in a wok, stir-fry the Marinade until fragrant and the oil slightly separates from it. Transfer out and set aside.
Marinate the beef pieces with the Marinade overnight. Keep in the refrigerator.
Spicy Peanut Dipping Sauce:
5 tablespoons oil
3/4 tablespoon seedless tamarind pulp, soaked in 3 1/2 tablespoons water
3/4 cup roasted peanuts, skins removed and coarsely blended
3/4 cup water
Sugar, to taste
Salt, to taste
Spice Paste:
1 tablespoon oil
5-6 tablespoons chili powder
1 1/2 tablespoons coriander powder
3/4 teaspoon cumin powder
3 stalks lemongrass (white part only), cut into 1-inch length
3/4-inch galangal, sliced
4 cloves garlic, peeled
3 shallots, peeled
1/2 teaspoon salt
1 1/2 tablespoons sugar
salt and sugar to taste
Method:
Extract the juice from the tamarind pulp, discard the pulps. Blend the Spice Paste ingredients into a smooth paste. Add some water if needed.
Heat up the oil in a pan, stir-fry the spice paste until fragrant, turn the heat to medium-high and continue cooking until the oil slightly separates.
Add in the tamarind juice, peanuts, water, stir well and bring it to a quick boil. Cover the pan, turn the heat to low and simmer for another 5-10 minutes. Add sugar and salt sugar to taste. Dish out and set aside.
Making and Cooking Beef Satay:
Make the satay skewers with 3-4 pieces of the marinated beef threaded onto each bamboo skewer. Repeat until you use up all the meat. Grill the satay over a charcoal grill or outdoor gas grill until both sides are slightly charred and the meat is cooked through.
Most-Pinned Recipes
Ginger Garlic Baked Chicken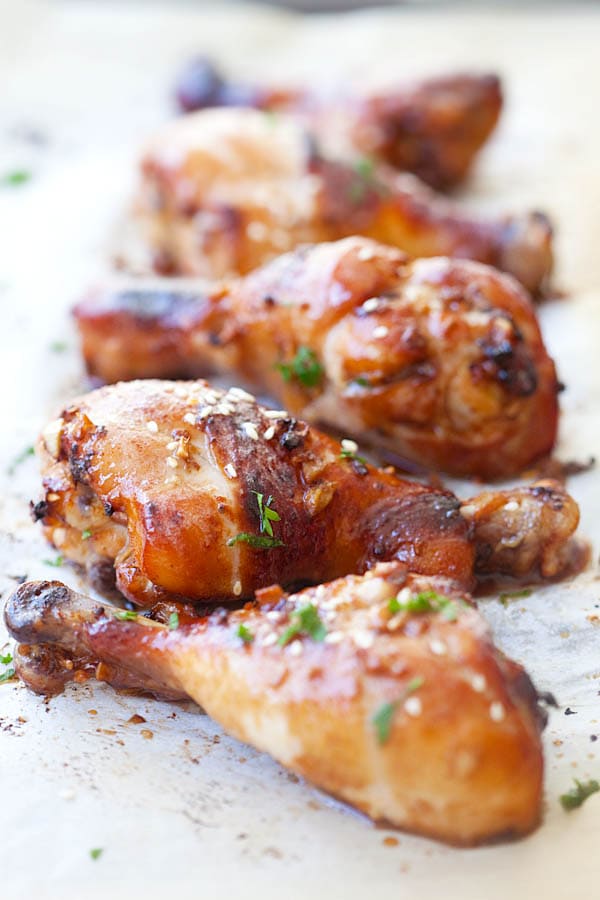 Crab Rangoon (Cream Cheese Wontons)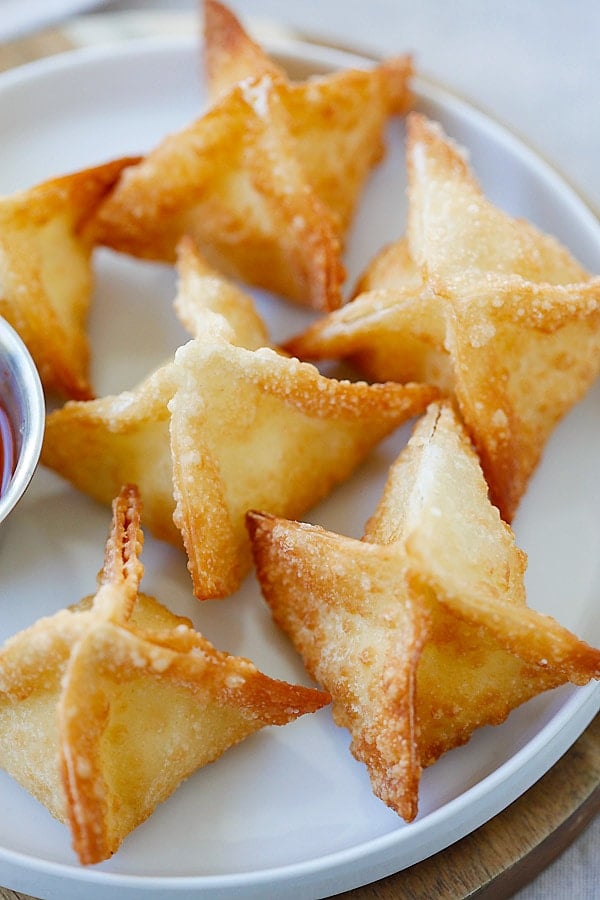 Chicken Wontons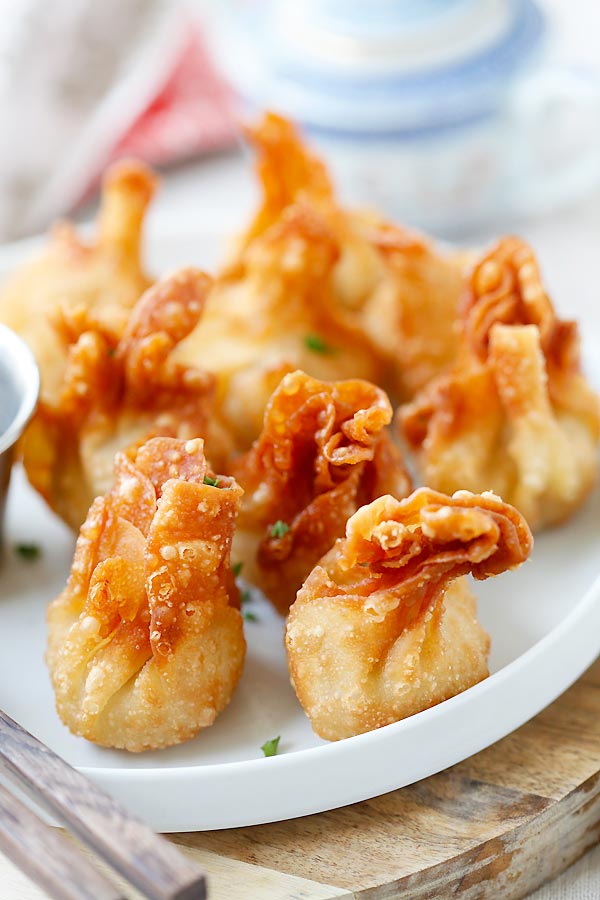 Onion Scallion Beef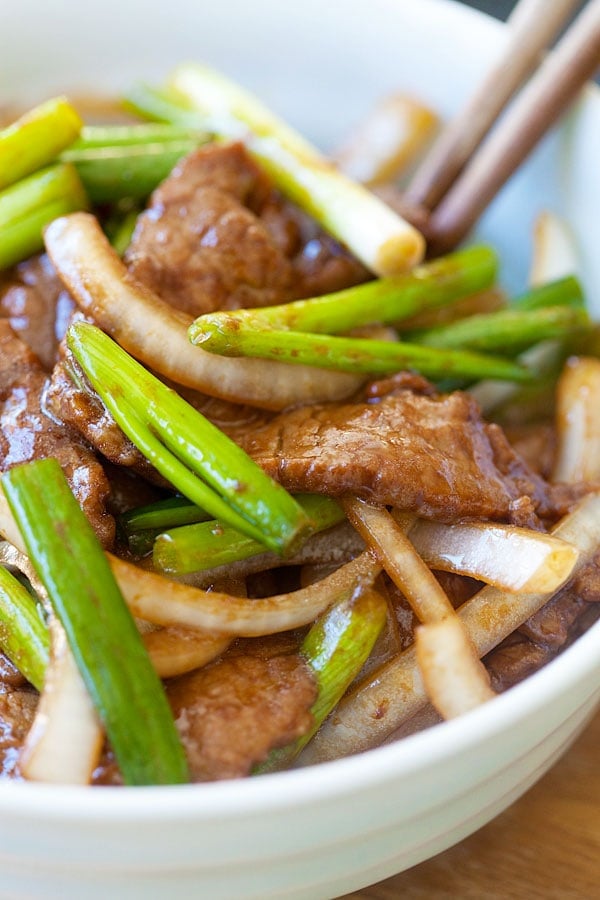 Thai Chicken Sate with Peanut Sauce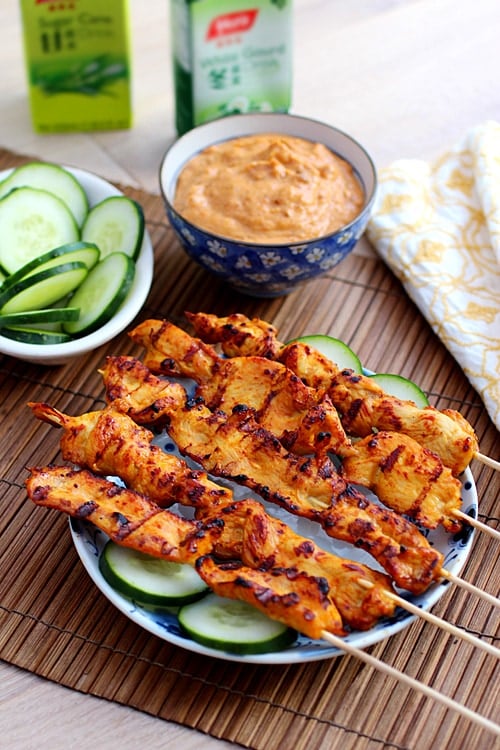 Thai Peanut Sauce