Green Beans with Peanut Sauce - Saute green beans with garlic and top them with spicy and savory Thai peanut sauce. Easy, healthy and delicious recipe.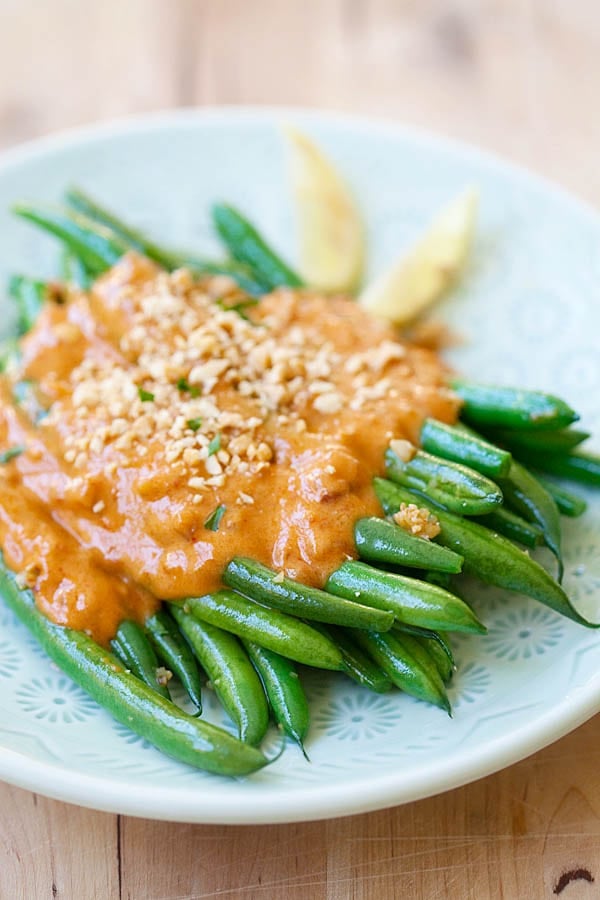 Many people love Thai peanut sauce, we just can't get enough of it when we have Thai chicken sate.
I am one of them. A good peanut sauce is actually very easy to make and I can usually make a batch of it in less than 15 minutes, with really simple ingredients.
The only special ingredient you need to buy is Thai red curry paste, which is rather easy to get these days at any Asian stores or online.
Other Recipes You Might Like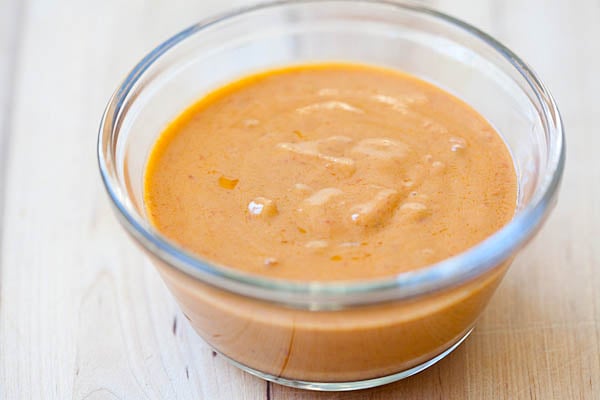 Peanut sauce makes everything tastes so much better. Drizzle it on chicken, beef, seafood, vegetables or beans, and you will have a wonderful and delicious dish that the entire family loves.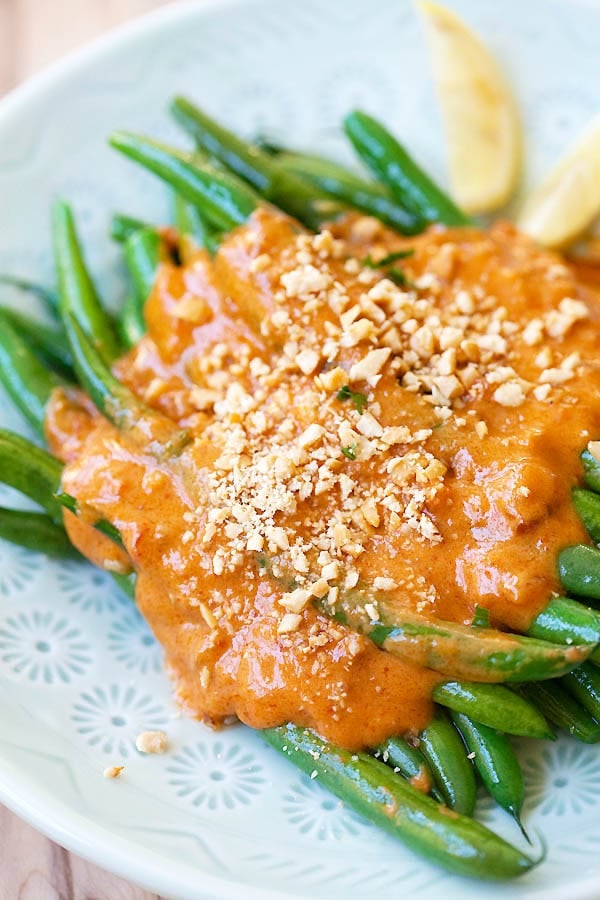 I love green beans so one of of my favorite green bean recipes is this quick and easy green bean with peanut sauce that is super easy to make and goes so well with other dishes and steamed rice.
All you have to do is saute and cook the green beans with some oil and garlic. And once the green beans are cooked just add the peanut sauce on top. So yummy!
Learn how to make this green beans with peanut sauce recipe at home, spice up your palate and add new flavors to your dining table. I am sure you will love it.
How Many Calories per Serving?
This recipe is only 195 calories per serving.
What Dishes to Serve with This Recipe?
For a wholesome meal and easy weeknight dinner, I recommend the following recipes.
5 Secrets to 20 Min Dinners
Get tricks for quick & easy meals!
Yield: 2 people
Green Beans with Peanut Sauce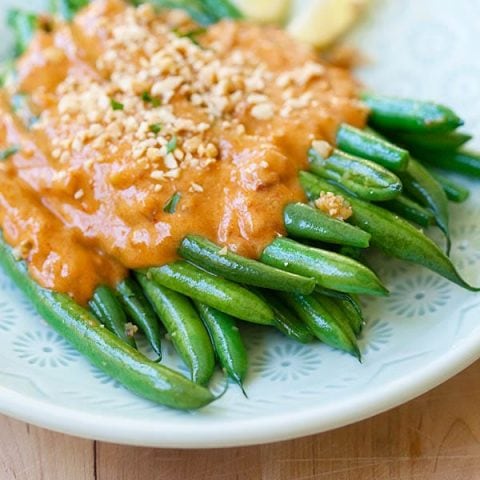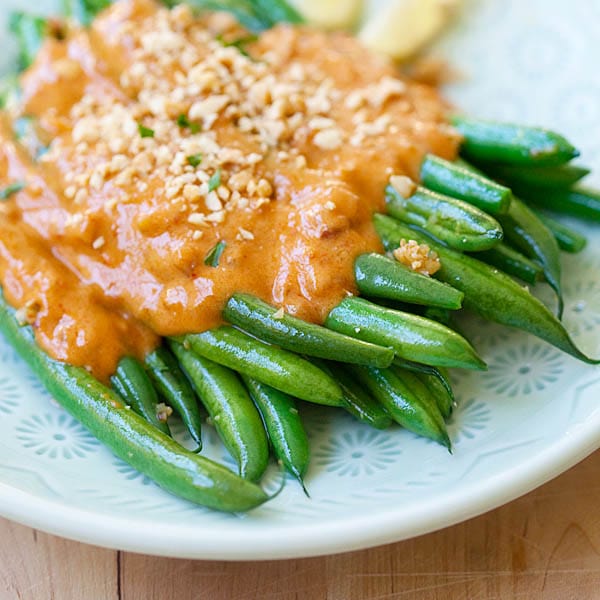 Green beans with peanut sauce. Saute green beans with garlic and top them with spicy and savory Thai peanut sauce. Easy, healthy and delicious recipe.
Ingredients
8 oz. (226 g) green beans
1 tablespoon oil
2 cloves garlic, finely minced, finely minced
Ground peanuts, optional
Peanut Sauce:
1/2 cup creamy peanut butter
3/4 cup coconut milk
2 tablespoons Thai red curry paste
2 tablespoons apple cider vinegar
1 tablespoon sugar or to taste
2 tablespoons ground peanut
Salt to taste
Instructions
Cut off the top and bottom points of the green beans, rinsed and set aside.
Add all the ingredients of the Peanut Sauce in the saucepan. Use a whisk to quickly whisk all the ingredients together before transferring to a stove top to heat up on low heat. Continue to whisk the Peanut Sauce until all ingredients are well-combined.
As soon as the sauce starts to bubble, turn off the heat. (If you like the sauce more watery, you may add a little water to dilute it during the cooking process.) Transfer off the heat and set aside.
In a pan, add the oil and saute the garlic until light brown. Add the green beans and keep stirring until they are cooked. Transfer out to a serving plate and pour some Peanut Sauce on top of the green beans and topped with some ground peanuts and serve immediately.
Nutrition Information
Yield
2
Serving Size
1 grams
Amount Per Serving
Calories

647
Total Fat

64g
Saturated Fat

30g
Unsaturated Fat

0g
Sodium

318mg
Carbohydrates

33g
Fiber

8g
Sugar

17g
Protein

23g