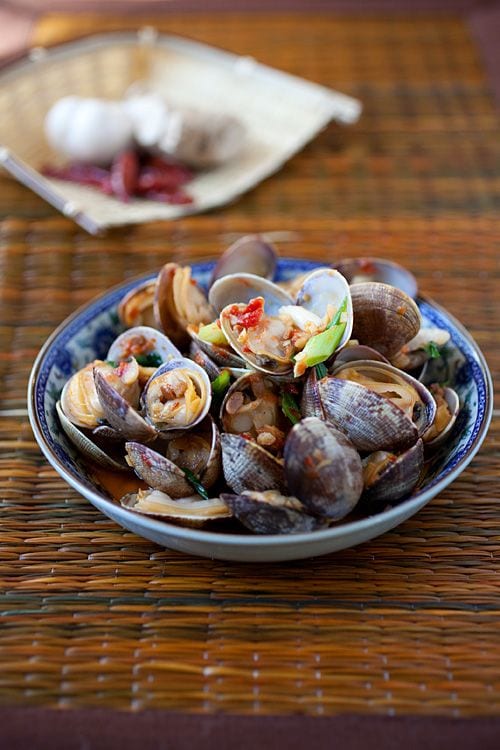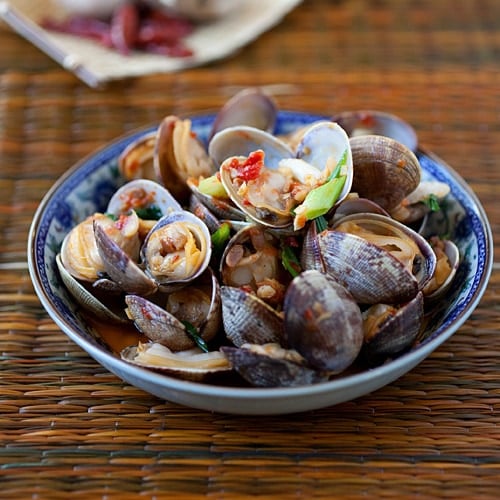 Chili Clams Recipe
Chili Clams Recipe – The briny and sweet flavours of clams pair perfectly with the spicy chilli and bean sauce in this chili clams recipe.
Prep time:
Cook time:
Total Time:
Ingredients:
1 1/4 lbs (600g) clams, scrubbed and rinsed
2 tablespoons oil
2 tablespoons water
1 tablespoon sugar
2 stalk scallions, cut into short lengths
Spice Paste:
5 dried red chillies, deseeded, or 2 fresh red chilies
1/2-inch piece fresh ginger, peeled
3 cloves garlic
1 tablespoon bean sauce (taucheo)
Method:
1.      Pound the spice paste using a mortar and pestle or grind with a food processor. Set aside.
2.      Heat up the cooking oil in a wok. Add the spice paste and stir-fry until aromatic.
3.      Add the clams into the wok and blend well with the spice paste.
4.      Add the water and sugar and stir continuously. Add the scallions.
5.      As the clams open up, transfer each and everyone of them out into a serving ware as they open. Clams don't cook at the same time, so do not overcook the ones which has opened up or it will turn rubbery.
6.      If there are any un-opened clams, discard. Serve the chili clams immediately with steamed white rice.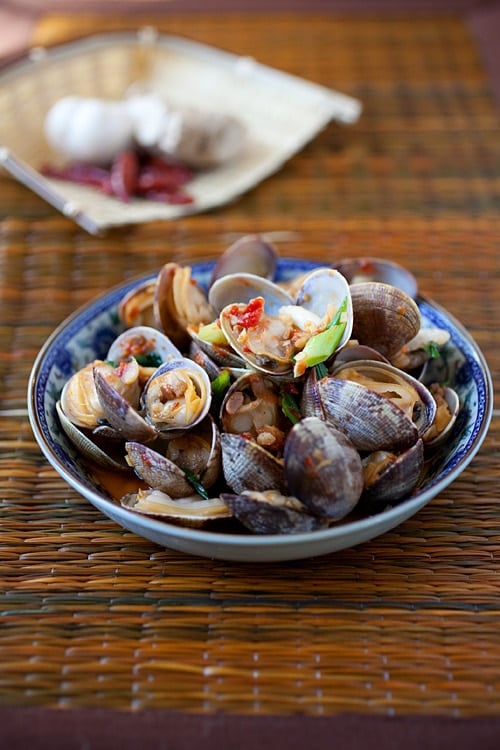 Most Malaysians love clams, especially those stir-fried with a spicy chili paste. I love clams; I grew up eating all sort of clams as my late mother would buy clams from the market and cooked them into a variety of delectable dishes, such as chili clams. (Check out my chili crab recipes here and here.)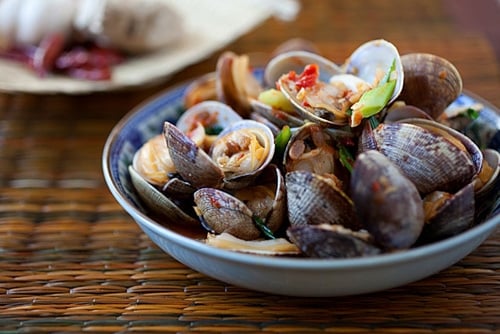 One of my favorite childhood memories was the many clam digging picnics with my late parents, at the beaches in Penang, and Kedah—my mother's seaside hometown. Whenever we went to a beach, we would dig up the sands in search of clams, or siput. We would spend hours until we harvested enough clams for dinner, I was always so excited whenever we went to the beach.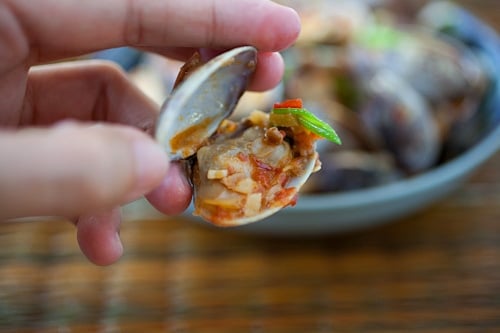 The few years when I was in the midwest of America, I was constantly craving for fresh clams. But alas, there were never any live clams at the markets there, due to the cold weather. Once in a while, our local Chinese restaurants would get some clams, but most of the times, the clams were stale and they were simply horrendous to eat. I am so blessed that I am now in the west coast where fresh and live clams are always available at Asian stores, and I can have my fix of chili clams whenever I like.
The briny and sweet flavours of clams pair perfectly with the spicy chilli and bean sauce in this chili clams recipe. Please take note that each clam will cook at a different time, so as soon as the shell opens up, remove from the heat immediately. If the clams don't open up, they are probably bad and should be discarded.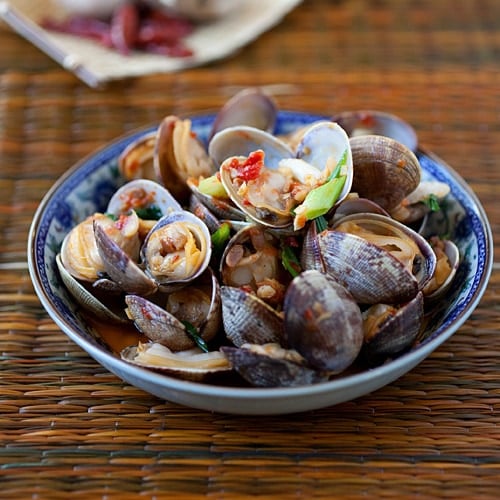 Rate This
Recipe Name
Preparation Time
Cook Time
Total Time
Average Rating

Based on 1 Review(s)