Coconut Shrimp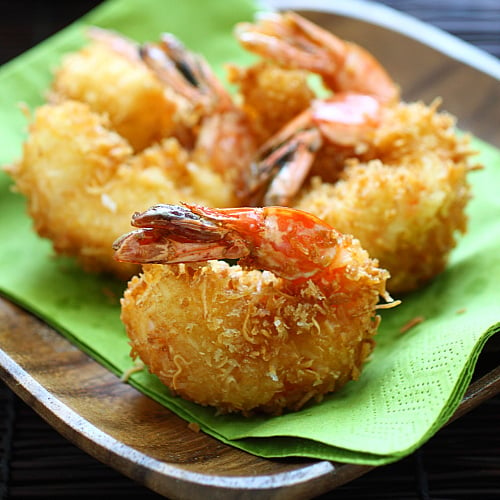 http://rasamalaysia.com/coconut-shrimp/
Click "Like" to Get New Recipes
and Updates on Facebook Daily!
Coconut Shrimp Recipe
Serves 2 as a snack | Cook Time: 20 minutes
Ingredients:
1 heaping cup Japanese panko or bread crumbs
1/2 heaping cup unsweetened dessicated coconut flakes
1/2 lb. Tiger shrimp, peeled, deveined, but leave tails intact
2 beaten eggs + 2 teaspoons sugar
Oil for deep-frying
Spicy Tartar Sauce Dip
1/2 cup mayonnaise
1/2 tablespoon chili sauce or to taste
1/2 tablespoon finely minced onion
1/2 tablespoon finely chopped celery
Squirt of lemon juice

Method:
Mix the panko and coconut flakes in a shallow bowl. Set aside.
Prepare the Spicy Tartar Sauce by combining all the ingredients together. Stir to mix well. Set aside.
Heat up your deep fryer to 350 Degree F.
Pat dry the shrimp with paper towels and dip each shrimp into the egg mixture, and immediately roll the shrimp with the panko and coconut flakes coating. Shake off the excess.
Dip the shrimp into the egg mixture again, and immediately roll the shrimp with the panko mixture for second coating. Make sure the shrimp is well covered with the panko and coconut flakes. Place the shrimp on a plate lined with parchment paper.
Repeat step 2 to 3 above for the remaining shrimp.
When the deep fryer is ready, drop each shrimp gently into the oil. Fry until both sides turn golden brown.
Transfer the shrimp out with a slotted spoon, onto a serving ware lined with paper towels.
Serve immediately with the Spicy Tartar Sauce.
Click Images Below for Similar Recipes:
LOVE THE RECIPE & PHOTOS? PLEASE SHARE:
Sign Up for Email Updates
Enter your email for new updates: recipes, giveaways, and more!