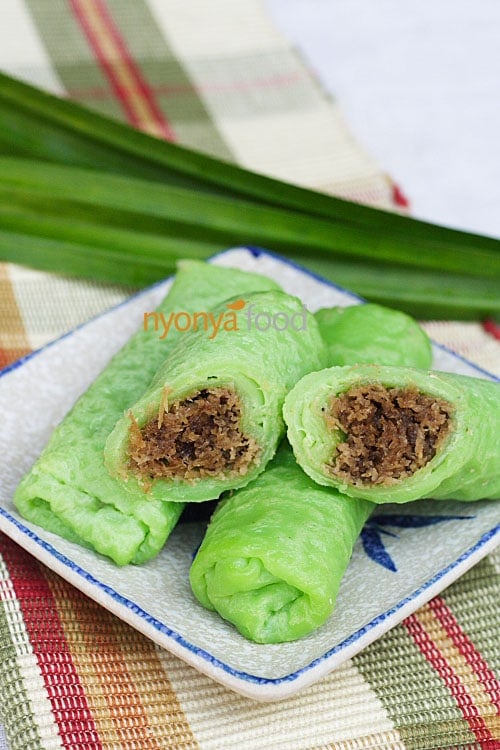 If you watched my episode of House Hunters International: Family Reunion in Penang and wondered about the green thing I was making in the show, it's Kuih Dadar. Read on…
Nyonya kuih—or Nyonya sweet cakes—is a big part of Nyonya cuisine. In fact, Nyonya kuih is iconic, so much so that it outshines savory dishes. Ask anyone around and it's likely that they have had some sort of Nyonya kuih, but may not have sampled other Nyonya dishes. Many Nyonya kuih are simply adaptations of Malay kuih-muih, or Malay version of sweet cakes and desserts.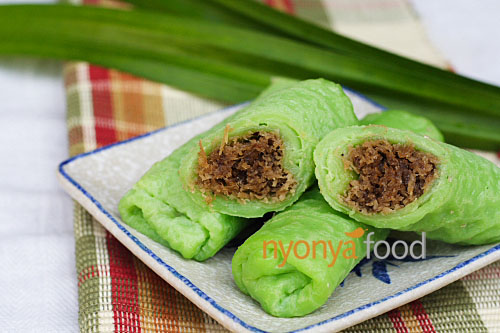 Kuih dadar or kuih tayap is a rolled crepe flavored with pandan juice and filled with grated coconut steeped in gula melaka or Malaysian palm sugar. Pandan leaf is the core ingredient of kuih dadar/kuih tayap. The green exterior of kuih dadar is made of batter colored with natural pandan juice extracted from pandan leaves. Nowadays, many kuih vendors use artificial coloring for convenience purposes, but the end product usually lacks the tempting sweet fragrance of pandan leaves. Also, the coloring appear somewhat bright or fluorescent green, a sure-fire tell tale sign of artificial coloring…
This kuih dadar/kuih tayap recipe is adapted from Nyonya Flavours: A Complete Guide to Penang Straits Chinese Cuisine. Making Nyonya kuih is no simple affair but I find kuih dadar to be rather painless to make and the end result is beautiful and gratifying, especially if you have a sweet tooth.