4.8
62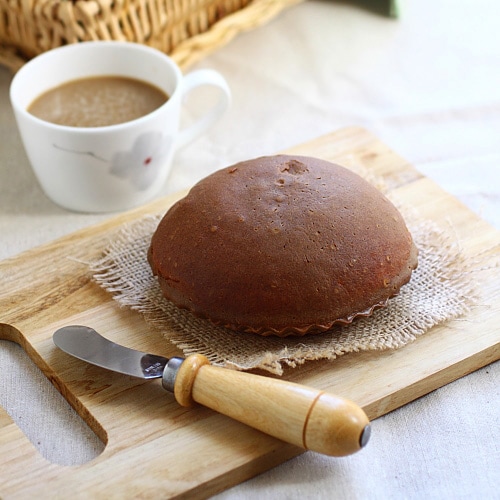 Mexican Coffee Bun (Rotiboy)
Mexican coffee bun/rotiboy is a sweet bun with coffee topping and butter filling. It's popular in Malaysia and Asia. Easy Mexican coffee bun recipe.

Ingredients:
For the Bun:
500g Bread Flour
80g Castor Sugar
9g  Salt
20g Milk Powder(optional)
10g Dry Yeast
60g Butter
280ml Water + 1 large Egg
Topping:
200g Butter
150g Powdered Sugar (Sieved)
3 Large Eggs (Lightly beaten)
200g Cake Flour
1TBSP Instant Coffee + 2TBSP Hot Water or 3 TBSP Espresso
1TBSP Coffee Liquor or 1 TBSP Coffee Essence (optional)
Filling:
100g of Real Butter

Method:
For the Bun:
Add all the dry ingredients. Mix it thoroughly.
Gradually add in water and egg mixture and knead on medium speed for about 10 minutes. (Use the DOUGH HOOK)
Slowly add in butter and continue kneading till you get a shining and elastic dough. (Note: Dough should be able to stretch without breaking)
Cover dough with a cloth. Leave to proof for about 40 minutes or till dough has doubled in size.
When dough is proofing, prepare topping.
Topping:
Beat butter and sugar till pale in color.
Gradually add in egg.
Fold in flour on low speed.
Add in coffee mixture and liquor. Mix till combined. Set aside.
To Make Bun:
Remove the dough and on a lightly floured surface, punch dough down to release the air.
Divide dough in 25 grams each. Roll it out in to a small circle and insert 1 tsp butter into each bun. Wrap it up.
Leave the ready bun to proof for about 45 minutes or double in size.
Put the cream topping into a pipping bag and pump out the cream in circles around the bun.
Bake at 215 Celsius for 18 minutes.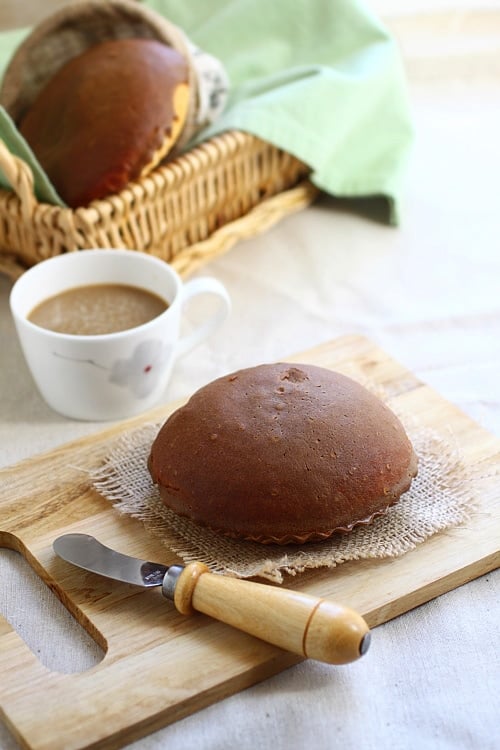 Mexican Coffee Bun (Rotiboy)
Mexican Coffee Bun (Rotiboy) – Sweet bun with coffee topping and butter filling. It's popular in Malaysia and Asia. Easy Mexican coffee bun recipe.
I have long heard about the legendary Mexican coffee bun or Rotiboy, a made-in-Malaysia bun with a crusty coffee topping and butter filling. The word "Mexican" might be misleading but this bun originated from a bakery in Bukit Mertajam, Penang, and now Mexican coffee bun is famous all over Asia, with many bakeries and copycat bakeries selling this popular Mexican coffee bun. I finally had a chance to taste this aromatic and wonderful bun when I was home in Penang earlier this year. For the Mexican coffee bun recipe, I turned to my contributor Siew Loon. Check it out and hope you get to try this bun soon.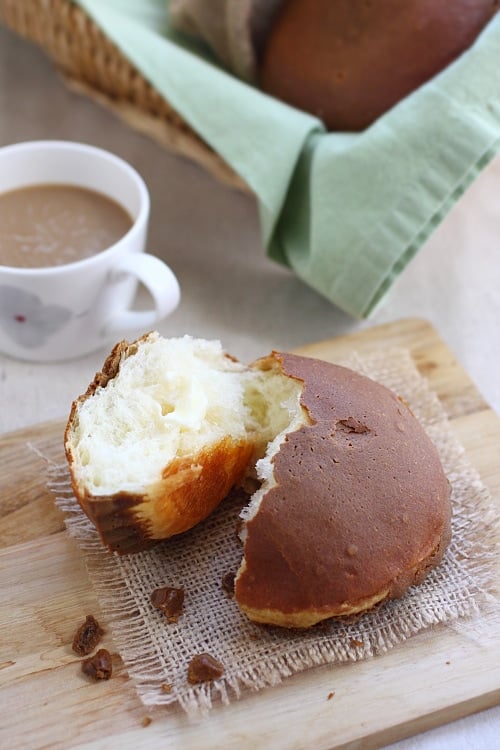 Contributor: Ho Siew Loon
Recently an old friend of mine who has migrated to Australia started a small Malaysian bakery called Papparoti selling coffee-flavoured buns which happens to be one of my daughter's favorite. This has inspired me to revisit this Mexican coffee bun recipe and get to work. The aroma of this Mexican coffee bun bun is really tantalizing and makes you just want to eat it piping hot.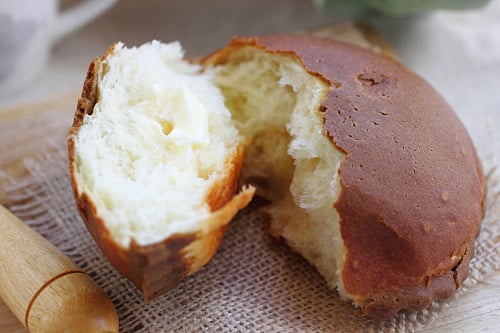 Mexican Coffee Bun is a bun stuffed with butter and has a very crispy coffee pastry topping. It is made popular by this Malaysian bakery called Rotiboy and now this bun is commonly known as "Rotiboy" in Malaysia and throughout Asia. This coffee bun is also a very popular snack in Singapore, Indonesia, Thailand, and even Korea. Mexican coffee bun is best eaten when it's just off the oven and fresh. The joy of baking this Mexican coffee bun or rotiboy is as fun as the joy of eating it hot and fresh.
Rate This
Recipe Name
Mexican Coffee Bun (Rotiboy)
Average Rating

Based on 19 Review(s)
REMEMBER TO SUBSCRIBE TO RASA MALAYSIA NEWSLETTER AND GET EASY AND DELICIOUS RECIPES DELIVERED TO YOUR INBOX. If you try my recipe, please use hashtag #rasamalaysia on social media so I can see your creations! Follow me on Facebook | Instagram | Pinterest | Twitter for new recipes, giveaways and more.